Introduced in 2013, the now-classic Capucines bag takes its name after Louis Vuitton's very first store on Rue Neuve-des-Capucines in Paris, opened in 1854. An incarnation of the maison's unparalleled creativity, craftsmanship and savoir faire, it is adorned with LV initials, distinctive side rings and a structured silhouette.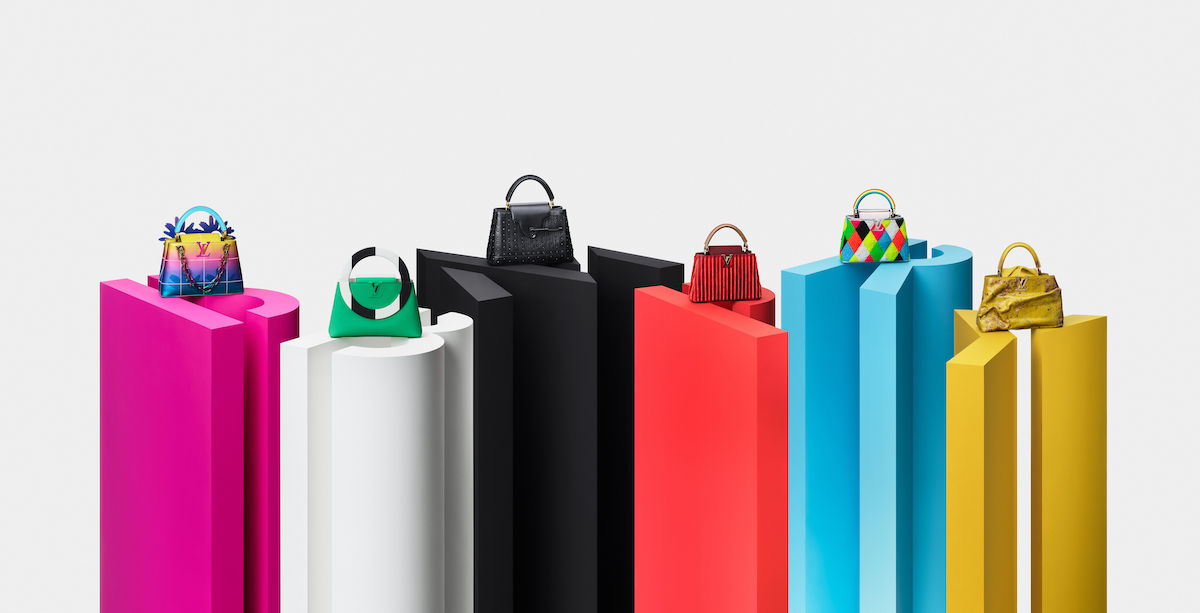 Six years after its debut, Louis Vuitton invited six artists to reimagine its beloved bag for the first Artycapucines, a limited-edition collection brimming with unbridled creativity. Sam Falls, Urs Fischer, Nicholas Hlobo, Alex Israel, Tschabalala Self and Jonas Wood were the first group to transform the Capucines into works of art. The inaugural collection, as well as subsequent releases, reportedly sold out instantly.
This year, a new class of six brilliant creatives join the fold, culminating in nine new bag designs for the fourth chapter of the Artycapucines. Daniel Buren created a double-sided trompe-l'oeil design with his trademark black and white stripes in four colourways, while Kennedy Yanko constructed his piece with 3D-printed leather and a metallic patina hand-applied by Italian artisans.
Park Seo-Bo's signature Écritures paintings find its way to the new collection, recreated in textured and embellished calfskin. Amélie Bertrand, known for her hallucinatory images, unveils a striking carrier hand-sprayed in shifting colours and phosphorescence. Peter Marino presents his signature all-black aesthetic with a studded creation featuring an exclusive clasp. Finally, Ugo Rondione puts forth a delightfully playful and colourful harlequin-style bag covered with over 14,000 hand-stitched beads.
For this season, each Artycapucines bag will be presented in its own specially designed gift box and is available in a limited edition of 200 (50 per colour variation for Daniel Buren) on 20 October 2022. Find out more on Louis Vuitton's website.