The 15th anniversary of Franck Muller's Crazy Hours collection didn't go by without a bang. After all, with a name like "Crazy Hours", a celebration should be no less spectacular. Attended by Franck Muller himself, the recent soiree at Singapore's Infinite Studios had guests exploring five thematic party rooms, with the likes of bathtubs filled with bespoke drinks, a thematic diner, and a tropical-themed photo booth with flamingo floats. Among the night's flamboyantly dressed guests was Chief Operations Officer Nicholas Rudaz, who wore a Crazy Hours in rose gold and diamonds.
Nicholas Rudaz, who joined Franck Muller as COO in 2007, is responsible for the brand's business strategy and operations, He is also its official spokesperson. About this particular milestone, he shares that 2017 was a positive year: "We are happy to say that all the figures are up. We've seen Hong Kong back in force again, so that's a relief. Asia has always been a very important market for us. We even do Franck Muller weddings in Japan, with Franck Muller-themed tableware, gifts, and of course, Franck Muller watches for the couple. So for us, it is only natural to celebrate our 15th anniversary with Asia."
"Franck Muller's DNA has always been quite unusual, bold, and bigger than life, and that's what makes the brand so special. The Franck Muller watch is very recognisable from a distance, and people who wear one like to show that uniqueness off," he adds. "This anniversary is a milestone for a beautiful product, and we wanted to celebrate it in style."
Living up to its name, the eccentric watch flaunts disordered hour numerals in a signature art deco aesthetic. While the minute hand sweeps conventionally around the dial, the hour hand leaps across some 120 degrees to the next correct digit every 60 minutes. The chaotic complication is surprisingly subtle, however, especially to a casual gaze. "Whenever I present the Crazy Hours to people around the world, I ask them to look a little closer, and that's when they realise what's really going on," Nicholas Rudaz shares with a smile.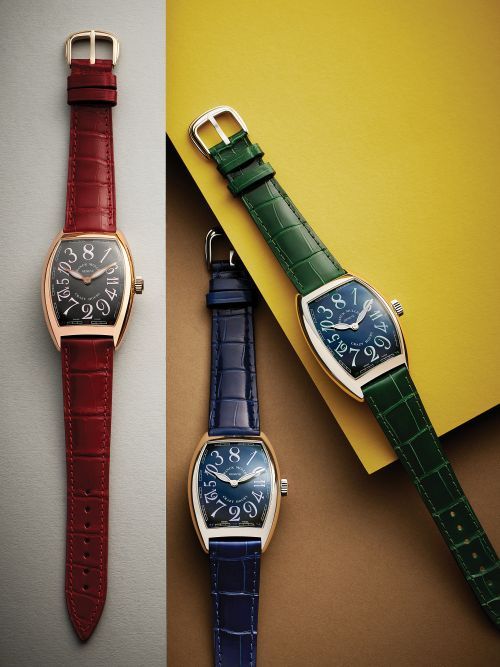 The brand recently released a Crazy Hours 15th Anniversary Asia Exclusive in three sizes. Sporting blue or grey dials with pops of colour, this commemorative model is available in 40 possible combinations in stainless steel, diamonds and rose gold variants. The watch also shows off the signature Cintrée Curvex case, featuring the brand's take on the tonneau case in an ergonomic silhouette, where three curved axes join at a single spherical point. He points out, "For our 15th Anniversary Asia Exclusive, we wanted to celebrate the uniqueness of our Cintrée Curvex case."
Nicholas Rudaz muses about the Crazy Hours' debut 15 years ago, way before the advent of social media. "When we presented the Crazy Hours then, I think the majority of people couldn't see what was really going on inside the dial. But now, with social media, films and such, we can present the concept of the Crazy Hours much better." He recalls a recent interaction during a watch exhibition in Doha, with clients who'd gotten wind of the publicised launch through social media: "People were coming to us with the photos of the Crazy Hours 15th Anniversary Asia Exclusive, saying they wanted it."
"Of course, with social media revolutionising the way products are distributed, it is important for our industry to follow that trend. But as a manufacture, we want to concentrate on our design and producing exceptional watches, and leave the commercial side to our agents," Nicholas Rudaz says. In the same breath, he adds that the company also has plans for an online bespoke service that allows clients to customise a watch's shape, size, finishing and colours.
"Franck Muller watches have always been highly exclusive anyway. We've always had so many different stock keeping units that are all produced in limited numbers. We already have
a bespoke quality in our watches because of that diversity. Furthermore, Franck Muller will continue to make special editions after this Asia Exclusive."
For now, the brand is finishing up the construction of two more buildings at its production site in Geneva. "The biggest challenge has always been to create novelties year after year, whether in design or complications," he says. "It is important to maintain the Franck Muller creativity. That has been our priority for the last 26 years, and will continue to be what we strive for in years to come."
SEE ALSO: Max Büsser's Legacy Machine Split Escapement challenges convention