 We're calling it. Florals are not a trend for spring. Don't get us wrong, there were plenty of flowers blooming on the runway for spring/summer 2018, but we're over the argument that you can see the same sort of something every single year and call it a "trend", although Moschino's Jeremy Scott literally made his models into life-size bouquets and we've never liked Gigi Hadid more. On the flipside, it's hard to argue that bike shorts should be considered a serious staple for the new season, even if we did see them across multiple shows, including Dolce & Gabbana, Dion Lee and Saint Laurent.
So, what can we suggest? Say hello to our top pick for the coming months: fabulous fringing. Swinging, sassy and squeezed of every last drop of nostalgia to come back reinvented, the fringe made its presence felt from London to New York and back again.
In the English capital, Roksanda Ilincic's eponymous collection gave a circular facelift to proceedings, with cartwheels of fabric exploding across blouses, dresses and ankle-hitting skirts. It made the humble fringe feel new and like something we've all been missing from our wardrobes (and surely that's the biggest sign of a can't-miss trend).
If Roksanda had us falling in love, it was fellow London-based label Erdem who has us heading for lust. Fine silvery threads jostled for attention against fiery red on a duo of dresses we've not been able to forget since we first saw them swaying down fashion's main stage back in September.
One thing was clear across the board: there's no solitary rule for where it works. Every garment style – from gown to overcoat – was given a taste of fringing. And, in most instances, not just as a single, simple trim: there were overblown embellishments, contrast fabrics and mix-and-match colour palettes, lines of dainty threads vs full, thick strands. Some sat static, but more often than not the real magic came with the movement. Each step or turn the models made allowed the fabric to ripple and sweep.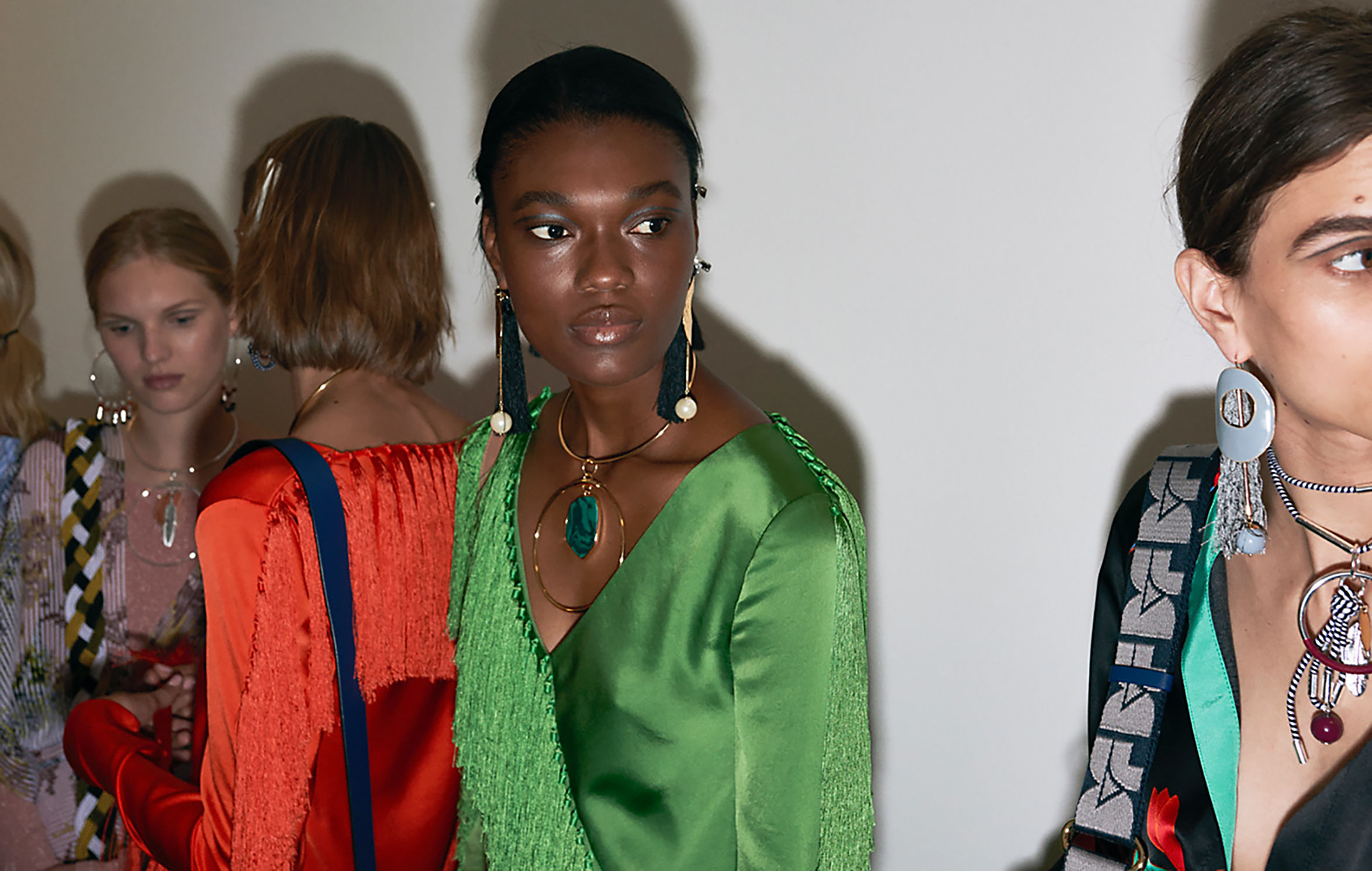 At Marques'Almeida this motion-activated approach really came to life; cue a firing squad of fringing lining up on the runway. First down the catwalk, a saccharine-pink dress which was anything but subtle, followed in quick succession by trousers traced with tassels and a number of oversize coats and cover-ups that matched monochrome stripes with soft rose and jet black with a clashing shade of orange.
Jonathan Saunders' swansong collection for Diane von Furstenberg (after less than two years at the label, incidentally) gave a nod to the trend with statement earrings, manically printed scarves and embellished bags all coming festooned with full-fringed extras. Equally, his three final looks showcased its real appeal, with fabric dancing across his model's legs as they walked, hitting all the right notes with front-row attendees. "My favourite iteration was at Diane von Furstenberg," says Jennifer Bishop, buyer for Browns Womenswear. "Fringe swirled from shoulder to hem in block coloured V-neck dresses and tops; disco-inspired glamour at its best."
And still, more came from Pringle of Scotland. Womenswear Design Director Fran Stringer brought the luxury knitwear label out of the polite corners it has made its home over the years, to remind people of the relevance it has, proffering a wilder Scotland through, yes, fringing. Some felt stormy, with threads left as if unravelling from asymmetric hemlines, others offered a more delicate eyelash trim which framed full looks. Both similarly desirable. So, there you have it, fringing is in and there are a hundred ways to wear it. For anyone who saw the '70s first-hand and can't help but feel full-on flashback vibes when it comes to the ready-to-wear, then take your cue from Browns Accessories Buyer Hollie Harding, who recommends starting small. "Earrings are a great starting point. My favourite are the yellow and blue Katerina Makriyianni fringed gold vermeil earrings – subtle, but fabulously eye-catching. If you're feeling a little braver, Chloé's suede Qaisha boots are suitably vivacious."