Festive jewellery: Colourful statement sparklers from Cartier, Bvlgari, Chanel and more for the holidays
Make a grand entrance at year-end celebrations with jewellery boasting colourful personalities and serious sparkle.
Cartier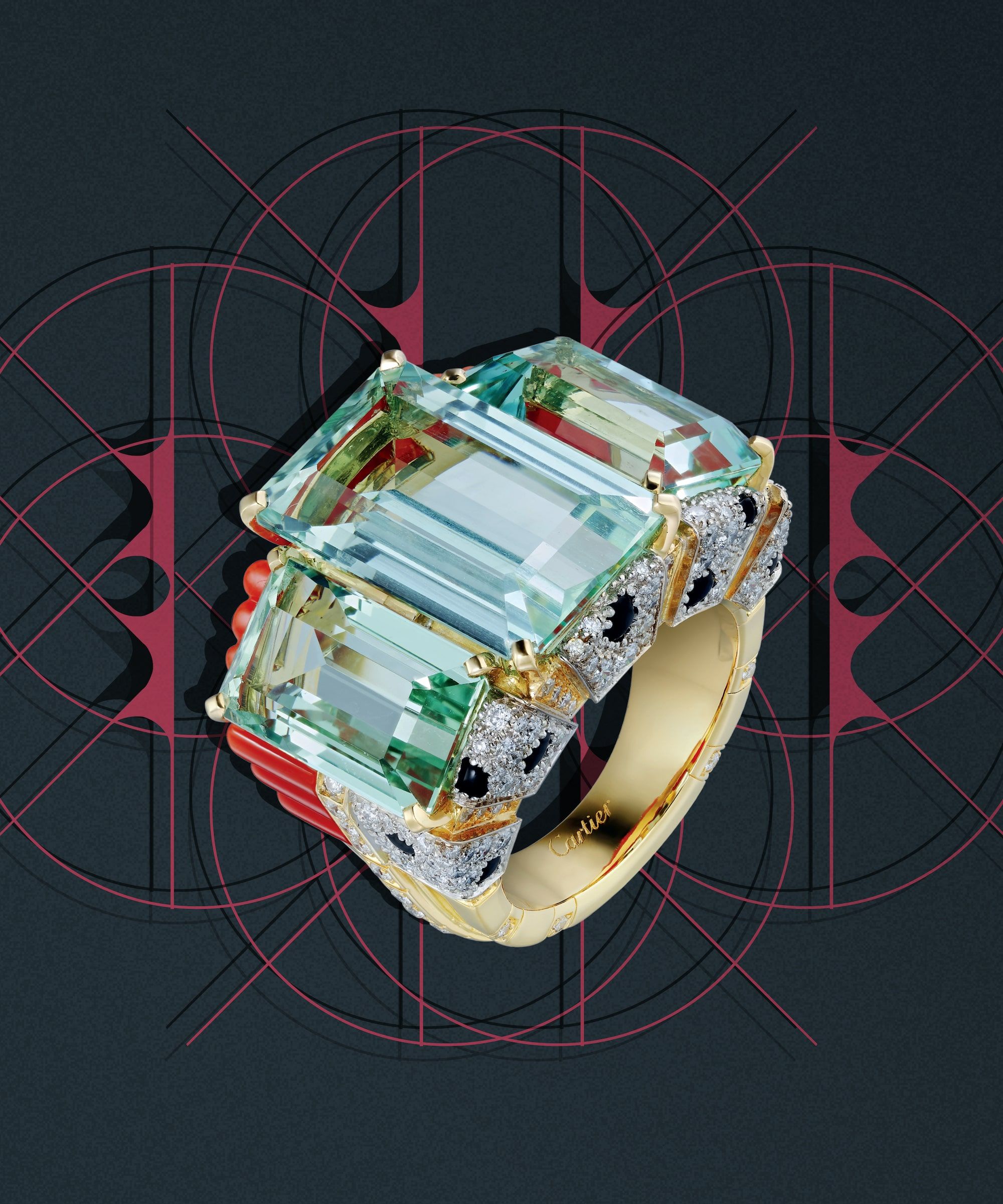 It is the audacious colour contrast and materials on the Panthère Tropicale ring from Cartier's high jewellery collection, [Sur]naturel, that make it a conversation piece. Catching the eye first is the vivid crimson of the delicately gadrooned coral on one half of the yellow gold ring. Depicted on the other half is a graphic representation of the panther's spots in a form of onyx stones punctuating brilliant-cut diamonds. This striking piece is topped with an exquisite trio of rectangular-shaped aquamarines weighing 21.6 carats.
Graff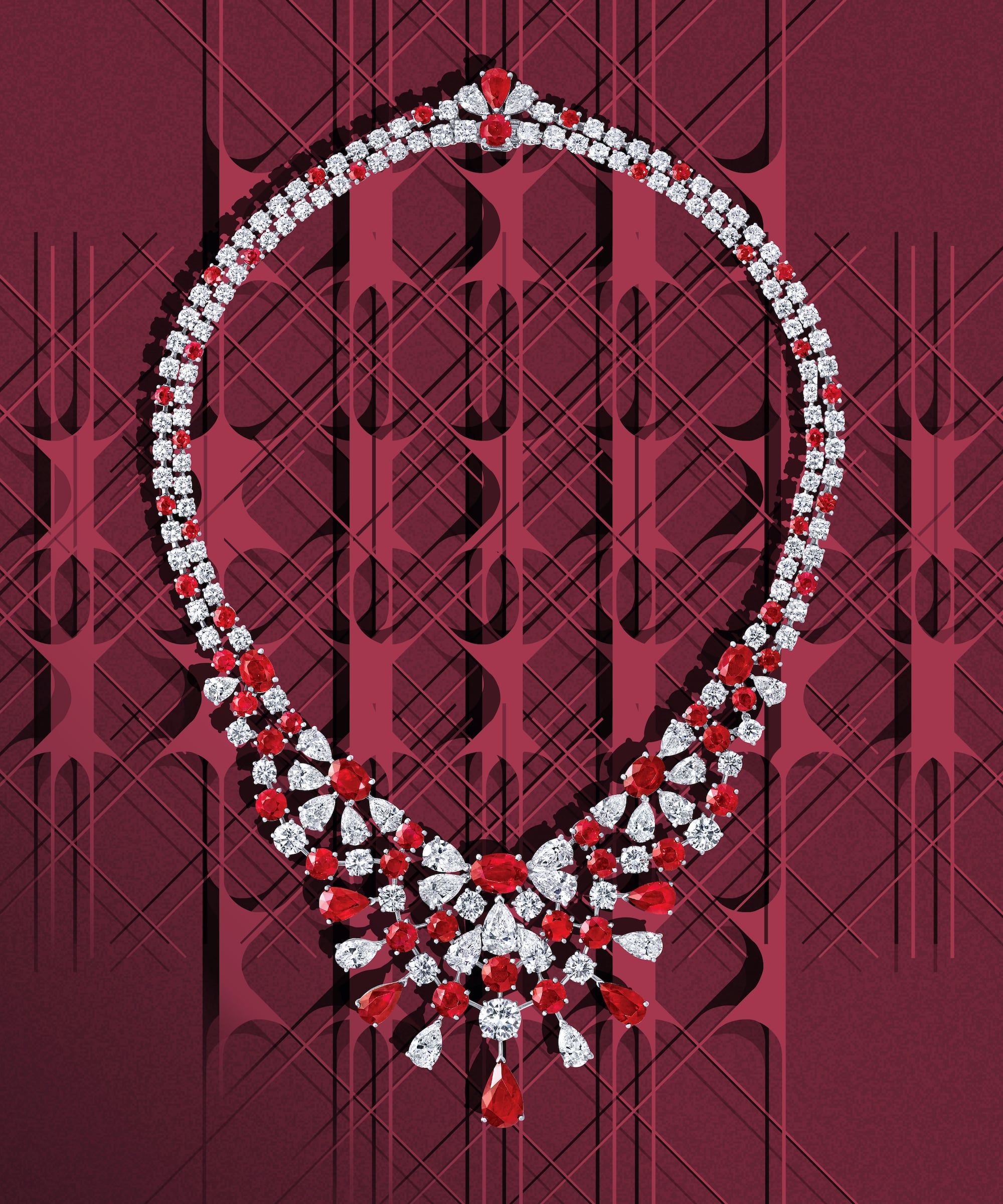 While the British jeweller is famed for creations showcasing exceptional white diamonds, it is also known for remarkable pieces that feature rare and valuable coloured gemstones like this necklace. A perfect accessory to year-end festivities, this white gold stunner is adorned with 50.33 carats of diamonds and vibrant red rubies weighing 52.42 carats.
Van Cleef & Arpels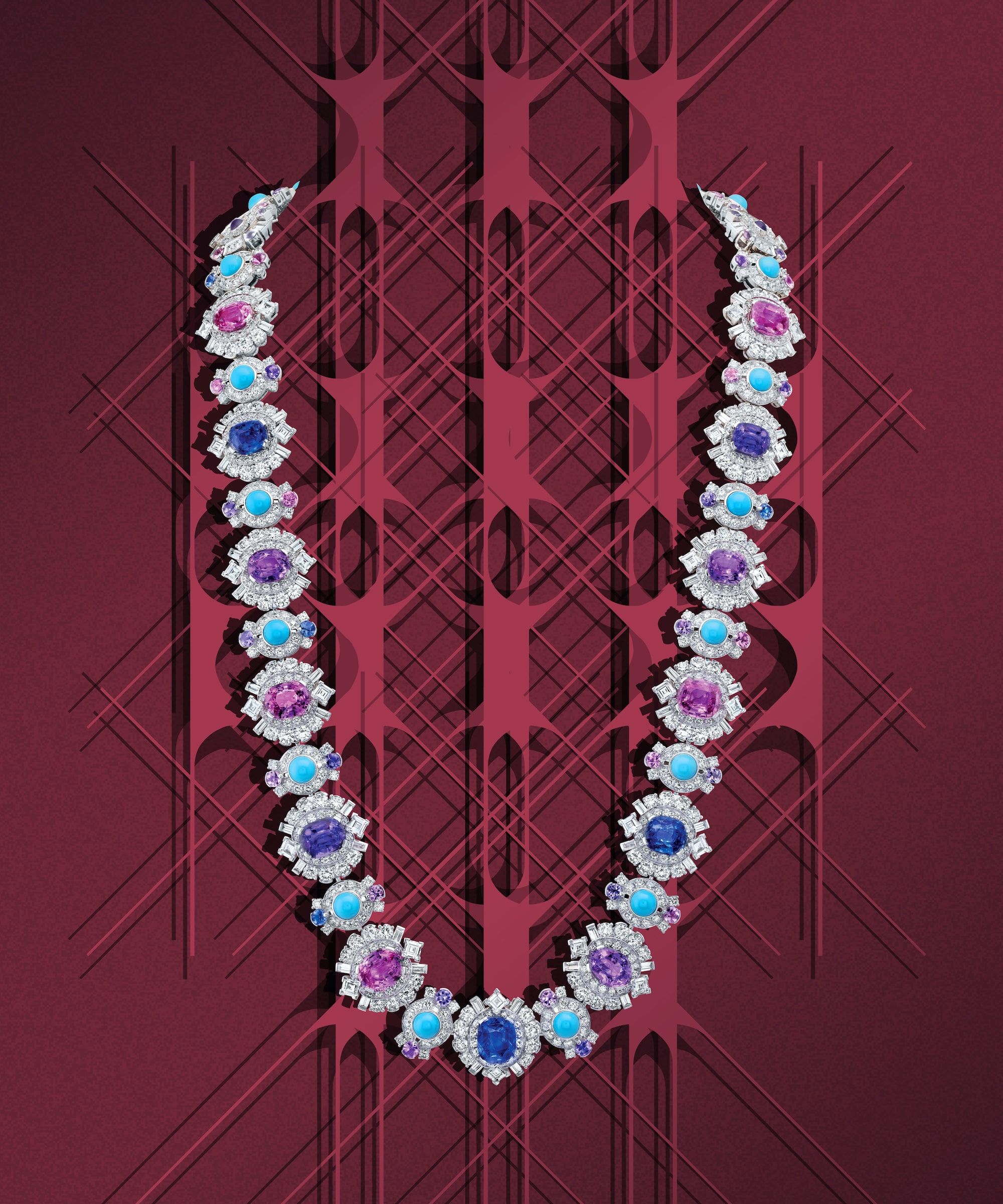 Showcasing alternating blue, violet and pink gems to express the union of the Capulet and Montague families, the Belfiore long necklace from the Romeo & Juliet High Jewellery collection is excellent for a period-themed event. The Renaissance-inspired white gold piece flaunts 14 oval and cushion-cut coloured sapphires – with a combined weight of 55.05 carats – from Sri Lanka and Madagascar. Also reminiscent of Renaissance jewellery is a setting that features turquoise and coloured sapphire cabochons alongside faceted precious stones. This showpiece can be transformed into a short necklace and bracelet.
Chopard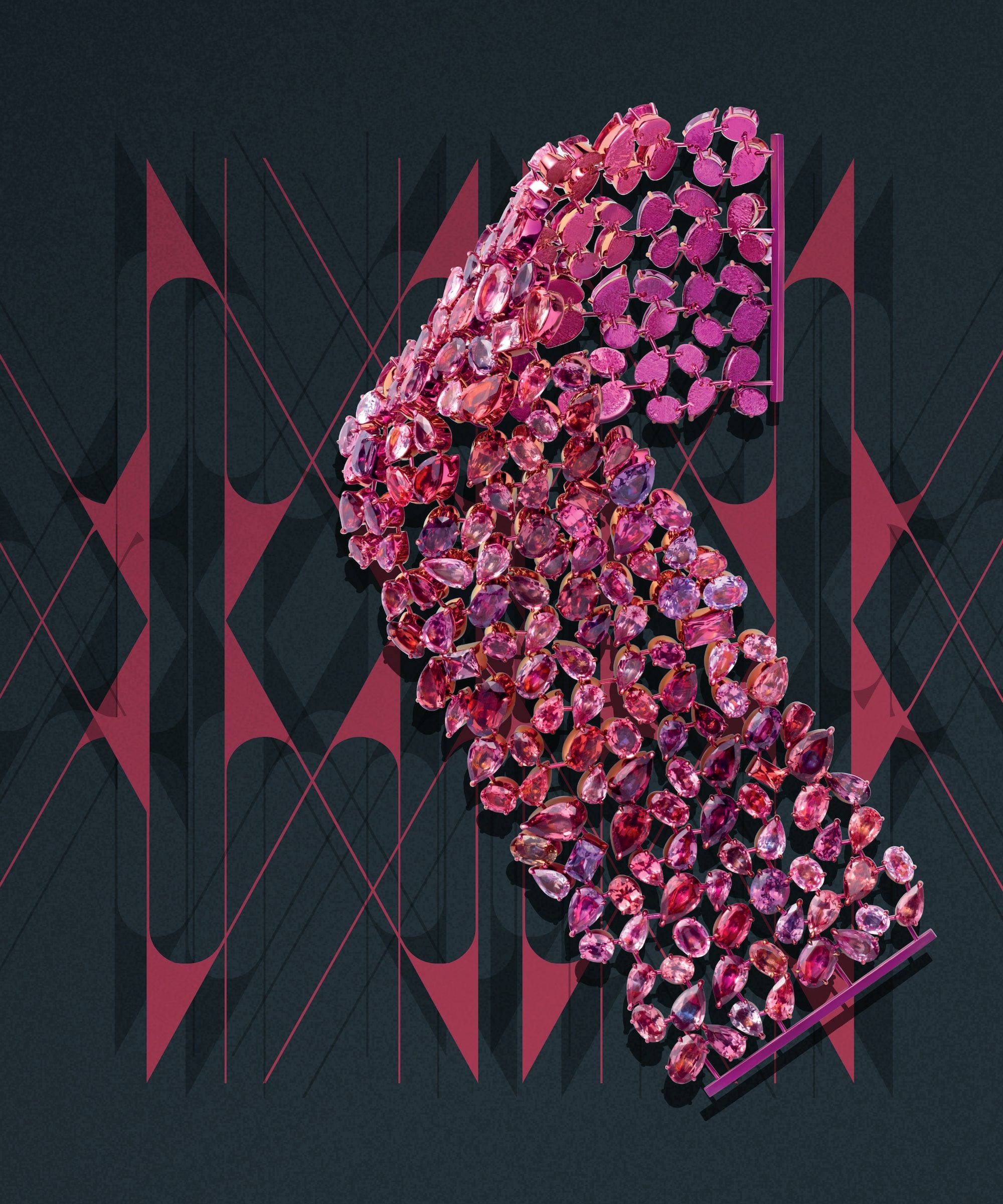 Clad in 99.8 carats of morganites and 8.4 carats of diamonds, this bracelet from Chopard's Red Carpet Collection 2020 makes a bold statement with its exuberant shades of red and pink. It is also set in feather-light titanium coloured to match the morganites, resulting in a deeper and more luscious hue.
Chanel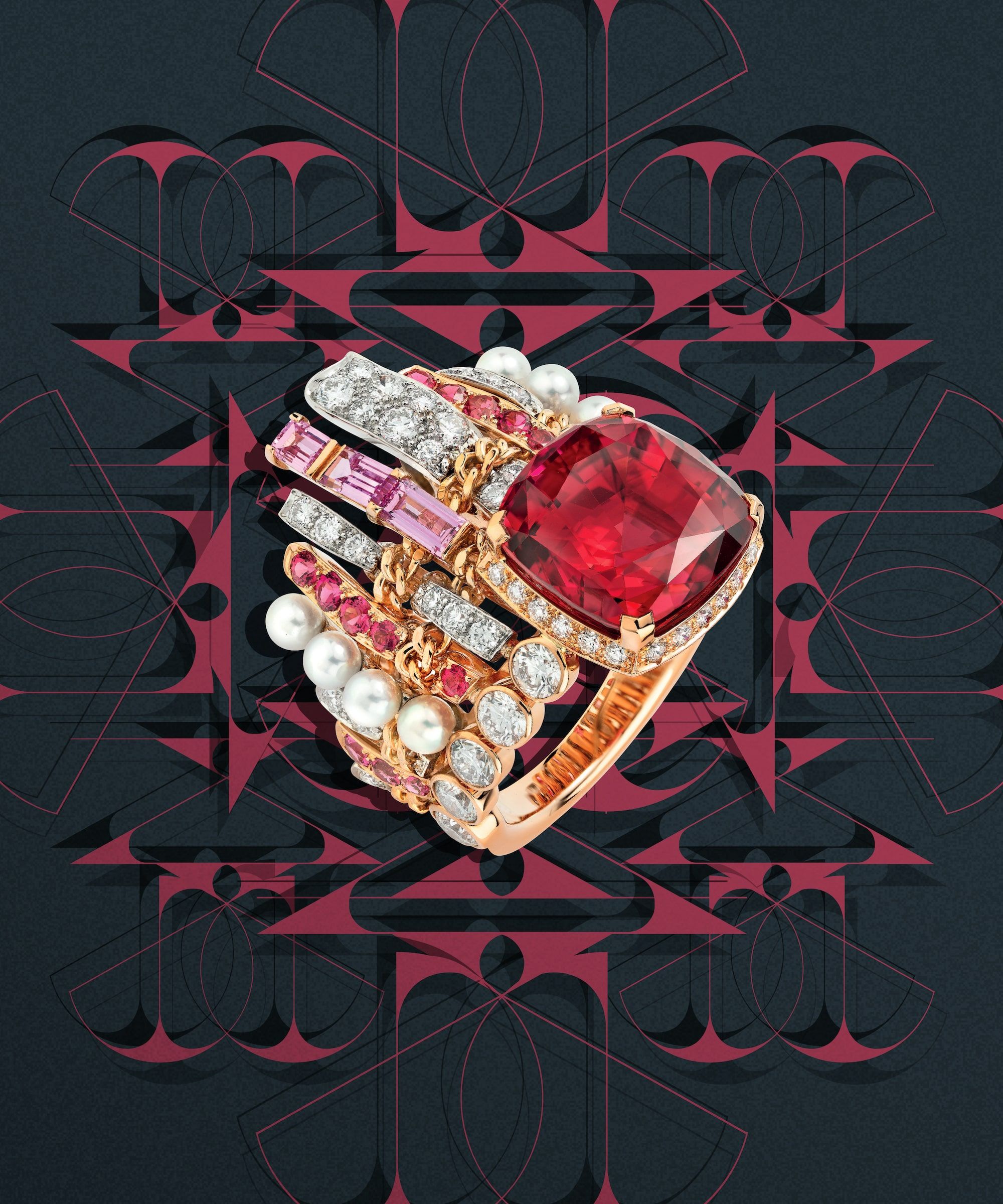 Ladies who adore Chanel's chic tweed suits will appreciate the maison's interpretation of the woollen fabric as a jewellery motif. The design of this Tweed Couture platinum and pink gold ring captures the cloth's signature irregular texture – by layering different coloured gems on a textured lattice that brings to mind threads and stitching. The centre stone is a rare 10.57-carat square cushion- cut spinel, which is surrounded by pink sapphires, diamonds, pearls and additional spinels.
Bvlgari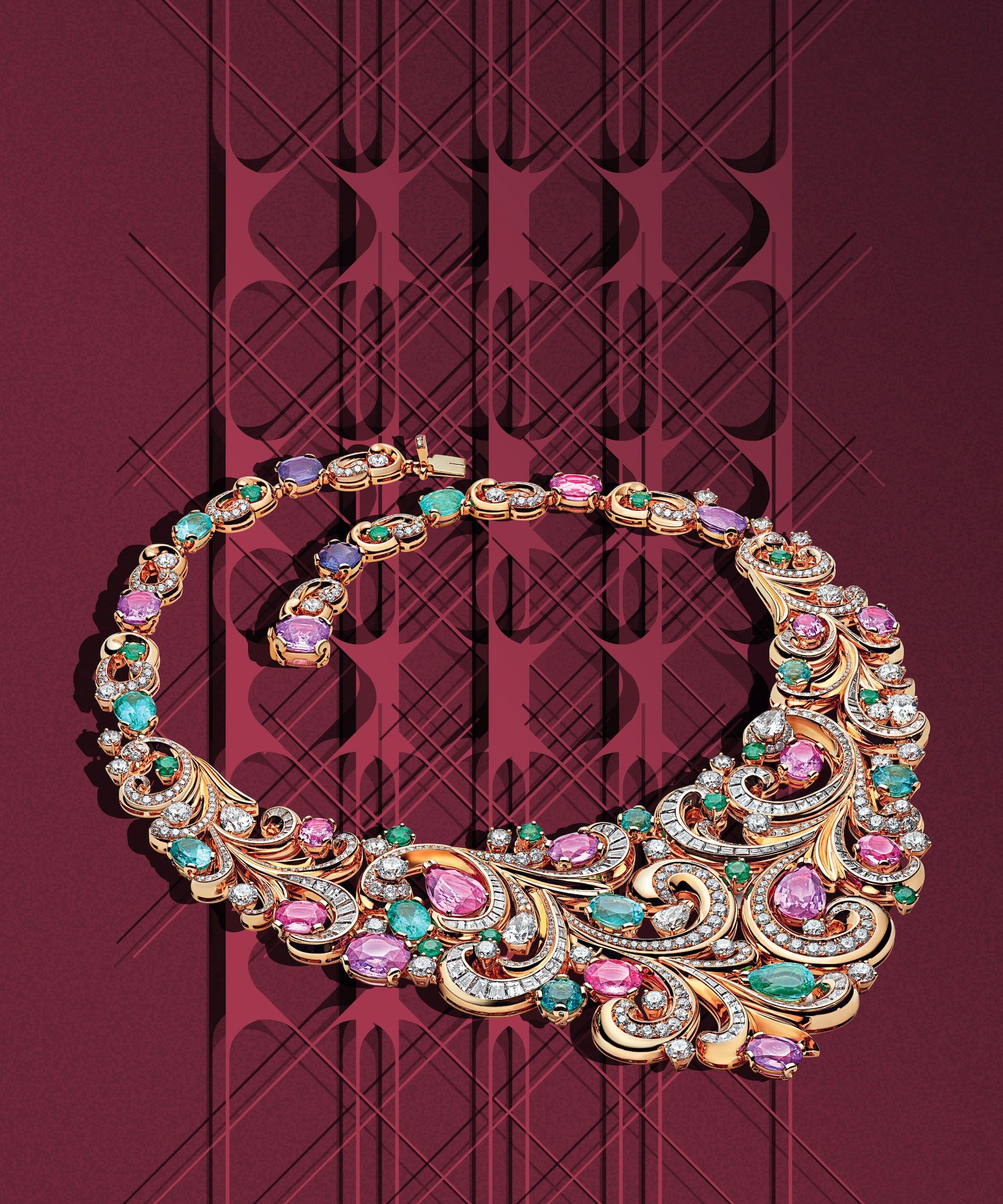 The Lady Arabesque Necklace from the Baroque-inspired high jewellery collection, Barocko, combines a contemporary colour palette with classical tendril patterns in pink gold. Unique stones featured here are the purple Madagascan sapphires weighing 14.41 carats and Paraiba tourmalines totalling 16.35 carats. Adding more colour variation to this bib-style piece are oval and cushion-cut pink and purple sapphires, emeralds as well as fancy-shaped and pavé diamonds.
Harry Winston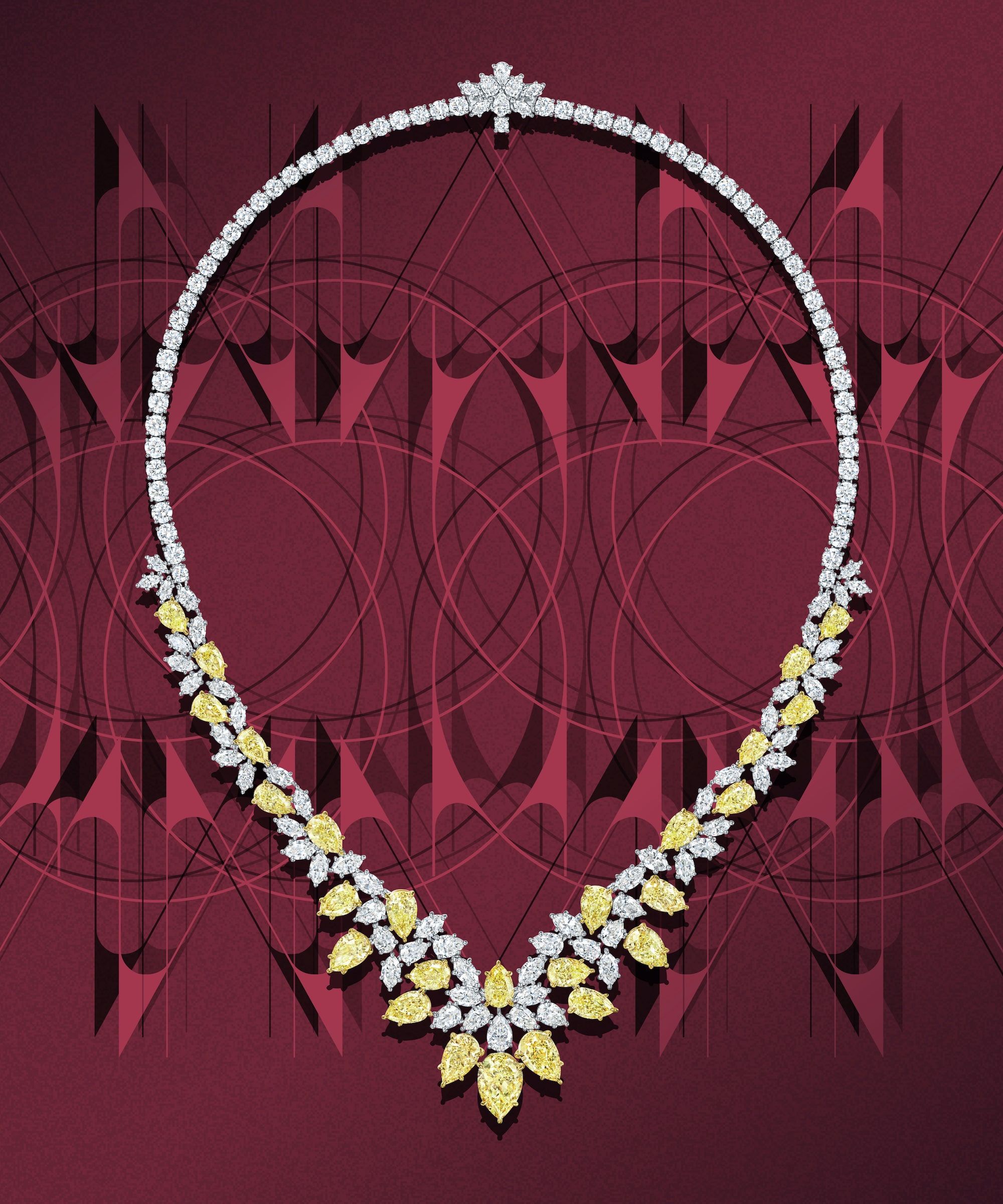 Created in the 1940s by Mr Winston, the jeweller's hallmark design of the Winston Cluster allows the natural brilliance of the gemstones to shine. Taking centre stage in this timeless and feminine yellow gold and platinum diamond cluster necklace is an arresting 4.76-carat pear-shaped yellow diamond. It is surrounded by 158 marquise-cut, pear-shaped and round brilliant yellow and white diamonds weighing 62.59 carats.
Dior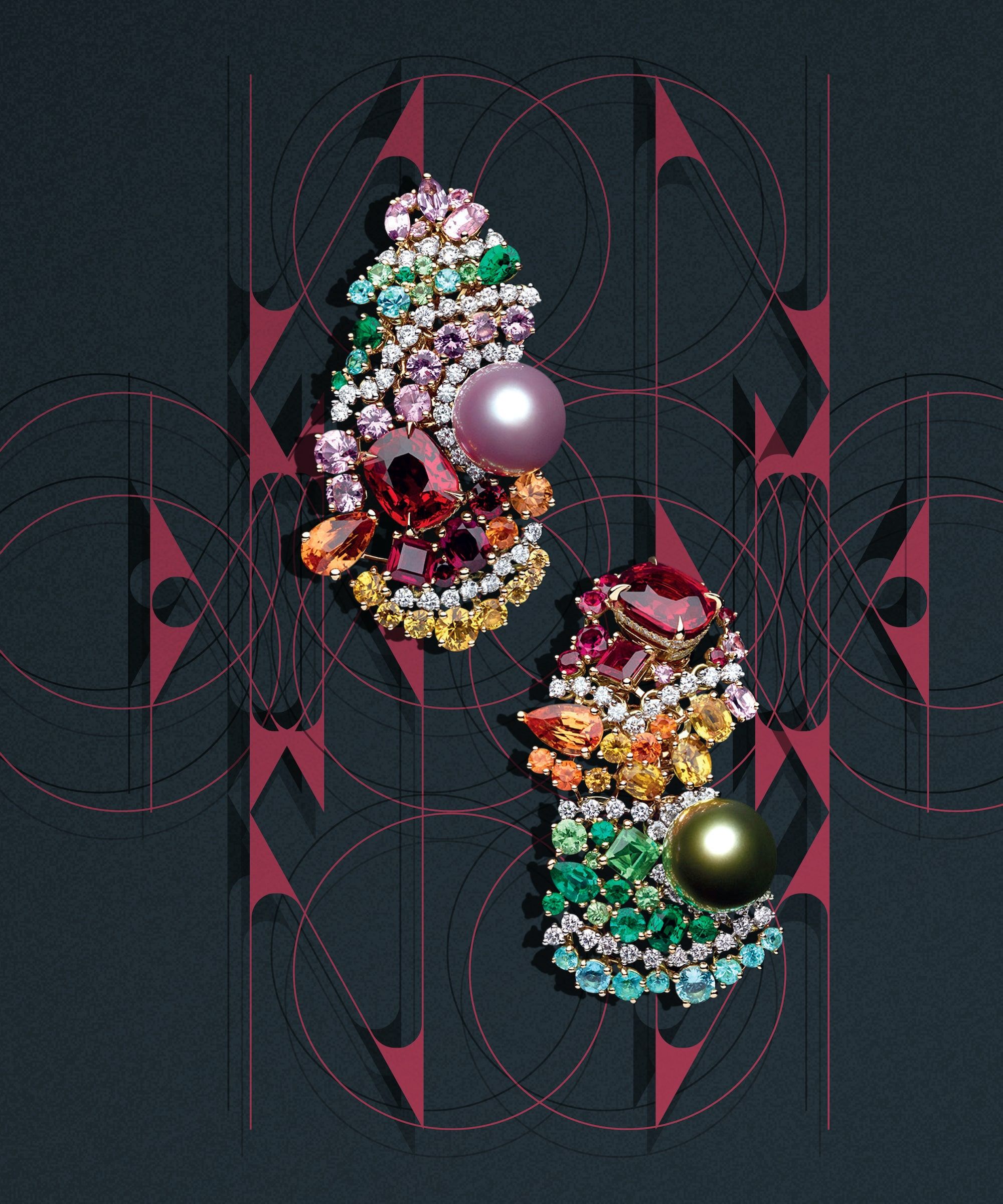 A masterful demonstration of the tie-dye inspiration for the Tie & Dior high jewellery collection is this pair of mismatched earrings in a riot of colours. Precious stones in a cornucopia of hues, shapes and sizes are combined with lustrous pearls placed off-centre, imparting a bold and irreverent personality. Perfect for jazzing up a black outfit, the gems on this platinum and yellow gold creation include pistachio and purple cultured pearls, rubies, spessartite garnets, pink and yellow sapphires, Paraiba- type tourmalines, emeralds, tsavorite garnets and diamonds.
(Art direction: Aaron Lee)