Van Cleef & Arpels has masterfully transformed gold through various textures, techniques and themes over time, illustrating the breadth and richness of its style.
The shortage of precious stones and industrial takeover of platinum in Europe from the late 1930s saw the resurgence of yellow gold in jewellery. Working with the precious metal during a period of uncertainty and renewal following World War II also led to a change in the language of shapes and aesthetic codes. Undaunted by the constraint of materials, Van Cleef & Arpels continued to express its creativity and showcased its technical innovation by creating new motifs that combined both naturalism and abstraction.
Jewellery of the late '30s and '40s – known as the Retro period – flaunted a new uniqueness and aesthetic. Pieces took on the look and feel of fabrics, while the once popular geometric Art Deco designs made way for cleaner lines in more fluid styles. A noteworthy creation by Van Cleef & Arpels from the time was the Chantilly motif, whose shape evoked both a small leaf, as well as a threaded fabric. Its hybrid form became the basis of compositions that explored multiple light sources, movement and rhythm. Apart from gracing clips, rings, Coup de Vent necklaces and diamond-set Lampion earrings, the motif also flourished at the heart of the maison's iconic Zip necklace, which summed up Van Cleef & Arpels' creative repertoire and formidable jewellery-making prowess.
Presented in 1950, the house's first Zip necklace took over a decade of research and development to realise. It's said that in 1938, the fashion- forward Duchess of Windsor challenged her friend – then artistic director of Van Cleef & Arpels, Renée Puissant – to create a high jewellery piece inspired by the humble, utilitarian zip.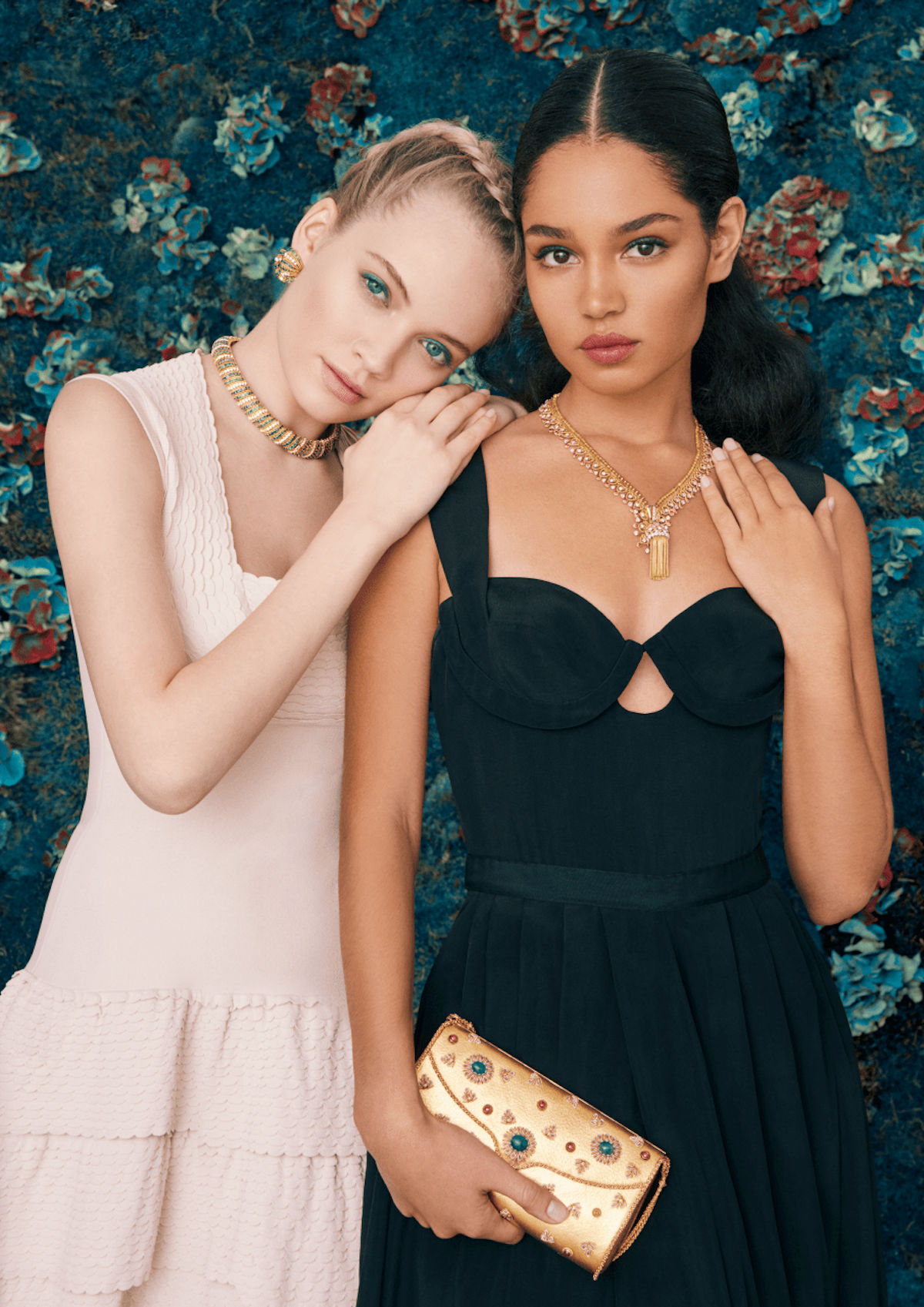 The transformation of everyday objects into jewellery is also illustrated by the tubogas (also known as snake chain or gas pipe) – a lightweight, articulated, fluid gold ribbon with a hefty appearance. Created in the latter half of the '30s, the design was highly received during the '40s and was employed by several jewellers. Van Cleef & Arpels' elegant tubogas iterations highlighted the suppleness and radiance of gold on necklaces, earrings, Fer à Cheval (horseshoe) rings and Belle-Hélène bracelets set with rubies, sapphires and diamonds.
In the 1950s, Van Cleef & Arpels incorporated gold threads in its jewellery. Twisted, braided, woven or striated, they were manipulated in various ways to take the form of precious ties, cords and fabrics, such as lace. Gold pastilles and sequins punctuated with diamonds gracefully animated a ballerina's tutu. Another design included networks of fine, smooth lines that made up the delicate weave of a gold fishnet protecting a glittering pistil of precious stones at the heart of an imaginary flower. The vitality, volume and movement of flora were expressed by numerous leaves that seemed to be drawn with a single movement and then chiselled.
Trends accelerated throughout the '60s and '70s, which were distinguished by female emancipation and the growing attraction for Indian-inspired jewellery. Van Cleef & Arpels reinterpreted this evolution by producing more accessible creations, such as gold and hard stone pendants. For its Mimosa and Narcisses collections, the maison employed techniques to create textured gold that looked crumpled or hammered.
Oriental-inspired motifs also took on a new vigour in the maison's exceptional objects, including cigarette boxes, compact cases and evening bags. A Paillette Cousu Sellier (saddle-stitched paillette) set from the late '60s expressed the house's penchant for hand-crafting techniques. Geometric patterns took centre stage once again in the '80s. Large, distinctive pieces of the period incorporated colours and mixed materials, such as wood and coral with gold that was curved and smooth.
It is evident that through Van Cleef & Arpels' expansive repertoire ranging from heritage to contemporary creations over the years, there is no doubt that the maison has revealed its panache in savoir faire, as well as its singular vision in the artful transformation of gold.
This story first appeared in the January 2022 issue of Prestige Singapore.