Breitling Chronomat: Lisa Gwee and Sng Khai Lin on how the watch reflects their personalities and styles
In celebration of the upcoming International Women's Day, we spotlight two dynamic women who embody the spirit of Breitling's first ladies' Chronomat collection. Lisa Gwee and Sng Khai Lin talk to Allyson Klass on how, as a new breed of lady bosses in male-dominated sectors, they shatter stereotypes and reshape attitudes.
Lisa Gwee, CEO of G&L Surgical Clinic Lisa's role involves balancing business development and managing the daily operations of the clinic, which is a medical centre for gastrointestinal and laparoscopic surgery. While the pandemic has made that job so much harder, the 35-year-old is raring to achieve more.
She's also the COO of a soon-to-be-launched medical solution digital application that gives doctors convenient access to provide treatment and follow-up care to their patients. Here, she takes the lead in meeting with medical practitioners from various medical fields and the development team in improving the product's applications. Lisa's goal for the app is to drive efficiency in scaling digital health solutions such as patient education and support programmes, symptom trackers and more for holistic patient care.
It's clear that Lisa's passion and drive for helping people in need are her main sources of motivation. In fact, during the Circuit Breaker, she led her company's medical supply donation drive, and also participated in several charity initiatives throughout the past year to aid those affected by Covid-19. At work, she derives satisfaction from seeing patients on their road to recovery: "A patient returning to express gratitude spurs me and my team to continue doing the work we do."
Not one to rest on her laurels, Lisa is constantly searching for new ways to better integrate healthcare and lifestyle. Through the clinic, her aim is to not only help patients recover from their conditions, but to educate them on how making changes to their lifestyle and habits can directly affect their health. "You often hear, 'prevention is better than cure', but how many people truly live by this?" she asserts. When asked how she tackles naysayers in this male-centric industry, Lisa's confident answer is unexpected: "The pressure to excel in a male- dominated industry comes from my personal pursuit of excellence and not those around me. The challenge is proving to myself that I've the ability to achieve the goals I set, instead of proving it to others."
Apart from the growth of the surgical practice being Lisa's milestones in the last three years, the live wire proudly lists the following as her pride and joy: her family, a happy home and her two daughters, aged one and three. "I hope that women will not be daunted by the need to pursue their career while managing a family. I've encountered many who feel threatened by the decision of family or career. With the advancement of our society, women can have the best of both worlds. There's no need to make the ultimate sacrifice of either."
Her advice to young women on being fearless: "When making tough decisions or expressing yourself, never let others dictate your confidence, self-esteem and life. Embrace what makes you different and instead of being ashamed of those differences, find ways to build on them."
Perfect for this new breed of female achievers is Breitling's first-ever Chronomat for Women collection, which is available in two versatile ranges – Chronomat 32 and 36. Sporty yet elegant with their distinctive '80s-inspired modern-retro looks, the COSC-certified timepieces are designed for women of purpose, action and style.
Catching Lisa's eye at the shoot was the Breitling Chronomat Automatic 36 steel model with a lacquered pale green dial. After slipping it on, she adds: "This watch says that I'm very comfortable in my own skin. And while it's a reminder of how time is the most valuable resource, I like how the unexpected green dial shows a little of my gregarious side."
Sng Khai Lin, Co-Founder and CFO of Fundnel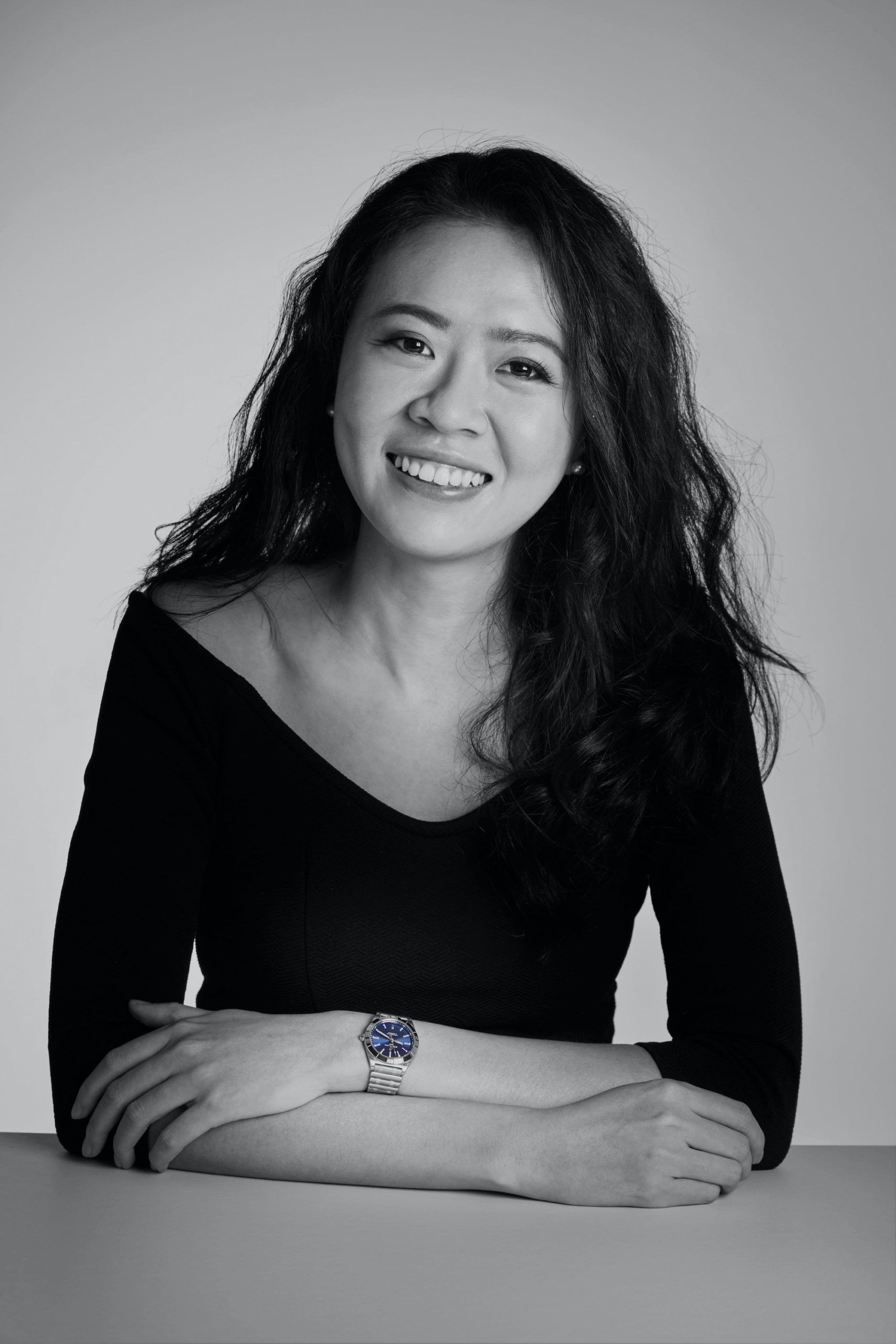 A former JP Morgan investment banker, Khai Lin co-founded online private investment platform Fundnel in 2015 with the vision of making a difference to underserved start-ups seeking growth funding. The 33-year- old is responsible for formulating financial and growth strategies across five country markets. Under Khai Lin's wing, the company has since amassed US$6 billion (S$7.9 billion) worth of deals for over 13,000 investors.
Since a similar model like Fundnel didn't exist in Southeast Asia initially, one of the biggest hurdles that Khai Lin and her small team faced was convincing start-ups and investors to buy into their idea. And with the private investment industry being a male-dominated one, Khai Lin has had her fair share of prejudice at work throughout her career: "It's common to have clients ignore my presence in meetings as they devote their attention to my male colleagues. I won't lie and say it didn't affect my psyche at first, but my experiences have taught me that despite these circumstances, it is ultimately my work that speaks for itself."
However, Khai Lin believes her gender gives her an edge in the mostly male domain as she offers a different perspective that is unique to women. "Through Fundnel, I can empower fellow women entrepreneurs, who typically face unconscious biases that get in the way of acquiring capital for their start-ups. Their struggles may be left unseen or unconsidered by my male colleagues, not because they are prejudiced against women, but simply because they aren't able to resonate with the experiences that women founders go through," she points out.
With the belief that the efficient distribution of capital is a way to empower individuals and fuel businesses that can truly benefit society, Fundnel has started to place an increasing emphasis on companies that create innovative solutions to tackle global issues of the 21st century. She elaborates: "Today, our platform has a variety of ESG-related (Environmental, Social and Corporate Governance) deals, from food security to mental health, to sustainability and renewable energy. Knowing that the work we do can spur a ripple effect across societies in a positive manner keeps me motivated, no matter how tough the going gets." The fintech entrepreneur also attributes her can-do attitude to her mother: "She's the most capable person I know. Growing up, I saw how she adeptly wore multiple hats. She ran the family business of wholesale eggs and distribution, while being a dedicated wife and mum to five children. She was my first exposure to entrepreneurship, and I don't think I'd have made it this far without her unwavering support."
What is Khai Lin's hope for young women in the next generation? "I hope they continue to empower the ones who come after them. Society has made great strides in gender equality, but there is still much to be done. I look forward to seeing the next generation pursue greater female representation in areas that are traditionally dominated by men."
Matching Khai Lin's confidence and sass is the new Breitling Chronomat for Women collection, which flaunts the manufacture's iconic and sophisticated Rouleaux bracelet with a butterfly clasp. The watch variants are as diverse as the women they're created for: The collection has a total of 17 models, which come in two sizes (32mm SuperQuartz and 36mm Automatic), and case options of stainless steel, 18k red gold or bi-metal. There are also variants with diamond-set bezels and indexes.
Khai Lin was immediately drawn to the steel Breitling Chronomat 32 with a midnight blue dial as it is the perfect complement to her driven personality and effortless chic style. While many of her colleagues and peers wear smartwatches, she insists on an analogue watch as she believes in being present in the moment. "I can't give my full attention to what's going on if I'm glancing at an email or text on my watch," she explains as she admires the 32mm timepiece.
Art direction: Audrey Chan | Photography: Lavender Chang | Hair & Makeup: Benedict Choo