From the new Watches & Wonders digital exhibition in April are Hermès Horloger's latest novelties linking the past to the present, as introduced to Reena Hallberg by the manufacture's Chief Executive Officer, Laurent Dordet.
Earlier this year, in response to the unprecedented challenges brought on by the coronavirus pandemic, Fondation de la Haute Horlogerie (FHH) cancelled their much-anticipated Watches & Wonders Geneva exhibition – formerly known as the Salon International de la Haute Horlogerie (SIHH) – and moved the event to an entirely new digital platform.
In late April, on the day the event was originally slated to open, FHH unveiled its breakthrough virtual fair, where watch enthusiasts, journalists and retailers could come together to discover the year's most innovative novelties, while engaging with participating brands all in one place. And while nothing can replace the sensory experience that visiting a physical fair entails, watchmakers such as Hermès were able to create immersive online presentations designed to replicate the actual fair experience.
The French maison, renowned for its larger-than-life, art-installation-like booths at previous SIHH fairs, used the digital platform to showcase its 2020 novelties that pushed the bounds of creativity. The house revisited its past to reveal three new offerings: the Slim d'Hermès, Cape Cod Martelée, and the Arceau L'Heure collections, which included three timepieces with meteorite dials – undoubtedly its halo for the year. Here, CEO of Hermès Horloger Laurent Dordet discusses the success of the new releases.
How has Hermès adapted to the new challenges faced by retailers worldwide?
We are adapting to the situation by ensuring that our launches convey the right messages and are understood in a world that has become mainly digital over the last number of months. Therefore, it was important to show our novelties to the media and the public despite the [Watches & Wonders] show not being held physically. Our public is still very active online and eager to discover the 2020 novelties. As for the watches, I strongly believe the global customer experience mostly starts with a digital one, and that's why we invest a lot into it. And of course, we look forward to meeting again with press and clients next year, and to presenting a new scenography, which will highlight 2021 novelties.
Tell us about the watch that everyone seems to be talking about, the Arceau L'Heure De La Lune.
Our highlight, the Arceau L'Heure De La Lune, is a very good expression of the singular interpretation running counter to industry trends. We presented it last year in a limited edition and we had the great pleasure to be awarded by the Foundation of the Grand Prix d'Horlogerie de Genève (GPHG). We come back this year with new versions on a Lunar, Martian or Black Sahara meteorite dial. The new complication evokes a sense of dreams and emotions, a useful function with a graphic and mysterious side. Its display is playful, with counters gravitating around the moons and topsy-turvy moons, because Hermès loves to dream with its head upside down. We also present on Arceau a new skeleton version subtly revealing the mechanism and paying tribute to the equestrian line, which was introduced in 1978 when Hermès established watchmaking in Switzerland.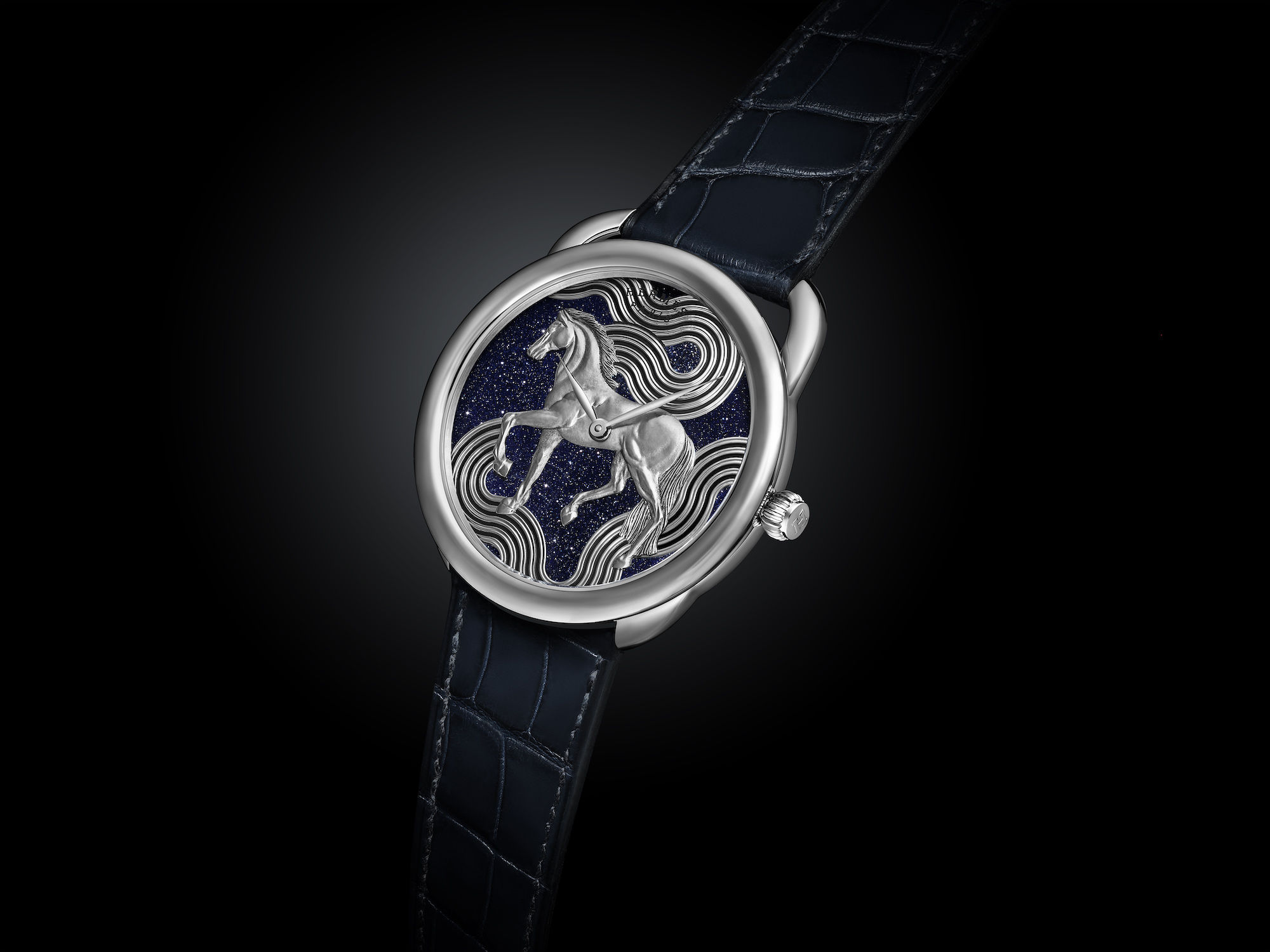 We see the revival of Henri d'Origny's original 1978 design in Arceau Cheval Cosmique. How has this classic been reimagined for 2020?
Henri d'Origny created the Arceau watch in 1978: a round watch that he combined with asymmetrical stirrup-shaped lugs along with a distinctive and singular font. Since then, the line has always been animated either with complications, singular creations or métiers d'art dials. What makes an exceptional piece so compelling is the unique design of the dial. Our métiers d'art tell a story of collaboration between the maison and the skilled craftsmen with whom we work. We look for partners eager to embrace new challenges, such as working with crystal for the Arceau Millefiori, or translating the Japanese art of Aka-e onto a porcelain dial as seen in the Slim d'Hermѐs Koma Kurabe. For Hermès, it is also the opportunity to present our creativity and singularity.
What's the story and craftsmanship behind the Cape Cod Martelée?
Henri d'Origny was originally asked by Hermès to design a square watch, but the free spirit saw things differently and preferred to respond in an almost irreverent manner with a watch representing a 'square inside a rectangle". For almost 30 years, the Cape Cod has been an icon, with the anchor chain motif cut in two to insert the square case. Its design reflects rigorous discipline combined with a boldly impertinent attitude. Its success was further amplified by Martin Margiela's novel idea for his very first Hermès runway show in 1998 – adding a double-wrap strap that would later be known simply as the Double Tour.
The new Cape Cod Martelée highlights its anchor chain shape in a subtle play of forged and patinated surfaces. Cape Cod is perpetually transformed and lays itself open to all kinds of whimsical interpretations. Today, this classic lends its finely balanced shapes to the excellent jeweller's skill known as hammering. This complex and sophisticated technique enhances the steel case with a unique patina-type effect. The hammered dial is coated with a thin layer of translucent lacquer, in graded shades ranging from anthracite to black. The raw yet crafted material, with all its depth and roughness, results in an object with an entirely unexpected look.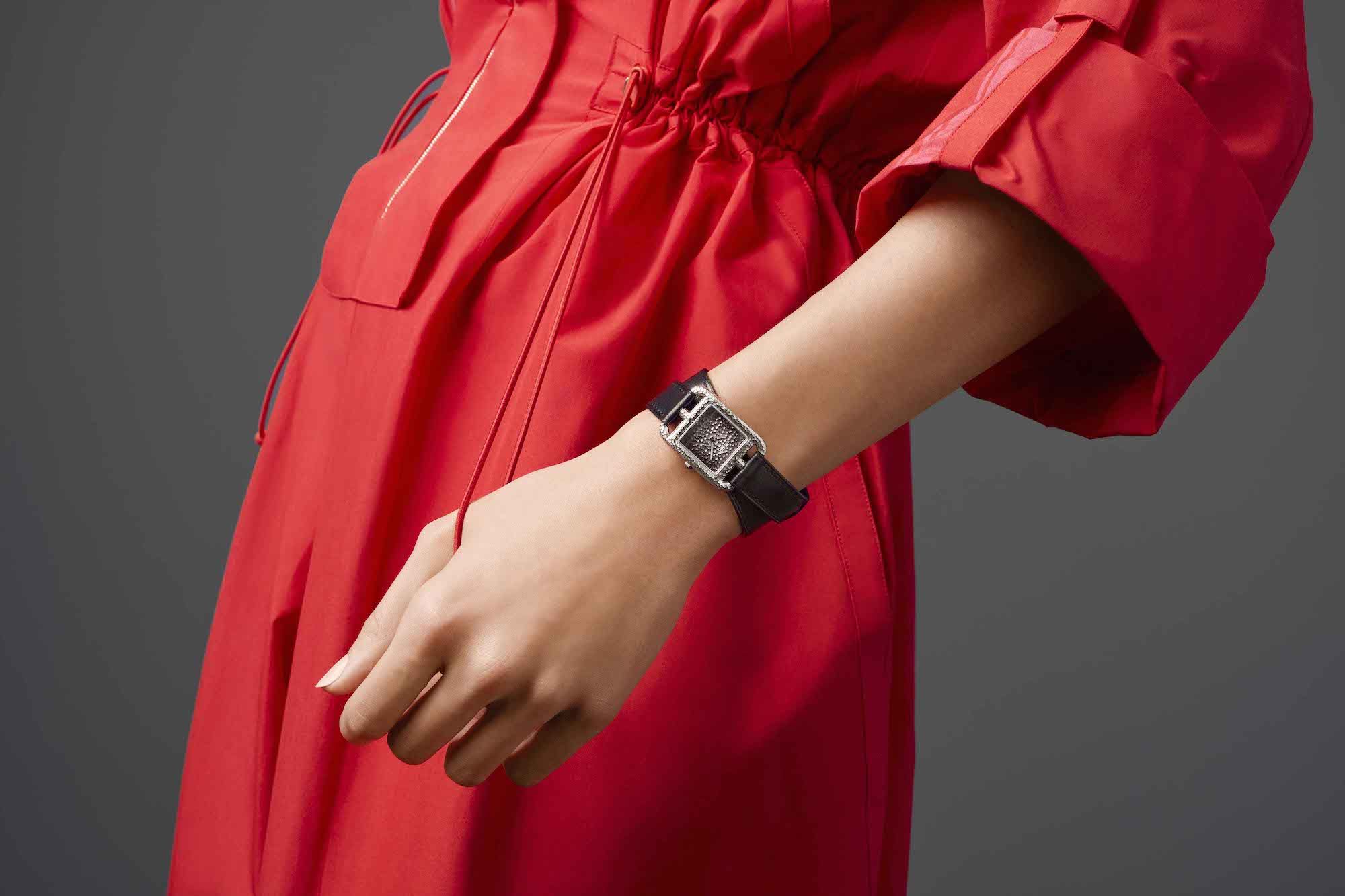 What new technical feats have you attained with the new ultra Slim d'Hermès GMT?
The Slim d'Hermès was launched in 2015, and it is an elegant Hermès object that appeals to customers looking for a singular timepiece with a strong Hermès DNA and high quality in terms of movement and finishing. The first GMT version with a palladium case was presented in 2018as a limited edition. This traditional complication was interpreted in a different way playing with the distinctive numerals on the GMT dial, losing one's bearings. It was a great success. This year, we've come up with a rose gold version in blue tones highlighting elegance and classicism but also contemporaneity that speaks to the essentials of the brand. The new Slim d'Hermès GMT beats to the rhythm of the ultra-thin Manufacture Hermès H1950 movement measuring just 2.6mm thick, combined with the 1.4mm of the ultra-thin GMT module exclusively developed by Agenhor for Hermès.
This year we see more collections geared towards men. How are you developing this new segment?
Last year, for example, we introduced the new Galop d'Hermès line and the Arceau L'Heure De La Lune. Two years ago, we presented the Carré H and the new Cape Cod. We want to increase the attractiveness of our watches both in the men's and women's sectors. Our product strategy is to continue developing our feminine pillars – Cape Cod, Arceau, Galop d'Hermès, H Hour – by bringing out new creative and surprising models quite regularly, and to definitely set Hermès as a masculine watchmaker. Hermès has always had two legs: feminine and masculine.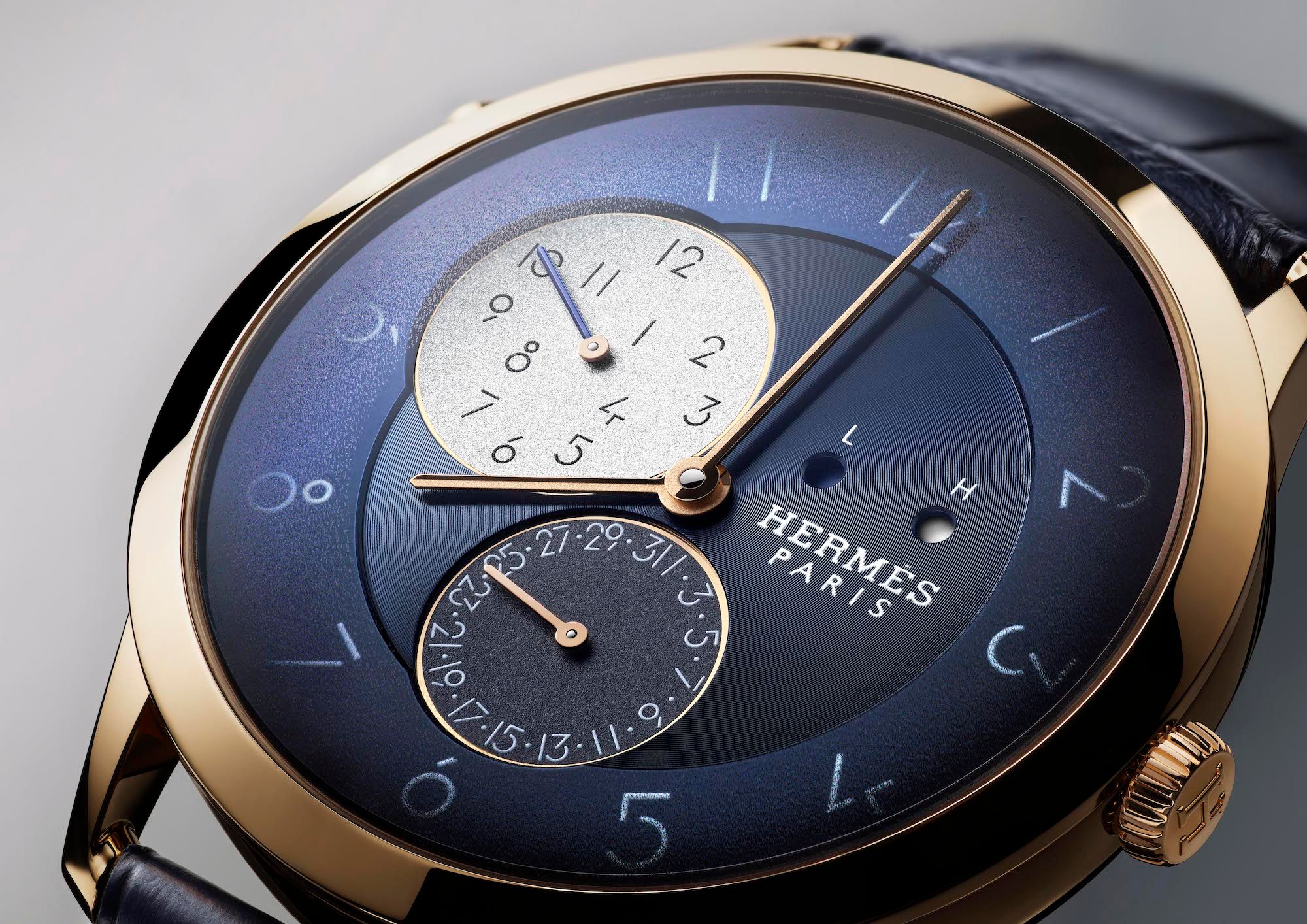 What can we expect from the maison with regards to haute horology going forward?
In recent years, we have seen growing interest from Hermès customers and watch collectors, thanks to launches featuring singular designs and unconventional interpretations of traditional watchmaking. For example, the Slim d'Hermès in 2015, born from a stylistic exercise around the purity of design and expressing a move towards essentials with a minimalist style; the Carré H in 2018, a square-shaped watch designed by Marc Berthier featuring a contemporary aesthetic; in 2011 with Arceau, which suspended time through a unique complication; and in 2019, when we began playing with moon phases in the L'Heure De La Lune complication. The main trends today are all about being singular and bold, and to offer the client authenticity and perfection. These daring and singular models enable us to stand out from the rest of the industry and to affirm the values of the house of Hermès.
Tell us about your favourite Hermès timepiece.
I really like wearing the Arceau L'Heure De La Lune with the new dials featuring very rare extra-terrestrial stones. It's a traditional complication interpreted in an offbeat way, designed to offer a singular approach to mechanical watchmaking, along with a playful display mode based on two moons built into the dial and playing hide-and-seek with satellite-type gravitating subdials. This model embodies the authentic identity of Hermès men's watches. It features a horological complication with a singular interpretation of the moon phases and a more daring graphic design.
This story first appeared in Prestige Thailand.
(Main and featured image of Laurent Dordet: David Marchon/Hermes)