The magnificent sparkling wines of northern France are synonymous with good times, celebration and indulgence. They're also serious, wonderfully complex and rewarding. Simon Tam takes you on a brief tour of the region, the wines and their delights.
Champagne is one of the loveliest and easiest wine regions to visit in France. It's only an hour north of Paris by TGV – in fact, I know many local champenois who commute daily to the capital for work, just as Parisians journey in the opposite direction to enjoy lunch at one of the many great restaurants of the Champagne region.
Pick up a hire car and the entire region is your oyster. There are two main communes in Champagne. Epernay is the home of some of the most famous houses, with Moët & Chandon, Pol Roger and Perrier Jouët being just three of the better known. From the plateau of Epernay you can easily see the Côte des Blancs, a chardonnay-dominant area that has wine lovers drooling over its vintages – Krug's Clos du Mesnil and Taittinger's Comtes de Champagne Blanc de Blancs are exquisite examples, with both capable of ageing for decades, given patience and the right storage conditions.
Reims is the region's unofficial capital; the Cathedral of Notre Dame de Reims is impressive and photogenic, with beautiful stained- glass windows and Gothic carved portals. Just as important are the great champagne houses headquartered here.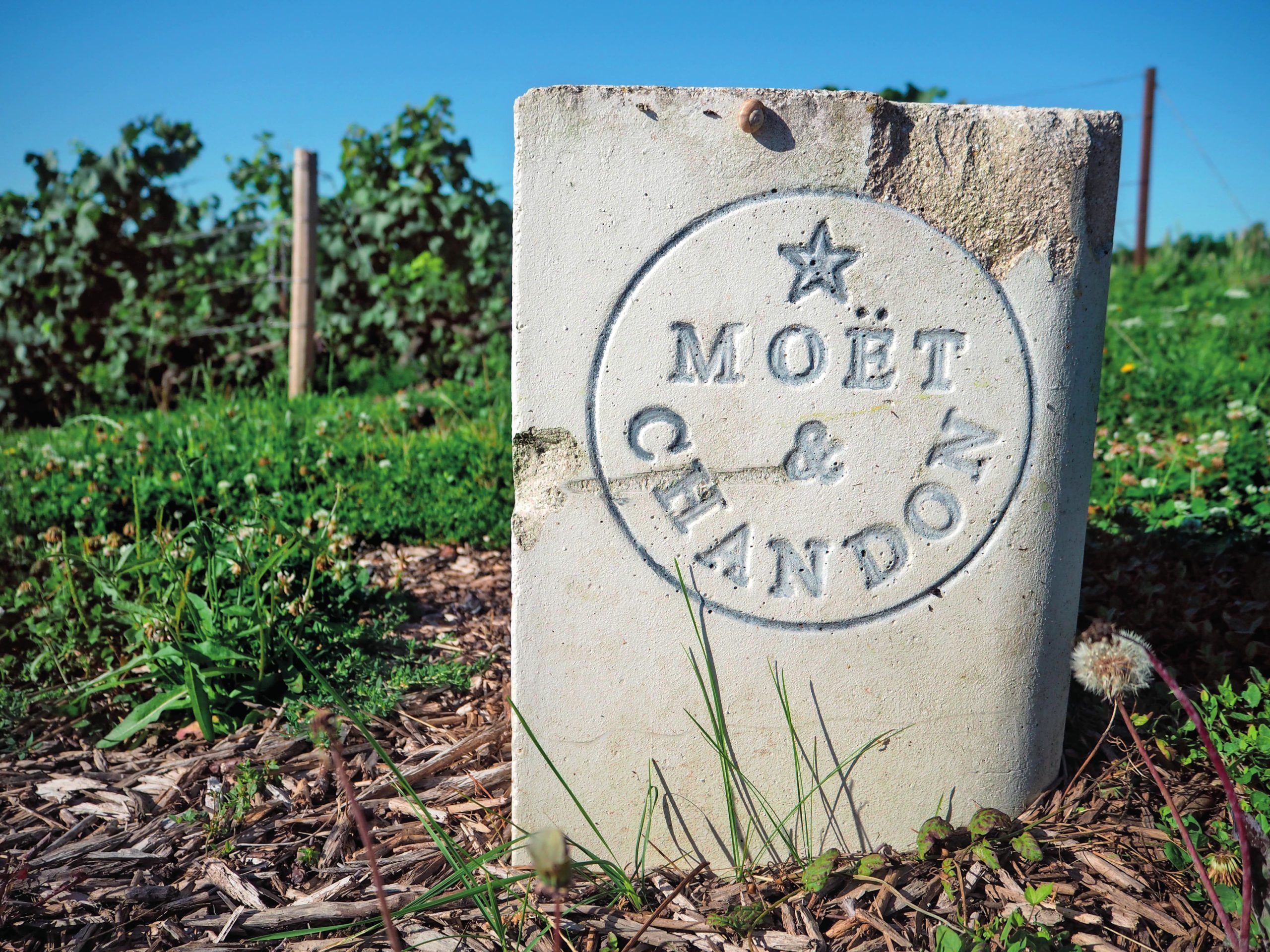 A well-thought-out itinerary will help you get the most out of your time. Many champagne houses offer guided tours of their cellars, but don't be too ambitious: visit two to three maisons in leisurely fashion and make time for a luxurious long lunch each day that you're there. The small fee that several of them charge will include a tasting of their champagne range.
It's a good idea to focus on a couple of styles of champagne. There are many to choose from, but the styles primarily fall into vintage and non-vintage categories. Vintage releases are made mostly from a single year's harvest, while non-vintage (or NV) is made from a blend of vintages. The Champagne region sits on the northernmost latitude for grape growing, where there can be barely enough hours of sunshine to ripen the grapes. Thus, the NV blending process allows winemakers to compensate for these difficult geographical circumstances. By ageing the wines for extended periods, they develop a richer character that, when blended to the champagne-house formula, should not only be delicious but also impart the recognisable trademark taste of the producer.
For the sake of simplicity, there are three main grape varieties grown in Champagne: the white chardonnay, and the black pinot noir and pinot meunier. Each of these varieties has its preferred and sometimes legally defined vineyard areas. For example, the Côte des Blancs is planted with more than 80 per cent of chardonnay and very little pinot noir. The near opposite is true in the Vallée de la Marne, where there are roughly 70 per cent plantings of pinot noir and less than 20 per cent of chardonnay. Lessons learnt from previous generations have found natural affinities and pairings of certain grape varieties, geography, soil and other natural elements. Avoiding frost during the spring bud-burst time is one of the most important determining factors.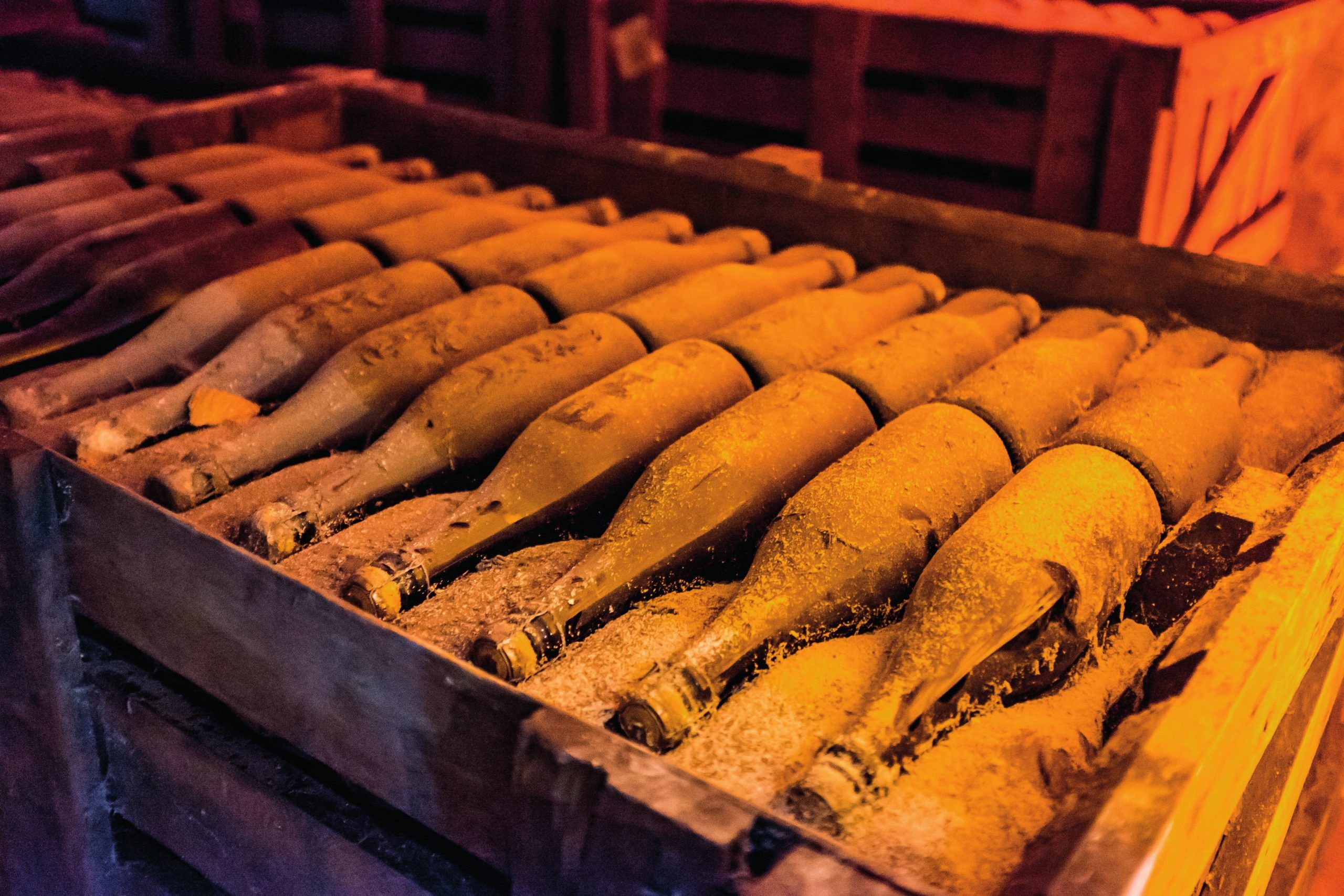 Since each champagne house has its own unique land holdings and access to different grapes, their finished blends inevitably vary. So one of the main questions in your guided tour concerns the proportions in the blends. Generally speaking, pinot noir gives the wine a frame and structure, pinot meunier is often regarded as the fruity component, and chardonnay brings freshness and, to an extent, perfume. This insight into the percentages of different grapes will help you understand the taste and style of the house.
Blending is, above all, the most important process in making champagne in NV styles, involving grape varieties from different vineyard areas and several years of harvests, while also taking into account the subtle nuances created by varied winemaking techniques and grape- handling practices. It's not only a mind-boggling matrix of possibilities, but also one that changes with each new harvest and the addition of new wines to the reserve stock. The biggest challenge is to ensure that the house's signature NV blend tastes the same year after year, even though the raw materials that go into the blend are constantly evolving.
To understand the significance of blending, try this fun exercise with your friends. Grab a bottle of NV Blanc de Blancs, such as Champagne Henriot, Ruinart or Laurent-Perrier, and do your own blending with the pinot noir- and meunier-dominated Blanc de Noirs from Champagne Cattier or Palmer & Co. Taste them individually and you'll notice that Blanc de Blancs offers an upfront engagement – an immediate taste sensation that only slowly fades away. Blanc de Noirs, on the other hand, is shy at first but builds in intensity towards the end, as if chardonnay and pinot noir were taking turns to be on the high end of a seesaw led by chardonnay.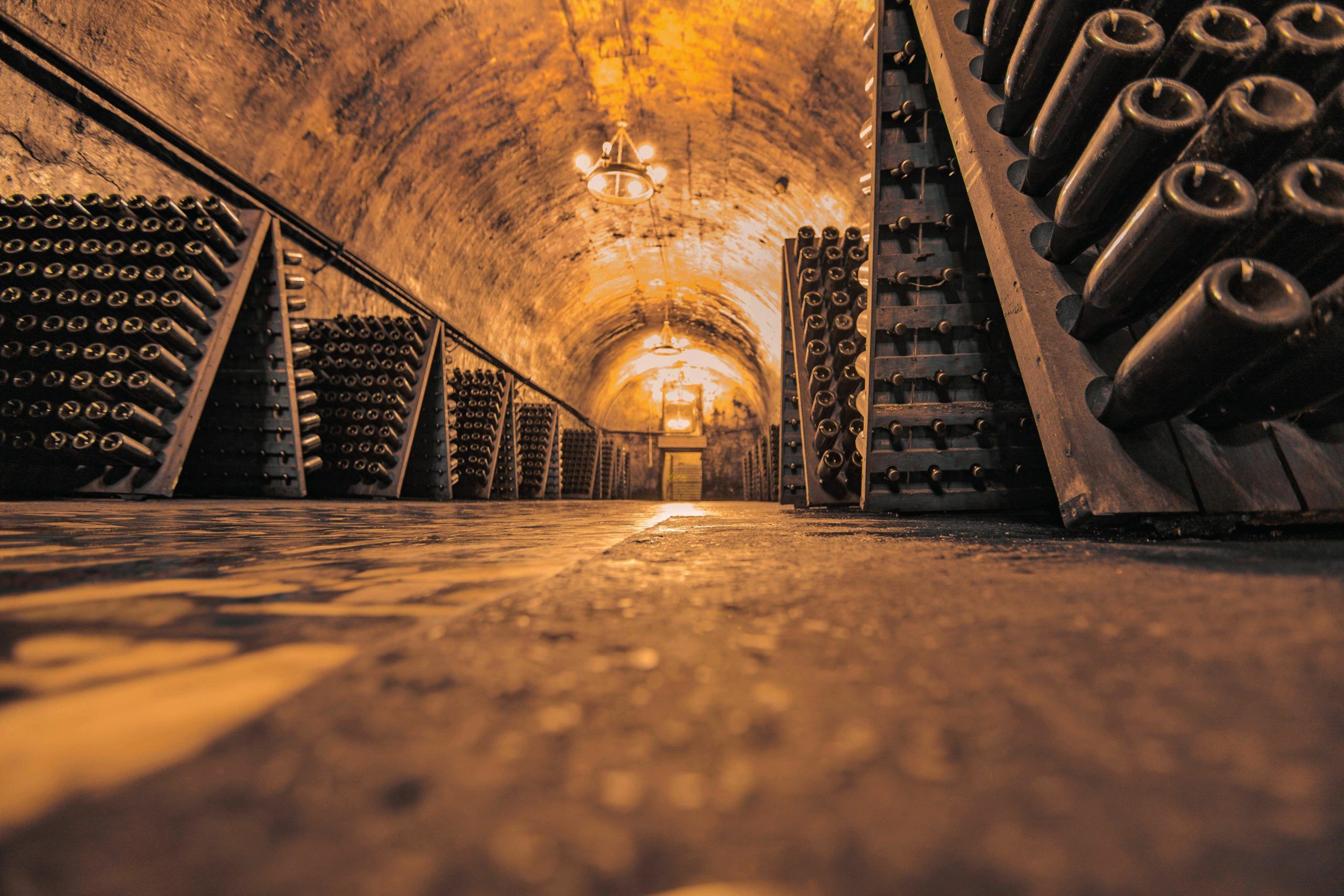 NV champagne is generally a blend of at least chardonnay, pinot noir and pinot meunier, though some houses also use pinot blanc, pinot gris, petit meslier and arbane. There are no "right" or "wrong" blends – it's entirely the preference of the champagne house. However one thing that needs to be said is that, almost always, a NV with the longer-lasting aftertaste is deemed to be of higher quality; after that, everything else is down to personal taste.
When tasting champagne, it's really not a good idea to rinse your mouth with water, which is the case for other wine styles. Champagne is, by nature of the climate and style, one of the crisper and more tart wines, with a pH that hovers around 2.9, and is thus very much at the acidic end of the spectrum. Water, on the other hand (and depending on its origin), sits at around pH 7. Rinsing your mouth with water before a tasting will exaggerate the low pH or acidic nature of the champagne, irrespective of how well-balanced or well-crafted it is. I think most readers would agree with me when I suggest that the best technique for tasting involves rinsing the palate with yet more champagne to acclimatise to the sourness.
And then there are the bubbles – as these, of course, are a very important feature of champagne and a key product of fermentation. Simply put, the bubbles should be silky and velvety on the palate, very much like San Pellegrino when compared to Perrier. In fact, at the top end of ultra-luxe champagne, the gas is weightlessly marshmallow-like.
Oh, and if you do get the opportunity to travel there soon, there are no fewer than eight Michelin-starred restaurants in the region, which means at least eight superb meals excluding breakfast! Bon appétit – and toujours champagne, toujours champagne!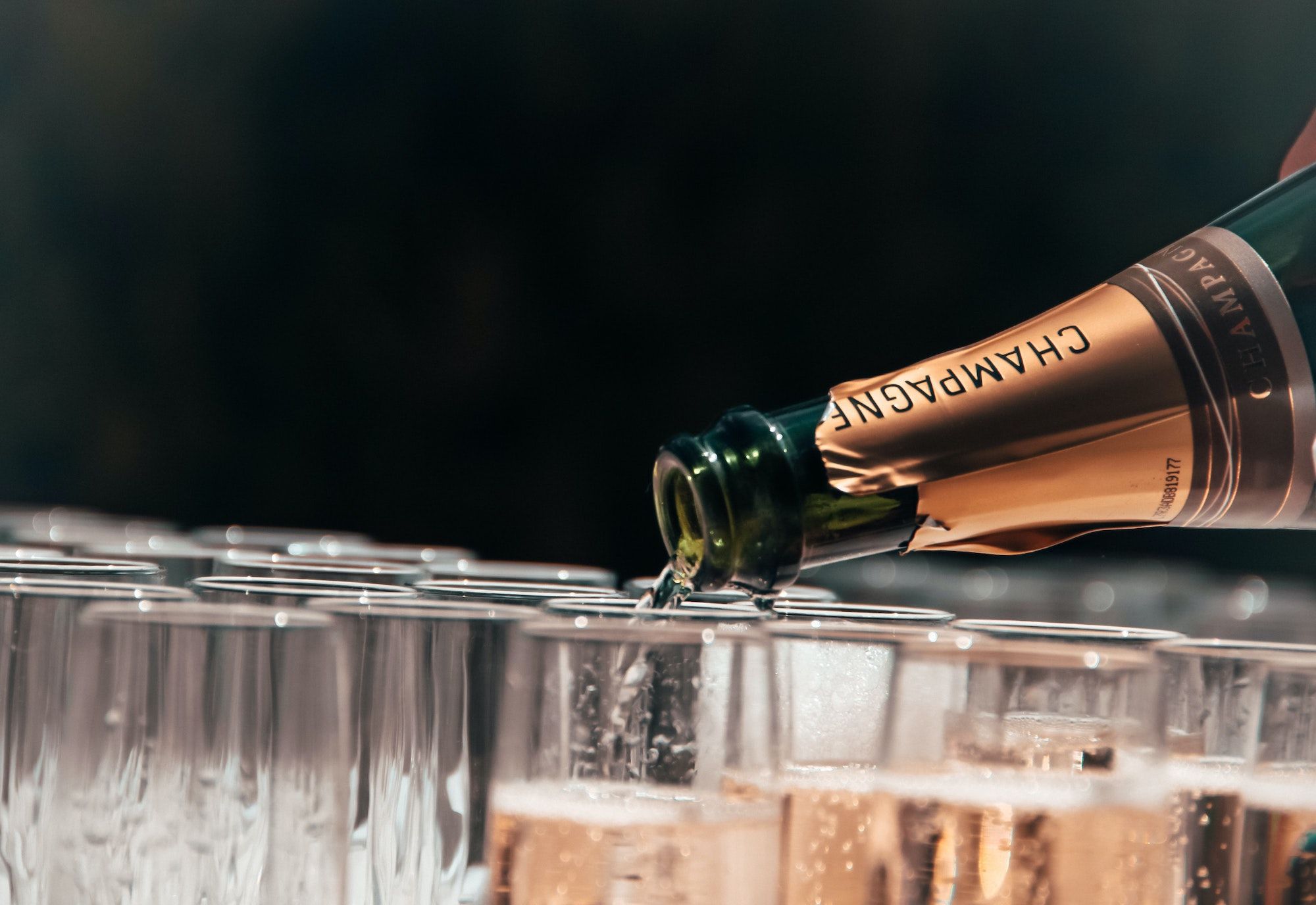 Four non-vintages worth exploring
CHAMPAGNE RUINART BLANC DE BLANCS NV (available widely)
100 per cent chardonnay. It's fragrant with lovely notes of lemon and stone fruits. Refreshing and lively, it's perfect as an aperitif or with your favourite sushi and sashimi.
CHAMPAGNE DELAMOTTE BRUT NV (from Altaya Wines)
55 per cent chardonnay, 35 per cent pinot noir, 10 per cent pinot meunier. A complete and satisfying champagne, rich and tasty, yet retaining plenty of finesse and elegance. It's a good friend of Hainanese chicken rice.
CHAMPAGNE JACQUES SELOSSE LE MESNIL-SUR-OGER LES CARELLES NV (from Avize Wine Cellar)
100 per cent chardonnay from the Grand Cru vineyards at Le Mesnil-sur-Oger. Like everything from Selosse, there's nothing "usual" about this wine. It's cultivated biodynamically, fermented in burgundy oak cask with natural yeast and aged for four years before release. It's not for the faint-hearted. Serve it in a white Burgundy glass, just cool to the touch.
CHAMPAGNE TAITTINGER PRÉLUDE GRANDS CRUS NV (from Fine Vintage)
50 per cent chardonnay, 50 per cent pinot noir, from the highest vineyard classification, Grand Cru. The five-year cellar maturation resulted in a wine that's both rich and complex. It's velvety, with a long, lingering finish. Try it with Japanese beef shabu shabu.
(All other images: Shutterstock)
This story was published in the April 2021 issue of Prestige Singapore.