For a country obsessed with food, it's safe to say many of us were crushed when the government announced that dining-in will no longer be allowed from 16 May, at least till 13 June.
Deliveries and takeaways will be the norm once again, similar to the two-month-long Circuit Breaker we endured last year. Yet, perhaps due to the pivots from previous restrictions, many restaurants have used their experience to make similar changes to their menus during this Phase 2 (Heightened Alert), this time at a much quicker pace.
You won't even have to miss out on your fancy meal plans for anniversaries or birthday celebrations, because Michelin-starred establishments are bringing the experience right to your doorstep. Here, we've rounded up all the takeaways and deliveries from these Michelin-starred restaurants that you can order to your home. Read on for the full list.
Odette Three Michelin-starred Odette is churning out their beloved home-dining experience, Odette at Home, to diners once again. From the beautiful Hokkaido Uni 'Pain Perdu', complete with brown butter, finger lime and yuzu to the ever-popular Pithiviers 'Grande Cuisine', diners will be spoilt for choice when it comes to the dishes here.
Odette at Home is available for islandwide delivery and takeaways at National Gallery (Coleman Street Taxi Stand) from 11am to 8pm daily.
Saint Pierre We were enamoured by Saint Pierre's omakase bento box last year, so it's heartening to see that they'll be looping back to these boxes of mouthwatering goodes once again during this period. The omakase bento boxes will be available for pick-up or delivery every Thursday, Friday and Saturday, and there is a minimum of two-day advance notice required for all orders.
Iggy's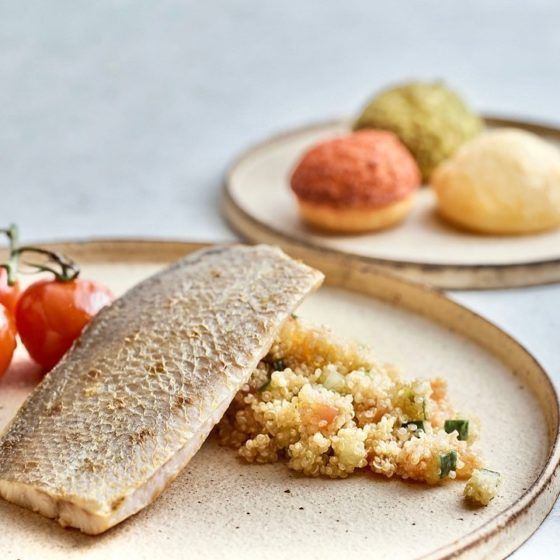 Get a bit of Iggy's seasonal menu delivered right to your doorstep. Besides bento boxes for a quick, fuss-free lunch while you work from home, the one Michelin-starred restaurant has also prepared a menu of roasts for the whole family, as well as a neat selection of pasta, burgers and wine to choose from.
Iggy's will be offering takeouts for kerbside self-collection and islandwide delivery during this period, for lunch service from Friday to Sunday and dinner service from Wednesday to Sunday.
Jiang Nan Chun Jiang Nan Chun, Singapore's very own Michelin-starred Cantonese restaurant has too many dishes we love. Thankfully for us, they've narrowed down the selection for their to-go menu with a two-course and three-course bundle, so we don't have to scroll through our screens endlessly in hunger.
Burnt Ends Getting a reservation at Burnt Ends on most days is like fighting a war — and you're on the losing end. This is why we're incredibly excited that Burnt Ends will be offering takeaway and islandwide delivery during this period, so we can finally get our hands on some of their delicious dishes once again. A good selection of a la carte dishes are available for order, but if you're anything like us, we recommend the set meals for two, four or ten for the ultimate fuss-free experience.
Shinji Who's to say you can't have good sushi at home? One Michelin-starred Shinji is offering takeaways of their quality cuts, so you won't have to settle for anything less. The 15-piece assorted nigiri sushi mix, for instance, uses only the freshest seasonal fish and seafood, while the Special Chirashi is a decadent bowl of creamy uni, generous amounts of ikura and minced fatty tuna, topped with a mound of caviar on top of rice. If you're addicted to uni, you can also order an entire box of Shinji's legendary uni for yourself, complete with nori sushi rice, wasabi and soya sauce to craft your own handrolls with.
Meta Following the restrictions, Meta has relaunched the popular Meta-to-go, a delivery and takeaway service for diners who want to indulge in some of their hearty Korean dishes. Besides a neat a la carte menu, the restaurant has conscientiously prepared three different set meals, including the Meta Galbi Doepbap Set, Meta Hamburg Doepbap Set as well as the Korean Heritage Menu for those who aren't too fond of choosing.
Meta's delivery schedule runs from Tuesday to Sunday, from 11.30am – 3pm and 5.30pm – 8.30pm (last order). Free islandwide delivery is available for orders above S$150, otherwise, a S$15 delivery charge will apply. Diners who opt for self pick-up can do at 1 Keong Saik Road.
Cheek Bistro One Michelin-starred Cheek Bistro is partnering up with their sister brand, Cloudstreet for deliveries and takeaways from now to 13 June. The exciting lineup includes favourites like the red snapper Fish 'n Chips with green peas and tartare sauce, but diners can also look forward to new dishes like the Kumquat and Chocolate Tart, a tangy dessert that was made in collaboration with Cloudstreet.
Restaurant Nouri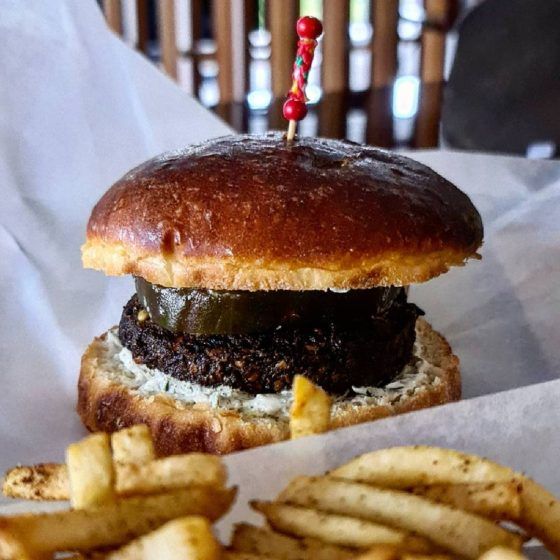 Who doesn't love a good burger? The fact that Restaurant Nouri even named theirs the Perfection Burger, well, we're sold already. This Phase 2 (Heightened Alert), they'll be serving up three different sets from this range — the Classic Burger Set, layered with a Perfection burger patty (think a blend of grass-fed chuck, brisket, striploin and wagyu fat) between homemade buns, a Seoul Burger Set laced with homemade kimchi, as well as a Veggie Burger Set for vegetarians packed with New York-style falafel. Each set comes with Nouri's nori fries and a Tahitian vanilla milkshake (booze optional) for good measure.
Braci Braci a Casa returns to the delivery/takeaway scene, this time, with even more signatures for diners to choose from. Here, guests can take their pick from the a la carte menu of pasta, such as the sea urchin and scallop Tagliolini, or sink their teeth into the delicate Cod Fish Cioppino. If you're up for a challenge, or you just like customising your own dishes, Braci's signature 32 egg yolks fresh pasta selection (Pappardelle, Tagliatelle and Tagliolini) is up for grabs with an array of in-house speciality pasta sauces. Too much to think? Get the full Braci experience with the Degustation Menu for two, complete with two starters, two pastas, two mains, and one dessert (serves two). Guests will find the PDO Altamura Bread and Cima di Bitonto Extra Virgin Olive Oil included in the degustation set as well.
(Main and featured image: Odette)
This story first appeared in Lifestyle Asia Singapore.