Perfumers Emilie Coppermann and Aliénor Massenet Discusses Ferragamo's new Storie di Seta
If you were to choose a personal scent, what would it be?
Can't decide? You don't have to settle on a singular expression with Salvatore Ferragamo's new silk perfume anthology, Storie di Seta. Inspired by the Italian maison's iconic silk creations and consisting of four eau de parfums, the collection is designed to be layered and customised for unexpected juxtapositions and innumerable possibilities you can call your own.
The oneiric landscapes of Storie di Seta offer an olfactory playground for your imagination to run wild. Giardini di Seta is a floral-fruity essence with juicy top notes of sweet-tangy rhubarb and soft sakura flowers that mellows to a warm musky finish from Madagascar vetiver. Green, earthy freshness comes through in the Giungle di Seta, with its velvety vapours of green pea, peony blossoms and musk. The Savane di Seta, a citrus-dominant scent, features a carrot accord that leads to the powdery, floral notes of Orris at its heart with milky undertones of Indian sandalwood. My favourite of the lot is the Oceani di Seta, which starts off salty and aqueous like the ocean, followed by a soft, floral airiness by way of magnolias and heliotrope. Underneath the four scents is an exclusive signature accord that Ferragamo calls the "Filo di Seta" (or silk thread), which lingers at the base of each composition for seamless fusion and layering with other fragrances.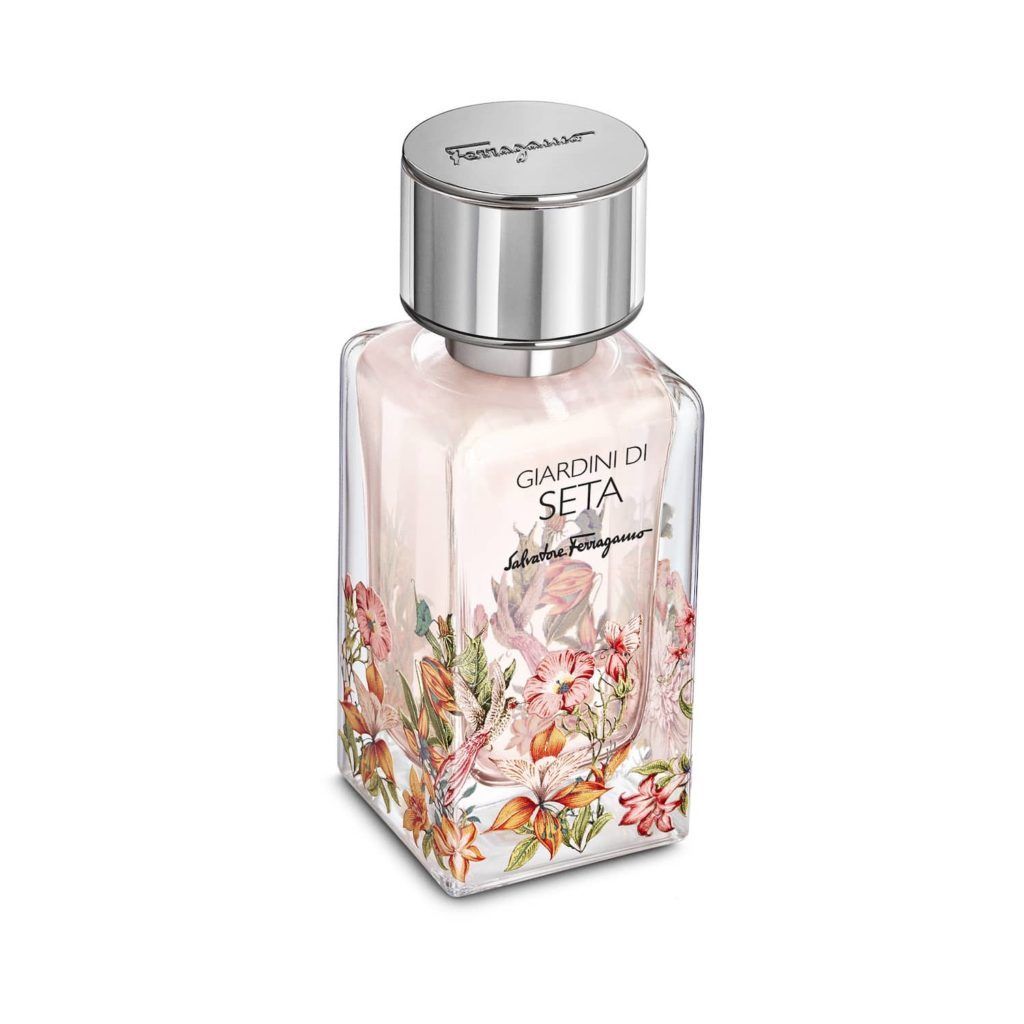 Built with sustainability in mind, the Storie di Seta anthology is 62.2% renewable and 99.1% biodegradable. Its olfactory DNA features Lilybelle, a new molecule of dewy lily of the valley obtained from orange peel through green chemistry; Timut Pepper, an ethically sourced spicy pepper oil with unique accents of pink grapefruit, yuzu and woody floral tones; and Neo Soie Velours De Laire, a silk-inspired accord that binds the fragrances to Ferragamo's legacy.
The bottles, embellished with beautiful nature-inspired illustrations, are also an ode to the house's iconic silk creations. Giardini di Seta portrays a fantastical garden with lavish tropical flowers and birds; Giungle di Seta evokes the lush jungle with rich foliage in shades of green; Savane di Seta captures a wild savannah sunset with stylised leaves and rare animals; and Oceani di Seta presents an underwater paradise of corals, sea plants and marine life.
Ahead, Symrise perfumers and creators of Storie di Seta Emilie Coppermann and Aliénor Massenet give us a deeper look into the making of the perfumes and how to create your own personal scent.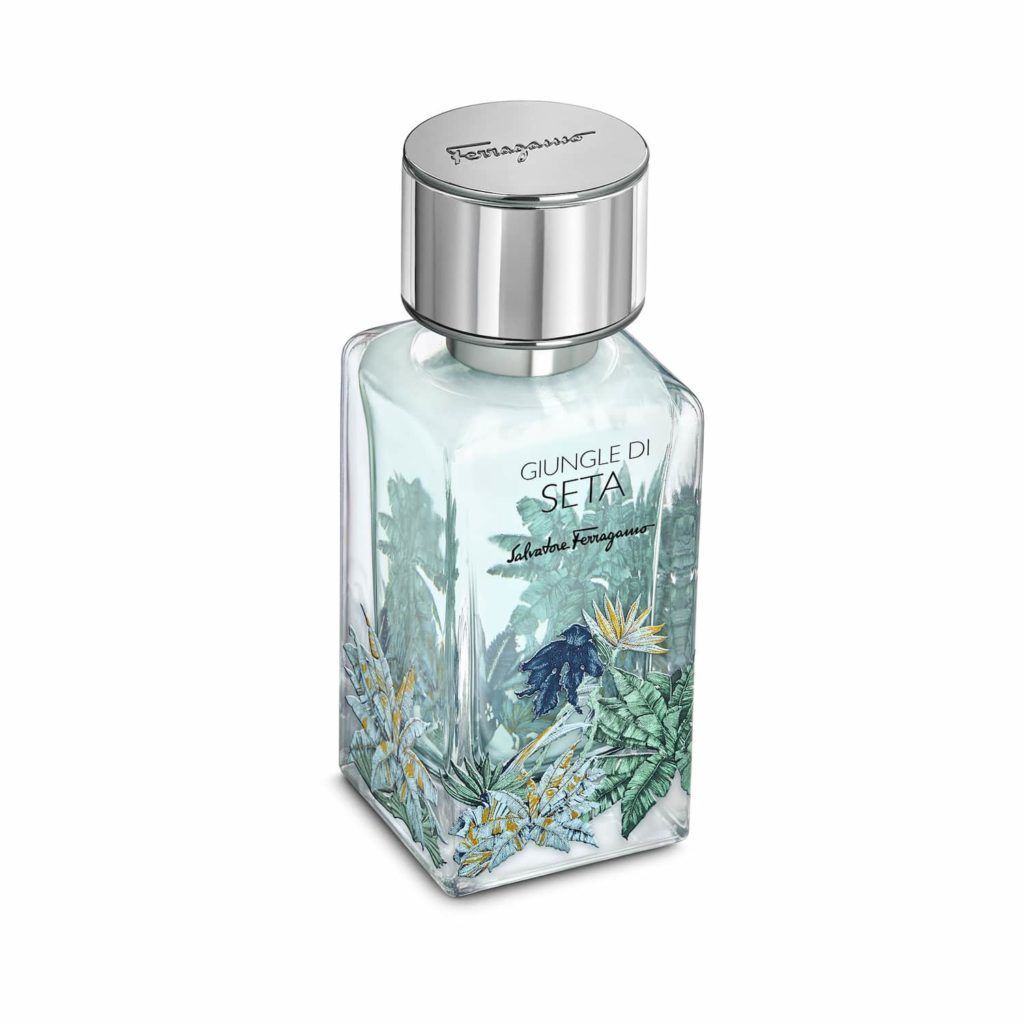 Tell us about your experience collaborating with Ferragamo.
Aliénor Massenet (AM): I love the way Ferragamo treats like a masterpiece, from fashion to perfumes. Every tiny detail is considered. I'm honoured to develop the perfumes in Storie di Seta as I resonate very much with the brand's values.
Emilie Coppermann (EC): The Ferragamo brand is a family business with values that are dear to me. They respect the work of the creator and value the creative approach. When it comes to raw materials, they carefully select the ones they want to have in the perfumes while always respecting the sourcing.
Scent is something deeply personal and subjective. People perceive smells differently. How do you then work with a brief?
AM & EC: We keep an eye on the new market trends and perfume bestsellers in each market. We have much information thanks to our Consumer Insight division at Symrise regarding consumer's olfactive preferences globally. We take all this information into consideration to develop the best scents responding to this criteria.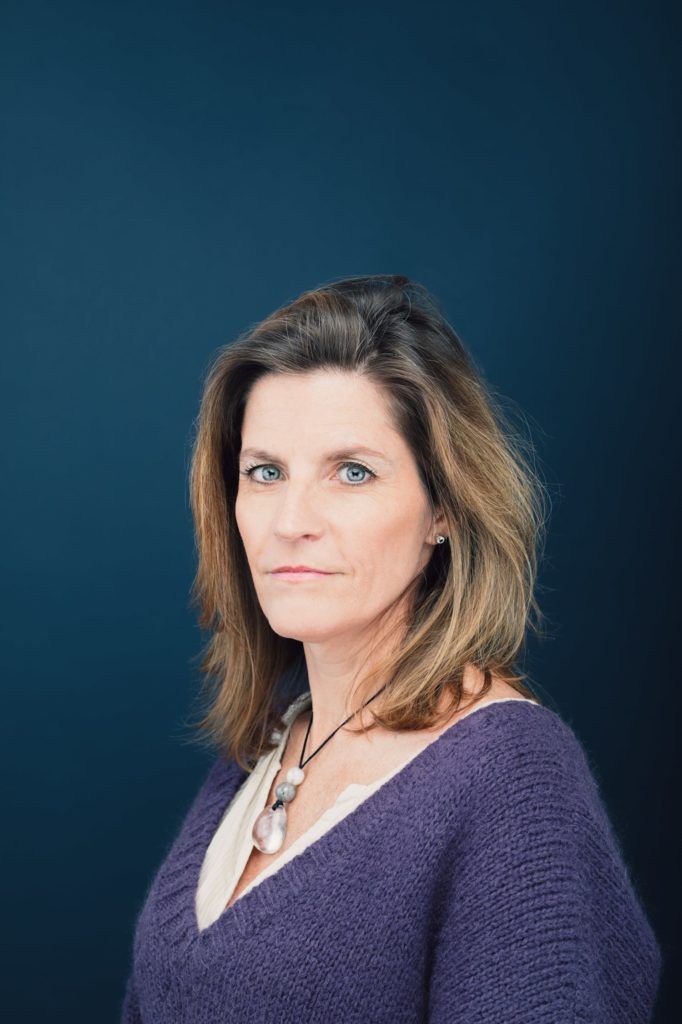 What was your creative process for the collection?
AM and EC: We started with a figurative idea that we then transcribed into emotions. It began with a four-handed silk thread accord, composed of noble natural essences (Timut Pepper) and other materials that respond to an approach of innovation (Neo Soie Velours De Laire) and sustainable development (Lilybelle). The silk thread also encapsulates the Ferragamo brand while staying true to our personal styles.
Thanks to the Filo di Seta accord, these fragrances can be layered together, which highlights Ferragamo's ability to create harmony by uniting different elements. The purpose was to unite and give life to different olfactory emotions and universes, with a common thread.
What is Lillybelle and what is this "green chemistry" that is used to obtain the molecule?
AM &EC: Lilybelle is an exclusive Symrise molecule, reminiscent of the fresh and dewy scent of lily of the valley. This sustainable molecule comes from orange peel, a waste product from the fruit juice industry. By recycling this renewable by-product, Symrise has designed and developed a synthetic process respecting the 12 principles of green chemistry. Additionally, Lilybelle is biodegradable.
There are also two scent boosters in the collection — how and why are they created?
AM &EC: These boosters were developed to combine, intensify, and create a personalized fragrance with the addition of a woody or musky note. This new booster effect is supported by new gestures: 2 fun rollers are ready to be played with all the fragrances, for an incredible tailor made result.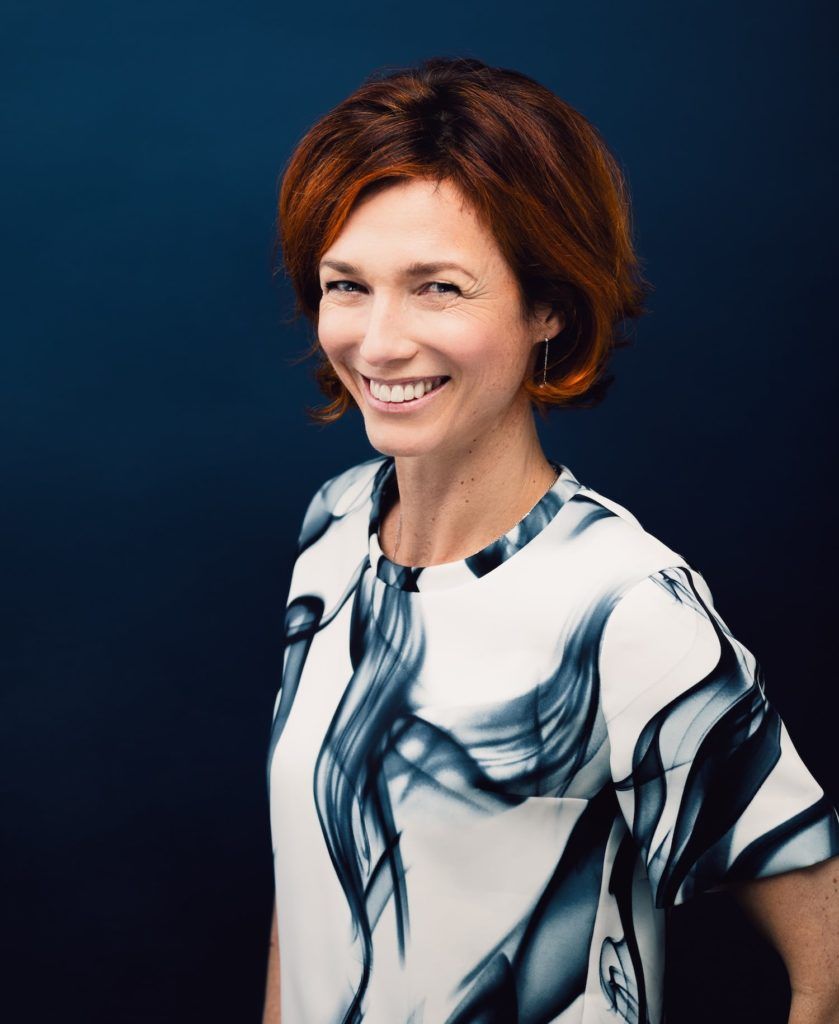 What do you hope to achieve with the four fragrances?
AM &EC: It is our desire to show that it is possible to create luxury fragrances in line with the brand's values and sustainability. We also want to give wearers the opportunity to make scents their own by combining fragrances.
Any tips for layering fragrances?
AM &EC: There are no rules, it is really up to you, the aim of this collection is to create infinite possibilities. You can layer two or more scents from the collection on your skin to create your own signature fragrance. Any combination is possible.
What are some of your favourite combinations?
AM: What a difficult question! It's so personal so I think the best combination would be the one you create for yourself and that makes you feel most confident. For me, I love mixing Giungle di Seta with Giardini di Seta for a green and fruity scent – it's an uplifting scent to start your day with!
EC: One of my best combinations is two spritz of Oceani di Seta and one of Giardini di Seta. It turns out like a garden by the water, which instantly makes me feel like I'm on a holiday! And if you want to bring more deepness you can add a touch of the Woody booster.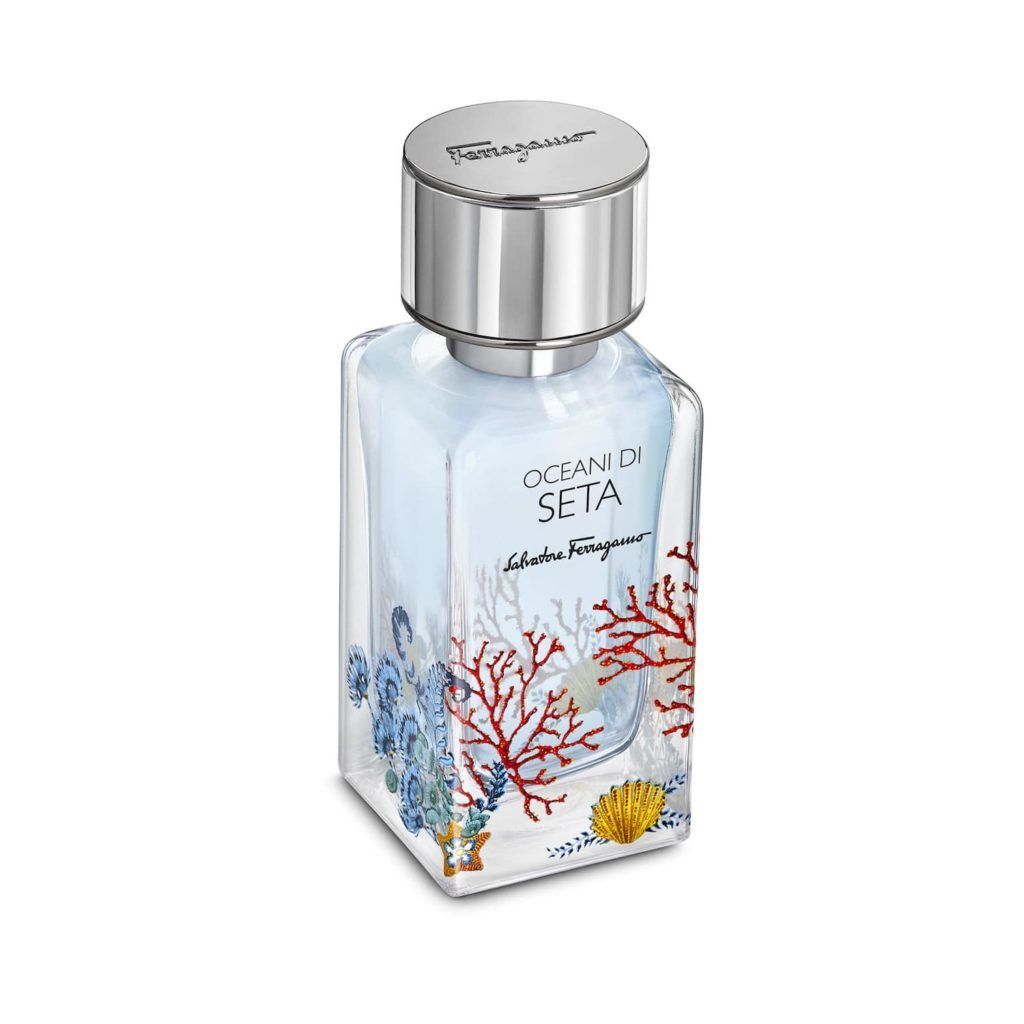 Tell us more about the eco-friendly aspects of the collection.
AM & EC: Sustainability elements were implemented throughout the products from its contents to the packaging. The Filo di Seta accord, which is present in all the variants, features renewable materials and a biodegradable formulation.
It also includes several Madagascar's raw materials that are ethically sourced. Symrise is the first fragrance house with fully sustainable integrated sourcing with its Madagascar Program, established in 2005. The country has quickly become a hub for exceptional ethically sourced natural oils such as the beautiful vetiver oil highlighted in Giardini di Seta.
The Symrise Artisan Program is dedicated to exclusive partnerships with sustainability at its heart. We support the cultivation of Timut Pepper from Nepal, one of the best peppers in the world produced by small farmers communities living in Kathmandu's mountains. That's why we chose this very precious and unique pepper to be at the core of the Filo di Seta accord.
The sustainability and environmental responsibility concerns also extends to the fragrance's packaging: A VIP pochon gift is made with Salvatore Ferragamo ties leftovers and the outerpacks are certified by the FSC (Forest Stewardship Council).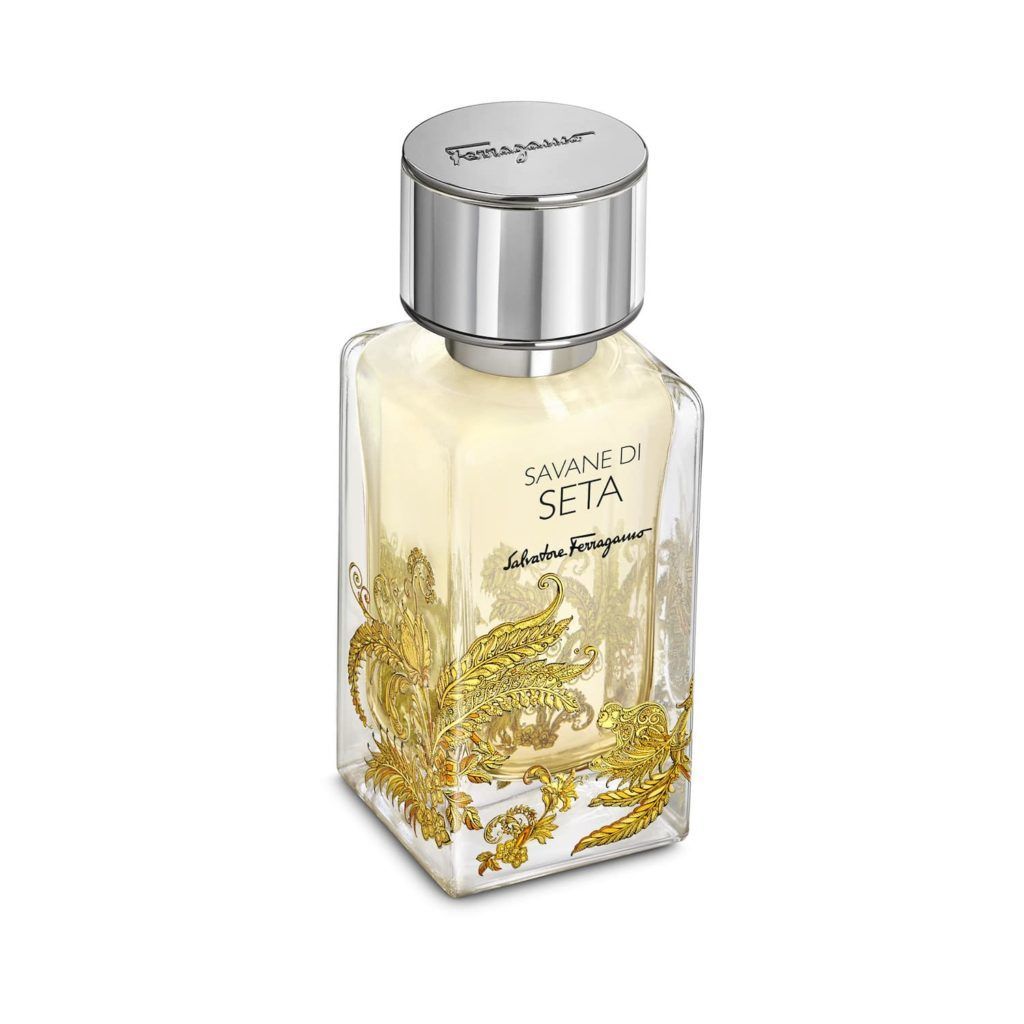 How has the fragrance industry changed with the heightened awareness of sustainability?
AM & EC: Sustainability is no longer an extra criteria. It is now fully integrated in the creative process. This led to the development and sourcing of new ingredients as well as the emergence of new ethical programmes, which are constantly enriched.
Is there something that you've done for the first time with Storie Di Seta?
AM & EC: It was the first time that we had to create a collection of fragrances and boosters that can be mixed together. It was a complex and challenging exercise to combine creativity with sustainability!
Explore the Storie di Seta anthology here.
This story first appeared on Prestige Online Singapore.