With only 765 models to be built, the new McLaren 765LT Spider is an exclusive collectible that brings out a high performance with super-lightweight materials found in every possible detail. It is the fastest and most powerful convertible McLaren has ever introduced to the world.
Faster, lighter, and even louder than previous models, here are 5 things you should know about the new McLaren 765LT Spider — and why it will make every driver's heart skip a beat as it accelerates.
It is the most powerful convertible supercar McLaren has ever created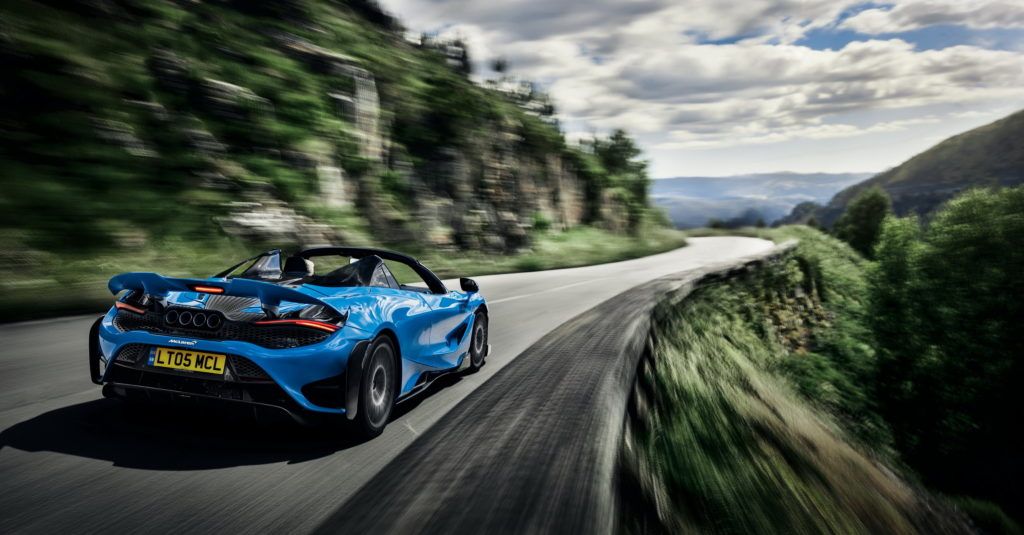 The new McLaren 765LT Spider boasts the same engine configuration as the sold-out 765LT coupe, with the 4.0-litre, twin-turbocharged McLaren V8. This enables a phenomenal power and torque delivery of 765 PS (755 bhp) at 7,500 rpm and 800 Nm (590 lb ft) at 5,500 rpm. With the benchmark acceleration figures ranging from 0-60 mph in 2.7 seconds, 0-100 km/h (62mph) in 2.8 seconds, and 0-200 km/h (124 mph) in just 7.2 seconds, the in-gear acceleration of the 765LT Spider makes it 15% faster than the 720S Spider. Thereby, the McLaren 765LT Spider is the fastest-ever accelerating LT Spider in history.
It features super-lightweight, high-performance components throughout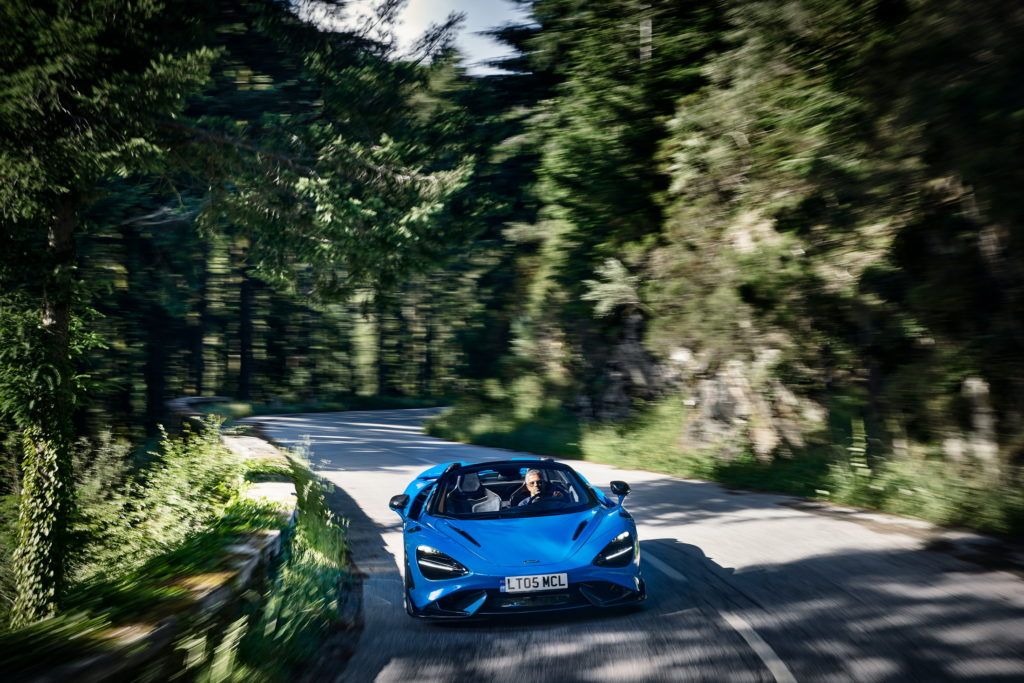 At its core, the McLaren 765LT Spider is focused on minimising weight, as part of McLaren's saving-weight-the-McLaren-way philosophy. The model weighs just 1,468 kg – 80 kg lighter than the 720S Spider – and boasts a first-of-its-kind, power-to-weight ratio that hasn't yet been witnessed anywhere else, not even from its competitors. This is achieved through specific weight-saving components, such as the titanium exhaust system (saving 40% over steel equivalent), Formula 1-grade transmission materials, and thinner glass. What's more, the 10-spoke, ultra-lightweight forged alloy wheels and the Pirelli Trofeo R tyre are also tailored for better optimised cornering speeds, as well as better chassis dynamics which were revised from the 765LT coupe.
It is designed to maximise the McLaren 'LT' driving experience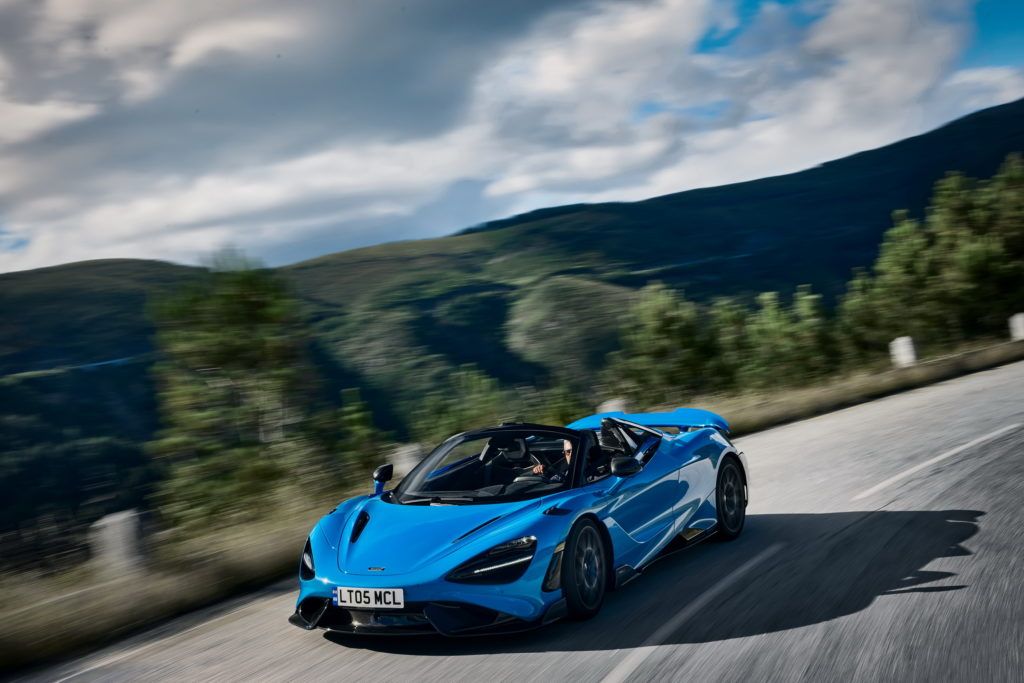 In maximising McLaren's 'Longtail' (LT) driving experience, the new McLaren 765LT Spider sees a full, electrically-monitored carbon fibre retractable hard top that can be opened or closed in just 11 seconds, at speeds of up to 50 km/h (31 mph). With a goal in mind to be the world's quickest and most soundless supercar of all, the driving experience whilst operating the retractable hard top is remarkably smooth and quiet.
It delivers a joyous, melodic rhythm to the ears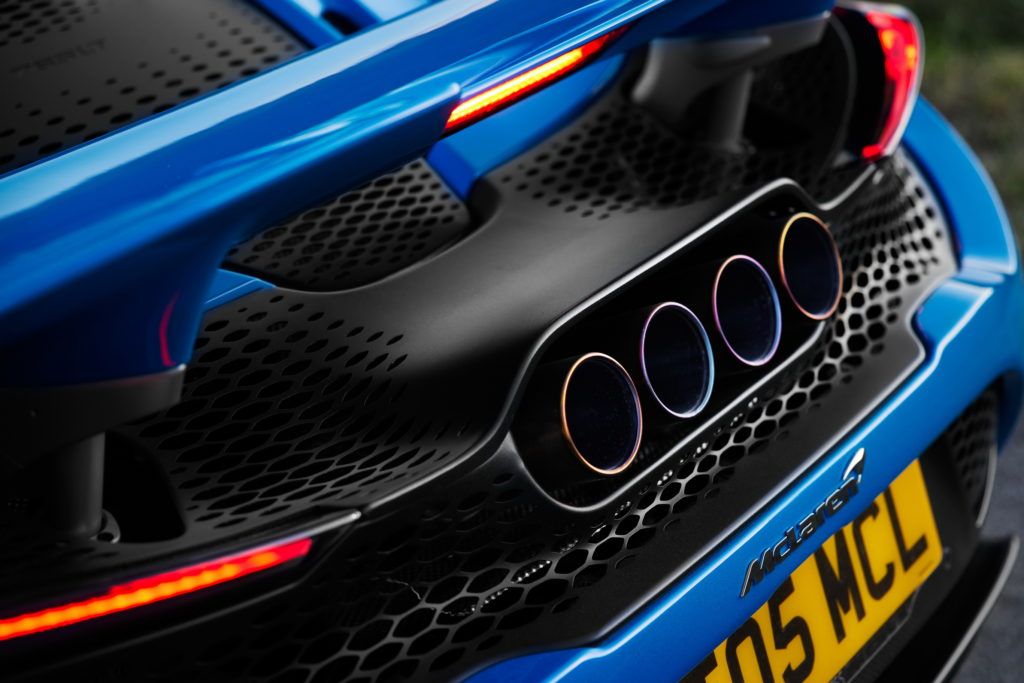 The McLaren 765LT Spider comes with the four centrally mounted round exit pipes which are specifically designed, sized, angled, and positioned to deliver the precisely harmonic, high-frequency note in accordance with the rev range. Moreover, the increased engine mount stiffness also helps with the transferring and radiating of the engine's low-frequency sounds into the cabin – for one's contentment over sounds and roars to be filled to the brim, even with the roof in place.
Its interiors can be customised in multiple ways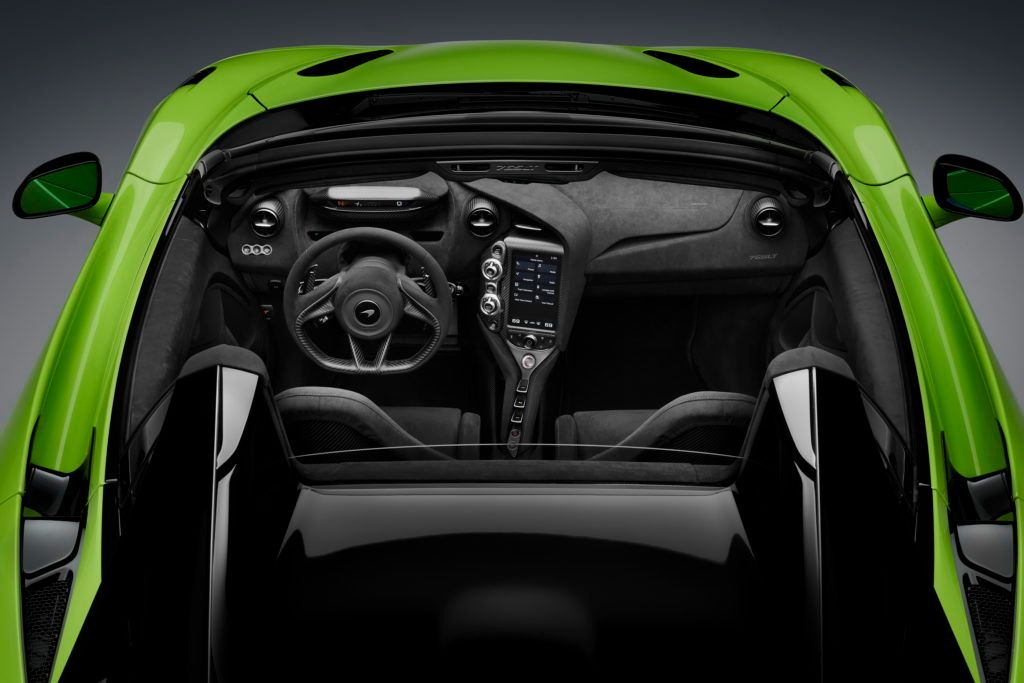 The motorsport-inspired interior of the McLaren 765LT Spider is adorned with carbon fibre racing seats, a carbon fibre centre tunnel, exposed carbon fibre floor, and lightweight Alcantara throughout. However, the air-conditioning and audio systems are primarily not included as a way to minimise weight as much as possible. Having said that, the prospective owner of the 765LT Spider is bound to freely request for a lightweight McLaren 4-speaker system at no additional cost. Other available installations include bluetooth telephony, iPod/iPhone integration, audio voice prompts, and an upgraded audio system by Bowers & Wilkins.
(All images: McLaren)
The new McLaren 765LT Spider is priced at £310,500 in the U.K. (approx. THB 15,000,000) and is available to order now. Discover more at mclaren.com.