When The Sherry-Netherland threw open its ornate, etched-glass doors on Fifth Avenue in 1927, the magnificent new hotel quickly attracted Manhattan's high society to what was one of the Big Apple's first Art Deco skyscrapers.
The hotel rapidly earned its reputation for tip-top standards of service and soon began catering to the varied needs of the luxurious apartments that also nestled in the 38-storey tower. And so the concept of the pampered and prestigious "branded residence" was born.
Almost a century on, real estate giants Savills and Knight Frank both estimate that there are now about 400 branded-residence projects operating in more than 60 countries. Each houses a collection of high-status homes in a variety of configurations in prime locations. All leverage the star power of a respected, sought-after brand name.
While a handful are aligned with designer fashion labels that include Versace, Armani and Bvlgari – and there are even Aston Martin and Porsche-branded residences in Florida – the bulk are affiliated with hotel chains (84 per cent of the global total, according to Savills' Spotlight: Branded Residences 2020 report – Marriott International alone has 60 branded residences planned for coming years). Branded residences not only provide the investor with an opportunity to buy into an upscale brand's hard-won fame, but also cover a myriad of the grubby, glamour-free duties that usually come bundled with a second home, including ongoing maintenance and round-the-clock security, even in the owner's absence, and drumming up a healthy return on investment through managed rentals.
Additional benefits to enjoy when actually making use of the residence might include professional housekeeping and concierge services, valet parking, access to personal trainers, and entertainment, reservations, childcare and office solutions.
While the branded concept has been most eagerly embraced in the United States, other countries are making up for lost time, and there is a distinct difference in approach with geography. According to Knight Frank's most recent Global Branded Residences report, in the US "two-thirds of developments are located in cities, with New York and Miami favoured heavily, while in Asia there is an even split between cities and resorts".
Asia, in fact, already accounts for some 30 per cent of all branded developments, with many individual residences being smaller units in more leisure-oriented destinations, such as the holiday island of Phuket in southern Thailand. Knight Frank continues: "Asia is an area of real growth opportunities, with an increasing market and a healthy project pipeline."
But perhaps that should not come as a surprise. The 1980s was the boom decade for branded residences, and while that boom was indeed sparked in the US – when Four Seasons opened popular condos adjacent to its property in Boston, Massachusetts in 1985 – a pioneer on the opposite side of the Pacific was on Phuket, where the Aman group launched the branded concept in a resort setting in 1988, with Amanpuri. And now, the branded sector has just experienced another extraordinary decade of growth.
"The last 10 years have seen the number of branded residences increase by 170 per cent, adding more than 52,000 units across 370 schemes," the Savills report states. "In spite of wider economic turmoil, 2020 is poised to be another record year with more than 100 new schemes opening."
According to Knight Frank's data, "there is a direct correlation between wealth creation and demand for branded residences" and "we are seeing such a renewed interest in the branded concept given the rapid growth in global wealth witnessed since 2000".
But nothing comes for free, and the downside is in the initial outlay.
According to Savills, which examined 23 markets across the globe, branded-residence prices achieve a premium of, on average, 31 per cent compared to equivalent non-branded properties. On Phuket, branded residences are achieving premiums of between 40 and 45 per cent, it adds.
Potential investors looking for a high-quality, low-cost investment test of the Phuket market might look at convenient Mai Khao in the north of the island and just a 15-minute taxi ride from Phuket's international airport.
The Radisson Phuket Mai Khao Beach hotel and residence development, scheduled to open in 2023, will be set directly on the area's 10km white sand coastline, with panoramic views over the Andaman Sea. As well as 222 rooms in suites, it will feature 110 one- and two- bedroom, freehold and leasehold condominiums of between 441 and 1,367 sq ft – ideal weekend hideaways easily accessible once Covid has been sent packing. All of the condos, according to the blurb, will be "designed in a timeless Scandinavian style, with thoughtful touches that balance functionality and calm" (Mai Khao has always proven popular with Swedish visitors, for some unknown reason). They can currently be picked up, starting at just 7.1 million baht (S$0.3 million), through CBRE (cbre.co.th), with Radisson promising a guaranteed rental return of 6 per cent for three years.
Planned facilities are extensive and include two on-site fine-dining restaurants, a rooftop bar, two swimming pools (one of the infinity type), a professional gym, a traditional Thai spa, a meeting room for conferences, and a Kids' Club with trained staff on hand. Full project details can be perused at turtlebayphuket.com.
Also available through CBRE are the Residences at Sheraton Phuket Grand Bay at picturesque Ao Po, northeast of the island. This exclusive community of one- and two- bedroom suites and villas overlooks dramatic limestone karst outcrops of Phang Nga Bay.
The development, which is close to completion, is set in an area of natural beauty far from the bright lights and nightlife of Phuket's west coast, and about 30 minutes from the airport.
Expanding along 650m of the coast and with its own 220m-long private beach, the development holds 103 pool villas and suites as well as a 183-key five-star resort managed by Sheraton, with all residents and guests benefiting from 24-hour security, clubhouse and gym, shuttle service, meeting rooms, multiple dining options and a spa. Prices begin at 8.8 million baht, with the detached 1,421 sq ft "Pool Villa Type A" arguably being the premium choice for buyers. In the south of Phuket's popular west coast, at the perennially popular resort of Kamala, Twinpalms Residences MontAzure is a new and integrated, mixed-use beachfront community that includes a fully fledged InterContinental Hotel.
The development features a range of one-, two- and three-bedroom condominium units ranging in size from a bijou 753 sq ft to an expansive 4,300, with residents benefiting from a hospitality management programme operated by the highly regarded Twinpalms Group, as well as access to all hotel facilitates and services, and all the security that comes with being part of a MontAzure guarded and gated community.
Residences are grouped as a series of low-rise clusters, with private lifts to reach each floor. Each penthouse has a private rooftop terrace with a pool and sundeck, while ground-floor units enjoy private gardens, with some also featuring private pools.
As a bonus, the last remaining units at Twinpalms Residences MontAzure come with a free furniture package and 7 per cent guaranteed return on investment for a limited period. Prices start from 15.5 million baht.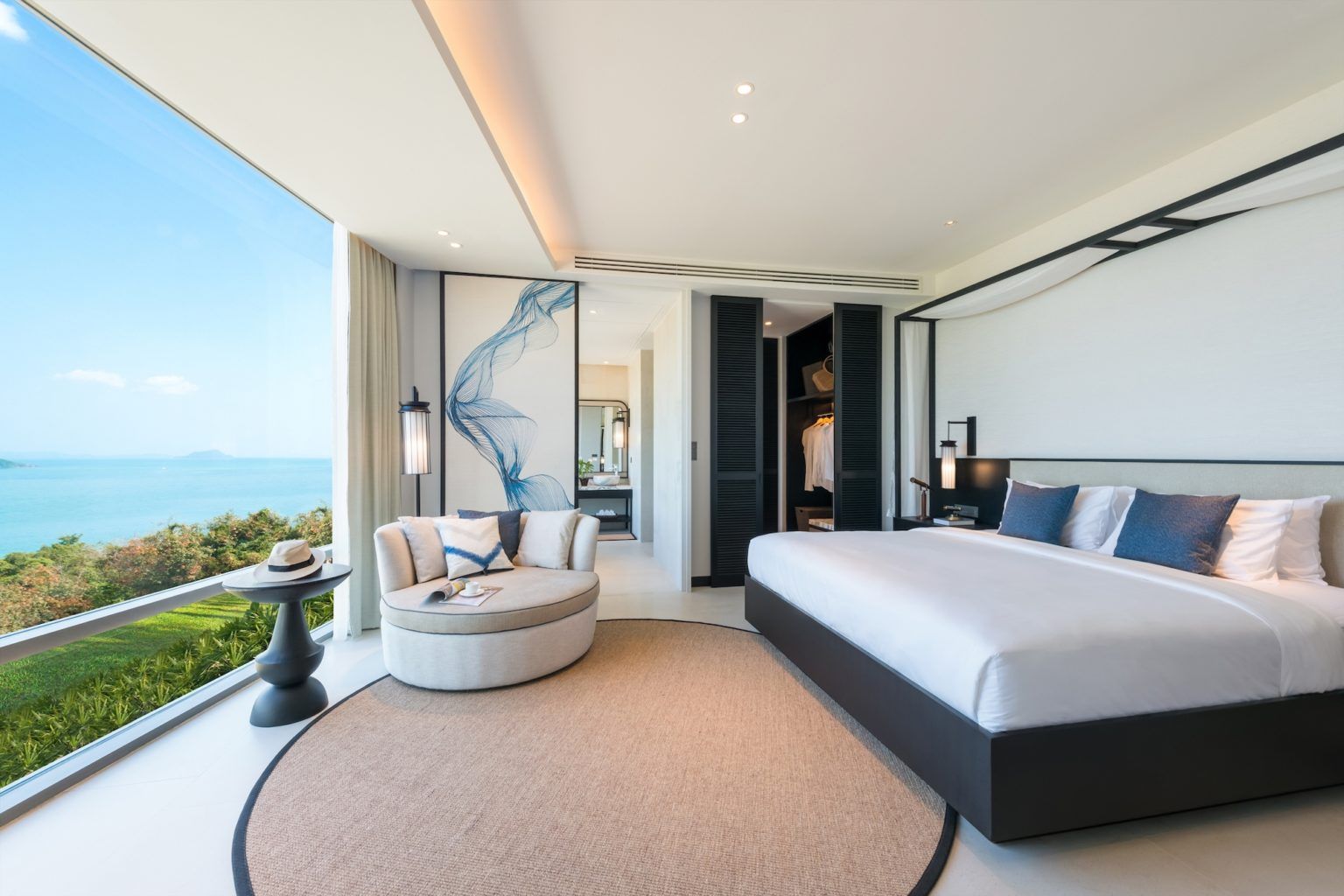 For the investor who prefers buying into a more mature and proven development, Knight Frank is marketing two- and three-bedroom apartments (2,300 to 3,778 sq ft, starting at 29.9 million baht) affiliated with and adjacent to the Angsana Laguna Phuket resort at Bang Tao beach.
The residences comprise 30 beachfront condominiums and five low- rise beachfront apartment buildings with each apartment enjoying a private pool and outdoor deck area.
A special "investment option" allows buyers to maximise returns by having their condo operated full-time by Angsana Laguna Phuket as part of its premium hotel inventory. Buyers will receive a share of the room revenue generated from their unit and in addition have complimentary use of their unit up to 60 days each year.
A regular membership to Laguna Phuket Golf Club is included with every residence.
The story originally appears on Prestige Online Singapore.