How Infinity Spa and Infinity Wellbeing Brings Abstract, Cinematic Sensibility to the Bangkok Spa Experience
When founder and CEO of Infinity Spa and Infinity Wellbeing, Benji Attiwatt, asked Space Popular's Lara Lesmes and Fredrik Hellberg to bring his spa to life, the result was a uniquely colourful space that gained international recognition for its vibrant design. Following the success of the first Infinity Spa on Silom, Benji reached out to Space Popular again to create another spectacular wellness retreat—Infinity Wellbeing—in the heart of Sukhumvit 20. Despite opening right when the pandemic hit, Infinity Wellbeing was once again garnering international spotlight—with the spa's mint green and deep blue interior making its appearances on international design platforms the likes of Wallpaper*, Dezeen and ArchDaily.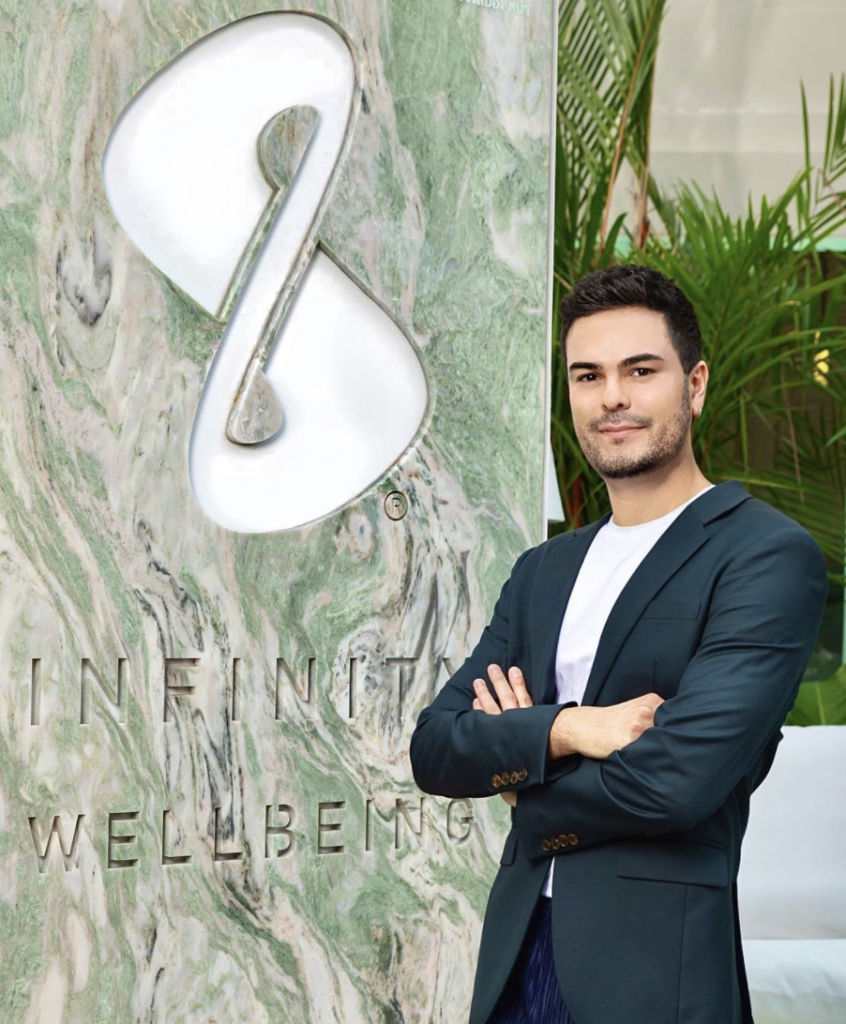 Benji recounts his story before starting his own business, looking back on how it all began. "Before Infinity, I used to work in the entertainment industry as a TV personality and model in Asia for a long time. I was thinking a lot about the future back then, so I decided to go to Switzerland, where I studied at a hospitality and management school. After graduating and returning to Thailand, I worked in big hotel chain groups before joining Emirates. During this time, I was still modelling and acting alongside, but I was in my late twenties, nearing thirty. I started to seriously consider my future goals. I asked the cabin crew I knew about what they love to do when they visit Bangkok, and of course, aside from dining and shopping, they love going to massages," he says.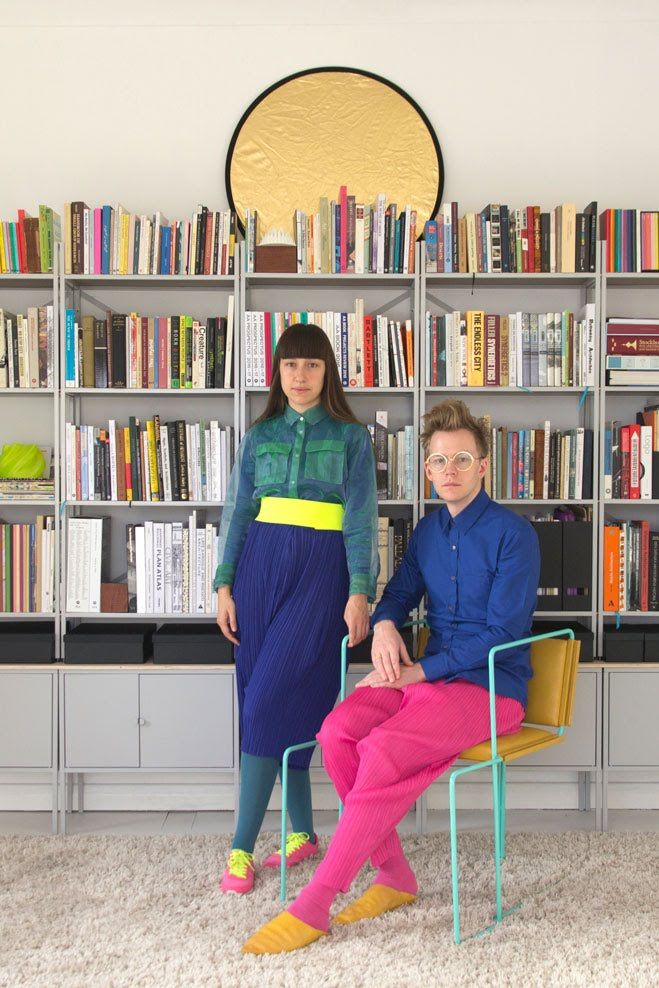 The ideas of his own spa started to take shape, but he wanted something different. "When you think about it, there wasn't anything that's like a high-end spa with a good price and with a similar mood to the hipster vibe of Ari today." This was back in 2013, and so his ideas started to solidify. At the time, Lara Lesmes and Fredrik Hellberg were also in Bangkok, teaching architecture at INDA, Chulalongkorn University's International Program in Design and Architecture, while running their own studio, Space Popular.
"We met at an art fair, where Lara and Fredrik were showcasing their work. We became friends, and later I asked if they wanted to help design the spa. In terms of design, I trusted their sense and expertise in matching colours to the mood and tone of spaces. They then came up with this completely modern abstract scheme that reflects their studio's personality. In truth, it took me a while to digest the design because in Thailand, certain designs, like wood and darker tones, when you think of spas and massage places in Thailand."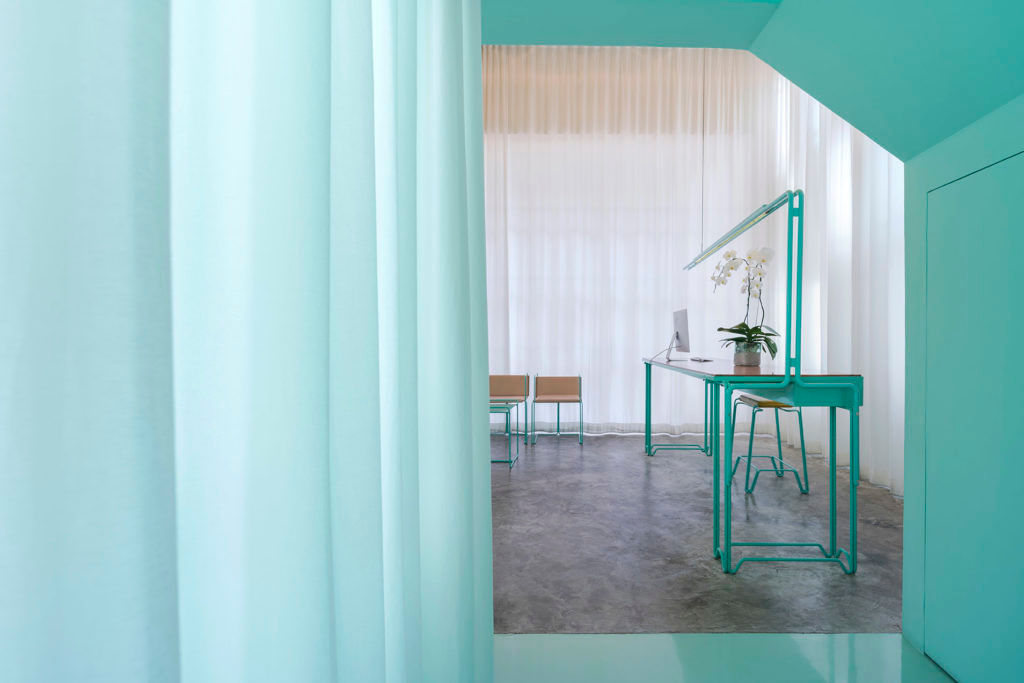 Agreeing that they wanted to break away from the stereotypical spa image, Infinity Spa on Silom 21 came to life in 2014. The design, combined with their personalised services, made Infinity Spa immediately successful. "We started with just one shophouse in the beginning. Then, the spa became so popular that we decided to expand to the shophouse next door soon after. From a spa with 6 rooms, we extended both the space and our services to 18 service areas, from foot massages, manicures and pedicures, waxing and our custom massage treatments. During this time, we also expanded our retail brands, launching our own products with a full selection of bath and body oil, natural scrubs and moisturisers."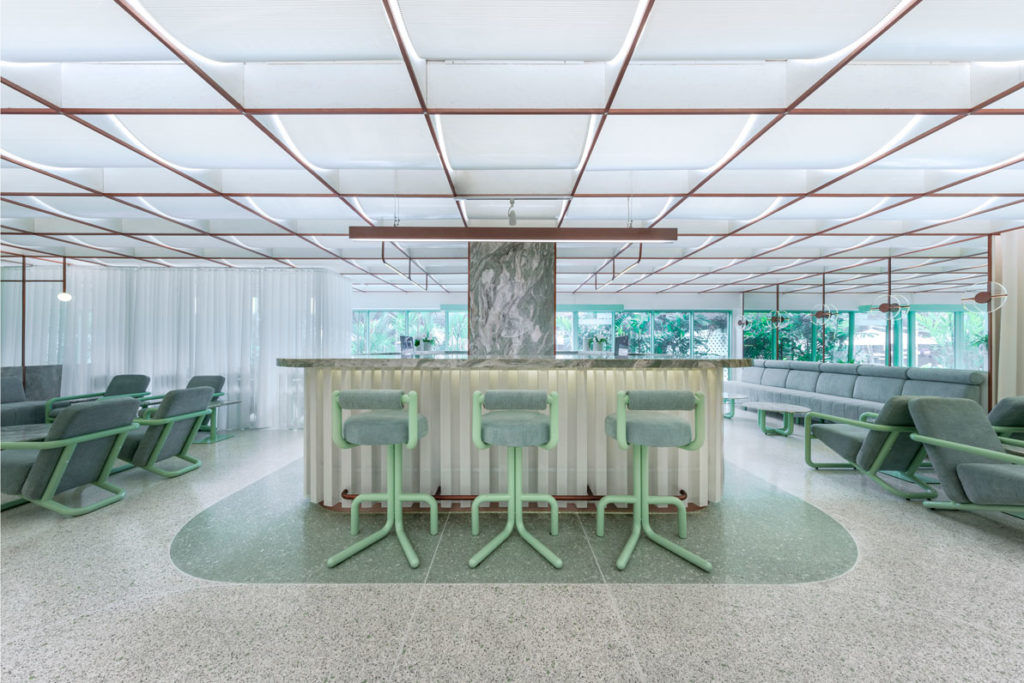 It is only natural that when Benji planned to form the second Infinity—Infinity Wellbeing—Lara and Fredrik would lead the design. "We were dealing with over 120 treatments a day in a place that could only support 18 customers at a time. So from 9 a.m. to 10 p.m., we were always fully booked. We started with a team of five before growing to 75 leading up to the pandemic," Benji says proudly. So from 2018, Benji and his team started searching for a new location. Many customers suggested the Sukhumvit area, and eventually, Benji came across Infinity Wellbeing's current location.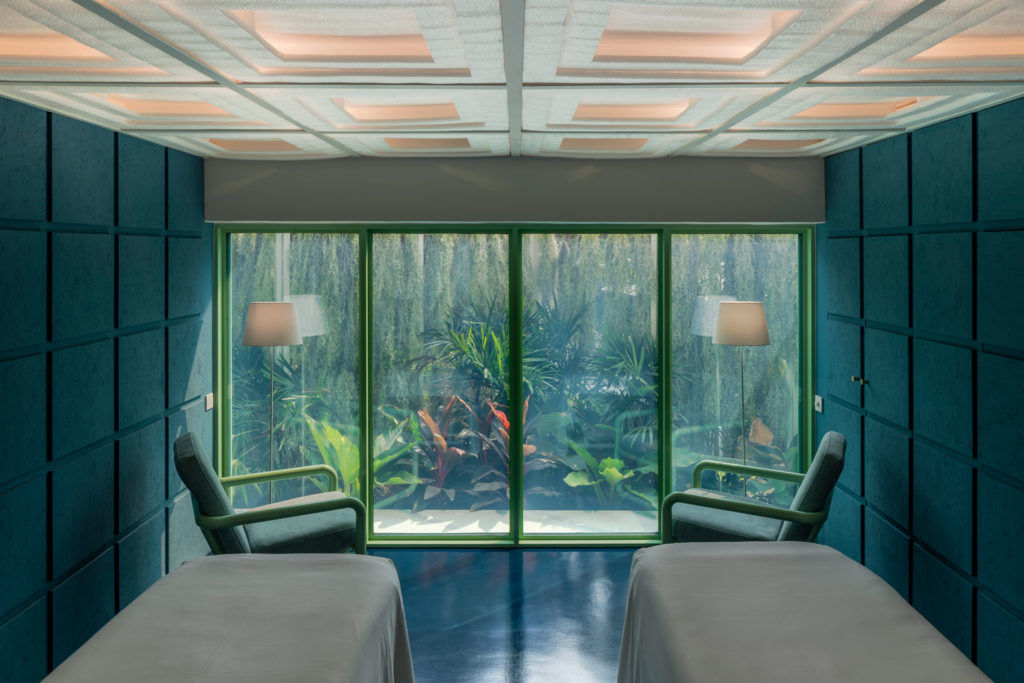 The new location is a one-storey building, a change from the vertical experience of the Silom branch. Lara and Fredrik saw the opportunity to play with the space. "Instead of moving vertically, Infinity Wellbeing's experience spans across one level of space. We wanted to make this place more luxurious than the former one to match the area— a new experience that does not overlap with the one in Silom," Benji explains. Like its sister branch, Infinity Wellbeing speaks to its visitors through Space Popular's unique use of colour and abstract design.
To better understand the design process, Lara and Fredrik joined us in a call. Perhaps because they are lecturers and professors, there was a sense of comfort in listening to Fredrik and Lara speak. Even on the screen, the orange and the bright blue of Fredrik's outfit beautifully contrast against the white book-filled shelf behind him. Next to him, Lara's black attire balances out this accidental colour scheme—after all, one cannot help but think of colour compositions when talking to the two. "In contrast to the more clinical feel of the first spa, Infinity Wellbeing's colour palette features mint green and light petroleum blue with elements of copper. Here, the white colour becomes a supporting backdrop." The green, too, plays off from Benji's discovery—a beautiful piece of green marble that now takes centre stage as the countertop of the lobby area.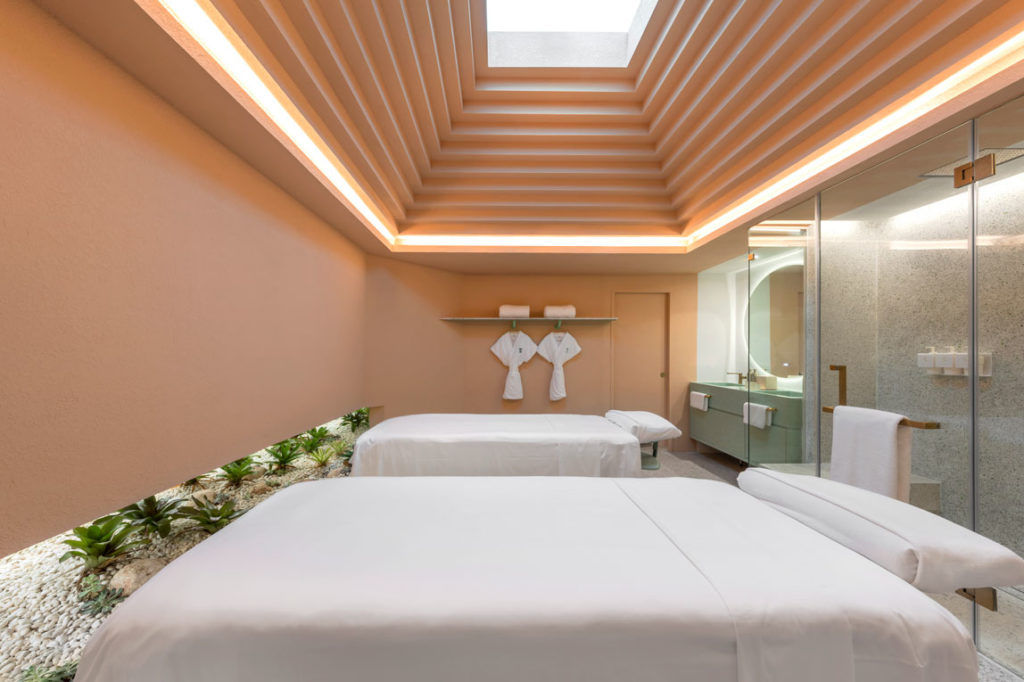 Another highlight of the lobby is its furniture. "This collection features thick metal tubes in mint green paired with light petroleum blue upholstery. They construct the space's identity but also provide comfort to the guests. The pieces include bar stools, lounge chairs and recliners with built-in leg rest, and side tables and coffee tables. We wanted to create an encompassing experience right from when the guests arrive, their journey through the spa right until they finish," explains Fredrik. There are five seating areas with distinct characters, all connecting to the three types of treatment rooms. "We used materials and colours to structure different areas. For example, pale pink terrazzo and texture plaster surfaces for the wet area, and dark blue for the massage and lounge area overlooking the view of thick foliages concealing the world outside from sight. "The dark blue walls make use of acoustic panelling with a grid of packaging foam for the ceiling," the duo says.
Noting how Benji is open to their ideas, they explain one of the space's most unique features—a textured plaster ziggurat—a surreal, dreamy design in a windowless treatment room that is unlike any spa in Bangkok. The suite does not face the garden. Only the walls form the space—a world of its own. "When we first came across the space, it was a dilemma because the room has no window, and above this specific room is a structure that is part of another building. Benji was open to ideas, and we decided to create a sense of light coming in from a skylight (artificial, however, due to the structural restriction), and so that was how the ziggurat came to be," Lara smiles. While this room evokes a sense of being in a warm, abstract geography thanks to its sand tone palette, the other treatment rooms, with their deep blue scheme, provide a dreamy, calming sense—each room a true wellness retreat.
For more information, visit Infinity Spa.
All images: Space Popular (photographed by W Workspace for Infinity Spa and Wison Tungthunya for Infinity Wellbeing)