Chef Norihisa Maeda and his talented team of chefs at Kinu by Takagi have unveiled new kaiseki menus for the month of February.
Kinu by Takagi is an intimate, 10-seat restaurant nestled inside of the Mandarin Oriental, Bangkok that has become synonymous with serving up some of the city's most sought after Japanese dining experiences.
Established by Chef Takagi Kazuo of two-Michelin-starred Kyoto Cuisine Takagi in Ashiya, Japan, the restaurant is a must-visit for those who enjoy savouring traditional Japanese flavours, and those who wish to become more familiar with kaiseki, a dining experience native to Kyoto that comprises of detailed, multi-course menus inspired by the passing of the seasons.
The February menus were designed by Chef Maeda with the intention of taking diners on a culinary journey through Fukuoka, a prefecture known for its unique gastronomic culture and traditional approaches to harvesting and cooking.
As Bangkok and Fukuoka recently celebrated 15 years since becoming friendship cities, the new five-course lunch and ten-course dinner menus feature premium handpicked ingredients that are at their seasonal best, including giant Buzen Sea Hitotsubu oysters, Amaou strawberries, and Ariake seaweed, the latter of which is available for the first time in Thailand only at Kinu by Takagi.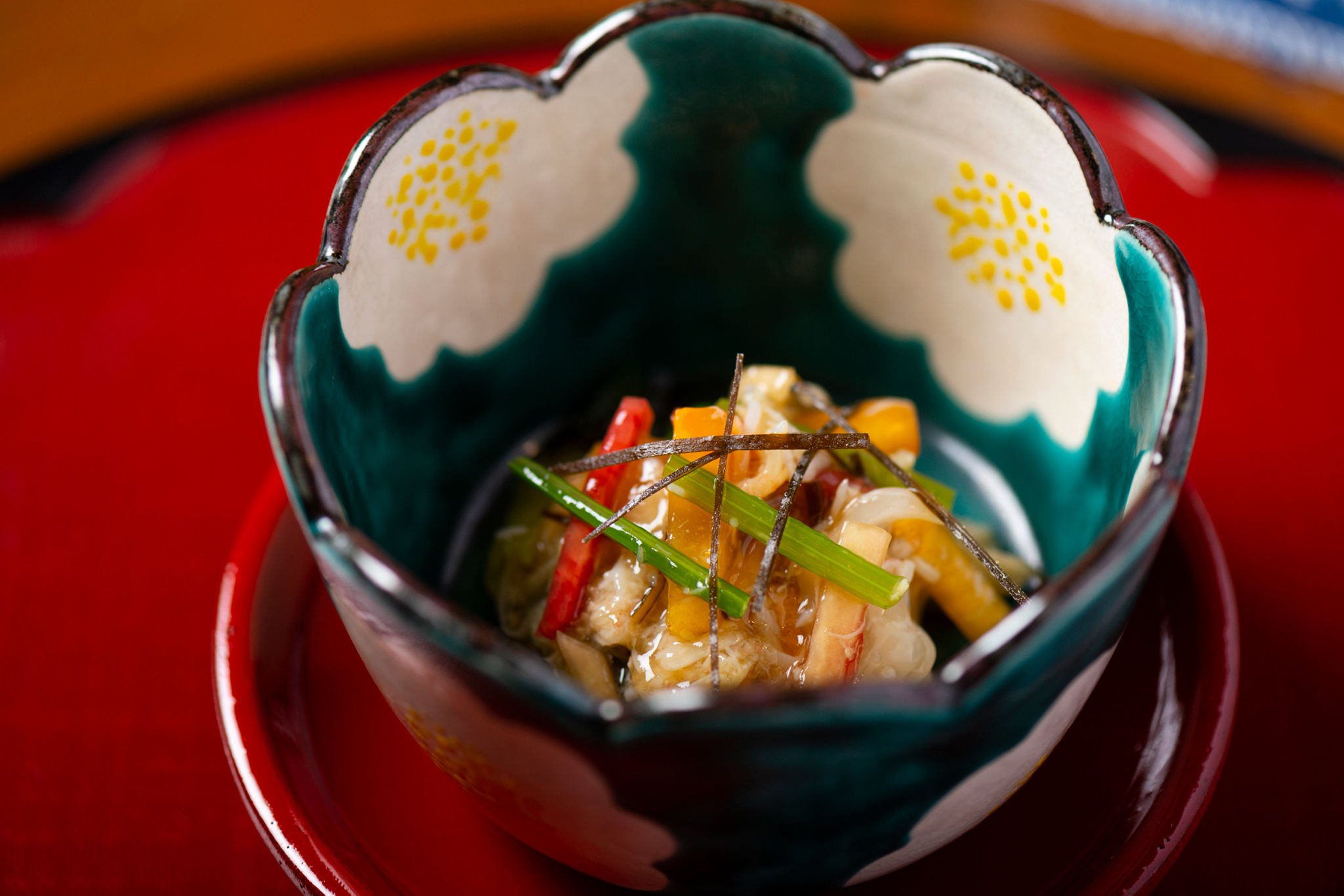 Having had the pleasure of sampling the dinner menu, the experience begins with the 'Kaki-Namasu,' a traditional Japanese dish typically enjoyed during the New Year period that is a flavourful mixture of pickled and julienned vegetables, fresh fruits, and assorted seafood.
Chef Maeda's version combines Fuyu persimmons with turnips, red radish, Thai celery, snow crab, and scallops, all served above a zesty yuzu vinegar jelly. As November through to February is the best time to enjoy persimmons, the sweetness of the fruit does well to balance out the tart pickled vegetables, providing a refreshing start to the meal.
This was followed by the 'Wanmori,' a Kyoto white miso soup topped with Thai river prawn, egg tofu, a savoury taro root mochi, radishes, and carrot that was packed to the brim with umami notes.
I was then served the 'Tsukuri,' a plate of sashimi featuring the chef's 'daily catch.' Although all three types of fish were deliciously fresh, my favourite was definitely the fatty tuna that had a melt-in-the-mouth consistency.
Next was the 'Hassun,' an eye-catching dish that consisted of several delicacies –a Tazuna-style sushi roll made from Japanese sea bream and salmon; squid in a yuzu and kosho pepper sauce topped with creamy Hokkaido sea urchin; herring roe served with cucumber, red carrot, and a tofu cream sauce; charcoal-grilled yellowtail that had been marinated in white miso; pickled lotus root dressed in a rich, glutinous mochi powder; and finally, crispy green tea soba noodles.
The next course consisted of sought-after Buzen Sea Hitotsubu oysters cooked two ways. As the Buzen Sea is rich in plankton, which provides essential nutrition for the oysters, they become large, plump and flavourful, and are one of the few varieties in the world that do not shrink when cooked.
The first dish comprised of a deep-fried oyster and Shirako cod fish roe wrapped in tofu paste and served with an aromatic chrysanthemum dashi sauce, while the second consisted of a poached oyster topped with buttery Sturia caviar.
I was then served the 'Aizakana,' a plate of steamed abalone paired with cauliflower and an abalone liver sauce, all of which helped to elevate the seafood's distinct and savoury flavour even further.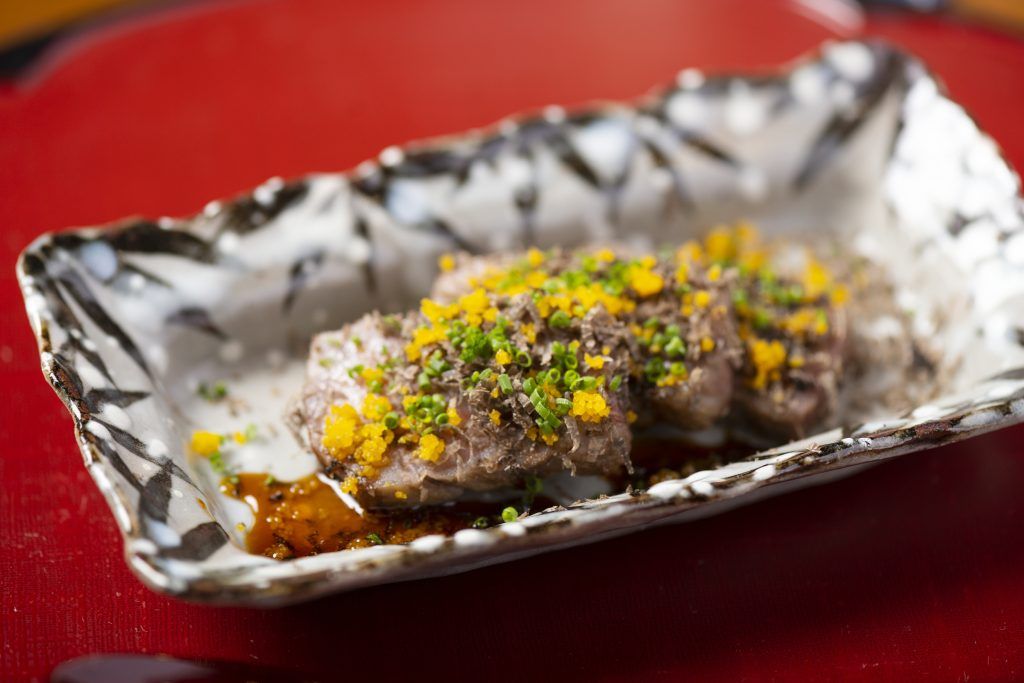 Next was the 'Yakimono,' which was one of the highlights of the evening. It featured charcoal-grilled Hakata wagyu beef served with chives, yellow egg powder, and a generous amount of black winter truffle. For this dish, Chef Maeda spent two days preparing the beef before it was grilled in the restaurant, allowing the smoky aroma to tantalise the senses.
Hakata wagyu is Japan's most popular type of beef and is renowned globally for its tender and soft texture. It comes from Japanese black and brown wagyu cattle that are fed on Fukuoka hay and multi-grains over 20 months in a stress-free environment surrounded by beautiful scenery. This commitment to care and nutrition translates into the perfectly marbled beef.
The final savoury course of the dinner menu was a bowl of Japanese rice topped with different cuts of fresh seafood, an onsen egg with a runny yolk, and flakes of Ariake seaweed. Not your typical 'nori,' this variety is one of Japan's best-selling ingredients with over two billion sheets produced annually. Despite this, producers still cannot meet local demand, which makes it almost impossible to find this prized seaweed anywhere else in the world.
For dessert, another one of the prefecture's most desired ingredients was spotlighted—the Amaou strawberry, which is celebrated for its size, vibrant red colour, and irresistibly juicy taste.
To pay homage to this coveted fruit, Chef Maeda presented the strawberry in five different ways – as fresh chunks, a compote, a jelly, an ice-cream, and a vibrant sauce. Before I left, I was also treated to warm cup of matcha that acted as the perfect palate cleanser to end a truly stellar meal.
The Fukuoka-inspired menus are available at Kinu by Takagi until 28 February 2023. For more information, click here.