With his latest restaurant, Aksorn, chef David Thompson shows he's still at the top of his game as he delves into Thai cookbooks from the '40s, '50s and '60s.
David Thompson is leafing through an old book of recipes when I meet up with him. The old tome he holds, written by Thanphuying Kleeb Mahidhorn, is from the celebrated chef's extensive collection of rare Thai cookbooks and memorial books with recipes, and it's one that he has been mining for the menu at
Aksorn
, his new Bangkok restaurant.
This new eatery crowns Central: The Original Store on Charoen Krung Road, the city's first paved street. The refurbished shophouse with its orange brick façade was the first store of the Central group in Bangkok, which the Chirathivat family purchased in 1949 and opened in 1950 as a bookshop selling imported books and magazines. As a tribute to their legacy, the retail conglomerate commissioned Belgian architect Vincent Van Duysen to breathe new life into the building. The five-storey edifice now houses the second branch of Siwalai, the group's concept store-cafe bar, as well as a retail space, a research library, and an exhibition space dedicated to the company's past. Chef Thompson's 40-seater restaurant at the top, with its open-plan kitchen and small leafy terrace, was designed by Kunichi Nomura from Japanese interior design studio Tripster.
"This building was originally a bookstore downstairs, one that imported international titles, mostly magazines or fashion magazines, and some novels from the 1940s, '50s and '60s," says David, adding that it gave him the idea to use the cookbooks he had never used before from this same time period. "I hadn't looked at recipes from the cookbooks from the 1950s, '60s and '70s. I've always disdained them as being somewhat impure, somewhat compromised, and not as interesting or ornate as those wonderful, old regal recipes from an earlier era.
"With this restaurant, we can go through my old recipe books, try the recipes, play with them, and then put the book back and choose another one."
The aforementioned Thanphuying Kleeb, he explains, was a renowned cook in the tightly knit world of upper-class Bangkok, and the wife of Chao Phraya Mahidhorn, a high-ranking courtier during the reigns of Kings Rama V, VI and VII.
"Lady Kleeb, who lived from 1876 to 1961, was raised in the inner court, together with her relatives, where she acquired the manners and customs of the palace," the acclaimed Australian-born chef goes on to say, as he gives me a quick, fascinating lesson in the culinary history of that period. "Her collection of recipes, published in late 1949, contained a diverse collection of mostly Thai food, peppered with a few Chinese and Laotian dishes, reflecting both her background and life. After she married, some of her husband's Chinese family dishes entered into her repertoire."
The book title, which loosely translates as 'Side Dishes to Teach Children', was much lauded when it was published and is now considered a classic of its kind. Yet her intention was more modest, says David, who has been documenting the traditional recipes and culinary techniques that have been handed down from generation to generation ever since he first visited Thailand.
"It was simply to assemble her favourite recipes and pass them on to her family, so they could continue to enjoy the dishes and flavours that were a part of their shared memories. Providing the recipes was her way to please and feed them, but also remind them of their family ties."
The
set menu
at Aksorn includes five main courses served kap khao, or "family style", and is priced at THB 2,800++ per person, including one cocktail. The 'Cha Kam' cocktail is a fizzy brew of locally produced Grandma Jinn, lime, salted lime, cha kam leaf, and soda. By contrast, the 'Butsaba' uses Kosapan rum, citrus liqueur, honey, lime, and orange for a bitter-sweet concoction. For the teetotaler looking to quench their thirst, the 'Chimpli' is a refreshing mix of passionfruit, orange, tamarind, basil and soda.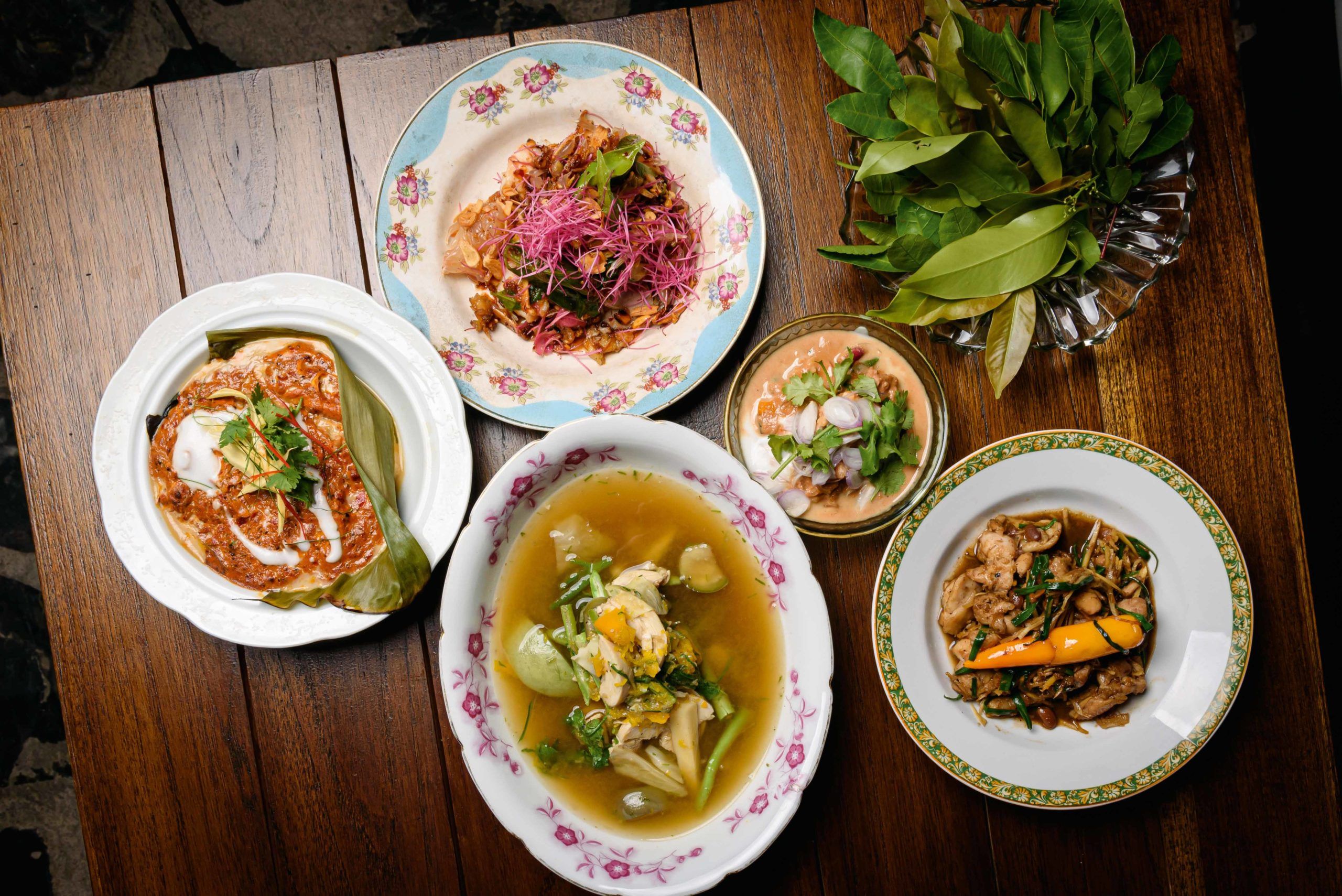 David starts off the meal with three hors d'oeuvres. The Ma Hor substitutes minced pork with garlic pork fritters flavoured with cumin and coriander, served on cups fashioned from orange juice and agar agar. Next is the spiced pork galantine, a common dish on the Thai-Chinese dining table, made from gelatinous meat from the head and ears that is simmered with Chinese alcohol and a spice mix called yaa liaw – similar to the five spices powder – before being wrapped in tofu skin and pressed into a block and served on fresh bai tang oh (chrysanthemum leaves). The accompanying sauce of pickled garlic and chili vinegar adds bite and cuts through the rich meat. Third up is Khanom Khrok, or coconut pancakes, which is a traditional street Thai dessert. But in the 1940s the pancakes with a pork filling, or khanom krok nah moo, were a popular snack. This last bite is thin and crispy with a filling of savoury minced pork, roasted peanuts, and spring onions, topped by warm coconut cream. It's mildly sweet, spicy, salty, and creamy all at once, and leaves you wanting more.
The starter, Goong Naem is an elevated version of another street food classic, pla naem. Finely chopped river prawn is added to a mixture of toasted rice, crushed peanuts, shallots, and pickled garlic. The leaf, juice, and zest of kaffir lime and som saa (bitter orange) is used to zest it, while bai thong lang – leaves of the Indian coral tree – adds a bitter nuttiness.
The five mains, served with steamed fragrant jasmine rice, consist of: a sour and spicy salad of pomelo, rose apple blossoms, prawns, pork with chili jam, and peanuts; a fermented bean curd relish with minced pork and prawns; a soup of smoked fish and bamboo with Thai herbs; a steamed red curry of pork and peanuts; and stir-fried chicken with ginger and spring onions. Each one takes the palate on a rollercoaster ride of punchy flavours, but for me it is the simple, heartwarming soup with the smoky fish paired to the earthiness of the bamboo that is a standout. It has soul.
The meal ends with a variety of desserts from the same era. Pineapple is glacé-ed by simmering it in white coconut sugar over several stages, so that it absorbs the syrup, and then served with coconut cream. There is also Khanom Hawng, made with coconut juice, shredded coconut, and cane sugar, which is then delicately steamed in banana leaves. This sweet treat with its slightly chewy exterior and caramelised centre brought memories of Pancake Tuesday in Goa, where we gorged on plump "alle belles" filled with grated coconut cooked with palm jaggery (dark, unrefined sugar). I think both could trace their roots back to Portugal. Finally, sweet and spiced Thai-style pretzels and ancestor biscuits round up the evening.
Don't expect the swagger and heat of Nahm here. With Aksorn, chef David Thompson shows that there is more to Thai cuisine than green curries and the pad Thais, and that he is still at the top of his game.