Landcape-architect Kotchakorn "Kotch" Voraakhom shares her views on creating beautiful public spaces, with the ability to function as sustainable, urban green infrastructure.
When I first contacted landscape architect Kotchakorn "Kotch" Voraakhom in early April to plan our meeting, we agreed it would be ideal to conduct both the interview and the photoshoot at her award-winning Chulalongkorn University Centenary Park. Unfortunately, within a few days our plans were scuppered by a government decree prohibiting access to all public parks as part of the ongoing effort to combat the spread of Coronavirus. It was a sad irony that the green spaces created specifically for the health of city residents had become off-limits for the sake of the health of city residents.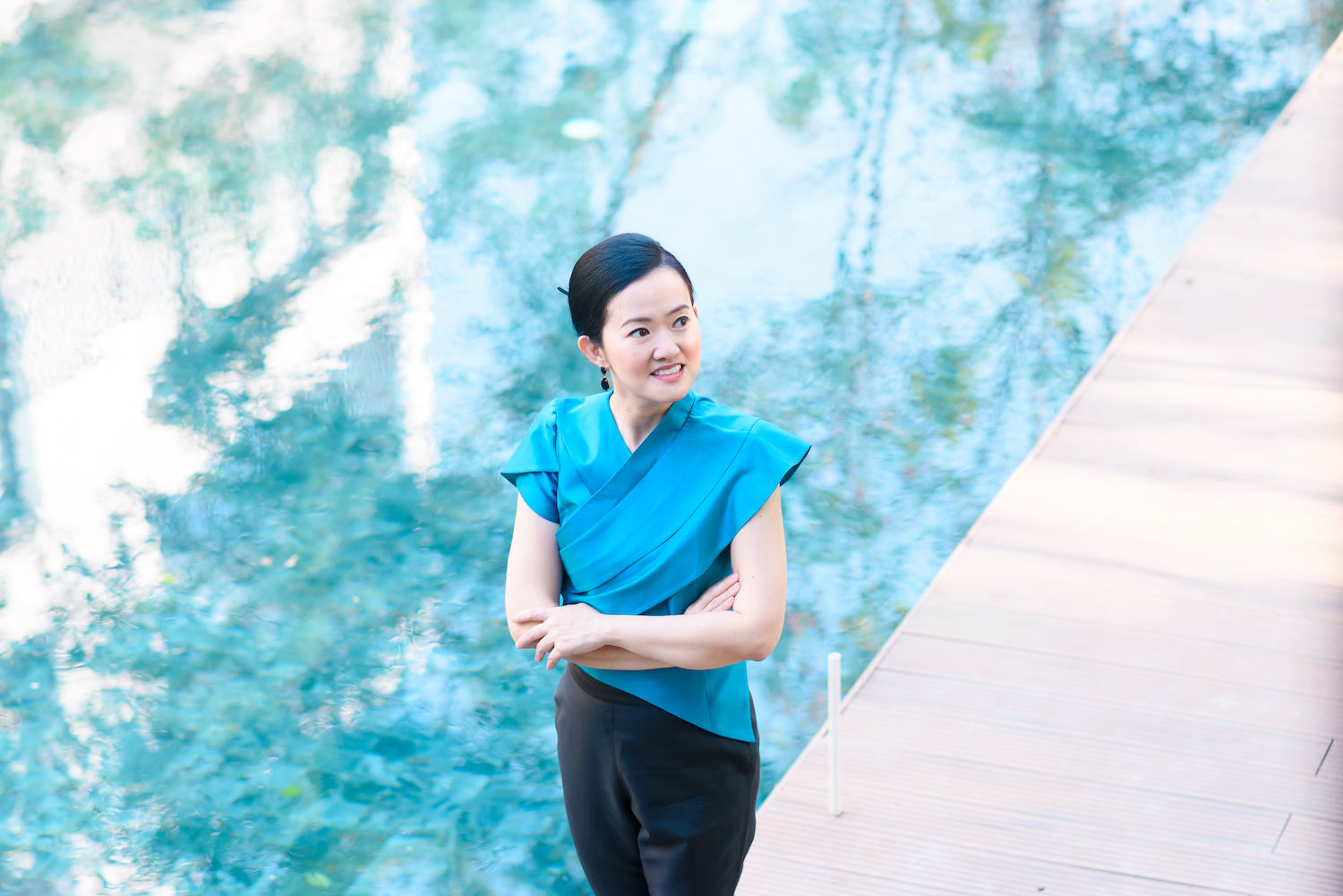 "I actually kind of agree with the decision, in the sense of trying to not to have people together in the park," Kotch admits when we finally do get together; sitting poolside in a leafy, residential enclave in Huay Kwang where the offices of LandProcess, her landscape design firm, are located.
"But they're probably just going to walk alone, or with someone in their family," she's quick to counter, "so to eliminate a place vital to our mental health is, at this point, a bad decision in a way. Especially in Bangkok where we have such a limited opportunity in terms of public space in general.
"Being healthy is not just about being clean and washing your hands," she continues. "It actually involves so much about one's mental state, and being with nature is a really important part of that wellbeing."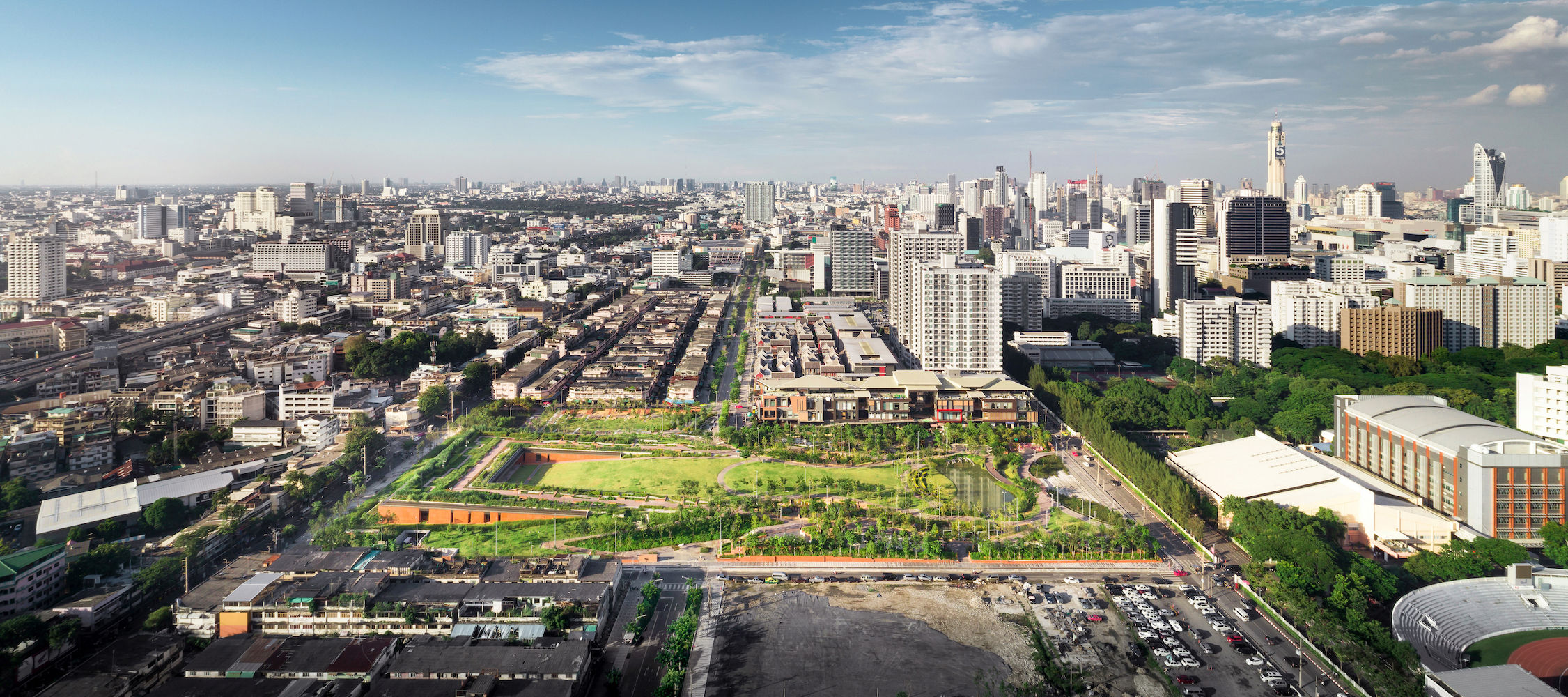 Our talk naturally turns to the ever-evolving role of green space in the urban environment; a subject that has been defining Kotch's career since she returned from living and working in the USA almost a decade ago. Born and raised in Bangkok, Kotch studied landscape architecture first at Chulalongkorn University and then at Harvard, where she was a student from 2004 to 2006. After finishing her studies she worked on a variety of intriguing projects, including a casino in Las Vegas and the winter home in Aspen of a Saudi Prince. It was certainly great experience, but as a designer she began to think more in terms of ecology and less about making things "to look nice only".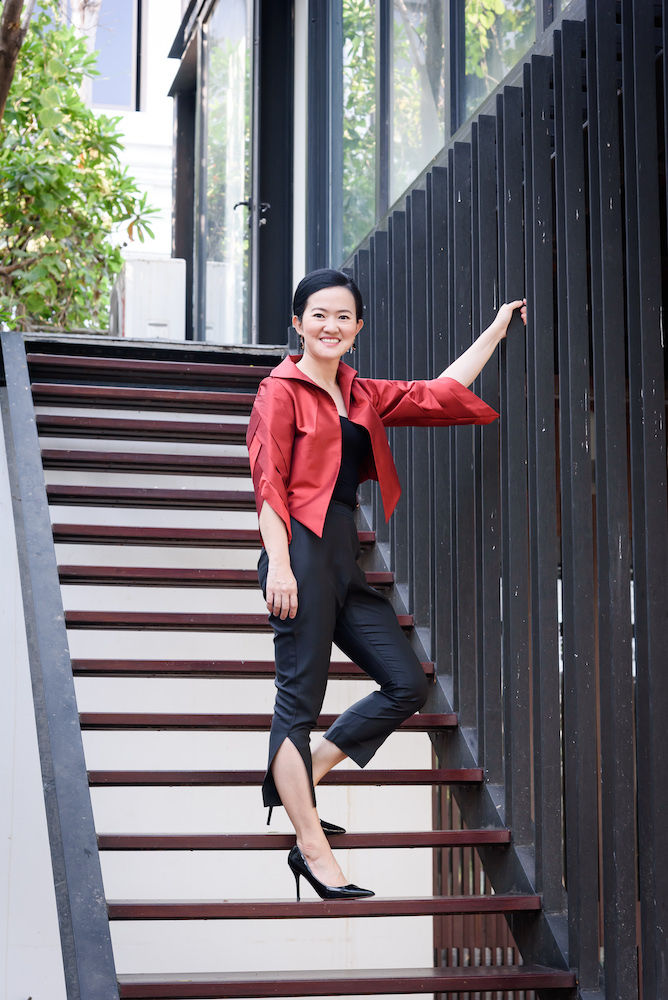 Her return to Bangkok in early 2011 proved to be pivotal. When the city was hit with massive flooding later that year, she and her family – including her then 3-year-old daughter – were among those displaced. It was clear that Bangkok had to deal with its water issues and Kotch was determined to be part of the solution.
The following year a call went out for submissions to design a park to commemorate the centenary of her alma mater Chulalongkorn. Her firm LandProcess, working in conjunction with N7A Architects Co. Ltd., entered the competition and won. As lead designer she put forward an innovative and ecologically sustainable design that would trap rainwater by angling the park at a mere three degrees. You could say it was a paradigm "shift".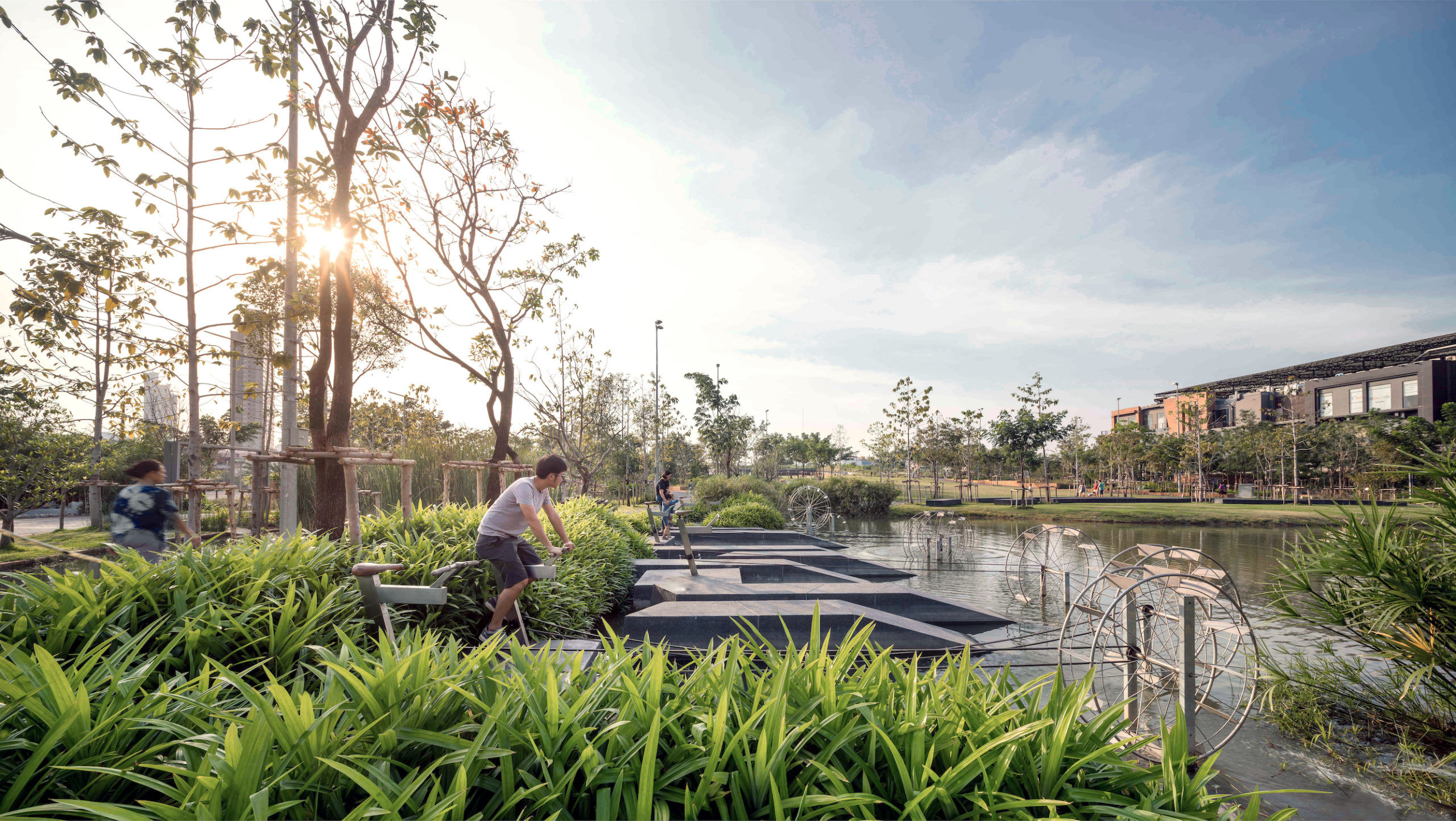 The 4.4-hectare park – the city's first new public park in 30 years – was completed in March of 2017 and its innovative concept has since won the team many honours, including the Award of Excellence (Build-Large category) at the 2019 World Landscape Architecture Awards. Harnessing the power of gravity, the rainwater that falls upon the more elevated sections of the park trickles down towards the less elevated wetland area, where native plants filter and clean the runoff. The water eventually ends up in a retention pond that can hold 3.8 million litres and can be used to irrigate the park for almost three weeks. It's an inspired solution to the double-edged sword of Damocles that hangs over Bangkok every year: flooding and drought.
"We have to build the city and the urban setting in a different way. We need green infrastructure not grey infrastructure."
Kotchakorn 'Kotch' Voraakhom
"If you understand the landscape of this place, it has a wet and a dry season," Kotch explains, pointing out that climate change is also making each of these seasons more extreme and problematic. "In the old days we adapted our lives to the seasonal change. In Thailand, flooding has been with us for centuries. But when we have a city in the wrong place, like Bangkok, which is supposed to flood every year, we need to change our attitudes about floods being a disaster.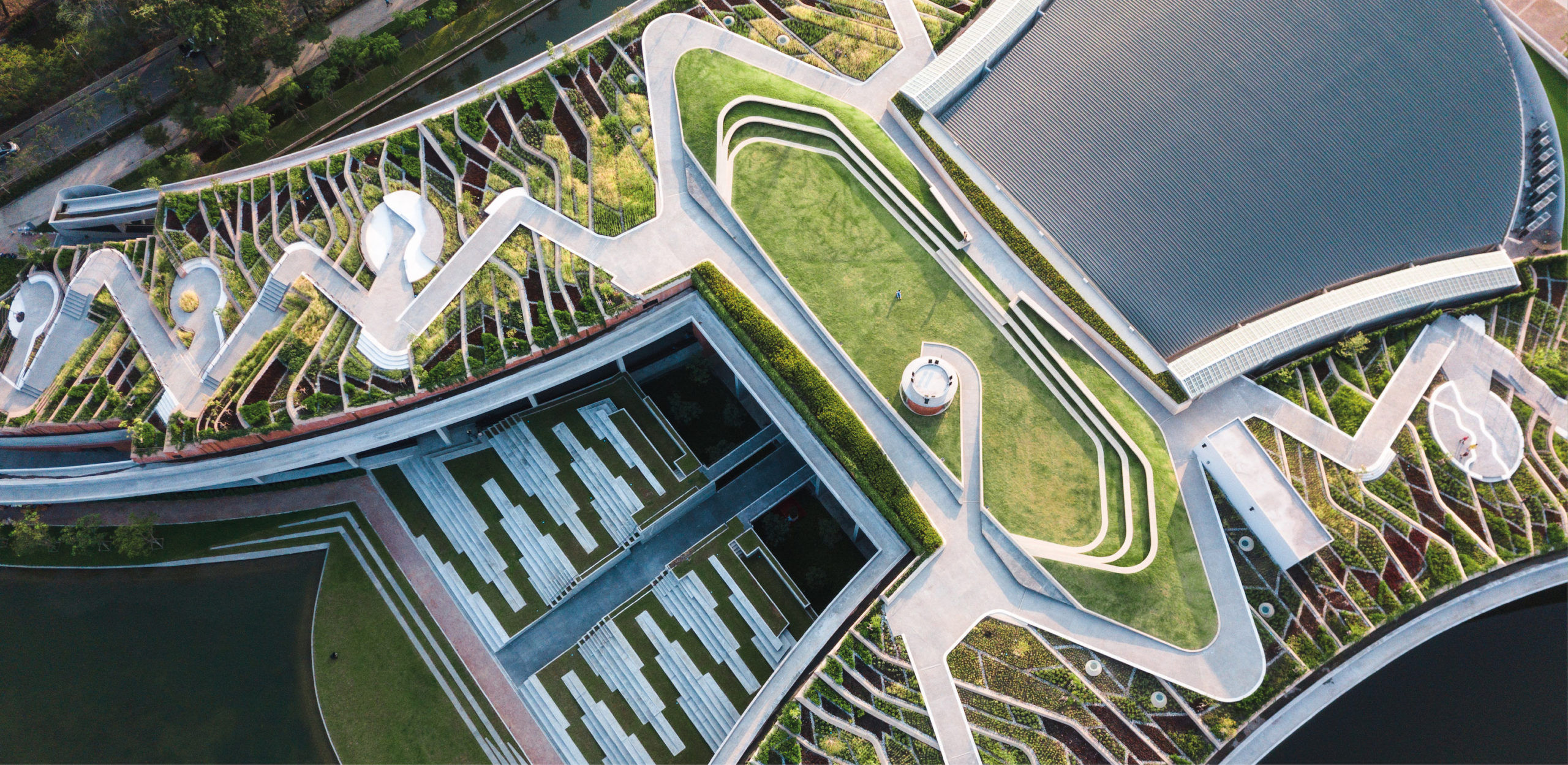 "We have to rethink the way we deal with flooding, and not just try our best to keep Bangkok from getting wet… which is impossible!" she adds, with a laugh. "We use landscape architecture to solve this issue a bit. We need more places to store water when there's too much rain, and reuse that water when there's a drought. We have to build the city and the urban setting in a different way. We need green infrastructure not grey infrastructure."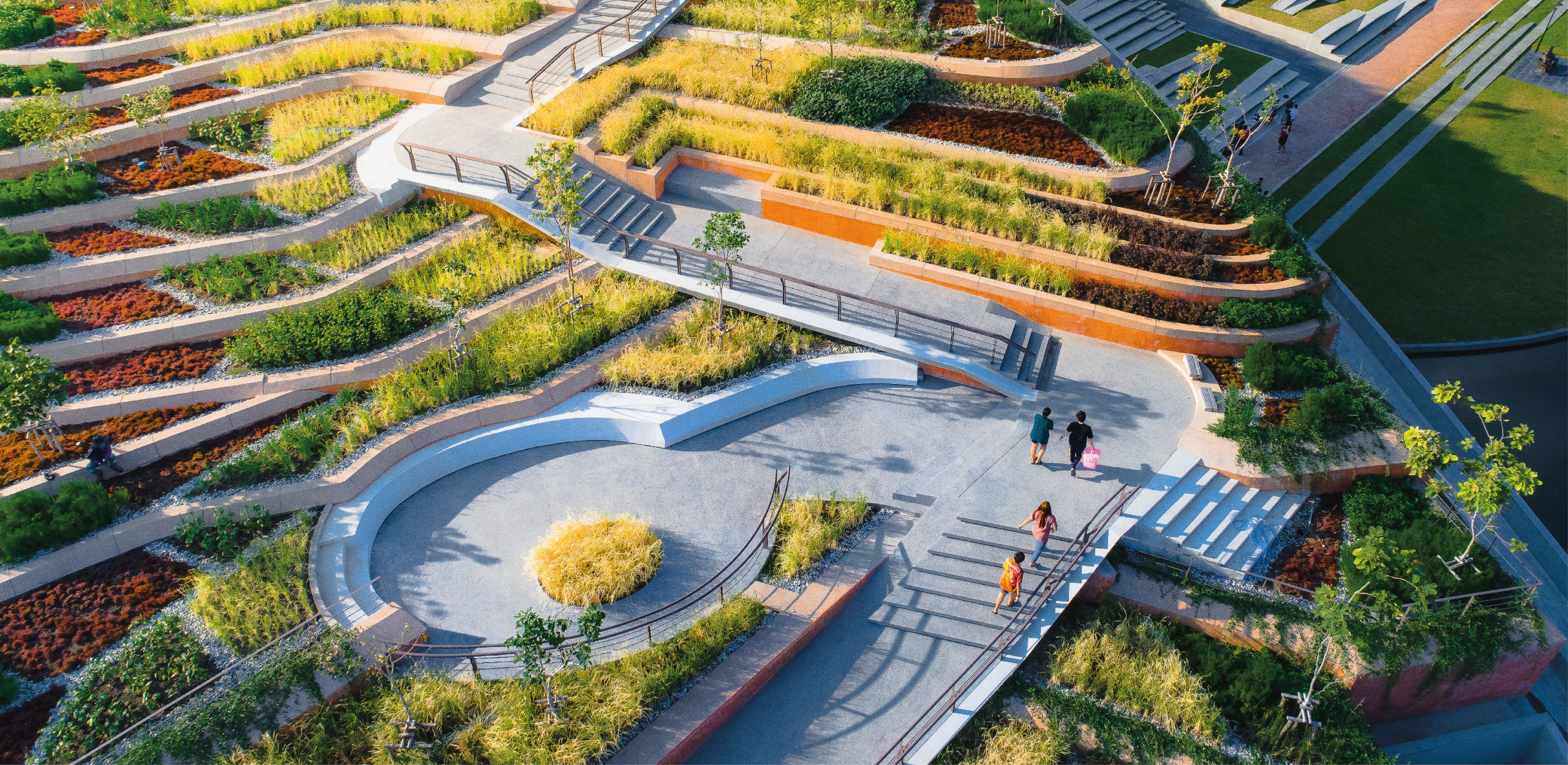 Another implementation of this green infrastructure idea is the creation of rooftop gardens. Over the years Kotch has created several significant rooftop green spaces, including one at Siam Square and one at Ramathibodi Hospital, which she refers to as a "healing garden for staff and patients". However, her biggest achievement in this category so far is the spectacular rooftop garden at Thammasat University, which opened in December 2019. It's officially the biggest rooftop garden in Asia and second biggest in the world.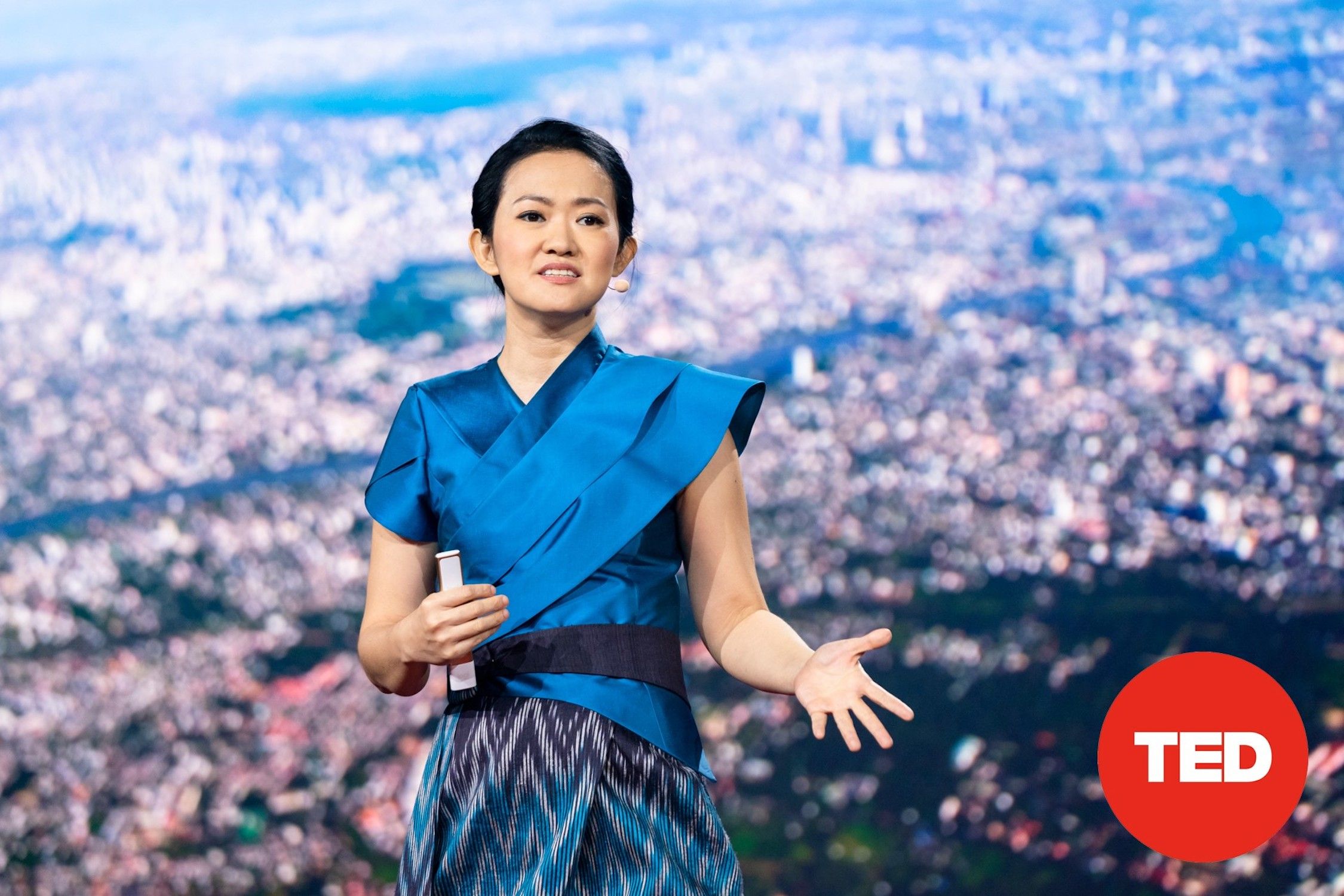 It's obvious as soon as you see the park that its design is influenced by what Kotch calls "the wisdom of the rice terraces". Compared to a normal concrete roof, the water runoff here travels 20 times slower as it drips over the park's gradated, terraced steps. The runoff, in turn, waters the plants that are grown as food for the campus canteens, and the food waste from the canteens goes back to the garden as fertiliser. In addition, retention ponds at the base of the park hold any excess water, while solar panels in the building generate the clean energy used to power the pump that irrigates the farm during the dry days. It's an ingenious circular economy solution ensconced in a bold modern design.
"Being healthy is not just about being clean and washing your hands. It actually involves so much about one's mental state, and being with nature is a really important part of that wellbeing."
Kotchakorn 'Kotch' Voraakhom
"One of the most wasted spaces in the city is the rooftops," she remarks. "They create so many problems in terms of energy consumption and increasing the urban heat island effect. I ask, 'how could this space be of benefit to us, in terms of health, food, water, and so on?' I'm lucky I've been able to convince clients to implement these solutions."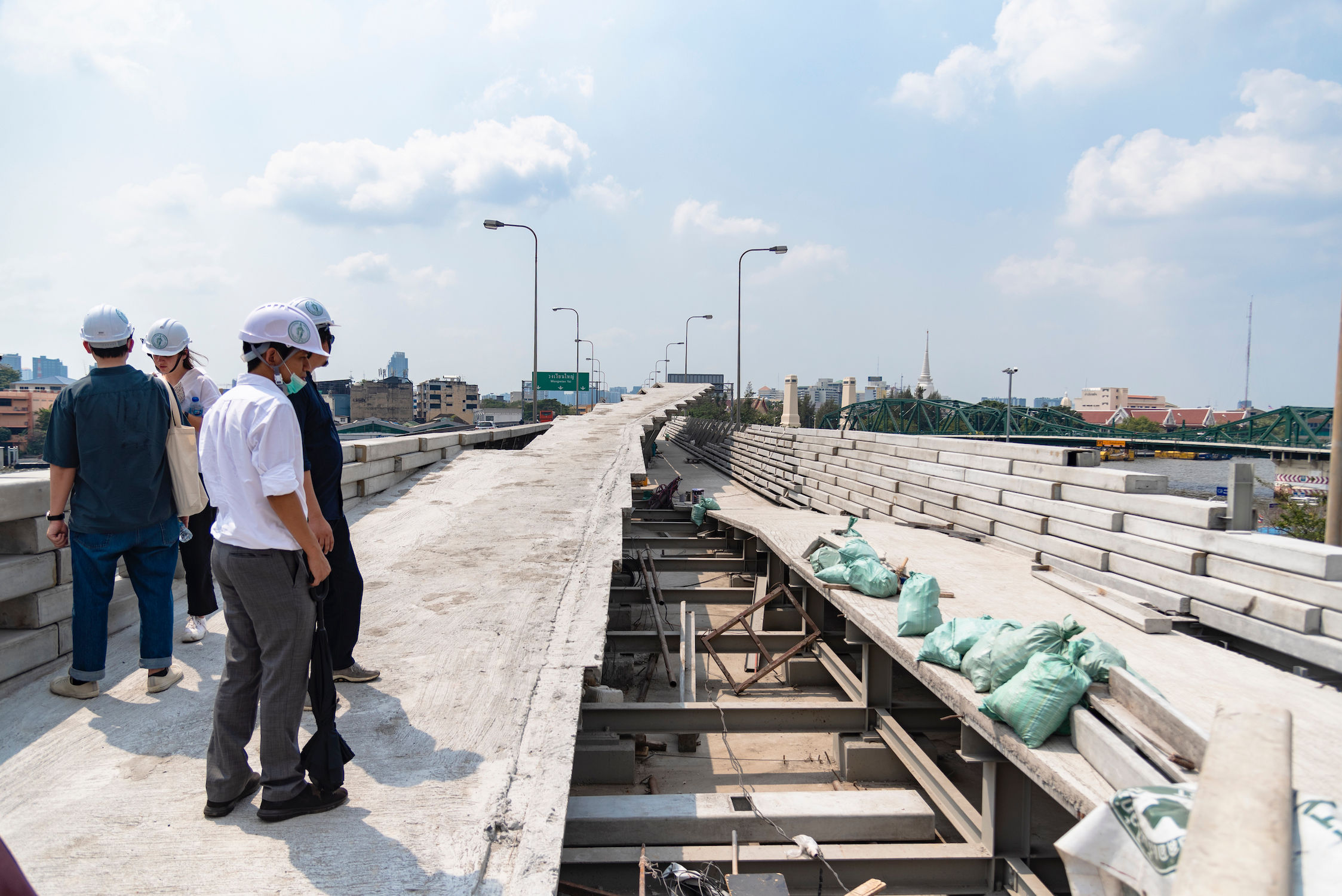 LandProcess's latest project is the Phra Pokklao Sky Park near Saphan Phut, which will be the first public park built across a river in the world. The 30-year-old existing infrastructure upon which the park now sits measured just eight metres wide and 230 meters long when Kotch and her team began the transformation. "It was originally slated to be a skytrain station, but that never happened," she explains, adding that the construction of the park is almost finished. "It was planned to open in May, but I think we have to wait till the Coronavirus is gone and then we can organise an opening ceremony."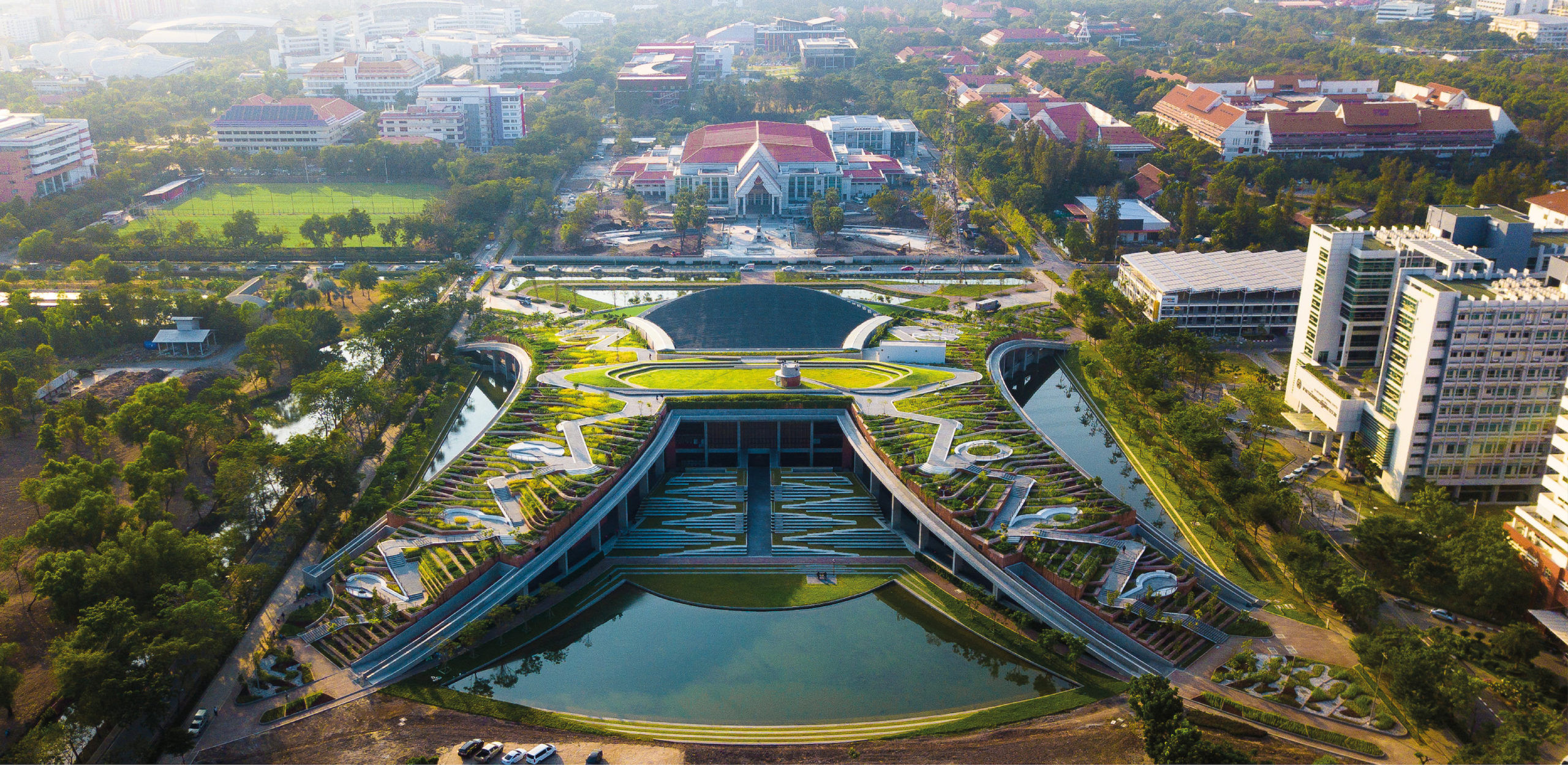 At just 39 years of age – "which for an architect is still very young," she happily assures me – Kotch has accomplished quite a bit. In addition to running LandProcess she is also a visiting guest lecturer at Harvard and the founder and CEO of the Porous City Network, an organisation set up to the tackle problems faced by "sinking cities" due to climate change. But she has probably made her biggest international splash as a TED Fellow, and her TED Talk about CU Centenary Park from November 2018 – which ends in a standing ovation – was at 1,772,215 views when I watched it last month.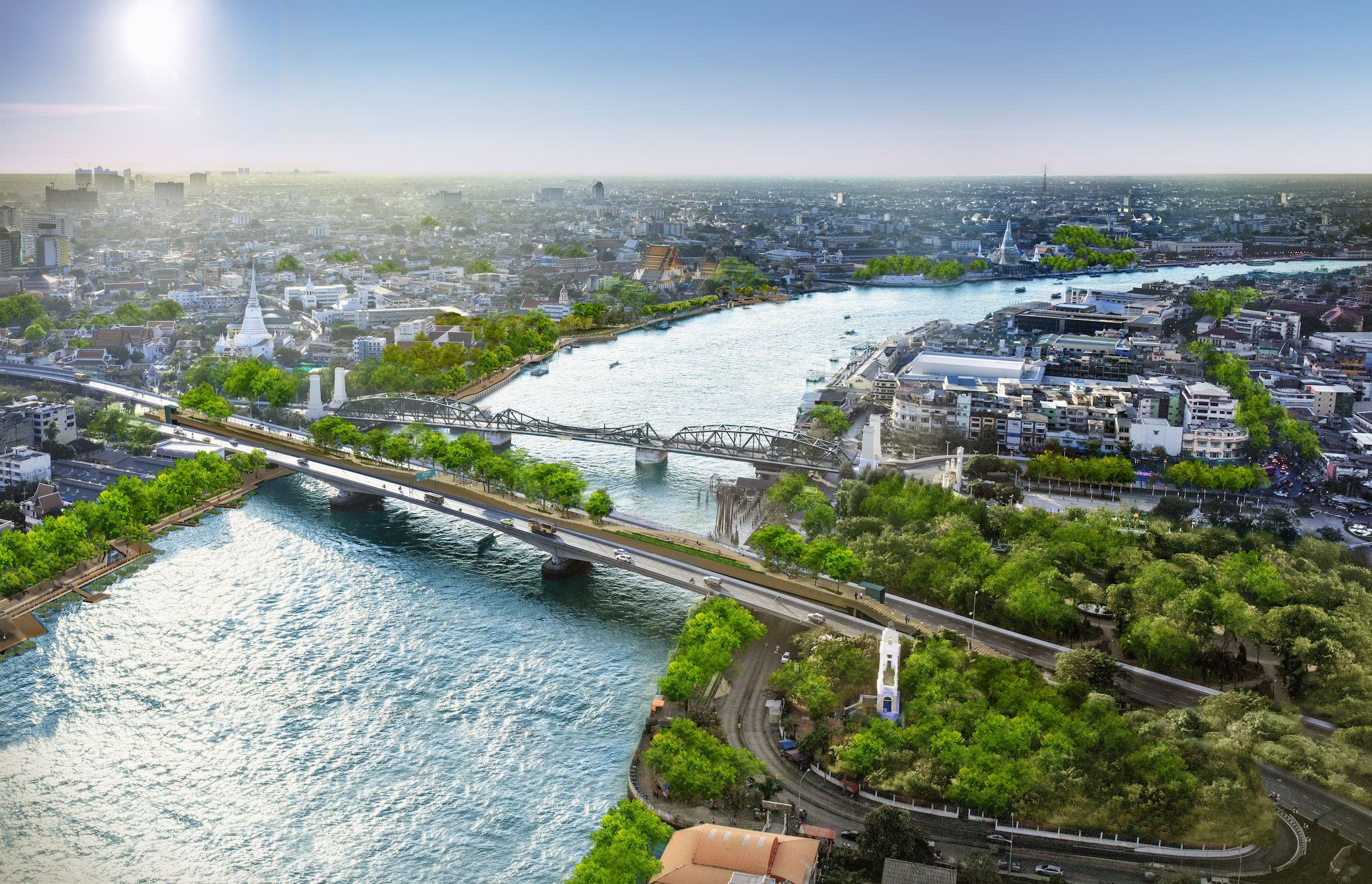 And while Kotch herself seems more determined to stress the green engineering aspects of her parks over their visual aesthetics, the inherent beauty of these natural oases has won her many admirers too. In fact, not long after it opened, the Royal Bangkok Symphony Orchestra (RBSO) moved their outdoor Sunday afternoon concert series from Lumphini Park to Centenary Park.
"I don't know who set it up, but it was such perfect timing," she says with obvious glee. "One day the orchestra came and they asked to use the park. And they used it correctly, because the incline of the park is not just for collecting water, it also becomes an amphitheatre. The acoustics are great."
As for future projects, Kotch is currently focused on canal restoration. "It's part of the water system in Bangkok, and it's actually the natural infrastructure that comes with the place. But we treat it like a sewer system," she laments. "It's public land but it's being neglected. I'm also working with and helping people in the canal communities because they are most vulnerable when it comes to floods."
Needless to say, Kotch aims high when it comes to setting her career goals, so I'm curious to know what her ultimate "dream project" would be. "They're all dream projects, until you make them come true," she answers with a smile.