As founder of Blue Voyage Group, Thailand's premiere yacht chartering company, Tanchanok "Omi" Vajarodaya feels right at home sailing the ocean waves in first-class style.
The fact that Tanchanok "Omi" Vajarodaya has been playfully dubbed "the queen of yachts" by local media has caused friends to tease her with sarcastic jibes such as "Do you ever travel by land?" Of course, this affinity for bespoke boating makes perfect sense, as the ravishing 32-year-old is the co-founder of Blue Voyage Group, one of the largest luxury yacht chartering companies in Thailand. So, when it comes to travelling the high seas, this savvy businesswoman and sultry siren definitely takes the lead.
On the day of our Prestige cover shoot, Omi welcomes our team aboard the group's S/Y Blue Atoll, a stunning white Lagoon 400 catamaran. She's about to lead us on a spectacular journey across the sparkling turquoise waters of Krabi, including a stop at her favourite island hideaway known as "Secret Beach". Along the way, we hope to discover a few "secrets" about her, too. Here's what we found.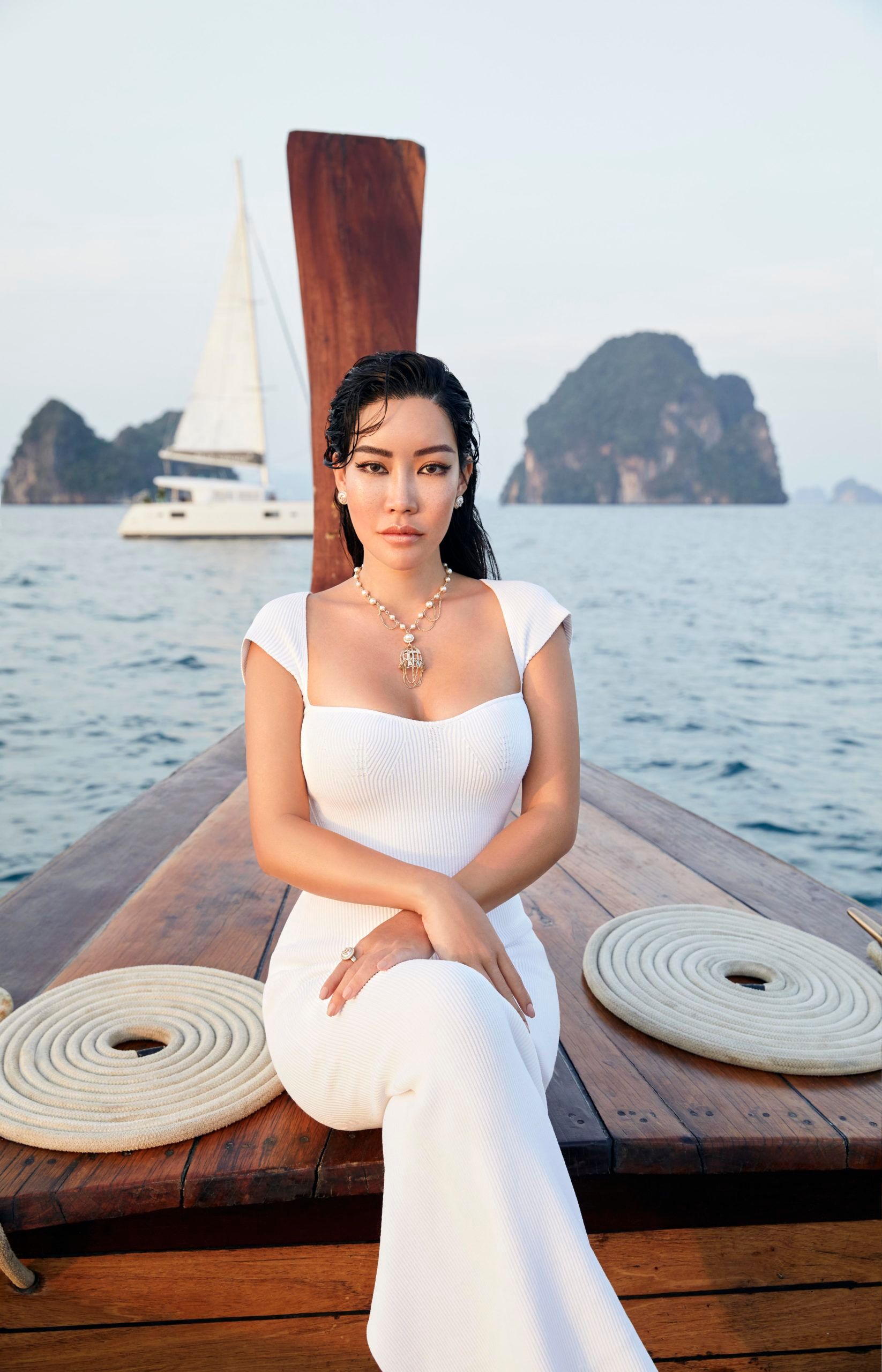 Her Love for Travelling and Entrepreneurship Starts from a Young Age
Omi most fondly remembers family trips to the countryside on weekends, and trips abroad during the summer holidays, thus instilling in her a love for travelling from a very young age. Travelling, rather than shopping, is amongst Omi's greatest loves, so much so that it's where all her money goes. As a person who only buys what she needs, her classic and sexy style is brought to life in Pucci fashions, which she loves for their colourful prints. She opts for Chanel on days that require elegant and formal professionalism, but holds nothing back when it comes to setting off to explore the world. Another keen interest of hers as a youth was self-made entrepreneurs. "I've always studied and read books about these businesspeople since I was young," she recalls. "I think it's really cool if you become successful by your own means. Being proud of yourself is something that money cannot buy. My parents have always taught me to hustle for what you love. You have to work hard to get what you want in life. You can't skip the 'work hard' part."
She Has a Determination to Learn
She goes on to describe a relatively normal childhood growing up in Bangkok and going to school at St. Francis Xavier Convent. Omi chose to study hospitality management at RMIT in Melbourne for her undergraduate degree, following that with a year of living in London taking short fashion courses, and another year in Japan learning Japanese. When she returned to Thailand, she met her would-be-boyfriend, Titawat "Ping" Vajarodaya, who is now her life partner as well as business partner. "If I could go back in time, I would tell my younger self to just go on that hospitality course in Switzerland," she laughs, saying how those plans derailed after she met Ping. "And to study French harder back in high school."
Her Partner is a Perfect Fit
The couple hit it off swimmingly, thanks to their shared interests in travelling, horseback riding, and the sea. But it was when they went to a friend's birthday party, held on a rented yacht, that the idea to start a more reasonably priced and professional yacht chartering business began to take shape between the two. It was a labour of love in the making, and one that would keep the couple close to the ocean waters they so adore. "I love holidaying by the sea. Most people just stay at a seaside hotel, but I feel that a true holiday at the sea is to go out onto sea and explore… going to the islands. And there are immensely beautiful islands in Thailand, and all our limestone cliffs are simply stunning." The couple have a five-year-old daughter, Venice, and Omi says the perfect family day is simply "one without nannies", allowing her to lavish her undivided attention on her child. Asked what she enjoys most doing together as a family, the jet-setting mom says it's taking Venice on trips to the countryside and – you guessed it – out to sea.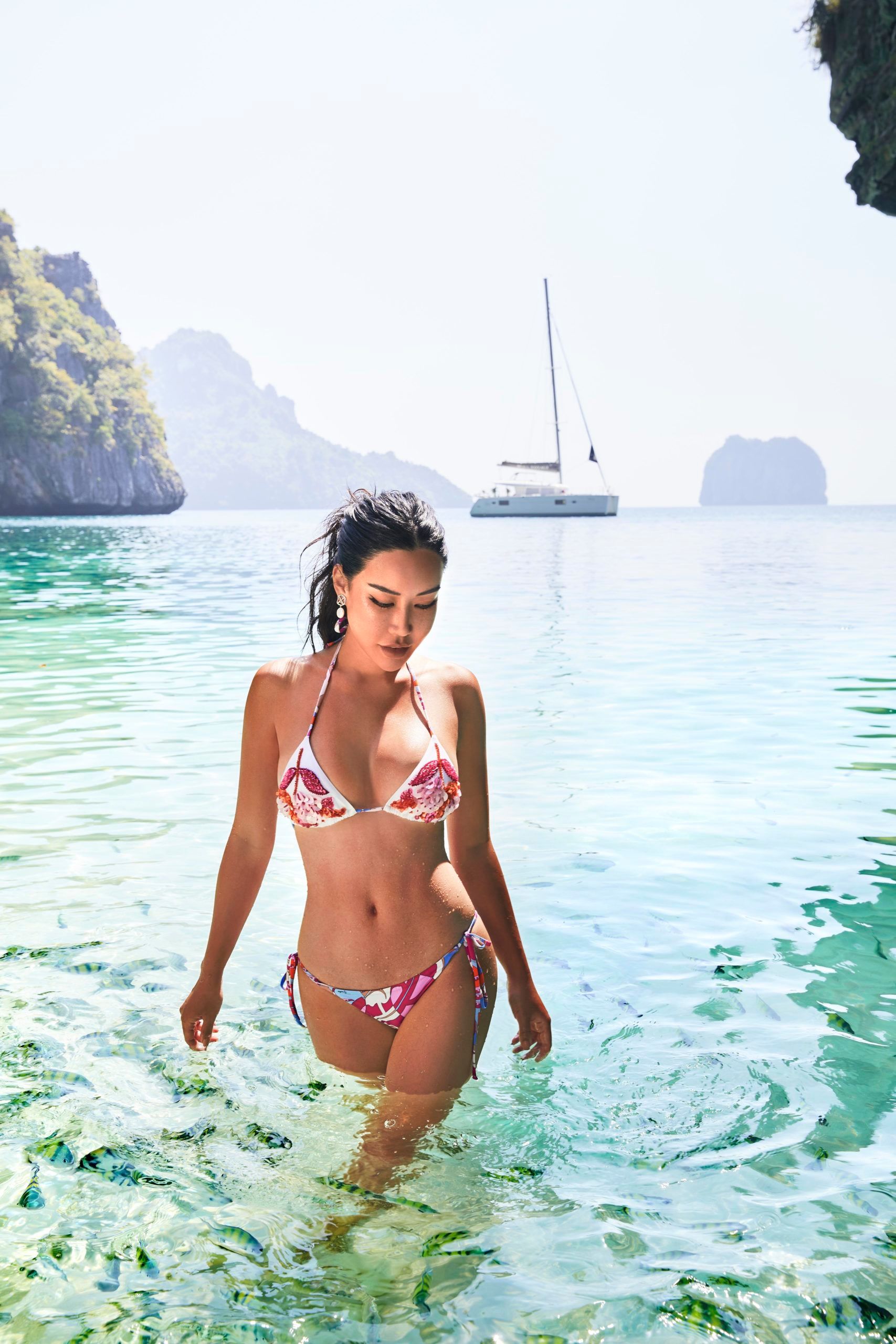 Her Inspiration Behind Starting Blue Voyage is to Simply Enjoy the Experience
"Back in Australia, and also in Thailand, my friends and I would rent boats to go out to sea, and the experience is completely different from staying on shore. I can be out at sea for days, because the ocean is different every day. You never know what you will come across. Like, I saw a whale shark the other day, and all these other weird and wonderful creatures. Differing weather also completely changes the vibes. The sea has its own charm that you just can't get enough of." Unfortunately, the yachting life was not particularly accessible for most people half a decade ago, and Omi recalls she and her friends usually paying in the hundred-thousand-Baht price range for a day's rental. "I felt that it really should be more accessible so that others will also be able to enjoy the experience. We came up with a price model that's more affordable; our starting packages at Blue Voyage, for example, are just 29,900 Baht for 10 people. It's much more affordable than the 20,000 Baht per person my friends and I used to pay back then, it was way too much and simply over the top!"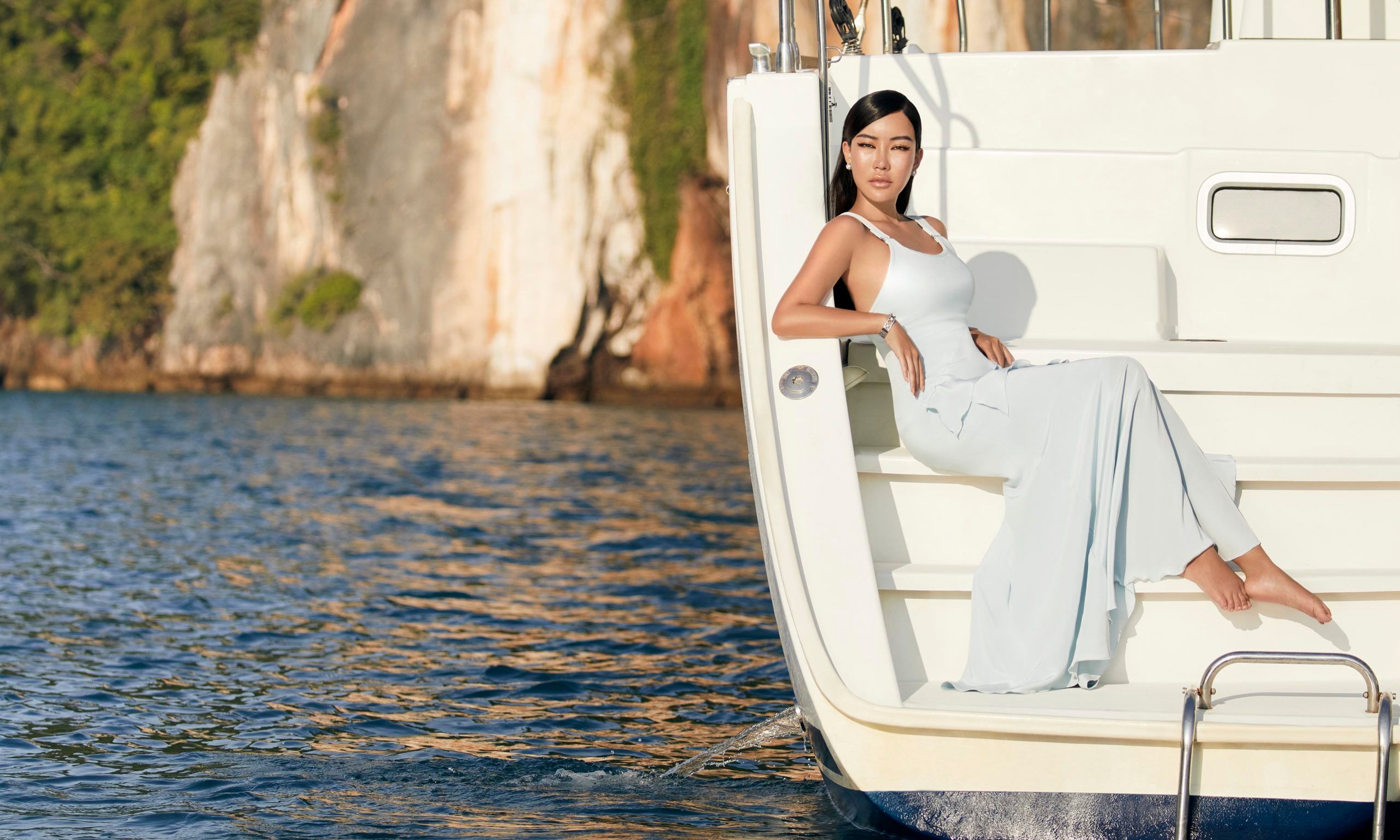 Her Principles on Five-Star Services are True to the Standard
"Our standard is such that you must feel like you are stepping into a five-star hotel," the fastidious businesswoman describes. "I love these things, which is why I started Blue Voyage. From the very first step onto one of our yachts, it must feel very special for our customers."
"I must go all the way, even if it costs millions," Omi admits with a chuckle. "Time is very valuable. If I'm tired from work, and only have a week off, I want every minute to be perfect. I want to choose the best things and conveniences for my holiday. It's like how taking a speedboat to Phi Phi Island is torture because you're jangling about in the boat for two hours. A yacht gets you there too, but it's a totally different way of spending those two hours because someone is massaging you and serving you champagne. Travelling is a way I treat myself, but it also feeds into my company as I get to see new developments that can be adapted to our own services."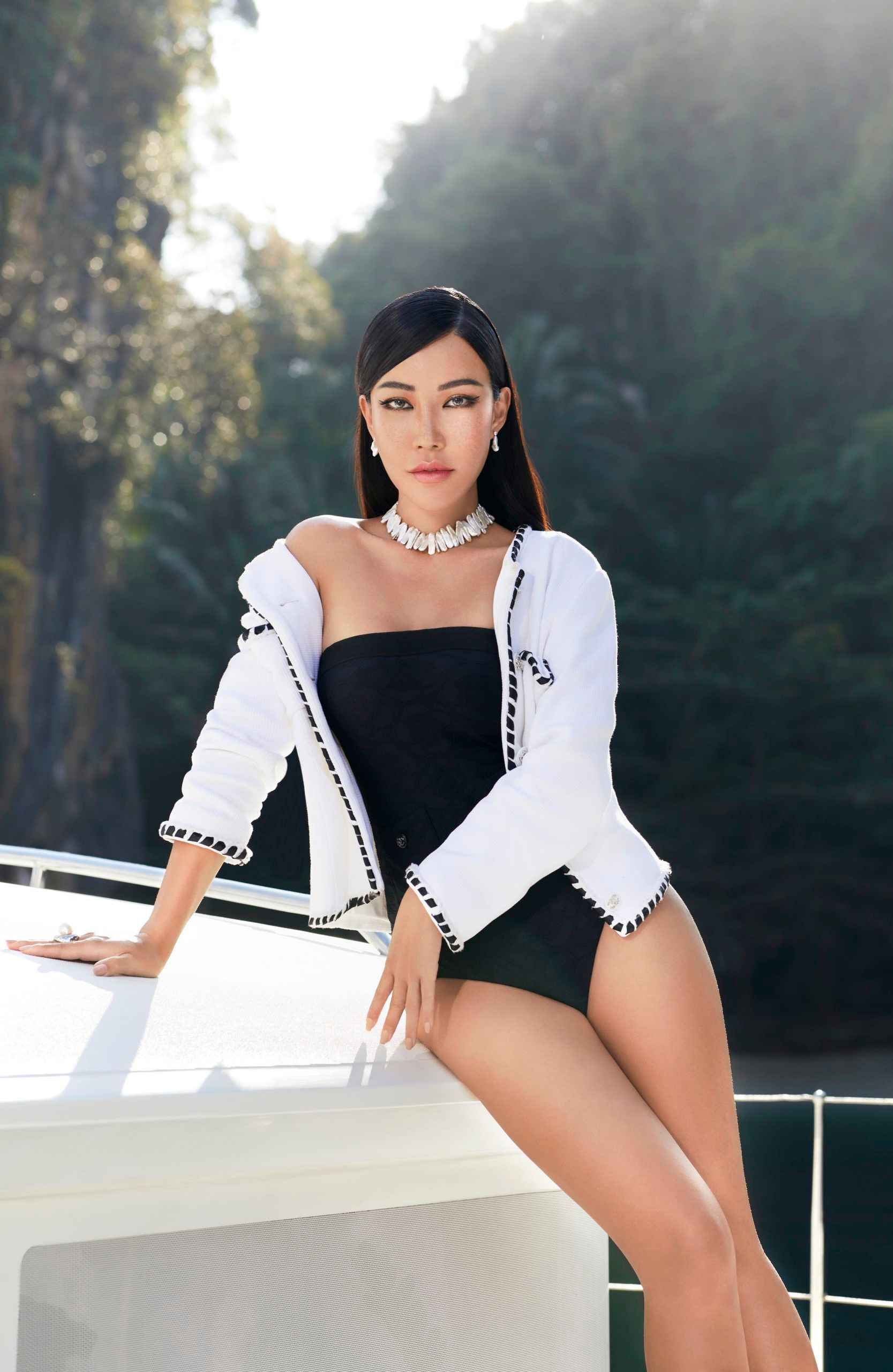 She Aspires to Never Stop Mastering Perfection
For someone who aspires for perfection in her line of work, it goes without saying that Omi spends her free time acquiring more skills and improving herself as well. "We need to keep improving all the time," she says, as our catamaran pulls into yet another picture postcard perfect spot. "Even if we get praise, we need to exceed that even more. Never do anything half-heartedly. If you don't truly love with what you do, then don't do it because you won't do it well."
Read the full interview in Prestige Thailand February issue. Visit shop.burdathailand.com to purchase or subscribe for the magazine.