As part of our Women of Power 2022 special, Prestige speaks to Nandhamalee "Bing" Bhirombhakdi, the Managing Director of Cavallino Motors Co Ltd.
Nandhamalee "Bing" Bhirombhakdi, the Managing Director of Southeast Asia's top Ferrari dealership — Cavallino Motors — has never stopped in her climb to the top. Balancing the roles of being one of Thailand's most revered business leaders, as well as a family-focused woman living in the digital age, Bing believes we are living in one of the best eras to not only deliver service excellence, but to "do it all".
"Analogue is over," she says emphatically. "Before I used to have piles of papers sent to my house every day to be signed. Now I can do everything, including signing off on highly important matters, with one tap on my phone. We can work more, and we can work from anywhere while maintaining a high standard of service. Of course, this means there are no excuses anymore. At Ferrari, we keep ahead of the times and we're always moving to the next level. We're fast, agile, always presentable, and always excellent."
While some businesses were wiped out by the horrors of the pandemic, Ferrari Thailand was able to conquer the Covid crisis in part because of Bing's approach to fear. "Like everyone, I was scared. This is why I did my research and spoke to the best scientists and doctors. I figured if hospitals can remain open and still operate, then there must be some sort of protocols they are following that means we can do the same. So, we followed a strict Covid-free policy, set up partitions, enforced regular testing, private viewings, and did everything possible to ensure staff and clients felt safe."
Bing led Ferrari Thailand through the Covid-19 crisis by implementing the best quality management and health safety systems. "When you arm yourself with the right knowledge, you have less to fear and you stand a better chance of succeeding. As a leader, no matter how scared you are, do not shrink in fear. You have to stand up and show up for your staff. During the pandemic, I showed up every day at the office, to show my staff the spirit of pushing through our fears."
As a result of this diligence, Ferrari Thailand hit record sales during Covid-19, performing better than it had pre-pandemic. Furthermore, no salaries were cut and, in fact, bonuses were given to staff.
"For me, it's not about whether you're a man or a woman. It's about whether you can perform."
Nandhamalee 'Bing' Bhirombhakdi
When asked about her role model, Bing answers, "My grandmother of course. My mother wished for me to work for the UN or be a social worker, but growing up I'd always go have lunch with my grandmother – who was a big real estate developer in her days – and I saw this exceptional businesswoman and entrepreneur making important decisions, signing cheques and documents at the office. Truly remarkable for a woman during that era. I knew that's what I wanted to do."
Bing has, throughout her whole professional career, been surrounded by other powerful women too, be it during her boarding years in England, her time at Grad school in Boston, or her pre-Ferrari life at Citibank. "For me, it's not about whether you're a man or a woman. It's about whether you can perform. Your performance, and your ability to deliver what you say you will, are what matter most, and that's what we should be judged on." Nonetheless, she acknowledges there are still not many women doing what she does. Advice she gives to other women in business is to 'act like a lady, but think like a boss'.
"Use your charm as a woman, be lady-like and polite, but be tough too," she explains. "Don't let people walk all over you. Show them that at the end of the day you are a boss. Some may say to their staff 'Oh, we're a family.' I say no, we're professionals. We mean business and we're here to do business, to be the best. There's no room for kreng jai."
Of course, there will always be obstacles to slow one down – especially the age-old structure of the patriarchy – but obstacles create learning experiences. That idea, interestingly, is echoed by the coach of Bing's 16-year-old twin son, Jem Nandhavud, who was heading to Belgium to race in the Formula 4 at time of this interview
"At the beginning of his racing career, my son's coach said, 'sometimes you win, sometimes you learn'. This is our family's mindset too. We talk positively. Everything happens for a reason. Instead of complaining about why this is happening, or seeing it as punishment, we can use our trials as learning curves. Because of Covid, we were able to transform the whole company and operate at a scale we could never have fathomed several years back."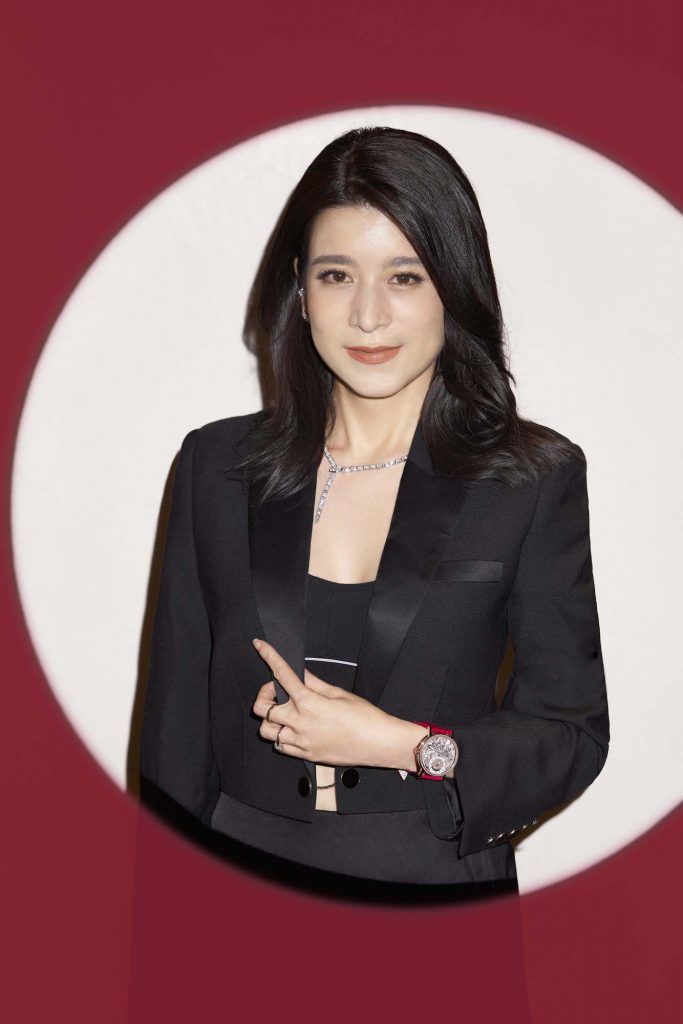 When asked what she's most proud of, besides being the only lady in Asia at her top-level position when she launched Cavallino Motors in 2009, her answer comes swiftly.
"I helped to build Ferrari Thailand from ground zero, I'm very hands on and was there through the whole construction process, even when we worked from the smaller building next door while we were still building this showroom, which opened in January 2011. I've seen the entire journey of Ferrari Thailand, and I'm so proud that it has gone on to win so many awards – most proudest was the global dealer award (2nd prize won in 2015)."
When it comes to dressing for success, and her impeccable fashion sense, Bing also admits to being proud. "You know you're doing something right when your 16-year-old twin daughter, Beam Voranan, comes to shop in your closet. And we're both the same size, which for me means a lot. It's not just about having fine clothes to feel confident and do well in, you must look after your body too. When your body looks and feels good, you feel confident. Health is definitely our true wealth. Defining success for me is not just to be successful at my career, but to also excel in all my other roles – as wife, as mother, and as daughter. It's hard work, but surely worth it."
To find out more about Bing, view her full profile here.
Photographer: Bert Sivakorn
Photographer's Assistant: Sakonlapak Petcharayutapan
Editorial Coordinator: Kanyaphat Somwong
Location: Capella Bangkok
Watch: Breguet