As part of our Women of Power 2022 special, Prestige speaks to Jareeporn Jarukornsakul, the Chairman and Group CEO of WHA Corporation PCL.
Jareeporn Jarukornsakul founded her first company at the age of 26 and has been one of the defining forces in Thailand's industrial and logistics sectors ever since. She recalls how many women in European countries often asked her if she ever felt like her gender had prevented her from achieving the things she wanted to in life. To this, she explains: "Growing up in Thailand, I never felt disadvantaged because of my gender. I always felt very lucky to have been born here.
"Women often asked how I got to be CEO," she continues, "and I always replied, 'I'm not only CEO, I'm a founder too'."
For Jareeporn, everything is possible in life. "I live by a deep and unwavering belief in myself and my abilities, and I think this helps a lot. We have to empower ourselves before we even think of empowering others. My personal motto is 'believe in yourself'. There's nothing you can't do when you decide that's what you want."
"My personal motto is 'believe in yourself'. There's nothing you can't do when you decide that's what you want."
Jareeporn Jarukornsakul
So, does the woman who believes she can achieve anything have a role model? Her answer is illuminating: "The truth is, I don't have a role model. I am my own role model. I saw in my mind the person I wanted to be. Every day I visualise the type of person I want to be, what I want to build, what I want to achieve, and I follow this and make it happen. Of course, there are people with exceptional talents that I learn from, and that we can all learn from. I believe even children can teach us things we don't know. But in terms of role models, I am my own."
In 2003, 10 years after founding her first company, Jareeporn co- founded WHA Corporation PCL, an unprecedented enterprise which to this day focuses on developing high-quality, custom-designed warehouses and distribution centres for Thai and international clients. Listed on the Stock Exchange of Thailand (SET) in 2012, today it's recognised as the logistics leader in built-to-suit factories and warehouses in Thailand. This coming October, Jareeporn will add a new item to her long list of achievements with an Honourary Doctorate (PhD) in Occupational Health and Safety degree from Mahidol University.
When asked what gives her the most satisfaction, her response is somewhat surprising. "The words 'the most' would imply that there is a limit to my satisfaction. The truth is, I have an ongoing satisfaction and happiness derived from everything I do. I know there is always room for improvement, and even more for growth, and thus there is always room to be more satisfied. All that I have created and continue to create gives me great satisfaction."
With operations consisting of four major hubs – logistics, industrial development, utilities and power, and a digital platform – every day is a chance to grow for the hundreds of thousands of people that Jareeporn employs to make a difference. This savvy CEO believes that helping develop sustainable communities through social, economic, and environmental programmes is a worthwhile way to make the world a better place, and she does this primarily through education, granting scholarships to outstanding students, distributing materials and supplies to schools, and assisting in the maintenance of school buildings.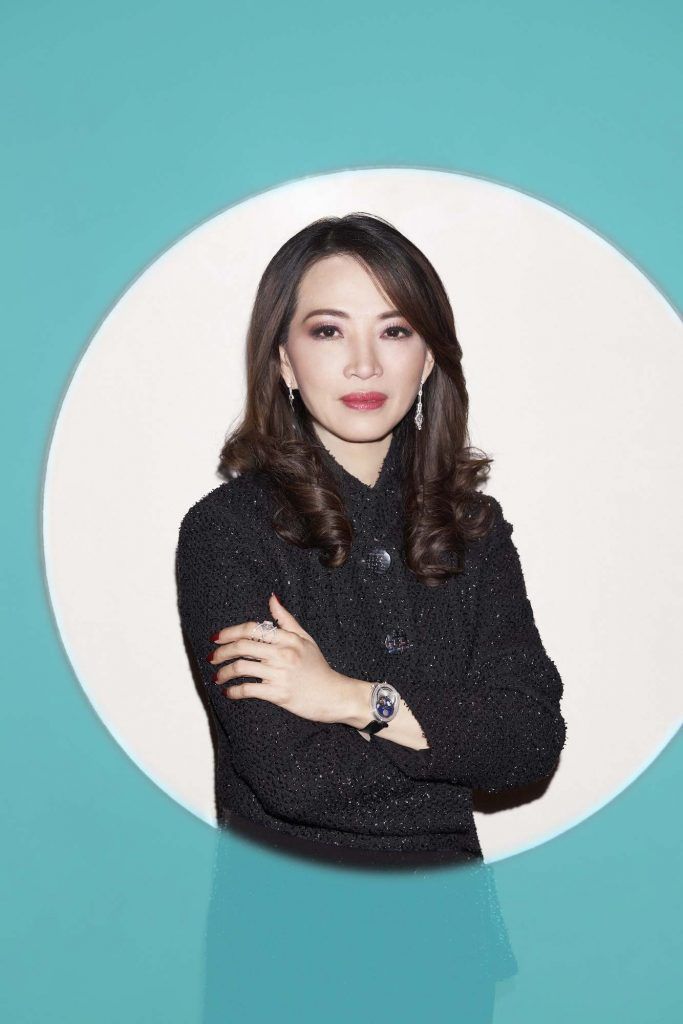 "It gives me great satisfaction to see the positive impact my company is having on our country," she remarks. "When you are in a position to help the younger generation, I believe it is your responsibility to do so."
She defines success as what, and how much, you build for other people, not yourself. Her plans for the future are to solidify the digital hub of her business, and help Thailand bridge the gap of talent for the future workforce. Looking ahead, be it through her educational programmes or within her own workforce, she is focused on equipping Thai talents with the right skills needed to thrive in the digital age.
Dressing for success is just as important as having a mindset for success, but Jareeporn takes this idea a step further. "It's not just about what you wear. Of course, you have to look presentable, no matter who you're meeting, but it's also about how you present yourself. It's not enough to just be smart. You also have to be able to talk with confidence about what you do and how you do it. If a genius can't communicate his or her ideas, how can they be successful?"
The best bit of professional advice Jareeporn ever received was from her father, who inspired her to take a fresh approach to problem-solving. "From birth, we're conditioned to build problems instead of solutions, and if we don't snap out of it we'll keep going round in circles with our problems. My father always said that if there weren't problems, there'd be no progress. Finding solutions to problems is all about creating new ways of thinking. That's why problems are never simply problems, but challenges that give us the opportunity to grow."
For women wishing to be successful in their careers, Jareeporn imparts some sisterly advice. "Work hard, focus, and be patient. Don't make excuses. In real work, there is no time for the differences between men and women. It boils down to whether or not you can do it. I do everything, and I don't make excuses. I work hard. I look after my family, as well as hundreds of thousands of people. If you want success, believe that you can do it all, and have it all… because you can."
To find out more about Jareeporn, view her full profile here.
Photographer: Bert Sivakorn
Photographer's Assistant: Sakonlapak Petcharayutapan
Makeup Artist: Nontalee Wongpeng
Hair Stylist: Alongkot Khunthong
Editorial Coordinator: Kanyaphat Somwong
Location: Capella Bangkok
Watch: Breguet