Artist Spotlight: Gongkan Tells Us the "Hole" Truth Behind His Dreamy Depictions of Teleportation
With his wistful, dreamy, cartoon-like depictions of teleportation and metamorphosis, Thai artist Kantapon "Gongkan" Metheekul has been capturing the attention of the art world both at home and abroad.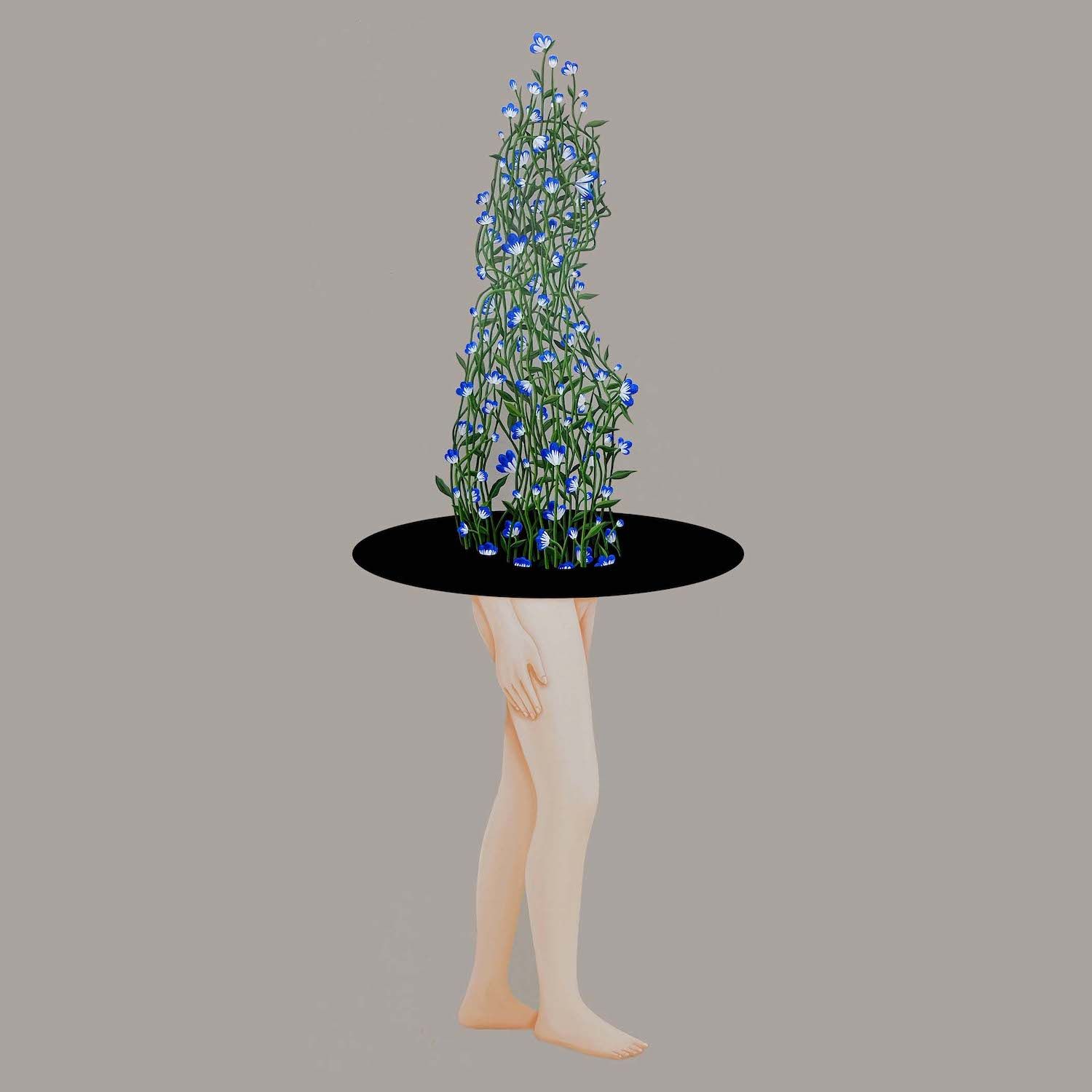 It's not often that every one of an artist's paintings is sold on the very first day of an exhibition, but that's exactly what happened last month when Gongkan unveiled his most recent works at River City Bangkok's RCB Photographers Gallery – making it quite clear that this cool 31-year-old is decidedly "hot" right now.
Entitled 'Pollution', the show runs until October 4, 2020, and features eight paintings and one video piece by Gongkan, alongside a series of floral self-portraits by photographer Naraphat Sakarthornsap. In addition to these individual works, the pair collaborated on an installation centrepiece (pictured below) that incorporates vibrant purple orchids, as both artists have an affinity towards using flowering plants to illustrate certain themes in their artwork. So, why the decision to work together?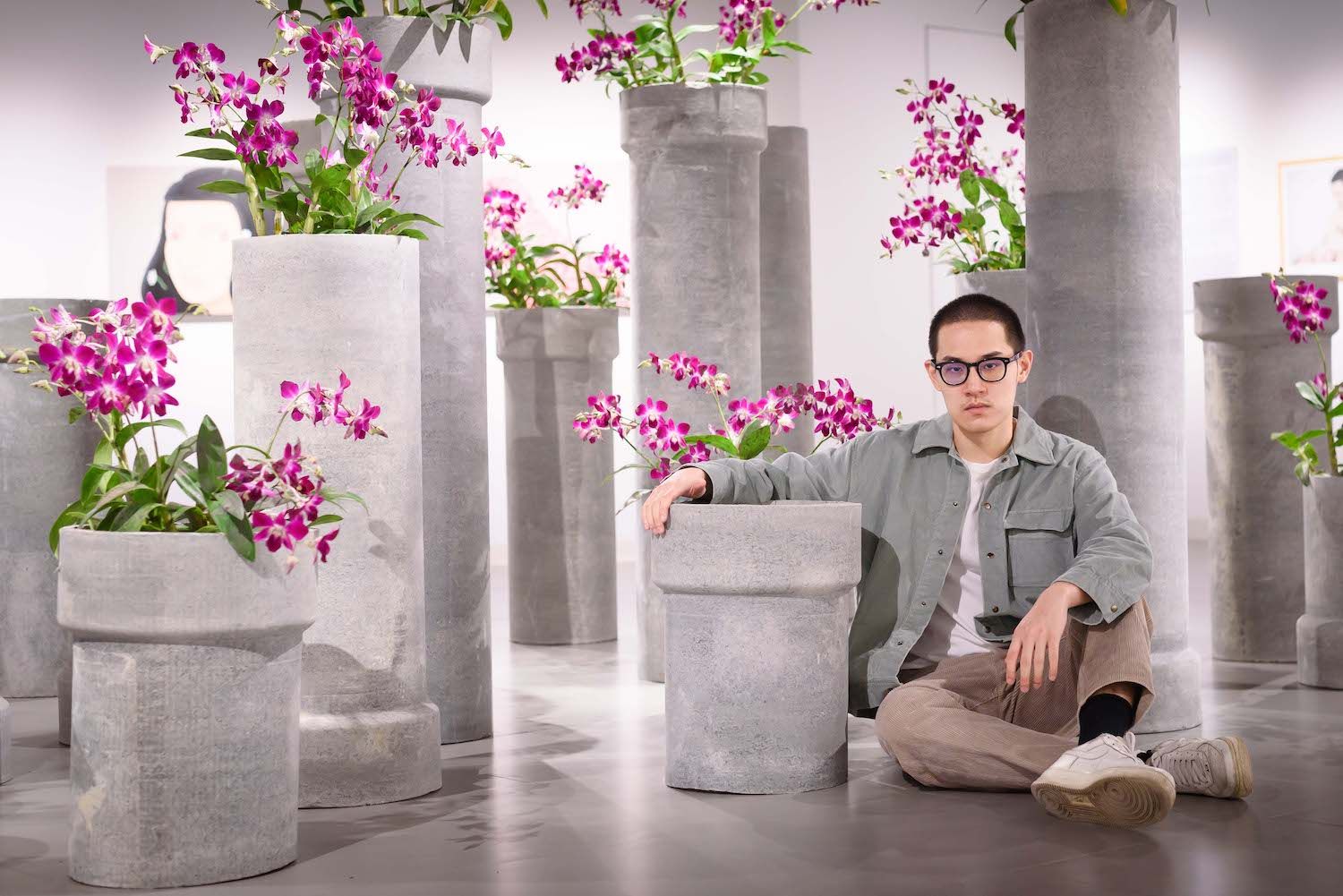 "He is one of my artist friends, and we've followed each other's art for a long time," Gongkan tells us as we discuss the genesis of this collaboration. "We talked about the [duo show] idea in October of last year. At that time Thailand had a big problem with pollution, and PM2.5 particles in the air, but we wanted to go deeper than just commenting on air pollution. We thought about how the real pollution is the way some people treat others, like social bullying, or inequality, or LGBT persecution."
"Everyone can get bullied," he goes on to say, adding that he used to be bullied about being gay, but since making a name for himself in the art world it's now some art critics who bully him about his work, his life, and even his personality.
Despite his soft-spoken, studious manner, Gongkan is no shrinking violet. Born and raised in Bangkok, he graduated from Silpakorn University, majoring in visual communication, art and design, and quickly found work in a local advertising agency. But despite his incredible success in this field, his desire to get away from commercial art and pursue his own visions led him to pack up and move to New York. Looking back, it was a brave move for a young man who didn't know anyone in that city and wasn't exactly fluent in English.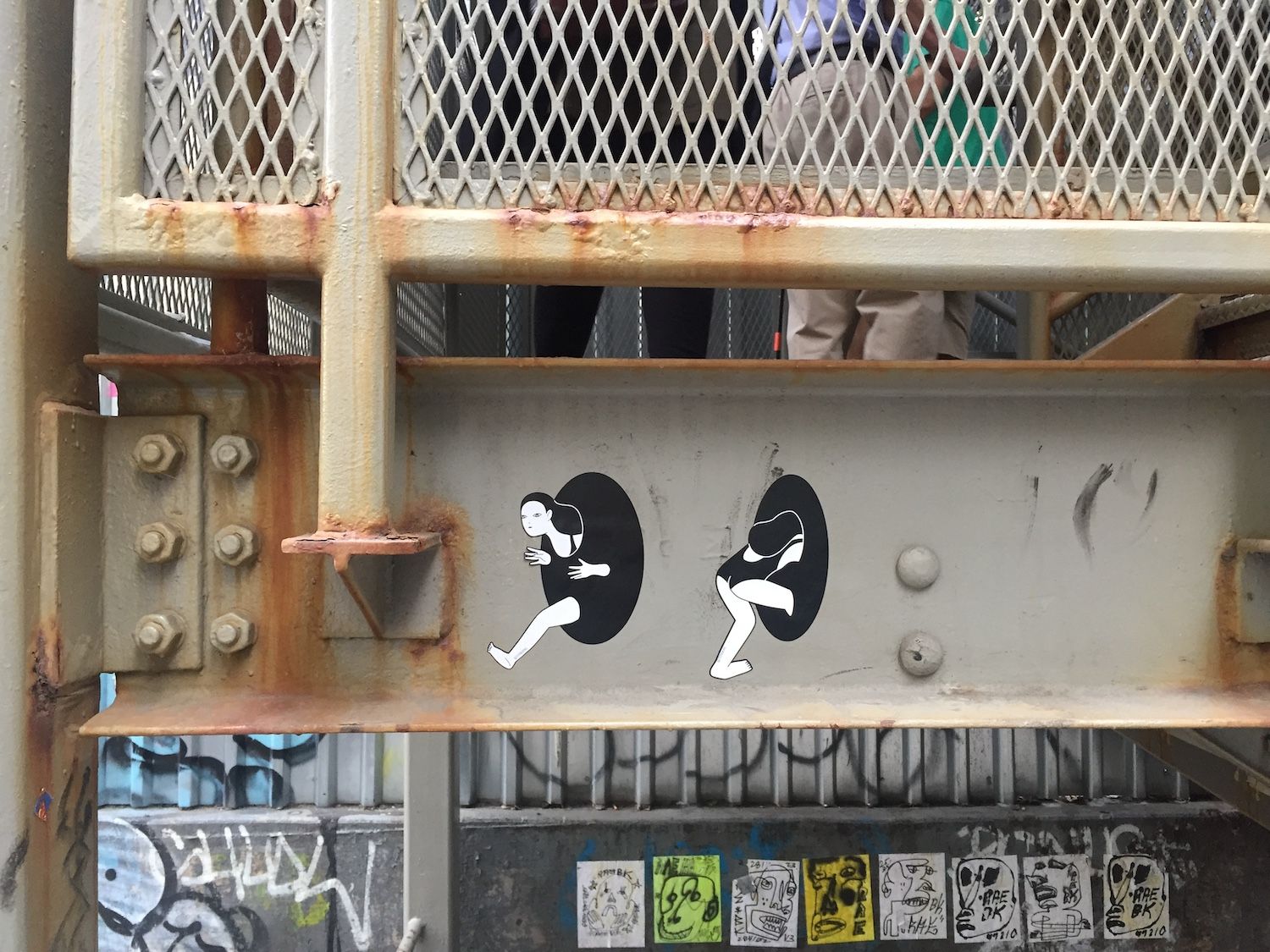 The fact that New York has such a tremendous art focus really inspired him, as did the city's infamous street art scene. He also interned for a while at RO New York, a well-known branding agency, while continuing to show his work to galleries and art dealers around town in an effort to generate interest. A turning point came when his sketch for a mural design was accepted by the First Street Green Art Park in Manhattan.
The mural featured Gongkan's now signature teleport theme, in which characters seeking a happier place move back and forth through space and time via "black holes" – an idea inspired in part by Gongkan's own homesickness for Thailand and his frustration coping with the stress of making a living in the Big Apple. Revealing my age, I remark that this concept reminds me of the 'Sea of Holes' sequence from the psychedelic 1968 animated film Yellow Submarine by The Beatles. To my surprise, I'm met with a bit of a blank stare as Gongkan admits he's never seen the film and is "not a Beatles fan". Of course, he's also completely aware that the popping in and out of a black hole idea has been used by other artists before, but for him it represents much more than it did when it first debuted as an amusing sight gag from an old Looney Tunes cartoon.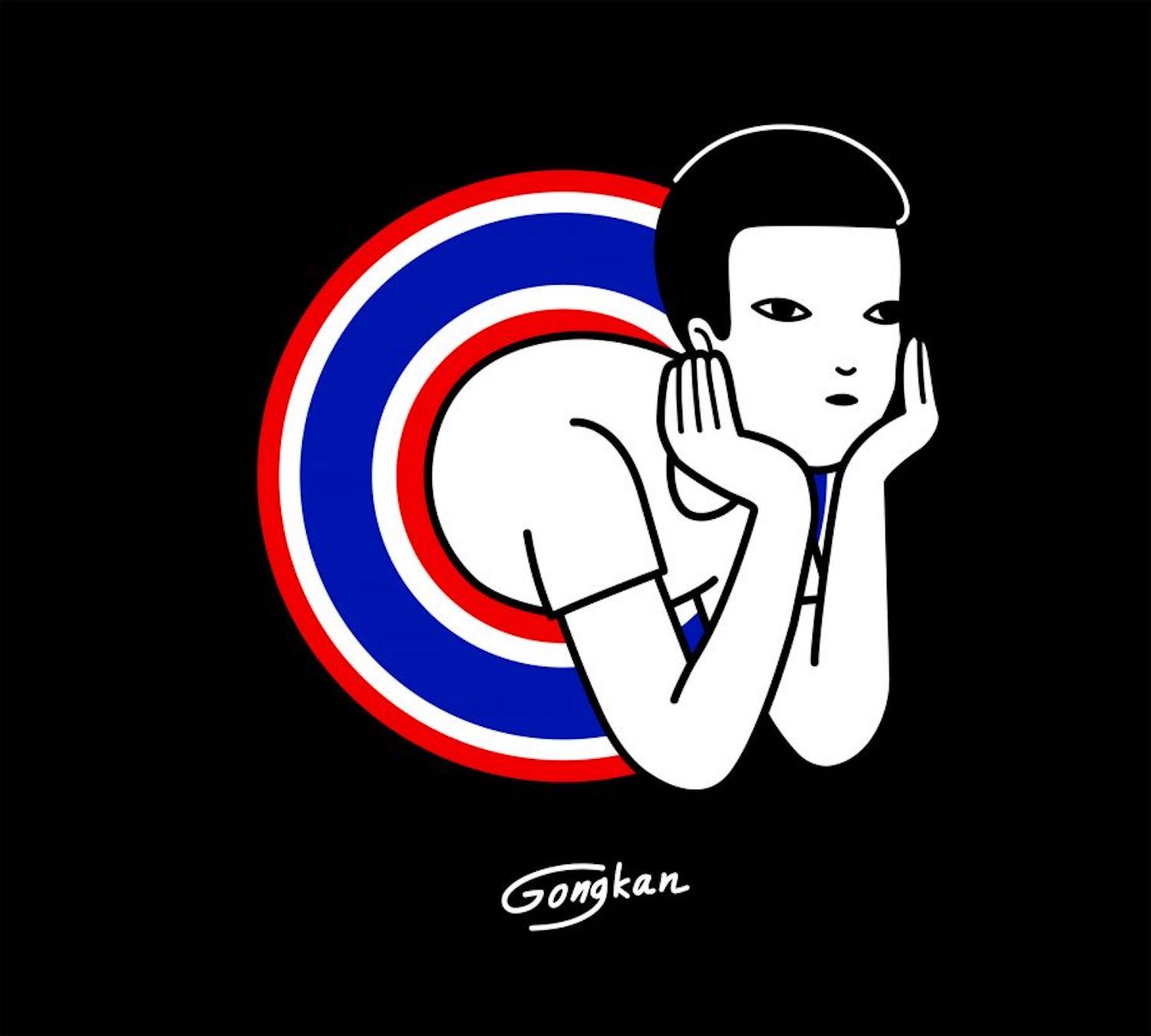 "The black hole means freedom, and you can go to better world," he explains. "When the characters are exiting the hole, they are escaping the darkness; they can move on. When the hole is in the middle [of the person] it shows their changing, or metamorphosis."
He expounded on this teleport idea via a memorable series of "sticker bombs", a term used by street artists who create stickers and then plaster them all over the city. His first stickers showed a boy and a girl coming through their respective black holes and meeting with a kiss. When he later used the same idea, but with US President Donald Trump puckering up for a kiss with North Korean leader Kim Jong Un, the attention it garnered was sizeable.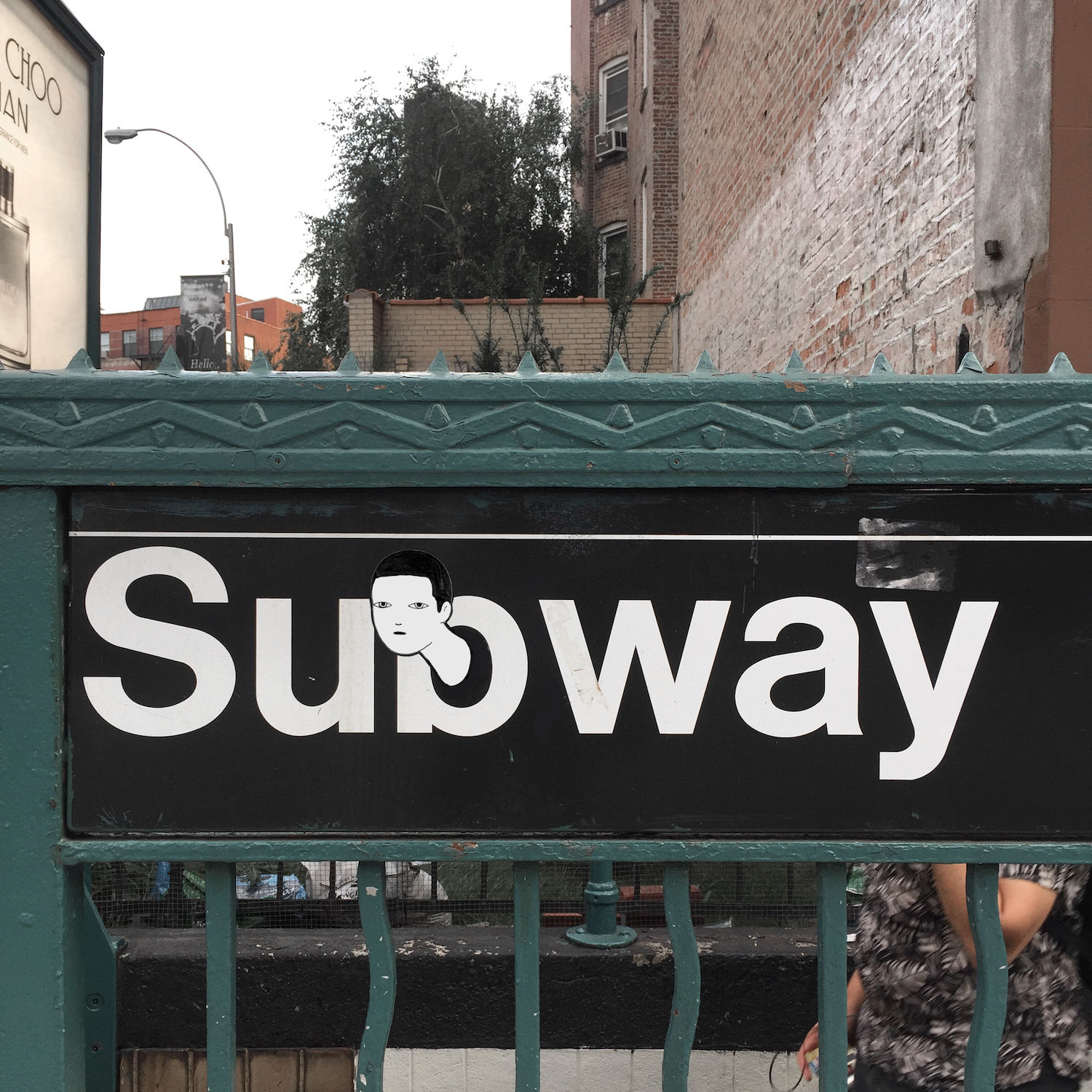 "Yeah, New Yorkers love politics," he says, recalling the impact these particular stickers made. "I got known a little bit more because of it, but people also already knew me from my big wall paintings."
The years since have been especially productive for Gongkan, with multiple commissions, several solo art exhibitions, and two high-profile music video animations – the first for Danish indie pop band Lukas Graham, and the second for Australian singer-songwriter Troye Sivan.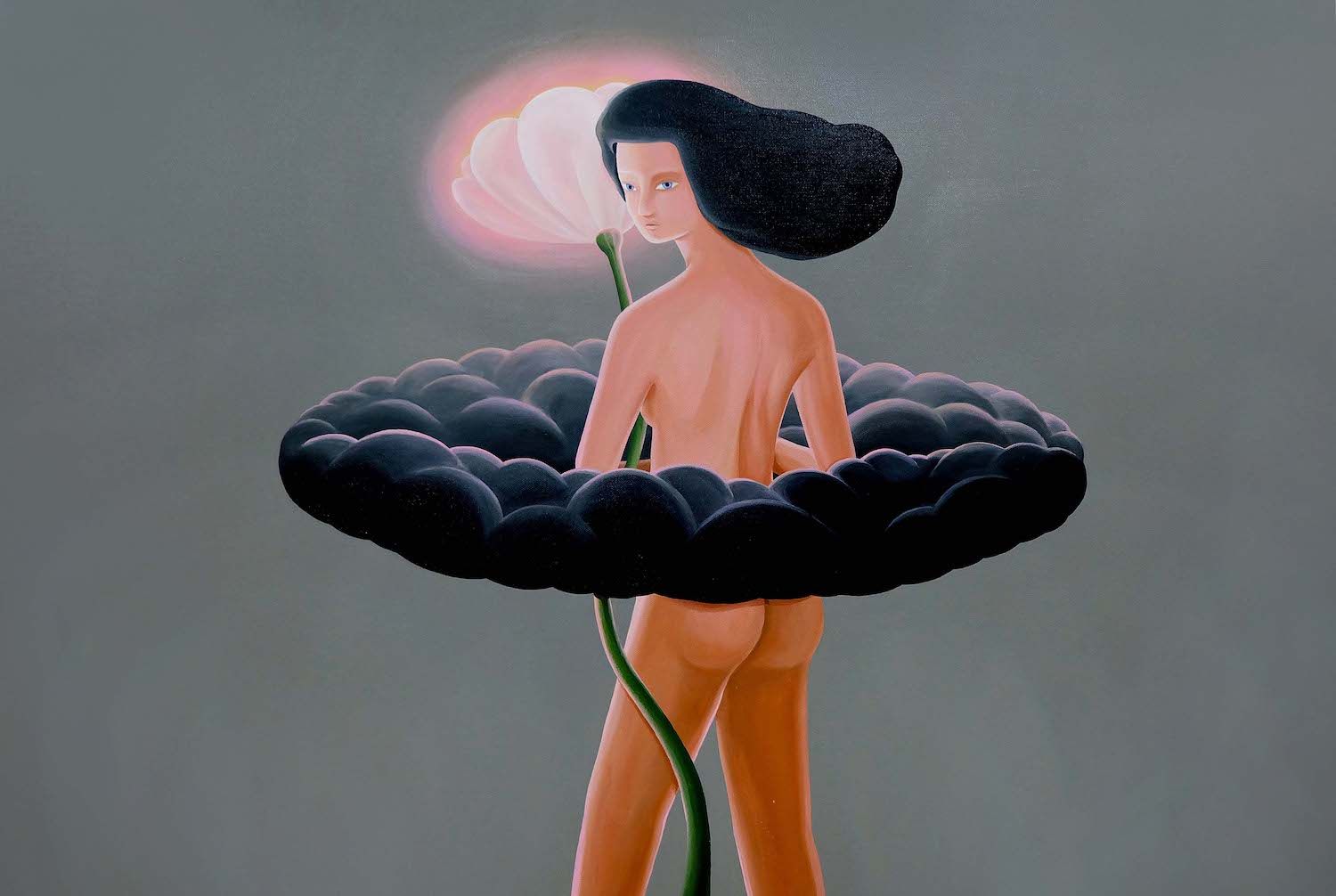 Another notable name to take an interest in Gongkan's wistful, dreamlike artwork is Apple CEO Tim Cook, whom the artist crossed paths with in December of 2019 while he was visiting Bangkok. "I met him at IconSiam, because that day I was the artist doing the workshop at the Apple store, showing people how to make art on an iPad. I showed him my art, and he said, 'I like your work'. I told him I had a show on at River City Bangkok and he said, 'I'll go tomorrow'."
Obviously liking what he saw the following day, he bought one of Gongkan's paintings. But the story doesn't end there. As it turns out, four of the eight canvasses snapped up on the first day of the artist's most recent River City Bangkok show went to this very same celebrity CEO, who viewed them online.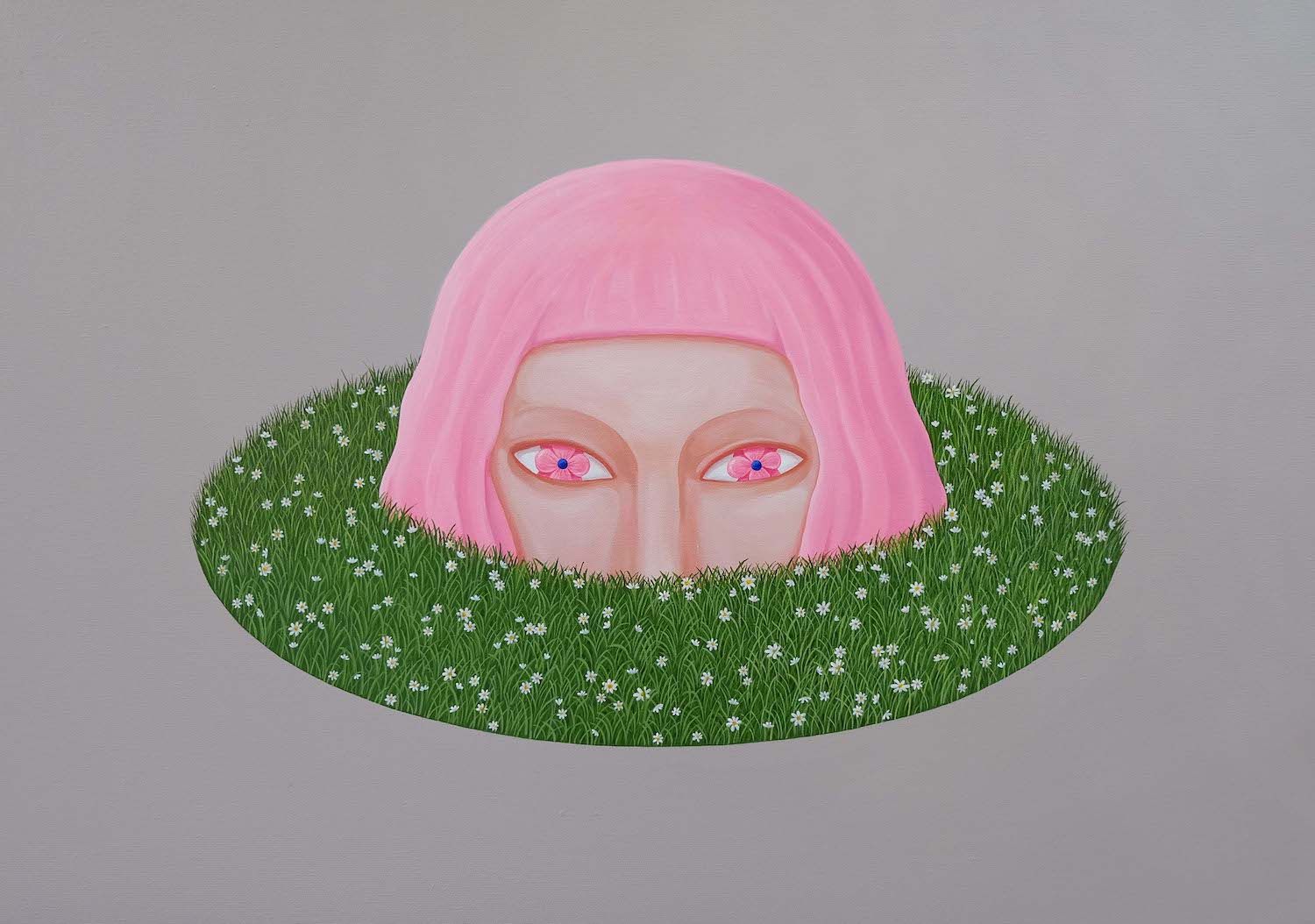 Needless to say, Gongkan is very happy with both the sales and the acclaim, but if you expect him to be beaming from ear-to-ear with a giddy grin, think again. The truth is, this artist's handsome features rarely break from their placid, almost sombre state.
"I don't like to smile for the camera," he admits. "My characters also don't smile. My artwork does not come from my happiness. Some pictures deal with social problems and have strong messages behind them.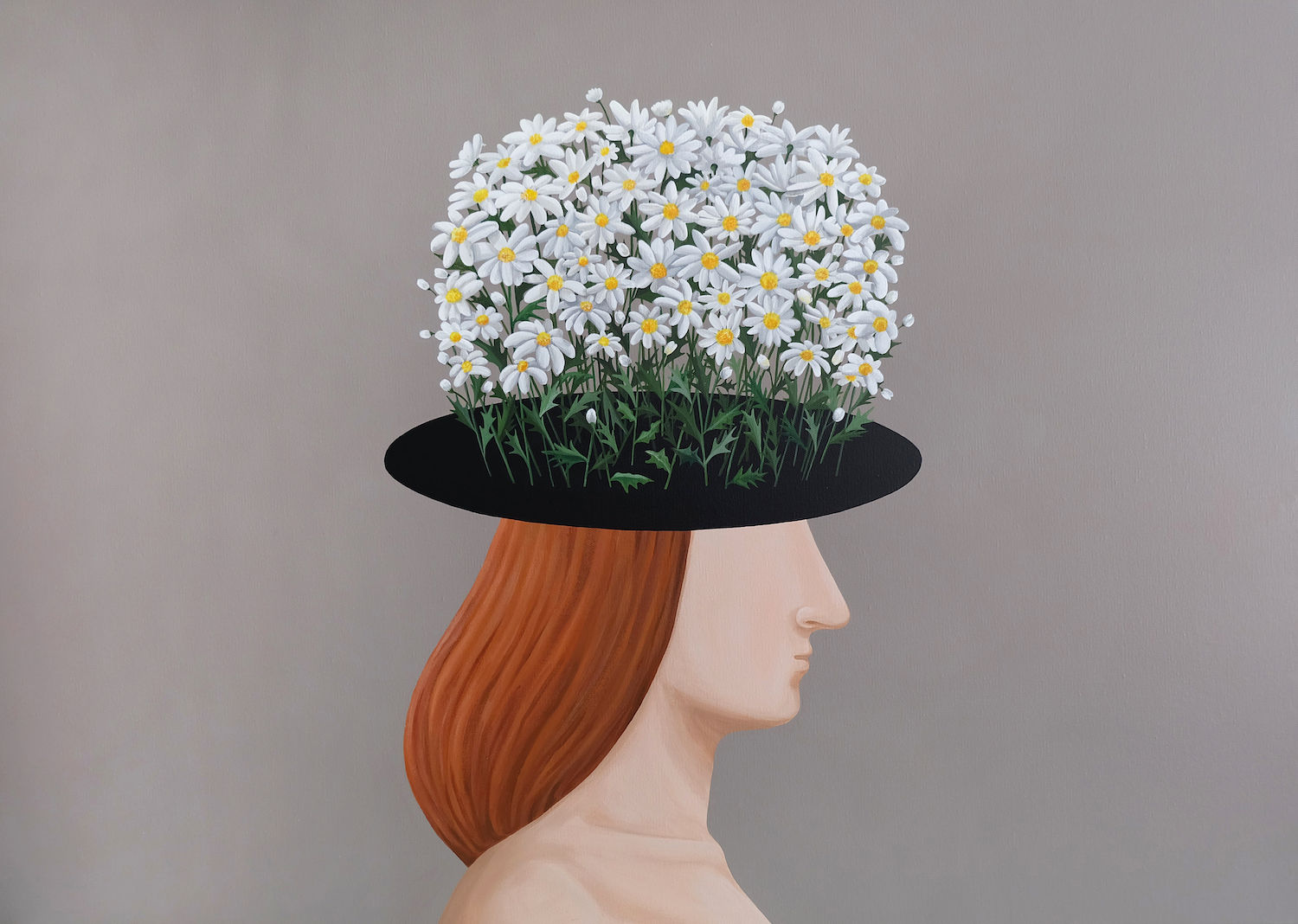 "The colours don't really matter either," he remarks when I point out that his palette often makes use of lovely, bright hues. "I don't want to underline that colour is happiness. My artwork is open, and people can interpret the meanings for themselves. I'm not making it deliberately happy or sad. It's like when you see the sky. If you are happy it looks so beautiful. But sad people will only see a lonely sky."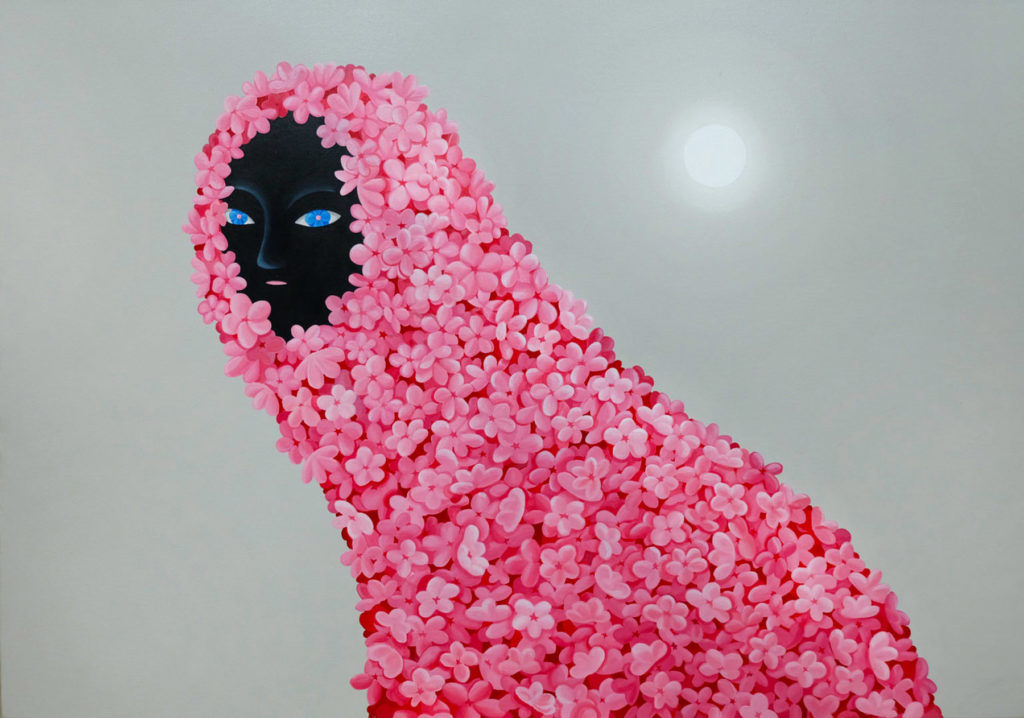 For me, Gongkan's latest works evoke a feeling of pensive introspection; surreal and silent moments in time that are both beautiful to look at but fraught with hidden anxieties. It's an unexpected dichotomy that seems to have struck a chord with people, especially millennials. "I have a lot of young fans. Many of them cannot afford the real paintings, but they want to collect my artwork, so I've made souvenirs for them, like postcards, pens, T-shirts, tote bags, and stickers."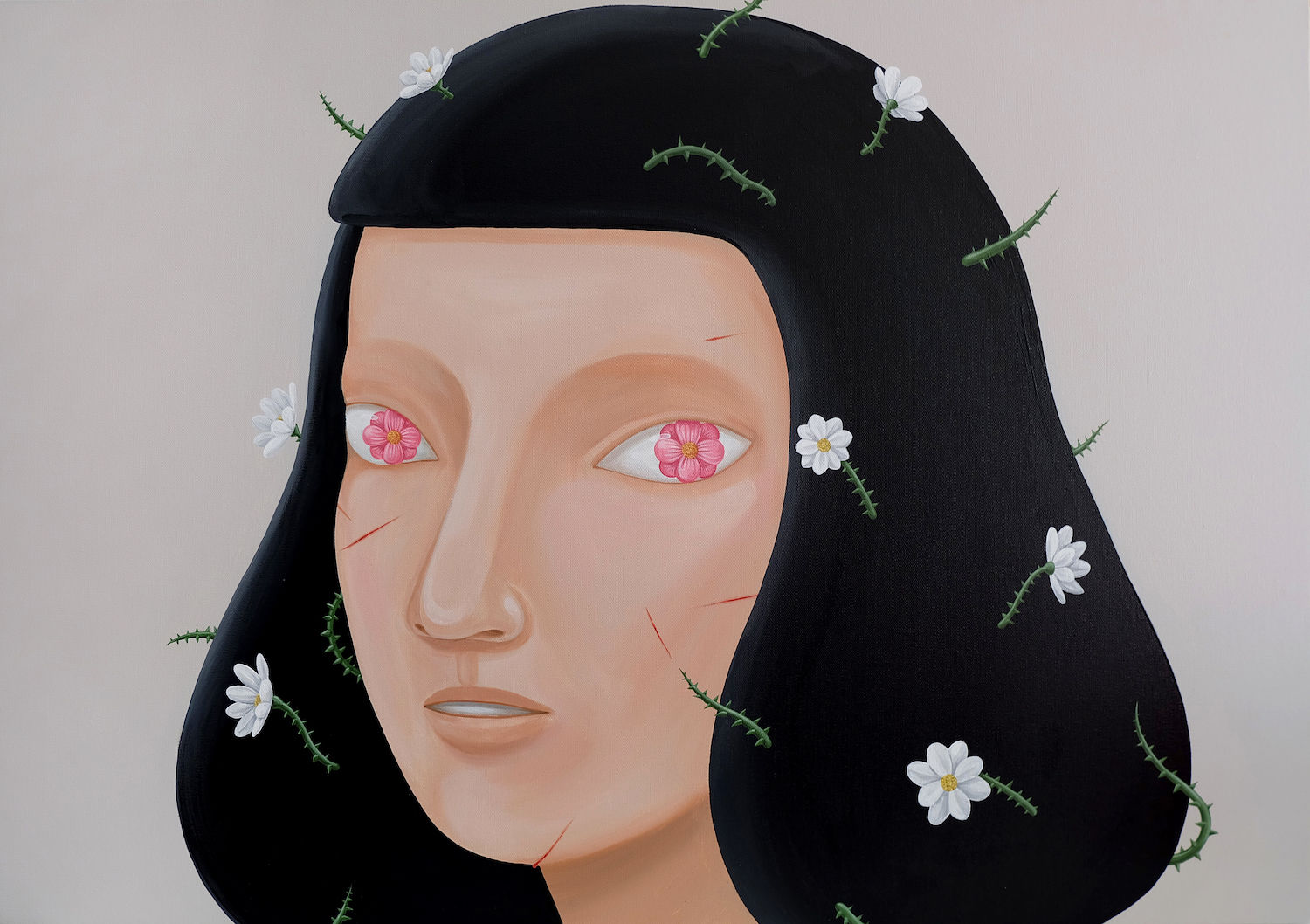 Projects like these are just some of the many things that have been keeping the artist busy since he moved back to Bangkok in September of 2019. Plans are also underway for upcoming shows in museums and galleries in Taiwan and South Korea, but the ongoing Covid-19 situation makes it hard to pinpoint exactly when they will happen. In the meantime, you'll most likely find Gongkan at home working in his studio; deep in thought, but hopefully smiling on the inside.
To find out more about Kantapon "Gongkan" Metheekul, visit gongkanstudio.com.