French-born sculptress Valérie Goutard – known in art circles simply as Val – is the subject of a career-spanning retrospective, entitled 'Reflection of Infinity', on display until March 14 at Bangkok's SAC Gallery. In conversation Frédéric Morel, her husband of many years, and SAC Gallery curator Linjie Zhou, we explore the artist's life and legacy.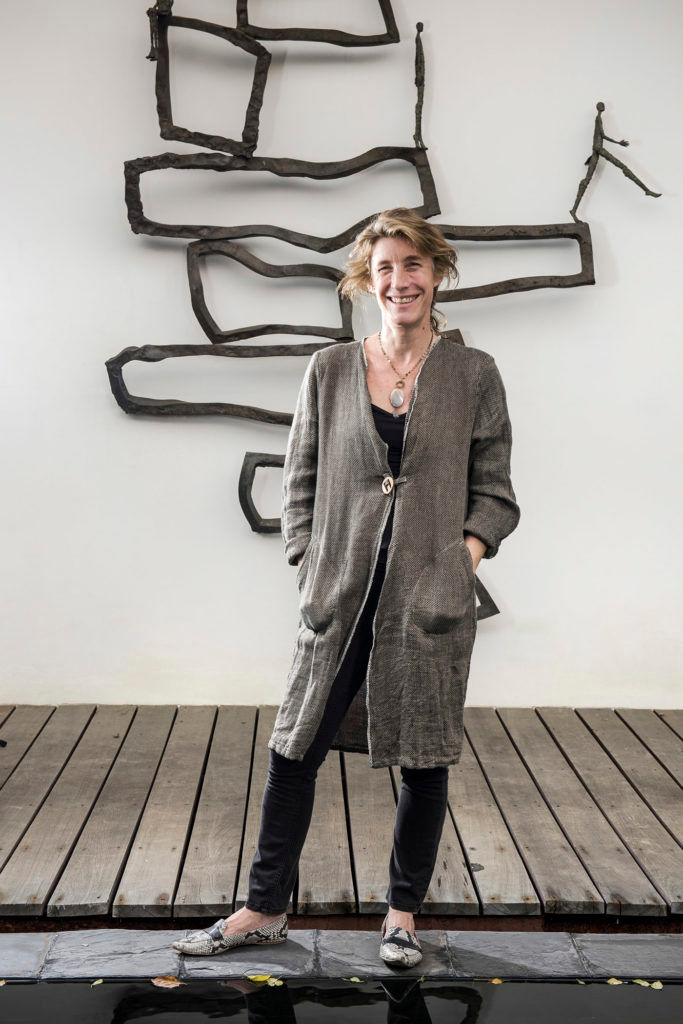 When a tragic motorcycle accident in October of 2016 claimed the life of 49-year-old Valérie Goutard – the French-born sculptress known simply as 'Val' – the art world lost a uniquely dynamic and creative talent. Since 2004, Val had made her home in Thailand, and at the time of her passing she was at the peak of her powers, with multiple commissions, projects and exhibitions in the works.
Although Val's artistic voice has been silenced, her legacy is very much being kept alive by her husband, Frédéric Morel, who still lives in the two-storey Bangkok home the couple once shared. Located well off the beaten track, in the northeastern part of the city, the house is, not surprisingly, liberally decorated throughout with Val's captivating bronze sculptures, both large and small.
During an impromptu tour I ask Frédéric how many individual pieces he has here. He pauses to make a quick mental calculation. "If you're talking about antemortem artwork, pieces which were cast before her death, about 300." That impressive figure makes this house the ultimate museum of Val's work, but since it's not open to the public, getting to see it this way is a rare treat indeed.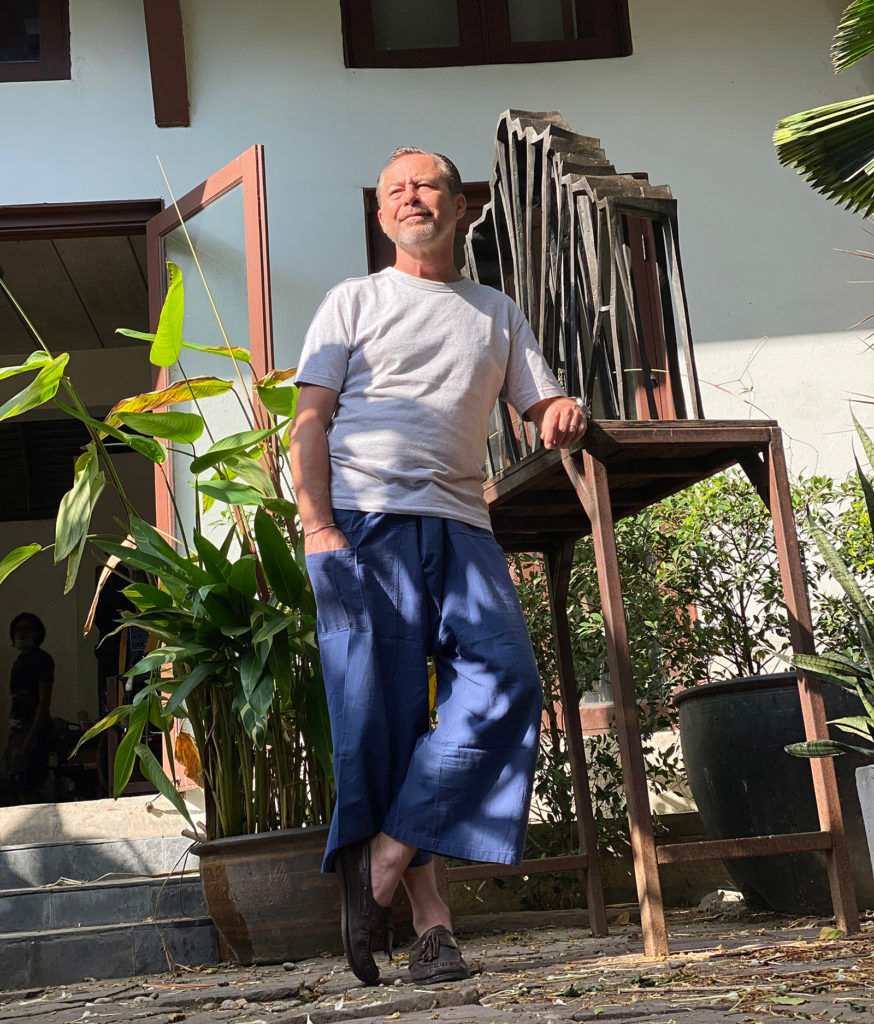 My visit takes place just prior to the opening of 'Reflection of Infinity', a career-spanning exhibition of Val's works – from 2007 to 2016 – which is on display until March 14 at Bangkok's prestigious SAC Gallery. Linjie Zhou, the show's curator, joins Frédéric and I as we sit down to discuss the upcoming show.
"It all started with the idea that I really wanted to do a proper retrospective of Val's work in Thailand," explains Frédéric. "This exhibition means a lot to me. And in my mind there was no other option to do it than with SAC Gallery. I suggested a certain number of artworks, which I made available to Linjie, and then she curated it."
"We talked with Frédéric about it a long time ago," says Linjie, taking up the narrative. "We came here several times to select things with him. He let us know which pieces, and which series, were important for Val."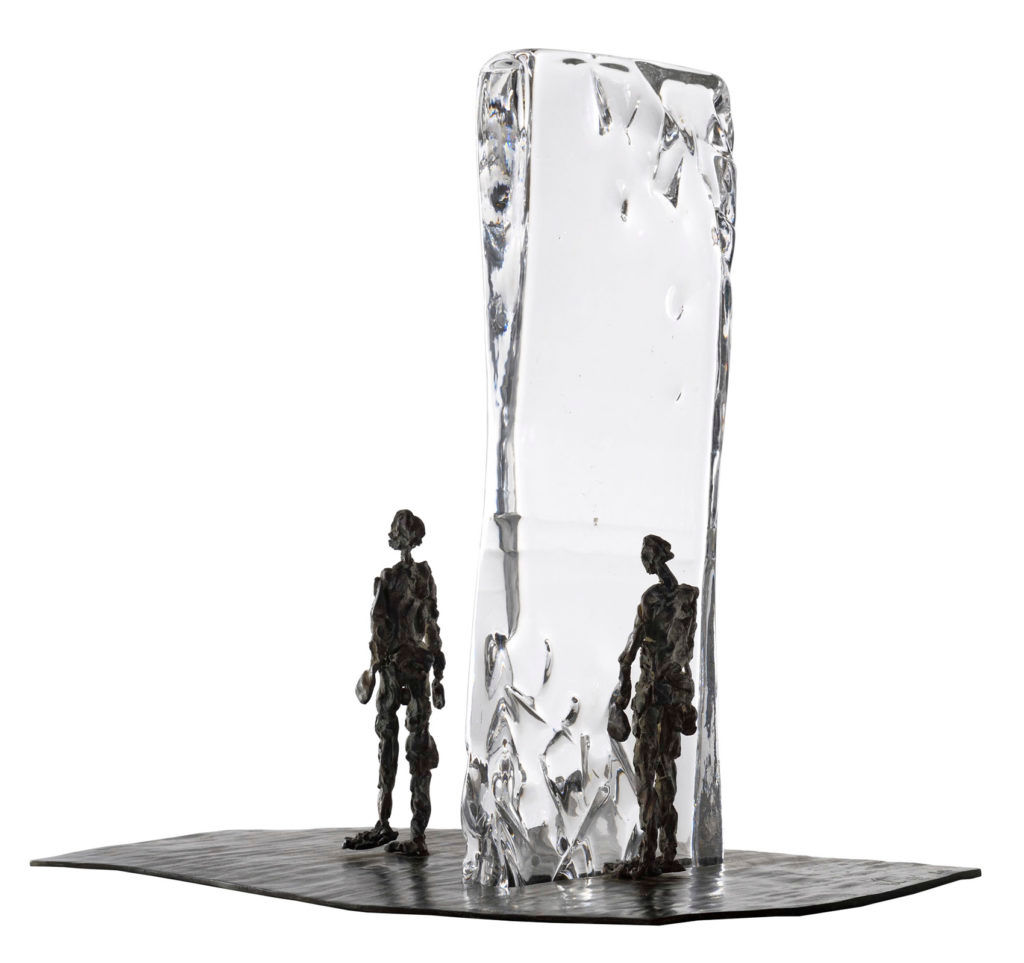 One such series would be the bronze and glass works that Val began in 2015, collaborating with the artisan glassblowers of Murano, in Venice. "That's one thing I really wanted to show," Linjie points out, adding that the final collection of this series, produced in 2016, is being shown for the first time in Thailand at this exhibition. "I'd never seen an artist combine glass with bronze. And even more special is how she got them to put her bronze figures right inside the glass!"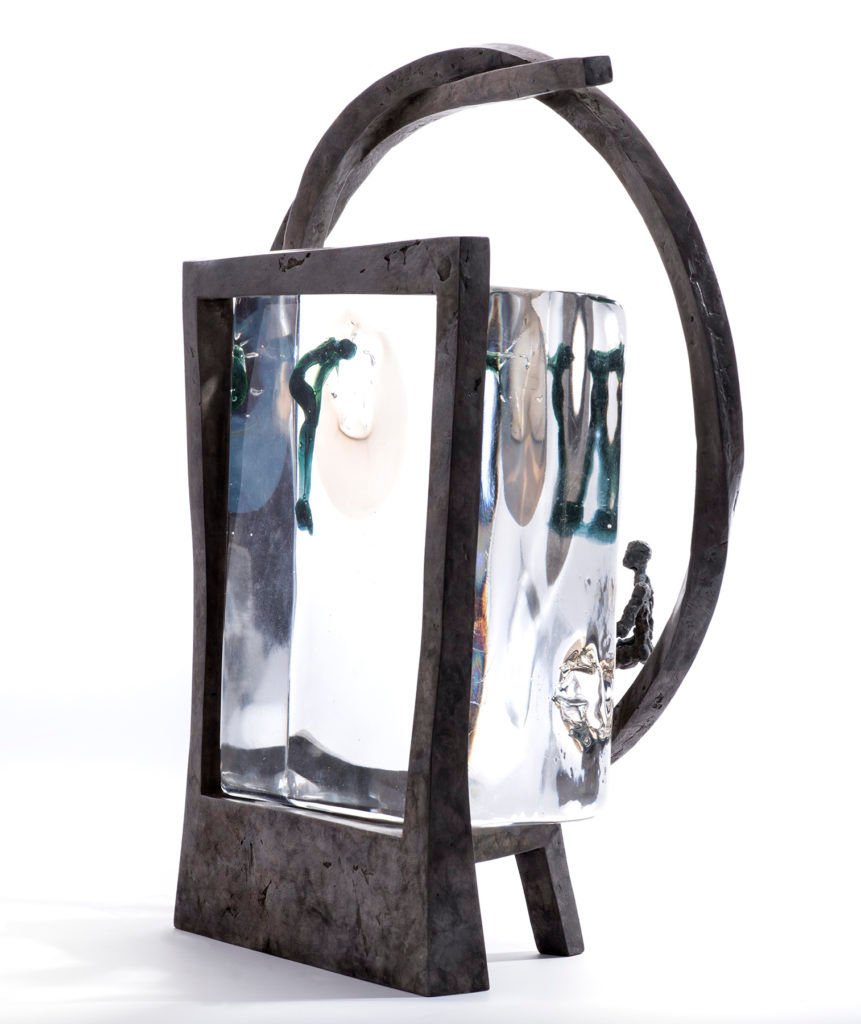 Overall, one of the most remarkable characteristics of Val's sculptures is the way her gravity-defying light lines create pieces with such weightlessness and delicate balance, despite being made from such weighty materials as bronze. Her works are almost always populated by a cast of charmingly expressive stick-like figures, and she creates for them freeform spaces and surfaces where they either react with each other, or seemingly gaze into the void as if pondering the very question of existence. There's always a sense of movement in her works as well, which her husband describes by saying, "She was very attached to the idea of visual rhythm; emptiness that plays with the solid parts."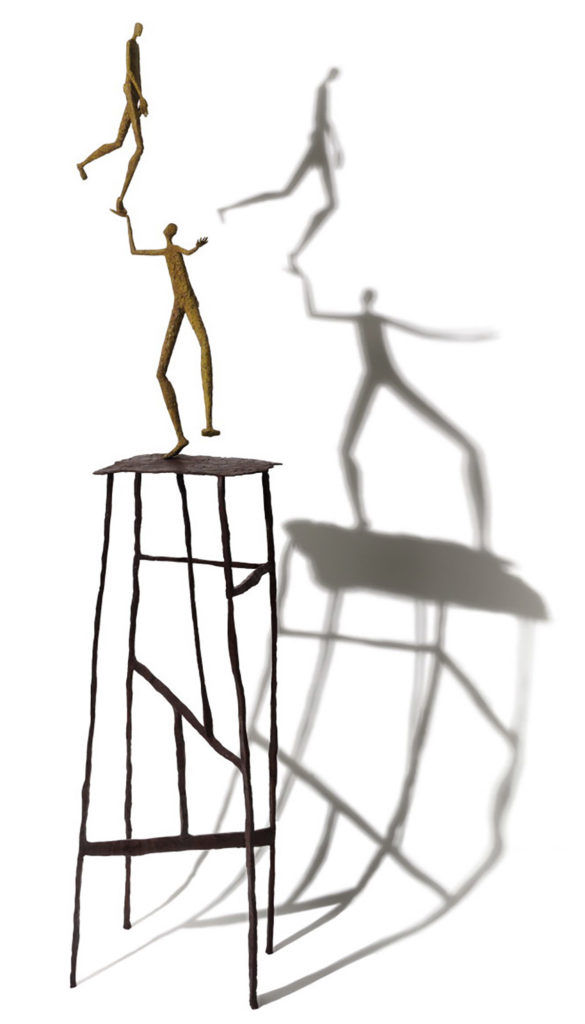 For Frédéric, who first came to Thailand 32 years ago as a backpacker fresh out of business school, his first encounter with Val in 2006 was truly love at first sight. "At that time I was still very much in the corporate world. And, well, she was a pure artist, absolutely not interested in anything but her own creativity. But that also meant that her finances were a mess."
She asked him to become her agent and the partnership soon blossomed, as did the romance. As the years went by her international recognition grew enormously, and her works have been exhibited or purchased by galleries and museums in Taiwan, Singapore, France, England, China and Korea (to name but a few). Yet, despite all the worldwide acclaim, Val remained, throughout her final years, firmly rooted in Thailand.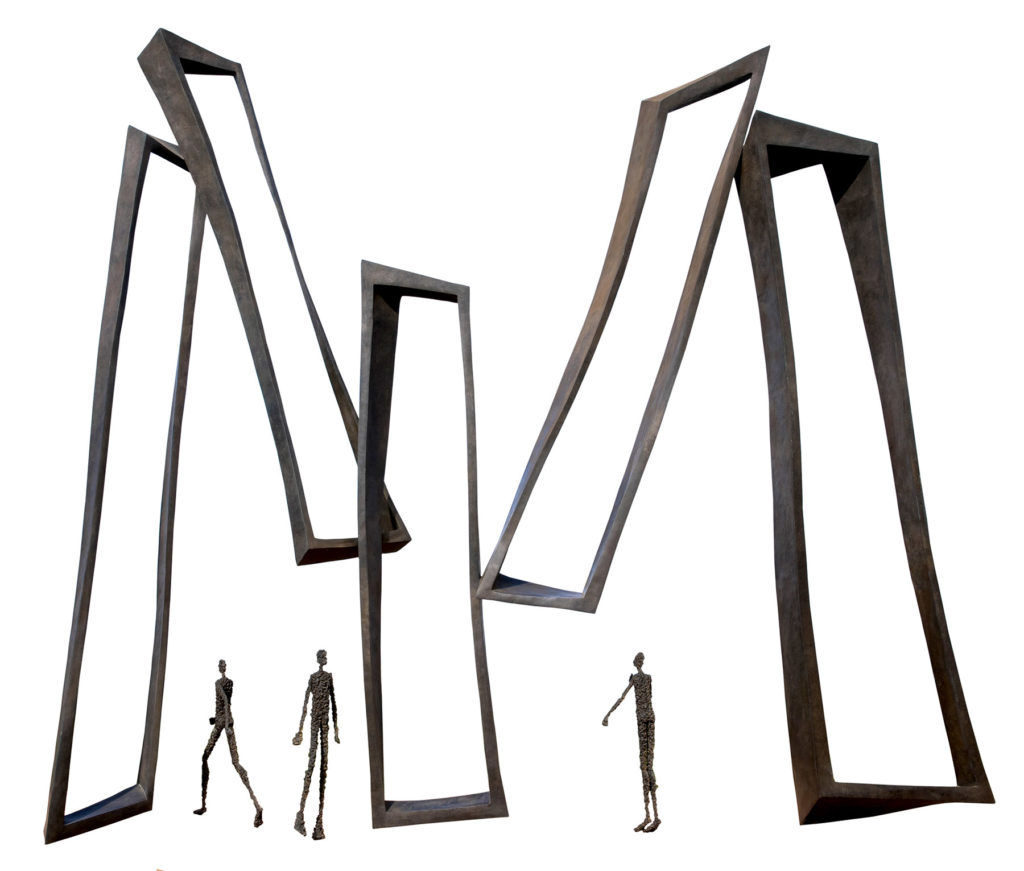 "She was definitely a so-called citizen of the world," Frédéric remarks. "She was born in France, grew up abroad – South America, Africa, Europe – then arrived in Asia. So she was inspired by a lot of things. But the fact that she was in Thailand, away from the social and family constraints in France, made her free to become a true creator.
"Another reason she worked from Thailand is because bronze is a historic, artisan industry here. Most of the Buddha statues in Thailand are bronze, and that's true in Vietnam and Cambodia as well. But in those countries the industry vanished because of the wars. The only country in Southeast Asia which kept that expertise alive is Thailand, where you can find world-class bronze casting foundries."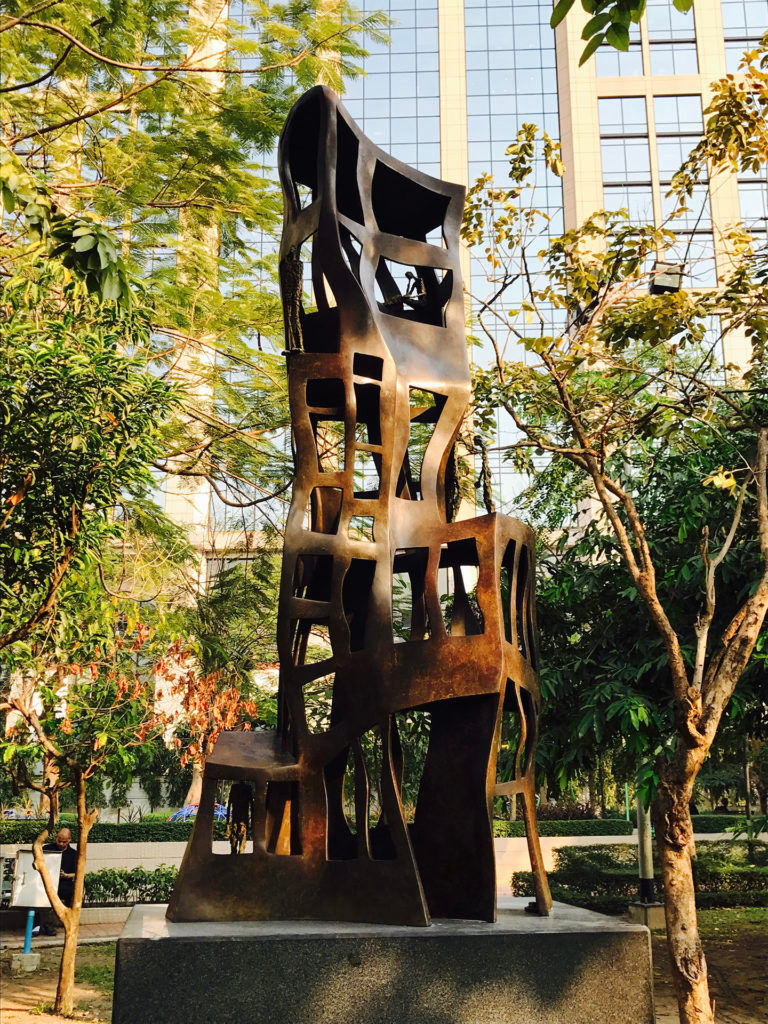 Val has definitely left her mark on Thailand, especially in Bangkok where her outdoor sculptures can be spotted at Benjasiri Park, Alliance Française, the Sofitel Sukhumvit hotel, and at Clara restaurant. However, one of Val's most ambitious installations – Ocean Utopia, completed in the spring of 2016 – lies under the sea, off the coast of Koh Tao.
"Val wanted very much to be part of regenerating coral reefs… with art!" Frédéric emphasises. "She and I we were divers – I still dive – and we got to know the people in charge of [Koh Tao's] coral reef preservation. But they just sink concrete structures for the coral to grow on and it's ugly. Val said to me, 'We could do a sculpture instead'. It was a bit crazy but we decided we would try. So I contacted the New Heaven Reef Conservation Program in Koh Tao. We financed everything, and installed on the seabed three huge sculptures which she created using bronze and marine concrete."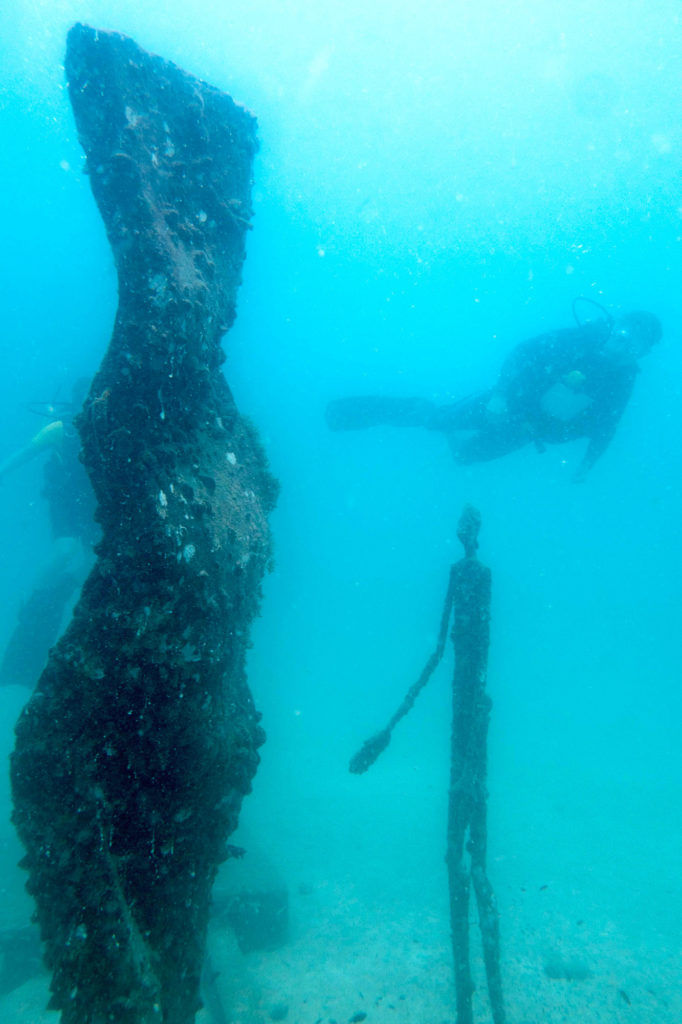 "Now it's a parade of fishes around the area," he smiles, recalling his last dive there back in August last year. "It's very colourful, with corals, anemones, shellfish, and other sea creatures. That area, which was really dead, now starts to regrow. It's a sanctuary.
"It's also where her ashes were scattered, on the surface of the water," he reluctantly reveals, and for a solemn moment conversation comes to a halt.
"It's since become a festival of life," he continues, easing us out of the respectful silence, "which is where the story becomes not that sad. I mean, I'm very sad about losing her, and I wouldn't wish this on my worst enemy, to lose a wife or husband, especially at that age. For me, it's a daily struggle. Nevertheless, I say to myself that I'm lucky, because at least, as a widower, I still have something very much alive of my companion. I'm very happy that I can continue to be behind her work. I've never questioned that decision actually, not a single day for the last four years."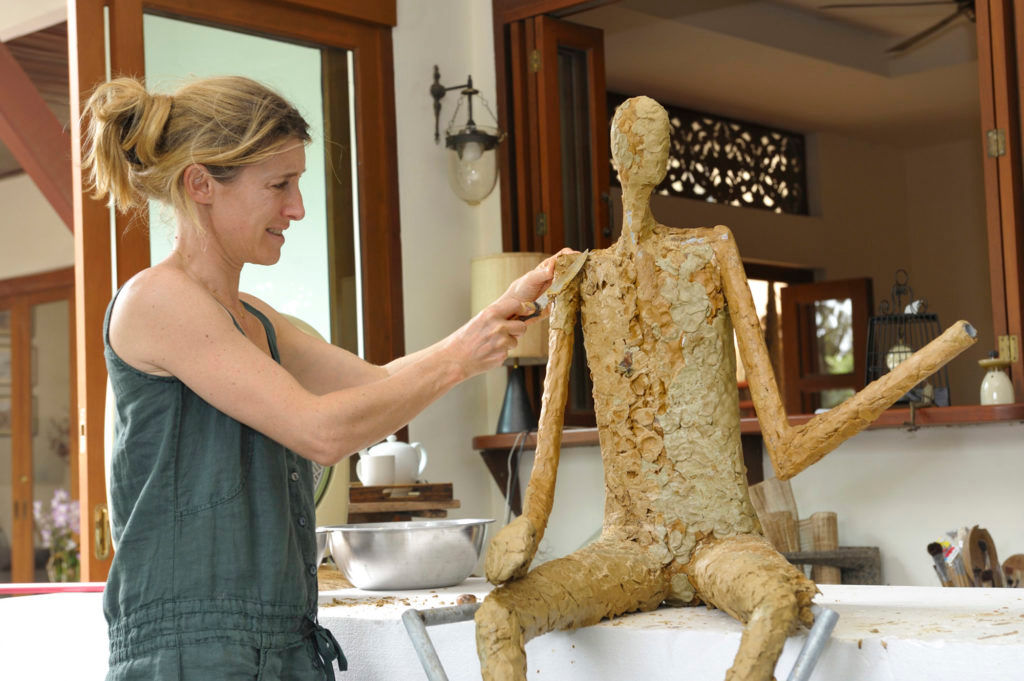 At Figures & Sala – the name given to Val's former working studio, located next to the house – Frédéric oversees the production of Val's strictly numbered editions. And as interest in Val's work continues to grow, and limited editions get snapped up by collectors and museums, the value of these pieces rises ever higher.
"Val was doing editions of eight, plus four artist's proofs, and there are many artworks for which some editions still remain to be cast," he points out. "So, what we are showing, most of the time, is the master. We cast for small exhibitions, within the limit of the availability of the edition, of course, because the moment we arrive at the last edition of a piece, the first thing I do is destroy the moulds. It's sad, but at the same time it's the way it must be done. It's also a way to respect the collectors of Val's work, by ensuring there will be no other editions."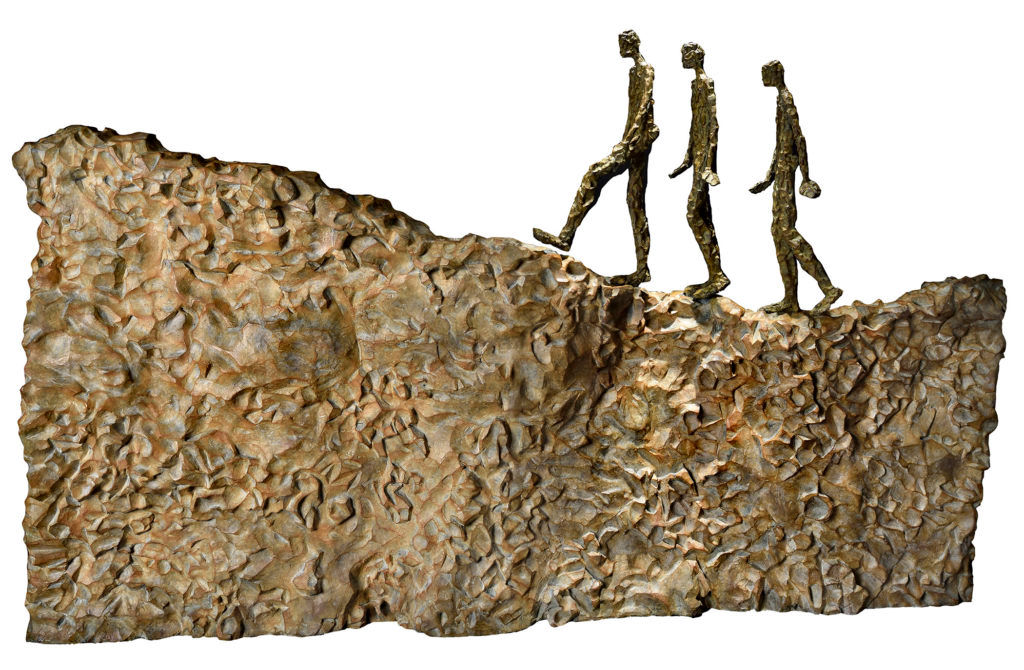 For art lovers, SAC Gallery's retrospective is hugely significant, as it includes the widest range of Val's creations, it presents all of her important pieces produced in Thailand, and it includes some never-before-seen works. For collectors, meanwhile, it's worth noting that several of Val's pieces are down to their last salable casting.
"It's a really a rare chance for Thai investors," Linjie adds, "and it's very convenient that they can buy Val's work right here in Thailand."