The 16th-century Palazzo Papadopolli on Venice's Grand Canal, with its Murano chandeliers, sumptuous Rubelli silk wall coverings, gilt mirrors and original frescos, is a fitting setting for another kind of spectacle contained within its majestic walls today: a collection of over 300 pieces of magnificent jewels and watches – one of the largest ever presented by Roman jeweller Bulgari.
Italy's feste come in many guises – from celebratory festivities at harvest time, traditional regional festivals like the famous Palio di Siena in Tuscany or the Tarantella in the south, to children's parties and grand regal balls.
Whether they take place in the streets and squares of the cities, alongside the canals of Venice or in the palaces of the aristocracy, these celebrations have one common denominator: they represent the essence of the Italian way of life – an expression of pure joy and happiness.
Bulgari's latest collection, Festa, mimics this philosophy with gusto and brazen authenticity, best described by the phrase, "Facciamo festo!" (let's have a party).
"The festa runs deep in our way of life," says Lucia Silvestri, jewellery creation and gem buying director at Bulgari.
"The theme is closely linked to Bulgari, as one of the purposes of our jewels is to give joy and happiness to the women who wear them. A woman who wears Bulgari jewels is also a woman who has a grasp on her life. She chooses her own way and makes her destiny larger than anyone would have ever dreamed.
"Designing this collection has been an absolute joy – it is all about fun. Choosing a theme like Festa has allowed me a lot of creativity. Some jewels are linked to historical ladies famous for their outrageous lives, love stories and, of course, the wonderful festas they used to host in their palaces. Other pieces refer to a specific town or region of Italy, like Sienna or Rome. Others are inspired by very basic symbols of happiness like ice cream, balloons and presents."
My personal guide to show off some highlights of the collection is the jovial Giampaolo Della Croce, high jewellery director of Bulgari.
Three function rooms at the Aman Venice have been set up in a spectacular fashion for the occasion – to capture the Italian spirit of feste – complete with a mini carousel and a dining table dressed for a sumptuously decadent ball.
"In Italy, when we celebrate the harvesting of grapes and olives, festivities can last for days. Dancing continues until everyone is exhausted. And when we dance, we use tambourines to keep the rhythm – the rhythm of the Tarantella."
Giampaulo explains that the dance was originally supposed to cure people from the bite of a very dangerous spider (the tarantula). People who had been bitten were supposed to dance until exhaustion. He then points to jewels inspired by this popular folk dance – a necklace in the form of a spider's web, two sautoirs, a bracelet and a pair of earrings.
"During these festivities, to bring luck, there are many kinds of symbols that all Italians love," he continues. "One example is the peperoncino (red hot chilli peppers), like this necklace with its dangling peperoncinos…"
As if strung out to dry in the sun, green tourmalines, amethysts and rubellites have been carved into chilli peppers, resulting in a playful but elegant necklace.
Two very special pieces in the collection are the Palio necklace and bracelet, bursting with colours and referencing the city of Siena and its legendary horse race that originates from the Middle Ages: the Palio. The colours of the 17 contrade (districts) are depicted in the necklace, the flags exquisitely recreated in stone marquetry.
According to Giampaulo, Bulgari worked for eight months in close collaboration with Siena authorities to get the 17 colours of the contrade absolutely right. "These are not [recreated with] enamel, which would have been much easier, but with coloured gemstones," he explains. There are also Palio-inspired brooches with tapered baguette-cut diamonds, recalling horses.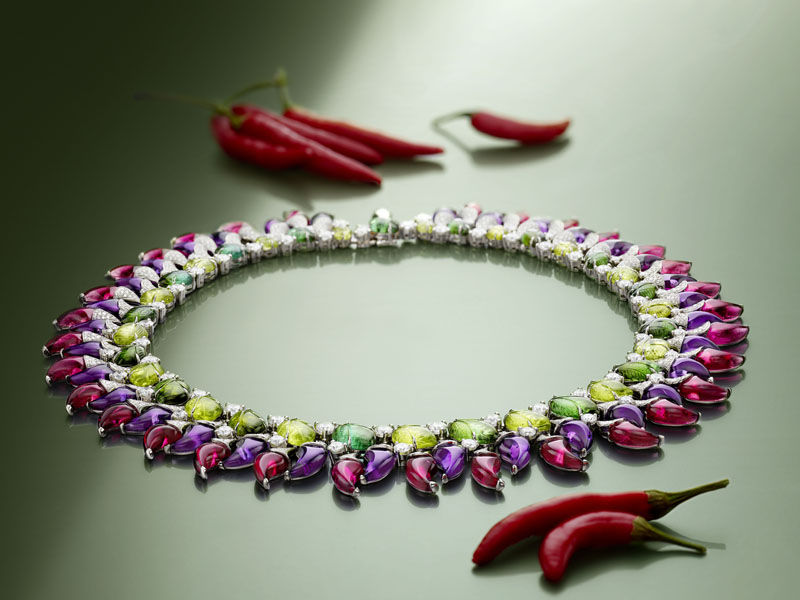 Leading me to a stunning table setting – fit for a regal ball – he says, "Here, it's all about the rarity of the gemstones, and 'dinner' is made of precious ruby earrings and brooches, or emerald and sapphire bracelets and necklaces… First of all, Princess Marguerite of Savoy, a former queen consort of Italy, was a flamboyant woman who simply loved pearls, and she also used to wear a lot of brooches in the shape of ribbons and knots. Actually, all four princesses we found inspiration from were very much charismatic, iconic divas of their time.
"Princess Barberini, who lived in the 17th Century, was one of the finest jewellery collectors back then – she had very exquisite taste and nobody could compete with her when it came to fabulous jewels."
More than 30 jewels in the Festa collection pay homage to these Roman princesses, whose lives and legacies are very much part of the Eternal City. A standout is the stunning "Il Magnifico", a 180-carat cabochon sapphire pendant and diamond chain necklace, dedicated to Pauline Bonaparte, sister of French emperor Napoleon and later married to the Prince of Sulmona, Camillo Borghese.
Three other jewels in the collection, including a ring and a necklace set with a magnificent cabochon emerald, are inspired by her precious fans, which were an essential part of her elegance.
An ode to a more contemporary jewellery lover, Elizabeth Taylor, is called "The Green Liz" – a new interpretation of a sapphire necklace Richard Burton gave to her on her 40th birthday.
"Elizabeth Taylor was one of Bulgari's most adored clients. This necklace is centered by a gorgeous 59.10-carat sugarloaf-cut Colombian emerald, suspended from a long sautoir chain with emeralds and diamonds. The stone is so clear, so vivid and intense, you can see right through it," Giampaulo enthuses.
Our exploration continues with more festive inspiration – a diamond-set ice lolly brooch; cup cake rings with fondant-hued agate, crowned with ripe ruby cherries and emeralds; diamond-coated lollipop brooches sprinkled with emeralds and sapphires; and necklaces and bracelets with vividly-hued gemstones that so cunningly represent candies you almost want to eat them.
"The parade of coloured candies, the ferris wheel with cabins made of emeralds and rubelites, the strawberries and raspberries – everything is so whimsical and fun. It's our treasure, really, and represents Bulgari's expertise at its best," Giampaulo concludes with a flashing smile.
That evening, at the Scuola della Misericordia, the international media corps is joined by VIPs and A-listers Alicia Vikander, Bella Hadid, Lily Aldridge and Lily Moss in the front row for the official runway launch of Festa, followed by a scrumptious banquet-style gala dinner. Somewhere between the third and fourth courses I get to have another quick chat with Lucia Silvestri, who is beaming.
"I am so happy and proud," she says. "It's taken me over four years to collect the stones for this collection, and about a year to create all these beautiful jewels… Venice is the perfect place to celebrate the Festa collection, and it is such a joy to share these works of art."