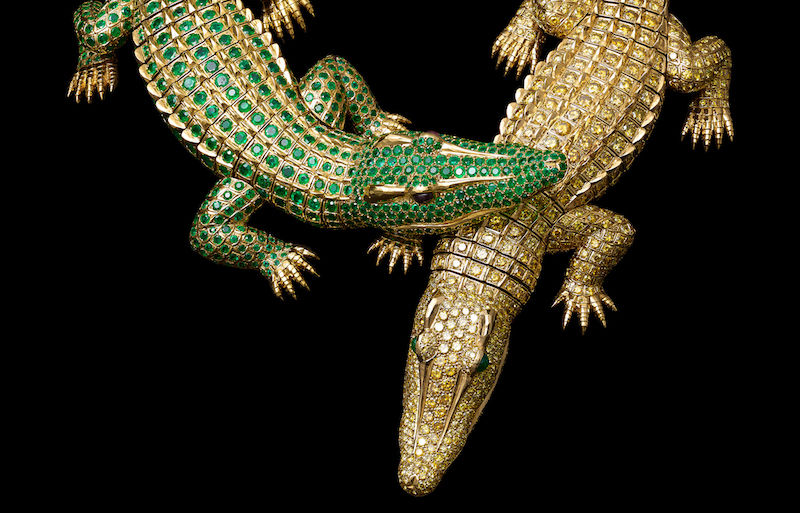 The original was a necklace that went down in history as one of the most legendary pieces of high jewellery — two fully articulated crocodiles, one paved with emeralds and the other with yellow diamonds. The piece was ordered by Mexican actress María Félix and fast forward to 2018, the artisan sculptor behind this historic design is casting his magic spell on the new version of Cartier's new high jewellery parure. SEE MORE: A Stroke of Luck With Van Cleef & Arpels's Alhambra
Based around 14 cabochon-cut emeralds from Colombia totalling 46.45 carats, these exceptional gems feature remarkable consistency in terms of quality, colour and shape and are further enhanced by a series of emerald beads in the same intense shade of green. Paying tribute to Félix's original, the realistic reptile becomes the centrepiece of Cartier's exhibition. The collection comprises 4 pieces: a necklace, a pair of earrings, a ring and a bracelet, the design of each stays true to Cartier's tradition of naturalism: with a single feature, the ridges on the reptile's back. Stretching out towards the tail, the pieces can be wrapped around the neck, the wrist or the finger, or be suspended as a pair of pendant earrings. The animal's legs, like its scales, have been specially designed to feel comfortable against the skin.
Discover more about Cartier's high jewellery at www.cartier.com.