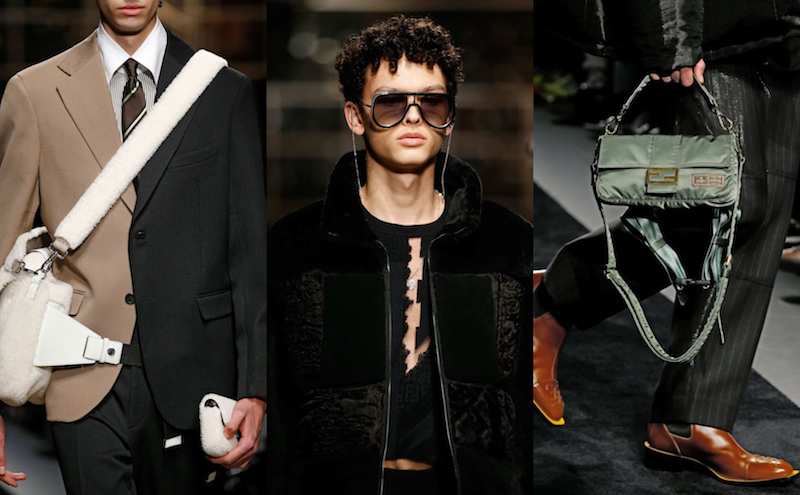 Fendi brings freshness to the Milan Men's Fashion week with a theme of dualism for which Silvia Venturini Fendi and Karl Lagerfeld bring forth contrasting elements to create a new narrative for the men's wardrobe at the turn on the decade.
The collection, according to Silvia, is a dialogue — an encounter and connection of two personalities: Silvia and Karl, Paris and Rome, classicism and modern, popular cultures. Handwritten notes, images, sketches: a moodboard seamlessly connecting a Parisian studio with a ginormous library to the Roman one, becoming a collage print transported throughout the collection. Everything is dual: futurism and classicism swirl in a palette dominated by black, beige and brown, with accents of red and electric blue. The accessories collection once again champions a futuristic FF logo alternated with a calligraphic one. Shoes come in Cuban heels on cordovan or patent. Travel accessories are star of the collection as the Fendi man brings his essentials around into cases, studded, foldable or defended by transparent covers turning into shoppers. And, for the first time, the boys get to experience Fendi's most iconic handbag — the legendary Baguette — in mini and maxi size, and in precious croco or mink and Selleria leather, styled as cross-body, hand-carried or as a belt bag. SEE MORE: 7 Key Menswear Trends for SS2019
The Peekaboo family with its members and evolutions: X-Lite Fit and the new Essential for men. The signature bonded nylon of Porter meets the two iconic Fendi shapes, which become ultralight and outsized in this contemporary collaboration.
Check out all the accessories from Fendi Men Autumn/Winter 2019-2020 collection in our gallery.
You're all set
Thank you for your subscription. Mila Wenin
Digital Managing Editor, TH
A veteran journalist, copywriter and content creator with over 15-year experience working in Bangkok's leading print/ digital publications, Samila is currently digital editor of Prestige Thailand, where she writes exclusively on style, beauty and art and culture.
---
You might also like