Photos by Giancarlo Galavotti at @gc.galavotti
"When it comes to fashion, there's no right and wrong. It really depends on the person to mix and match, and to have fun. This fashion show was one of my biggest challenges yet, as it was the first time I fully unleashed myself. I used new materials and innovative approaches to make the clothes striking, unusual, and practical." — Teerut Wongwatanasin. Thai fashion has always been dynamic and difficult to pin-down. You have the understated minimalism, and juxtaposed against that are designers who abide by creative self-expression and an unflappable sense of dare-to-be-you. While the grass is green on either side, every now and then we stumble upon a brand that somehow manages to be part of both. Enter Vickteerut, with its iconic geometric silhouettes and a unique approach of "simplicity with a feminine edge". Thursday April 4 saw double celebrations for the prominent Thai fashion brand, as it comemorated both its 12th anniversary and the post-hiatus return of Teerut "Vick" Wongwatanasin. Led by creative directors Vick and Aurapraphan "Pang" Sudhinaraset, Vickteerut hosted what can be thought of as the fashion party of the week, bringing in everyone in Thai society for a special fashion photography exhibition, and the unveil of its latest Spring/Summer 2019 collection 'To Infinity and Beyond'. Here's everything you need to know about what went down.
The Venue and Why it's So Cool
True to its penchant for exceeding expectations with the unpredictable, Vickteerut rang in its 12th year by taking a daring leap in bridging the gap between fashion and the arts. The event was held in ATT 19 — a semi-hidden warehouse-slash-gallery space tucked into Charoenkrung soi 30. As Bangkok's fashionistas, socialites and most distinguished faces mingled and moved between suspended paintings and circulating hors d'oeuvres, the venue's novelty did not go unnoticed.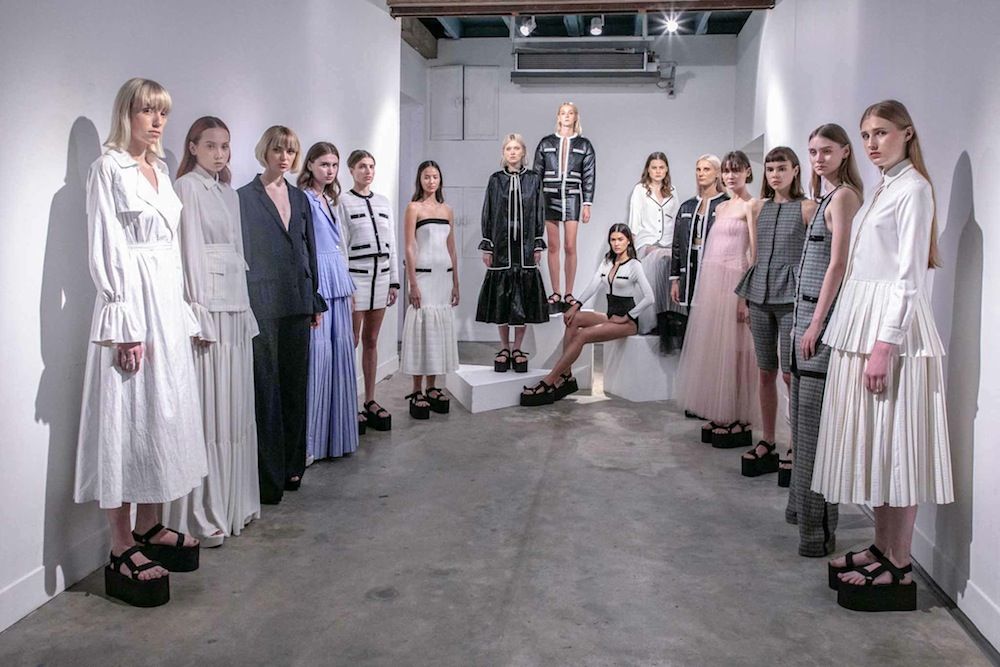 For the fashion show, guests sat around the gallery's corridors as models sporting Vickteerut Spring/Summer 2019 graced past. These models were later stationed across several rooms throughout the gallery for guests to marvel at the designs up-close, very much like one would an exquisite sculpture. This blurring-of-lines between a sculptural exhibit and fashion show is fascinating not only for its originality, but also because of how it reflects the exquisite spirit of Vickteerut — a brand whose pieces have always leaned more towards geometric works of art rather than just another wardrobe addition.
The Fashion Photography Exhibition If you've been on social media at all the past few weeks, chances are you've come across an interesting video — Bangkok's key influencers and well-recognised personalities uttering the same phrase: "Vickteerut 12th." The clip was just a short teaser for the final result, a specially curated fashion photography exhibition that brings together nine renowned photographers who have worked with Vickteerut over the years, including Nat Prakobsantisuk, Pansiri Siriwetchapan, Surasak Ittirit, Jutharat Pornmuneesunthorn, Thananon Thanakornkarn, Waroon Kleattisin, Pisid Whangvisarn, John Tods and Naruebes Vadvaree. Through the exhibition, the images displayed illustrated the spirit of Vicketerut's women, as well as how the brand has evolved throughout the years. It was, in a way, a rather fitting way of celebrating the brand's 12th year — to look ahead, by drawing on how far they'd come. This theme of delving back to the past to find their future continues from photo exhibition to the SS19 collection itself, where the brand brings back its most classic looks, with a contemporary revamp.
'To Infinity and Beyond': What to Expect from Spring/Summer 2019 Arguably the night's highlight — the grand unveil of Vick's comeback collection. For Spring/Summer 2019, Vickteerut's 'To Infinity and Beyond' is an interesting blend of minimal and eccentrically bold. While it is common amongst designers to challenge limits through daring prints and vibrant colours, Vickteerut begs to differ by maintaining its monochrome-dominant palette, punctuated by the occasional pastel hue. It is in the clever manipulation of silhouettes that the brand's edgy side shines through. From deep-cut v-necks to billowing head-to-toe pleats, and playfully translucent lace-tulles, the geometry is a big giveaway on Vickteerut's idealistic, striking side.
Scroll through the gallery below to see more images from the show, or experience Vicketeerut's 'To Infinity and Beyond' collection first-hand at The Emporium, Siam Paragon, Central Chidlom, Central World, and the Vickteerut boutique on Thonglor soi 4. For more information, visit vickteerut.com.