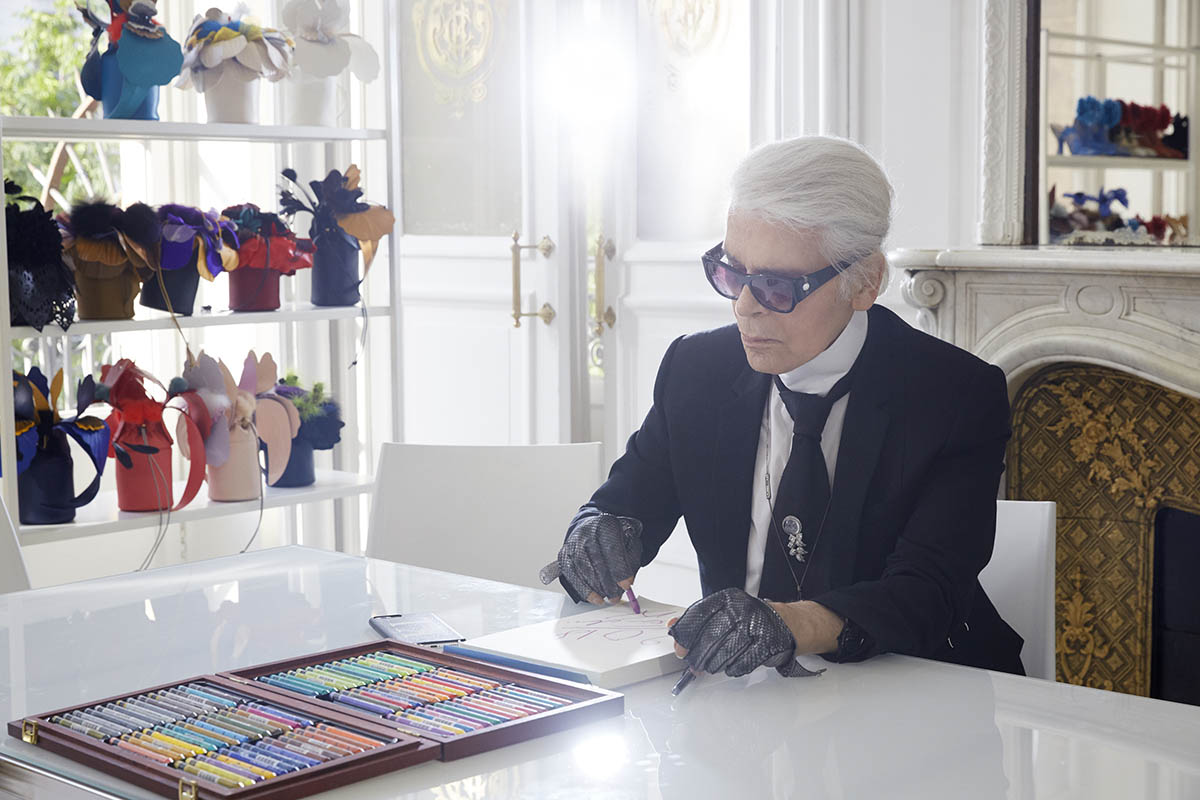 Presented at the Theatre des Champs Elysées in Paris, Fendi's "Flowers From Another World" Haute Fourrure Fall/Winter 2017-18 collection blooms with a verdant garden – from a Symbolist springtime to an otherworldly winter, exotic botanicals flourish in perfect synergy with exquisite craftsmanship.
In delicate wings of fabric, the silhouettes unfurl like precious petals; fur coats and gowns that cocoon at the shoulders and fall into fishtail points. Heart shapes abound, draping into soft capes, contoured sleeves and winged skirts.
From the iris, daisy, peony or crocus to the seductive poppy, flowers spring to life in the third dimension – inlaid in lynx and sable, or woven as a metallic jacquard and an intricate leather lace.
Revolutionary technique creates new traditions: mink is re-assembled as an opulent lace fabric to create collars and cuffs accenting tinted sable and pastel Persian lamb. Later, it is hand cut into meticulous 'pixel' confetti, where thousands of discs are stitched onto silk organza.
Post-impressionist hand painting produces exquisitely soft landscapes on shaved mink and diaphanous silk, their surfaces embellished with a meticulous appliqué of feathers, golden needlepoint and mink thread.
Flowerpot clutches are festooned with leather foliage, while pointed suede mules blooming with life-size flowers or decorated with fur powder puffs close with a delicate ankle chain.
Symbolic of the maison's creativity and savoir-faire, exceptional workmanships and extraordinary details take fur to the highest level, giving life to a verdant garden, celebrating nature in an exuberant way.
With an eye to the past but always projected towards the future, revolutionary techniques create new traditions: for the first time ever in the history of fur, sable is bleached and dyed, creating a new colour palette made of 13 different hues, from pop orange to red, while keeping the extreme softness which characterises this precious fur.
Requiring almost 300 hours of work of the most expert fur artisans, shaved mink in 22 different colours is meticulously hand-cut into 10 000 tiny pieces of "pixel" confetti and hand-stitched one by one onto silk organza to create a radiant mosaic on a cocoon dress.
To see more of this ethereal collection, including exclusive shots of some of the looks in the making, flip through the gallery below.