Known for its intricate and flowery depictions of nature, Van Cleef & Arpels has always drawn inspiration from the grace, beauty and colours of nature since the Maison's founding in 1906. The exquisite and timeless designs of the Rose de Nöel collection was launched in 1970 and has since then been rolled out many times to pay homage to the shape, symmetry, colours and curves of the gorgeous winter-blooming flower. Combining gold and stone craftsmanship that reflects all the Maison's jewellery expertise, be sure to take a look at what the latest iteration of this timeless collection has to offer.
Ready to be picked and blooming with happiness, time and again the Maison has managed to recreate and arrange the petals of the winter flower in a harmonious way that complements the quality and colours of the stones used while displaying Van Cleef & Arpels high jewellery expertise and craftsmanship.
Originally in pink coral, yellow gold and diamonds, Van Cleef & Arpel's latest iteration of the collection presents a motif of a new, smaller size and colour: mini models of the rose, budding two pendants and two pairs of earrings, one in an iridescent white mother-of-pearl and the other in a turquoise-blue lapis lazuli, both of which highlight the hollow of the neck and gently frame the face.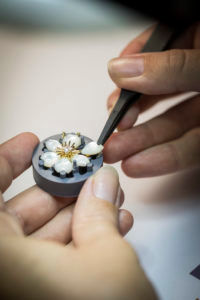 White mother-of-pearl is chosen for its harmonious iridescent reflections, smooth surface and high-quality luster. The lapis lazuli exhibits an intense and uniform shade of blue. This stone sometimes displays flecks of pyrite, like an ocean or a star-studded sky, making for a vibrant quality. The diamonds adorning the creations meet the Maison's standards of excellence: D to F for color and IF to VVS for clarity; they illuminate hard stones, coral and mother-of-pearl, imbuing pieces with their precious quality.
Van Cleef & Arpels also presents coral models in small quantities that pay tribute to the original Rose de Noel pieces seen in the 1970s.
Crafted in coral, hard stones or mother-of-pearl, the beautifully rounded petals carefully overlap to create an effect of volume that echoes a flowering nature in motion. The faintly asymmetrical corollas of the flower unfold around a heart that glimmers with gold and diamonds.
Christmas might be over, but the beauty of the winter rose can year-round remain close to your heart.
For more information on this wonderful collection, visit www.vancleefarpels.com.