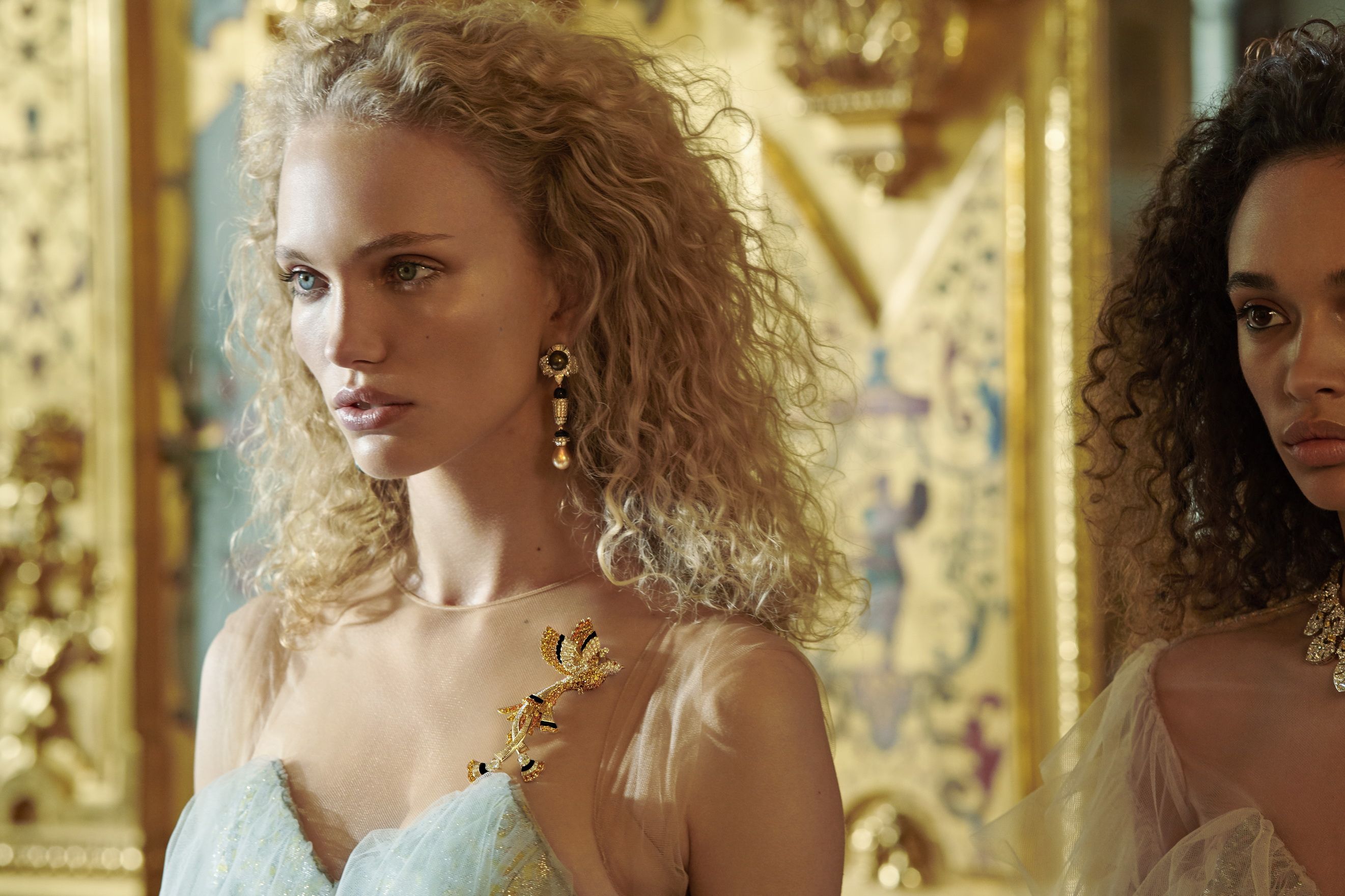 Like the Grimms' fairy tales, the world of Van Cleef & Arpels is always full of wonder, poetry and dreams. Its latest high jewellery collection "Quatre Contes de Grimm" marries the enchanted landscapes, wondrous animals and graceful princes and princesses with the maison' s imaginative design, excellence in craftsmanship and the finest precious stones that elicit emotions. "Quatre Contes de Grimm" takes its inspiration from 4 tales by Brothers Grimm: The Twelve Dancing Princesses, The Golden Bird, The Three Feathers and Town Musicians of Bremen. Princes, princesses, magical creatures and objects central to the story become the motif of the collection. The Souliers précieux clip reminisces the enchanted balls which the twelve princesses mysteriously attend each night in The Twelve Dancing Princesses. The intense blue of the Burmese sapphire of the Traversée étoilée bracelet is the lake the royal maidens crossed to get to the ball. The legendary golden bird comes alive in Oiseau d'or clip, composed mostly of yellow sapphires. From the same story comes the exquisite Clair de lune long necklace made of Sugar-loaf purple sapphire, blue and mauve sapphires, grey cultured pearls, diamonds. The piece symbolises an iridescent halo of moonlight that lights the path for the young prince's night expedition. Check out another collection from Van Cleef & Arpels, Alhambra, here.
With the tale of The Three Feathers, we get to witness Van Cleef & Arpel's technical savoire-faire to the full thanks to the Panache Mystérieux clip. Round and baguette-cut diamonds with Vitrail Mystery Set colored sapphires are placed together to form the most delicate feather shape. Another fanciful set is the Serapi long necklace with matching rings and earrings. Their unique appearance, inspired by the oriental style of Serapi carpets, comes from combining rubies, blue and pink sapphires, white cultured pearls, coral, diamonds. The last story, Town Musicians of Bremen, gives birth to a stunning necklace Sous la lune — a masterful homage to the night with five rows of deep blue Burmese sapphire beads and a pendant created around a large Colombian emerald cabochon. The triumph over robbers of the animal musicians in the story becomes the Victoire earrings that combine yellow diamonds of different shapes in a well-balanced and ethereal composition.
Discover more about Quatre Contes de Grimm at www.vancleefarpels.com.