Piaget has presented a line of new Limelight Gala timepieces, celebrating the brand's four pillars of excellence — The Art of Movement, The Art of Gold, The Art of Colour, and The Art of Light.
The Limelight Gala has long been an iconic collection for Piaget, dating back to the 1960s, when the Maison first made its entry into the world of jewellery watches. Capturing hearts with stunning embellished stone dials, dreamy colours, and signature gem-set lugs, the creations have retained their popularity to this day, becoming the quintessence of super thin jewellery watches. Now in 2020, Piaget has unveiled a series of new additions to the Limelight Gala 2020, paying homage to the brand's four pillars of excellence. Among them is a unique design featuring a dial fitted with rare and precious black opal. Here's what we love.
The Art of Gold: Paying Tribute to Piaget's Savoir-Faire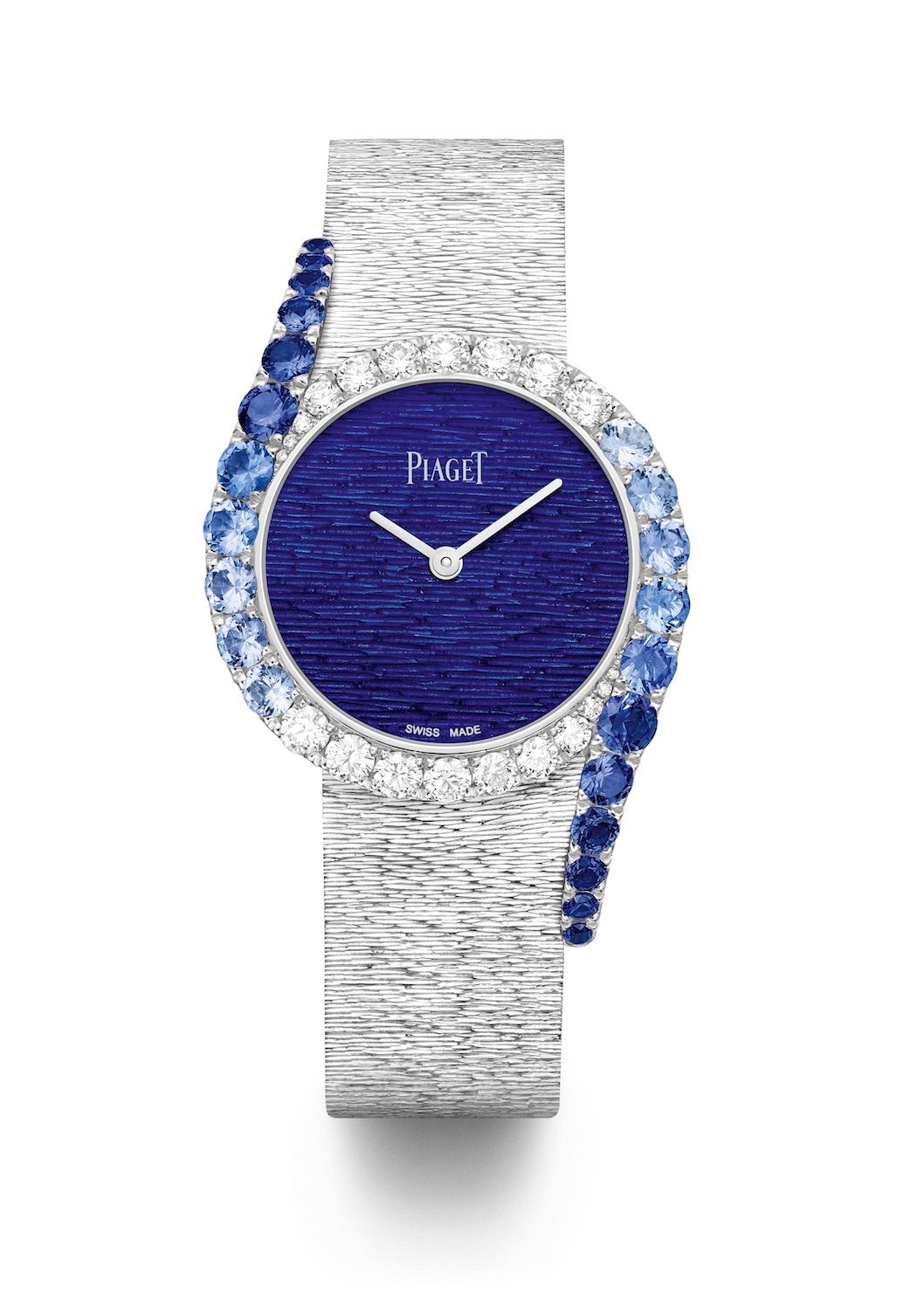 Nodding to Piaget's role as among the few remaining Maisons to still retain its savoir-faire, and hand-made gold bracelets, the new Piaget Limelight Gala Precious Sapphire Gradient (Ref. G0A45163) celebrates the Limelight Gala line's signature design styles. A hand-engraved gold bracelet and dial is highlighted by 20 large diamonds that are approximately 1..46 carats, along with sparkling blue sapphires that form a subtle gradient of blue. The bracelet itself, made of white gold, has been created using hundreds of gold links that are tightly assembled, before a soldering process that involves countless miniature links. Closer inspection reveals the Palace Décor style — an iconic motif of the house, which only a few artisans are able to produce. As an added finale, the dial is covered in translucent blue enamel, and oven-fired continuously at a temperature of over 800 degrees celsius for a splendid result — a technique referred to as the 'Grand Feu' Enamel.
The Art of Light: Stunning Gemstones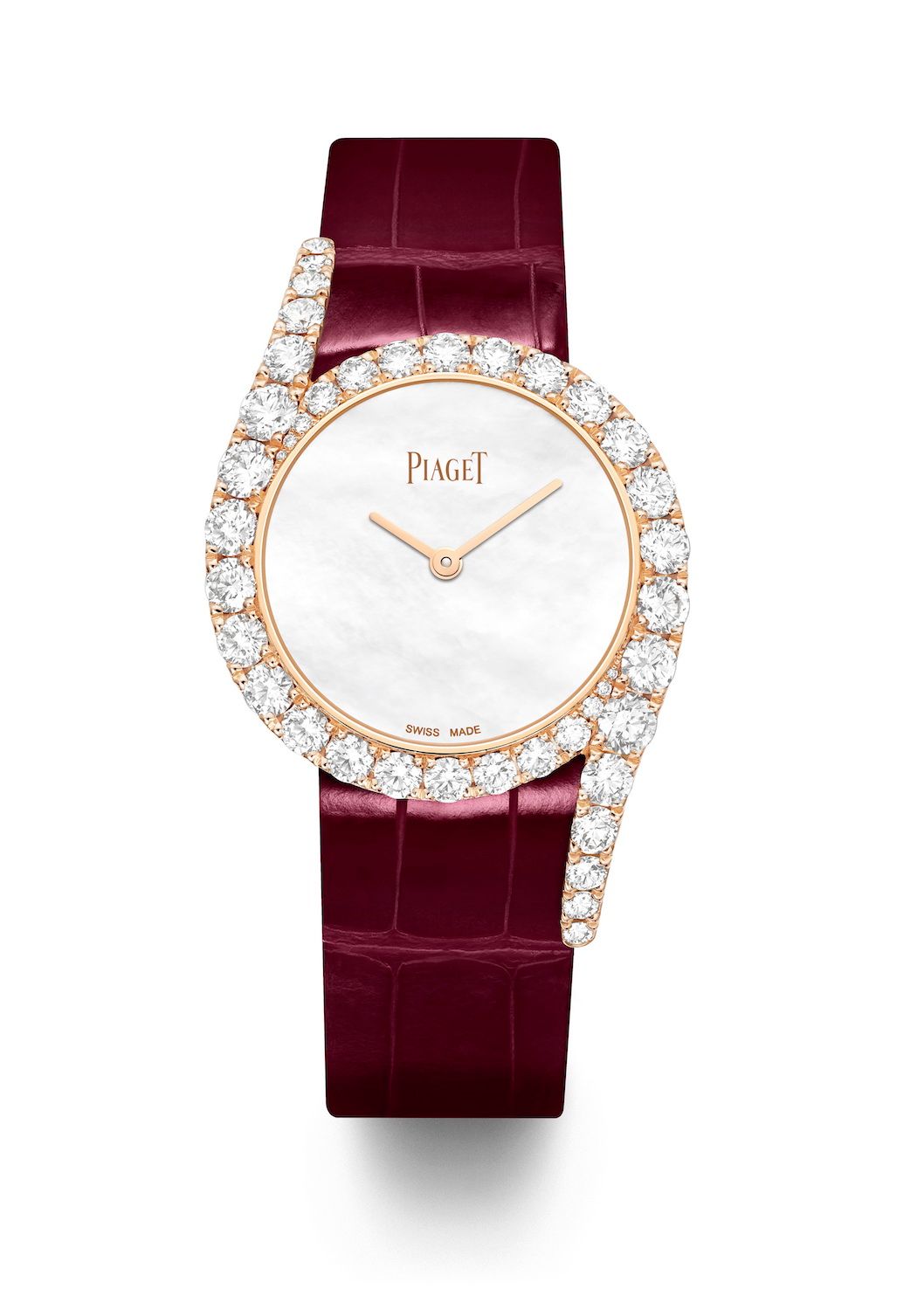 For over 140 years, Piaget has garnered a reputation for high-jewellery timekeeping masterpieces that blend both exquisite gemstones with precious metals and a flair for innovation. The Ref. G0A45161 comes in rose gold, and uses the Serti Descendu technique to set 57 diamonds. The timepiece comes with a striking burgundy strap, and a dial lined with delicate mother-of-pearls.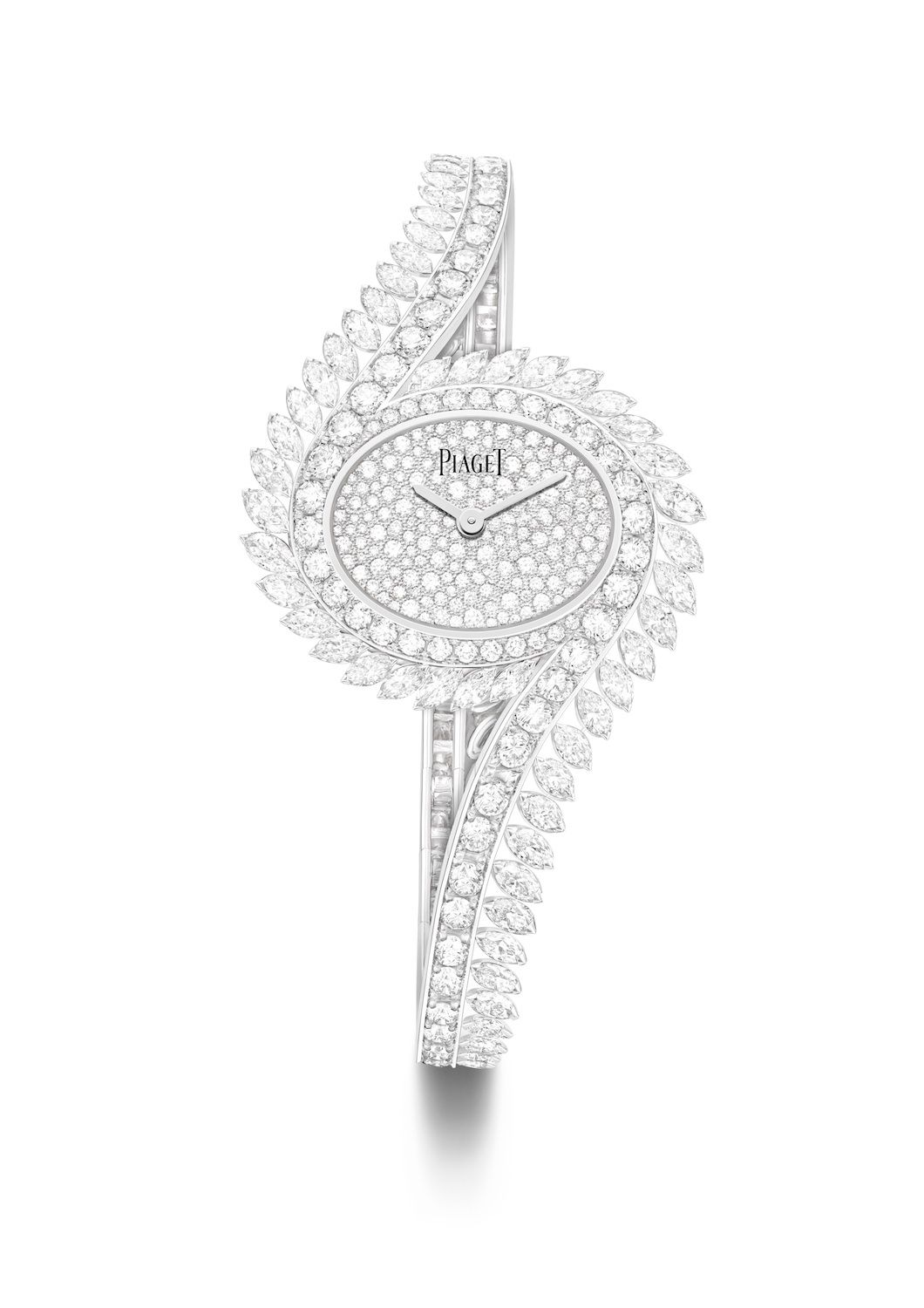 For those who especially love to have their wrists graced with shimmer, Piaget has introduced three new Haute-Joaillerie models with stunning oval dials that glitter from snow-set diamonds. These diamonds are complemented by a captivating setting of marquise-cut gemstones, which can be found on the bezel, lugs, and bracelets. The high-jewellery timepieces are available in a 28 by 23mm case. The Ref. G0A45170 comes with a fully-paved bracelet set with 364 brilliant-and marquise-cut diamonds, while the Ref. G0A45171 features both diamonds and blue sapphires. The Ref. G0A45168, on the other hand, shines with 237 diamonds and a beautiful blue satin strap.
The Art of Colour: Twinkling Aventurine Dials Lovers of Piaget will know of the Maison's love for the celestial sky. Paying subtle love to this joy are three new models, with dials crafted from aventurine glass — created by adding copper oxide to glass, for a resulting twinkle that looks almost like the night sky. Among these additions, two Limelight Gala Aventurine Glass Dial models feature 63 diamonds, while another model — the Limelight Gala Preciou Aventurine Glass Dial (Ref. G0A45180) comes set with 57, and is a limited edition of 200 pieces.
The Piaget Limelight Gala High Jewellery Black Opal: One to Watch Out For Of course, the highlight of Piaget's new releases for 2020 is this one-of-a-kind number, which features a dial fitted with a stunning, rare and precious black opal. Fascinating in the myriad of colours it reflects upon catching the light, the dial appears to be ever-changing. For this model, Piaget highlights the exquisite material with 86 brilliant-cut blue sapphires, and a colourful array of marquise-cut gemstones in tribute to the Earth's natural wonders.
To find out more about the new additions to the Piaget Limelight Gala Collection, visit piaget.com.