Energise In The Morning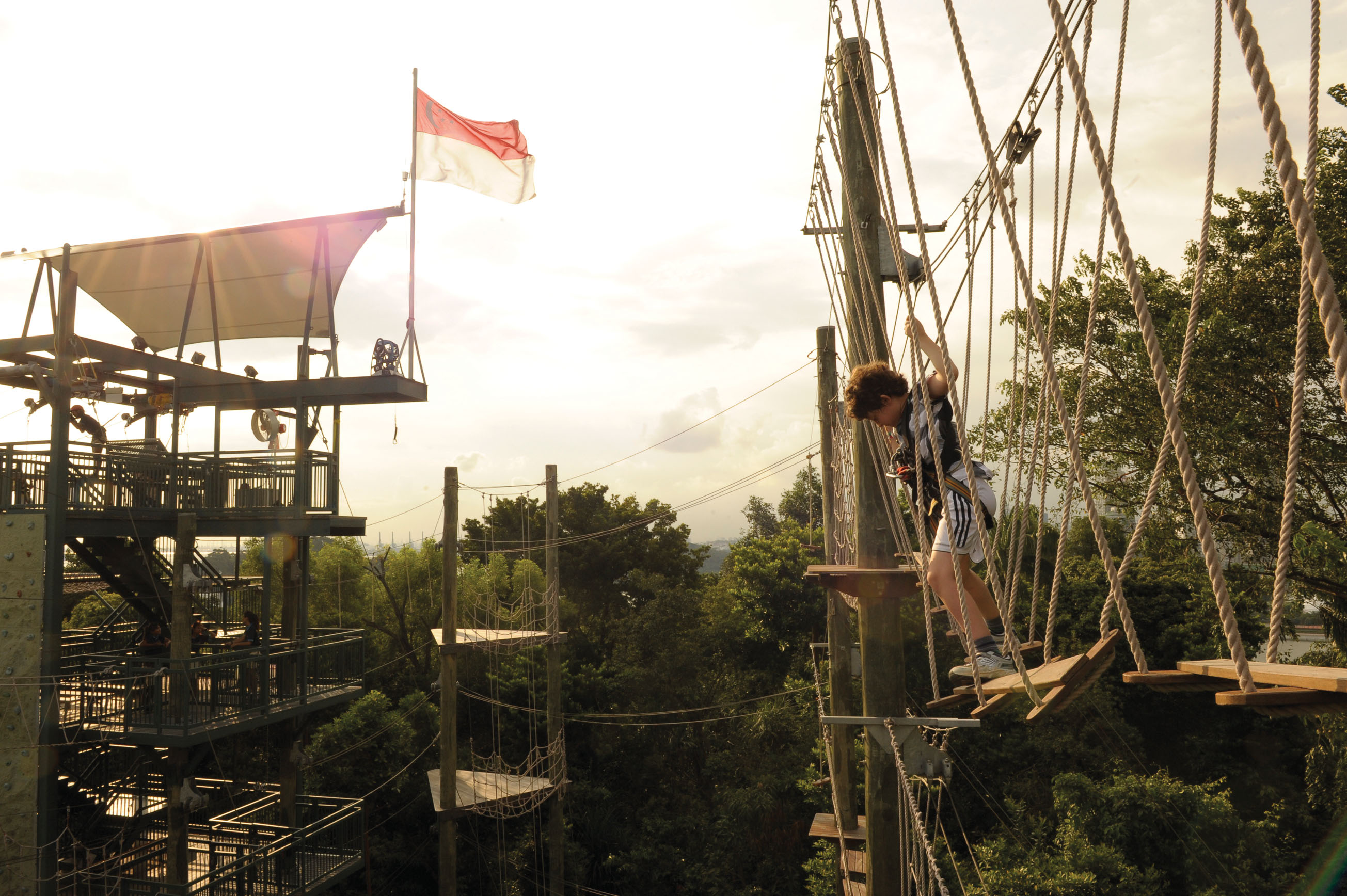 Get your adrenaline pumping with any or all four exciting activities available to thrill-seekers young and old at Mega Adventure Park. Fly through the air at 60km/h from 75m above ground on the three-wire zip line MegaZip while racing friends and family from Imbiah Hill to Siloso Beach. Navigate your way through MegaClimb's 36 obstacles, sited up to 15m amid towering eucalyptus trees. Challenge yourself with a 15-m-high simulated parachute jump at MegaJump, with custom safety wire and harness to keep you protected. Have a go on MegaBounce's four bungee-assisted trampolines, where budding acrobats are propelled up to 8m in the air. Those feeling extra-bold can sign up for more than one activity with any of the four packages on offer.
Recharge At Midday Escape the noontime sun at this Quayside Isle trattoria and pizzeria, created by co-owners Executive Chef Mauro Muroni and General Manager Gerri Sottile. Italian for "sun tomato", Sole Pomodoro serves crowd-pleasers such as Black Angus burgers, as well as refreshing Italian classics such as spaghetti frutti di mare, wood-fired oven pizzas and traditional tiramisu. And with its magnificent view of the Sentosa Cove marina, you'll find yourself transported to the Mediterranean coast, if only for an afternoon.
Snowstory Cool down with frozen treats from Snowstory, located right on the Siloso Beach Walk next to Wings of Time. Founded in early 2017, this dessert stop specialises in Korean bingsu shaved ice, embellished with a cornucopia of toppings such as strawberries and matcha. Other menu highlights include waffles decked in fruit chunks and ice cream and drizzled with chocolate sauce, hamburger steak, cotton candy and refreshing sujeonggwa (Korean persimmon punch). And if the desserts aren't chilly enough, children are welcome to romp around in the snow area — it's filled with real snow!
Frolic In The Afternoon
Butterfly Park & Insect Kingdom Learning doesn't stop just because school's out. Spend the day amid the verdant environs of the Butterfly Park & Insect Kingdom, and discover the wondrous world inhabited by butterflies, beetles, stick insects, scorpions and birds at the park's insect museum, butterfly aviary and pupa house. Sign up for a group tour of 30 to 45 minutes, during which rangers and guides bring you face-to-face with our national butterfly, the Pachliopta Aristolochiae or the Common Rose, and make friends with and feed an amazing menagerie ranging from parrots to green iguanas. And while you're at it, make a wish come true by releasing butterflies in the park. Legend has it that if you whisper your wish to a captured butterfly and release it, the insect will convey the message to the heavens.
Mega Fun at Sentosa Sentosa brings back FunFest on March 10–18 for an unforgettable vacation for one and all. Besides free island admission for Singaporeans and local residents, Palawan Beach beckons with a massive inflatable playground featuring fun rides and activities, such as aqua plane, sticky wall, kids maze and more. There will also be inflatable exhibits featuring characters from Cartoon Network's We Bare Bears, as well as movies screened by the beach after sundown. Have a mega fun time with a wide variety of free attractions such as Palawan Pirate Ship, Fort Siloso and Fort Siloso Skywalk, Sentosa Nature Discovery, and Animal & Bird Encounter. At Sentosa, there's a destination for everyone to relax and recharge.
Wind Down At Night Escape to the tranquil seclusion of Shangri-La's Rasa Sentosa Resort & Spa, Singapore's only beachfront resort — it's minutes away from attractions such as Universal Studios Singapore, S.E.A. Aquarium and iFly Singapore, and a short drive to the bustling city centre. After a long day of fun, reward yourself with a selection of international delights at its Casserole restaurant or an enticing buffet spread at Silver Shell Cafe. The excitement continues the next day with a variety of kid-friendly facilities at the resort, including an outdoor playground, splash pad and children's pool with water slides. There's also a kids club, which is divided into two sections — the Toots Club and the Mini Toots Club — to cater to children aged from five to 12 and those under five, respectively. Fully supervised, the Toots Club is headlined by its star attraction, a giant two-storey tree house slide, as well as a full-day programme that includes lunch and dinner. While the young are occupied, indulge your senses with a dip in the pool or a relaxing massage at CHI, The Spa. Families looking for an all-inclusive vacation can opt for the Family Fun Package, which includes access to the kids club for the little ones, and dining privileges with each stay.
SEE ALSO: Capella Singapore turns nine Following a $14-million update last year that added another Skyride and two new tracks — Expedition and Kupu Kupu ("butterfly" in Malay) — the Skyline Luge Sentosa is now better than ever. Luge along 2.6km of tracks through the sunlit foliage during the day, or opt for an experience like no other with the Night Luge, where each Luge track is illuminated with special lighting effects and sequences. What a spectacular way to breeze into a new day!
SEE ALSO: 7 ways to spend your nights at Sentosa