Styled on a fisherman's village of yore — intimately connected to the sea — the newly minted Kimpton Kitalay Samui incorporates storytelling into its design narrative to spectacular effect.
Located on a long and narrow plot of land on Choengmon Beach in the northeast of Koh Samui – a short, 10-minute drive from the airport – Kimpton Kitalay Samui is a visual feast from the moment you step into the lobby. Woven into every aspect of the resort's design, courtesy of P49 Deesign (yes, "design" with two e's), are clever references to the stories and culture of a typical fishing village formerly found on the idyllic island.
The double-tiered lobby itself stands on stilt-suspended platforms, entirely built from dark-stained wood. Gorgeous black-and-white tiling lines the long entranceway to reveal a dramatic view of the resort, lush palm-fringed landscape, and turquois-blue ocean beyond. Wherever you look, Instagram moments abound. The word "Kitalay" is derived from the Thai words for "song" or "singing" (kita) and "sea" (lay), an apt moniker for a laidback beachfront location where such a mixture of sensory delights is evoked.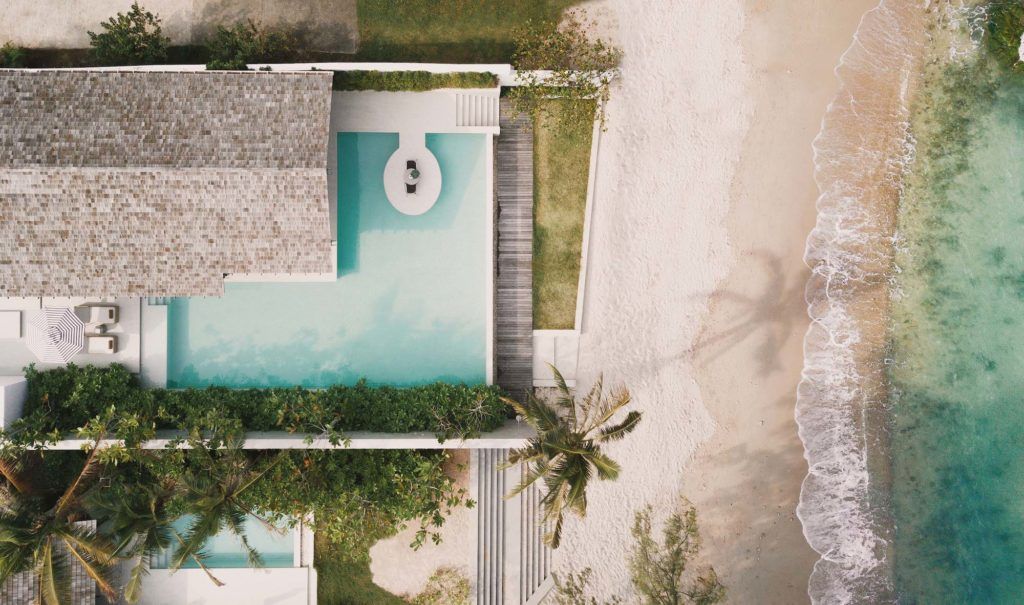 Rustic accents like elements made from repurposed driftwood and pieces by local artisans are fused with contemporary touches to create a relaxed, chilled-out resort feel, true to its roots. This is extended to the earthy hues and wave-inspired furniture of the 138 rooms and pool villas which, incidentally, count among the most spacious on the island (ranging from 58-628 square metres). Thai basketry motifs on the bathroom floors, an oversize bathtub, and exclusive patchouli-scented bath amenities by Harnn make bath-time pure bliss, while the handwoven ocean-blue cotton robes were custom-designed by tailors on the island. All suites and villas offer open-plan layouts with large terraces, many with direct pool and beach access, as well as glorious sea views.
A highlight of the accommodation inventory is the 21 garden and oceanfront villas. Of these, the 20 one-bedroom villas range between 171-224 square metres of living space, while the Two-Bedroom Villa Kitalay, housed across three separate buildings, measures in at a palatial 628 square meters. This (villa) and several of the other villas have direct beach access.
The plethora of sensory and visual delights also extends to gustatory experiences, with no less than five distinctive restaurants and bars providing irresistible culinary curations from day to night, beach to bar.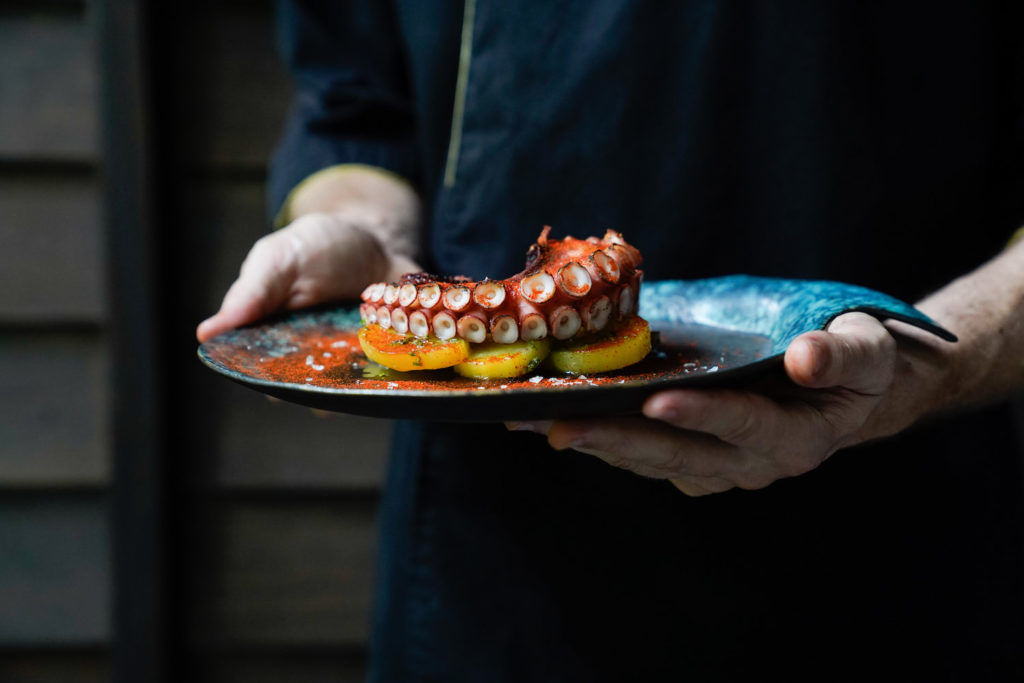 Lanai is a one-of-a-kind lobby bar, inspired by travels through the origins of coffee, tea and spirits. At the core of its concept is the crafted spirits bar, where treasured end-of-day rituals of perfectly prepared tipples and night caps take place. Boho is a Thai-inspired, all-day lifestyle café set in a botanic-inspired gallery featuring local contemporary Thai arts, lifestyle handicraft and florals. Breakfast here, especially the corner with Thai and southern favourites, is an occasion to look forward to each day (the soft-shell crab eggs benedict is not to be missed!).
Shades, with its vast cocktail menu, is positioned at the oceanfront pool, where different day and night activations make the most from its hip beach club vibe. Then there's Fish House, a beach house-style restaurant specialising in seafood and fish – from classics to modern favourites, while Hom Baking Company is an all-in-one bakery, café and deli that's popular for take-aways.
For leisurely pursuits, Pimãanda by Harnn is a serene and tranquil enclave offering personalised spa experiences, but what's really impressive is the 500-square-metre Kids Club, a fun an interactive space that puts the spotlight on facilities and programming activities that inspire learning and exploration.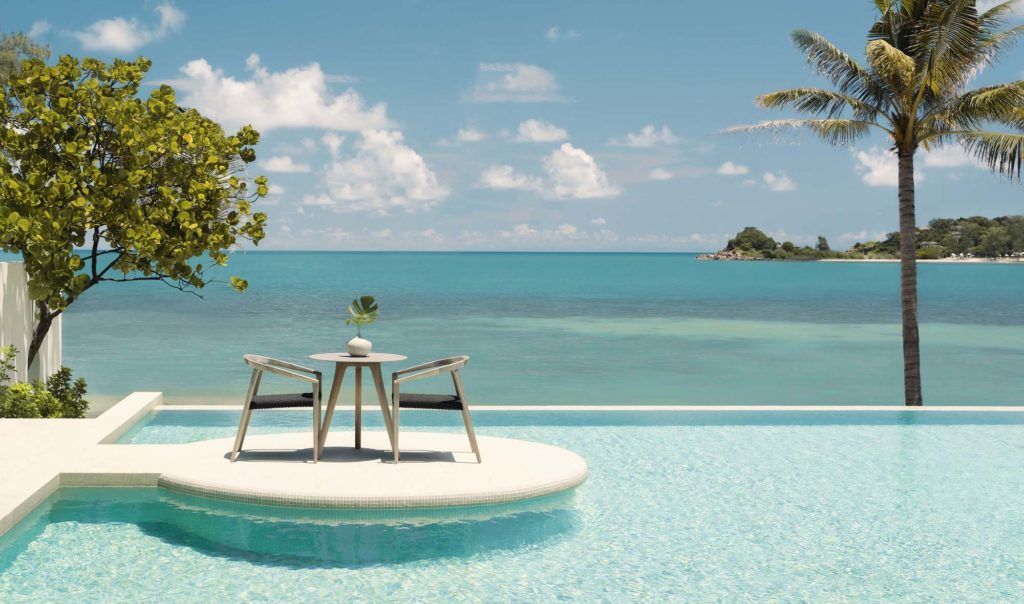 My personal stand-out was the oceanfront pool villa itself. Not only was it one of the most spacious I have seen in a long time, but the exquisite interior with its earthy palette, contemporary touches, and thoughtful layout had me head over heels. Built around a big tree in an open courtyard, the two-part building consists of a ginormous bathroom and outdoor shower to the one side, while another door leads to an equally roomy guestroom, with sliding doors opening up to a sparkling private pool. The pristine beach is just a few steps away, making it the kind of pool villa that means checking out is the hardest thing to do.
A stay at Kimpton Kitalay Samui proved to be all the laidback R&R needed to escape from a hectic city life – ensconced in a stylish island home.
To find out more about Kimpton Kitalay Samui, visit ihg.com/kimptonhotels.