Prestige heads down south for a first look at the exciting new Meliá Koh Samui — here's what it's really like to check in for a stay.
Meliá Koh Samui is the island's snazzy newcomer who believes that tropical getaways should be all about poolside parties with an abundance of both food and champagne. The first Thai-based property from Spanish hotel brand Meliá, this recently-opened resort takes up an impressive stretch of land along the idyllic Choeng Mon Beach, barely five kilometres from Samui Airport.
While its award-winning Spanish roots are very much apparent – the Mediterranean cuisine on offer, for one, is definitely not to be missed, though we'll get to that later – even more charming are the subtle celebrations of the island's traditions and long-standing marine heritage. This is perhaps most apparent in the recurring nautical theme, that gives the resort an extra touch of personality. In the airy lobby, the ceiling is made from a repurposed boat hull, while various decor elements pulled from existing boat parts give a nod to the property's history as a former imperial boathouse.
The resort is also dotted with fascinating "boat suites", including the Level Boat Suite with Pool Access, and the Level Boat Suite Seaview. These elegant two-storey structures are crafted from traditional, century-old Thai-Chinese teakwood vessels, offering a seamless marriage of contemporary design and references to the local culture. Inside, you'll find a bathroom and shared area on the lower deck, and a bedroom spanning the more private upper level. You wouldn't think it, but these units are surprisingly spacious – even the bathrooms are impressively vast – while the outdoor area and private balcony makes for an ideal family-friendly choice.
We check into a Premium Pool Access Room with a spacious outdoor terrace offering direct access into the resort's meandering loop pool. A king-size bed and entertainment centre dominates the centre of the room, which is tastefully decorated with dark wood finishings juxtaposed against bright, earth-tone hues. Outside, the lush greenery offers ample privacy, but once you're in the loop pool you'll find yourself very much connected to the vibrant heartbeat of the entire resort. As you float along its winding curves around the property, keep an eye out for the water slide, trampoline, and a boat-vessel-turned-Kid's Club – a reminder that families with children are more than welcome here. In addition, the large meeting rooms and shared areas also make Meliá Koh Samui ideal for corporate retreats, large-scale events, and lavish soirees.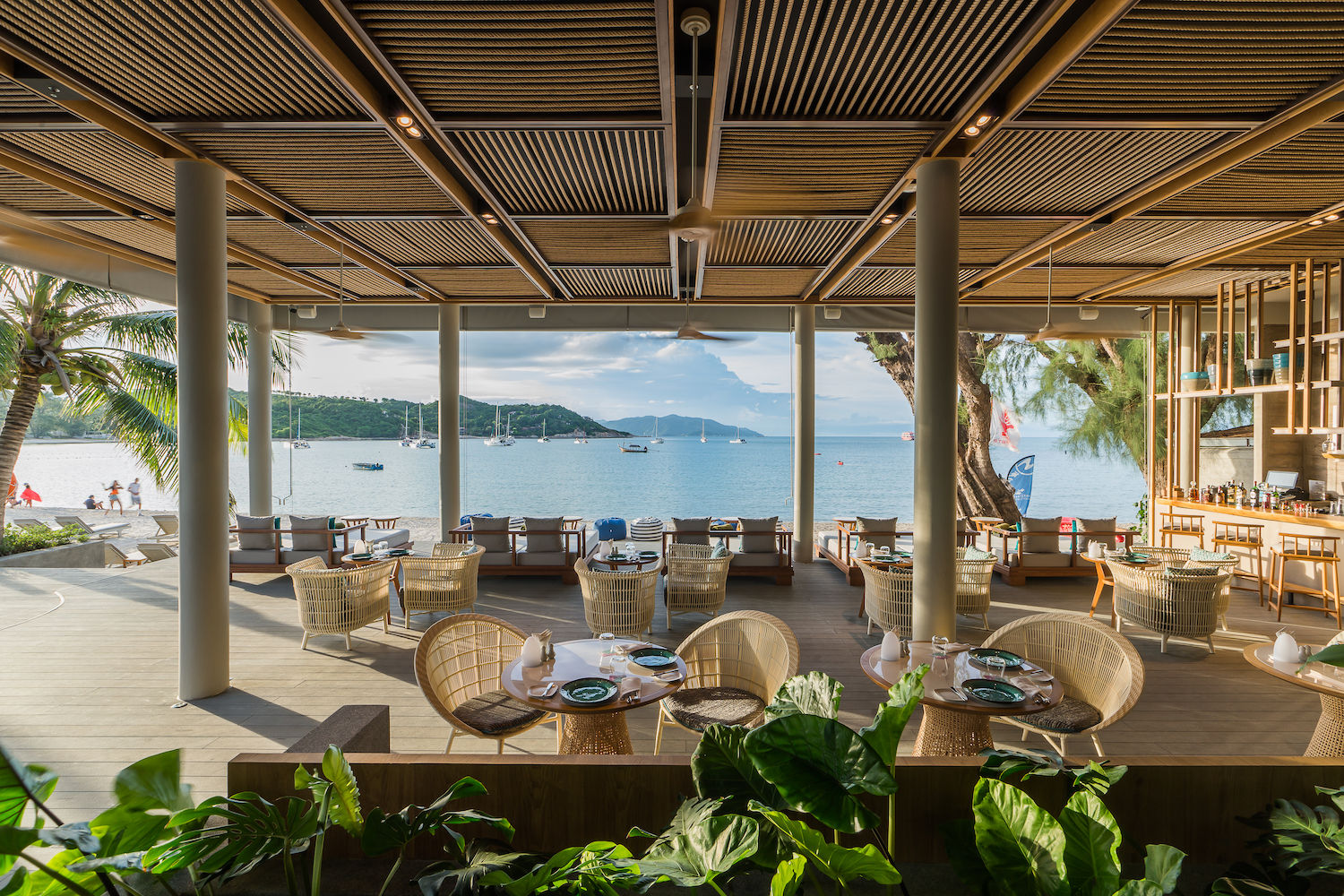 Our first day begins with breakfast by the beach at the seaside restaurant Breeza. Nestled in that sweet spot between the large central pool and the vast ocean, the menu here centres around Spanish delicacies and international cuisine, made using fresh, locally-sourced ingredients. We love the unlimited à la carte selection, and giddily pick from the charming trolley of cold cuts that comes by every so often.
For lunch, we're taken on a mini excursion via a luxury speedboat to Koh Tean, made possible by the resort's partnership with Oceania Samui. With absolutely beautiful, pristine beaches and soft, clear sand, Koh Tean is one of those hidden gems in southern Thailand that seasoned travellers stumble upon and try to keep secret (to prevent excessive tourism from staining its natural charms). Along the beach, we find a delightful picnic spread prepared for us by the Meliá Koh Samui team who are already there waiting with a delectable BBQ grill, as well as wines and bubblies at the ready.
On the way back, we make a pit stop out at sea for some snorkeling around the islands, and it's amazing to see the corals thriving beneath clear waters. If anything, these little signs of the earth gradually recovering amidst the pandemic serve as piquant reminders of the changes we as travellers should make once all this confusion is behind us.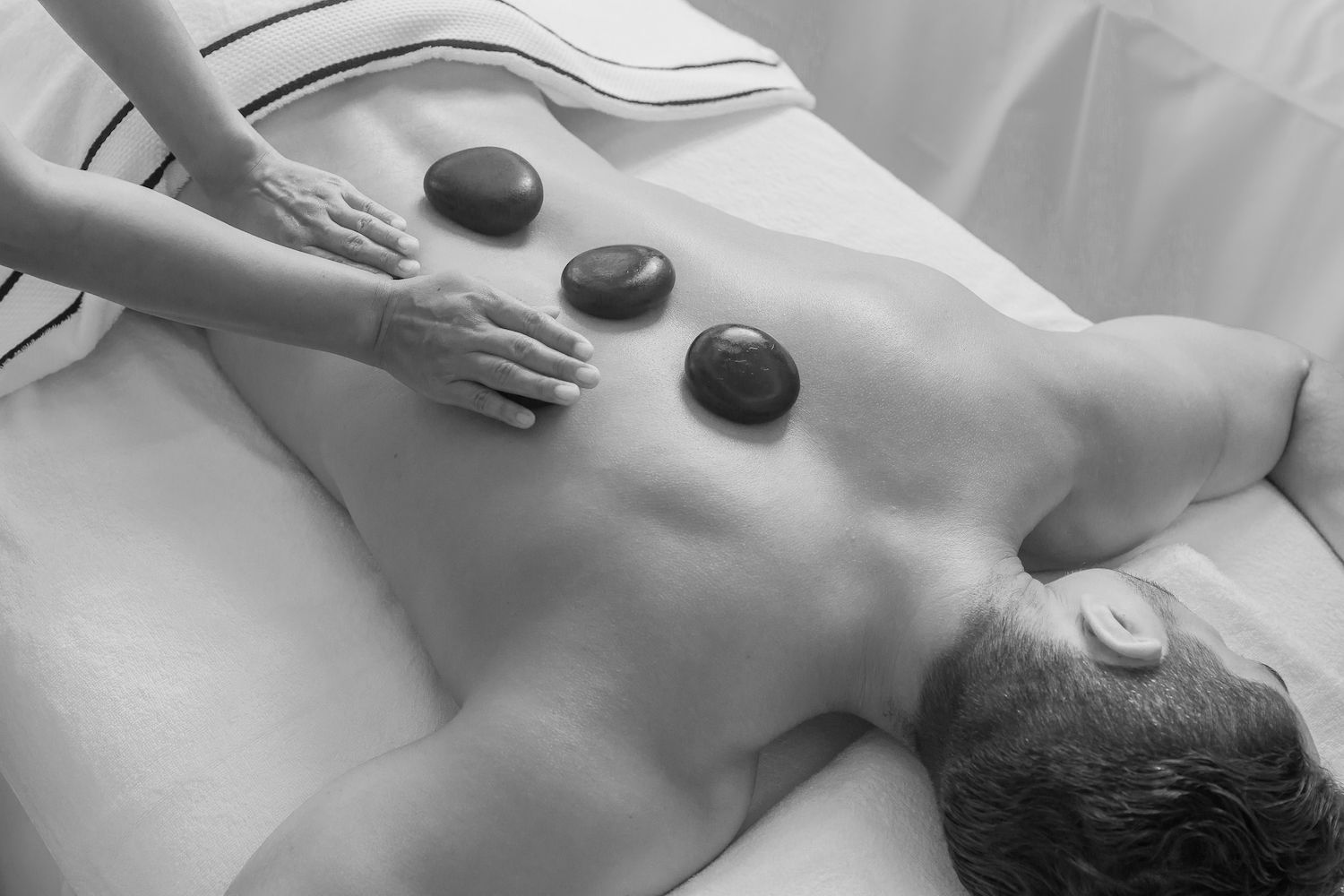 Upon returning to the hotel, we're pleasantly surprised to see we'd made it back for golden hour, at which time children gleefully head to the poolside to the complimentary cotton candy station the hotel sets up every day. These pre-evening moments, just before the sun dips beneath the sea, are best spent by the pool, lounging atop the floating lounges, or having a go at one of the water activities on offer along the private beach area.
For those of us who love to be wholeheartedly pampered, there is a spa on-site, located past the tropical gardens next to the cutting-edge fitness room. Dubbed YHI Spa, treatments here run the gamut from classic massages, to wraps, scrubs, and facials; all of which draw from ancient rituals, but with a contemporary twist.
As life at the Meliá is all about indulgence at its finest, we head up to The Level Lounge for a round of sundowners before dinner. An additional benefit for guests staying at The Level rooms and suites, The Level Lounge offers more personalised services, ranging from private check-ins, to a separate set of daily à la carte breakfast options and an all-day open bar. It also offers a series of comfortable, intimate corners for tête-à-têtes, not to mention an incredible view over the property and the white-sand beaches surrounding it.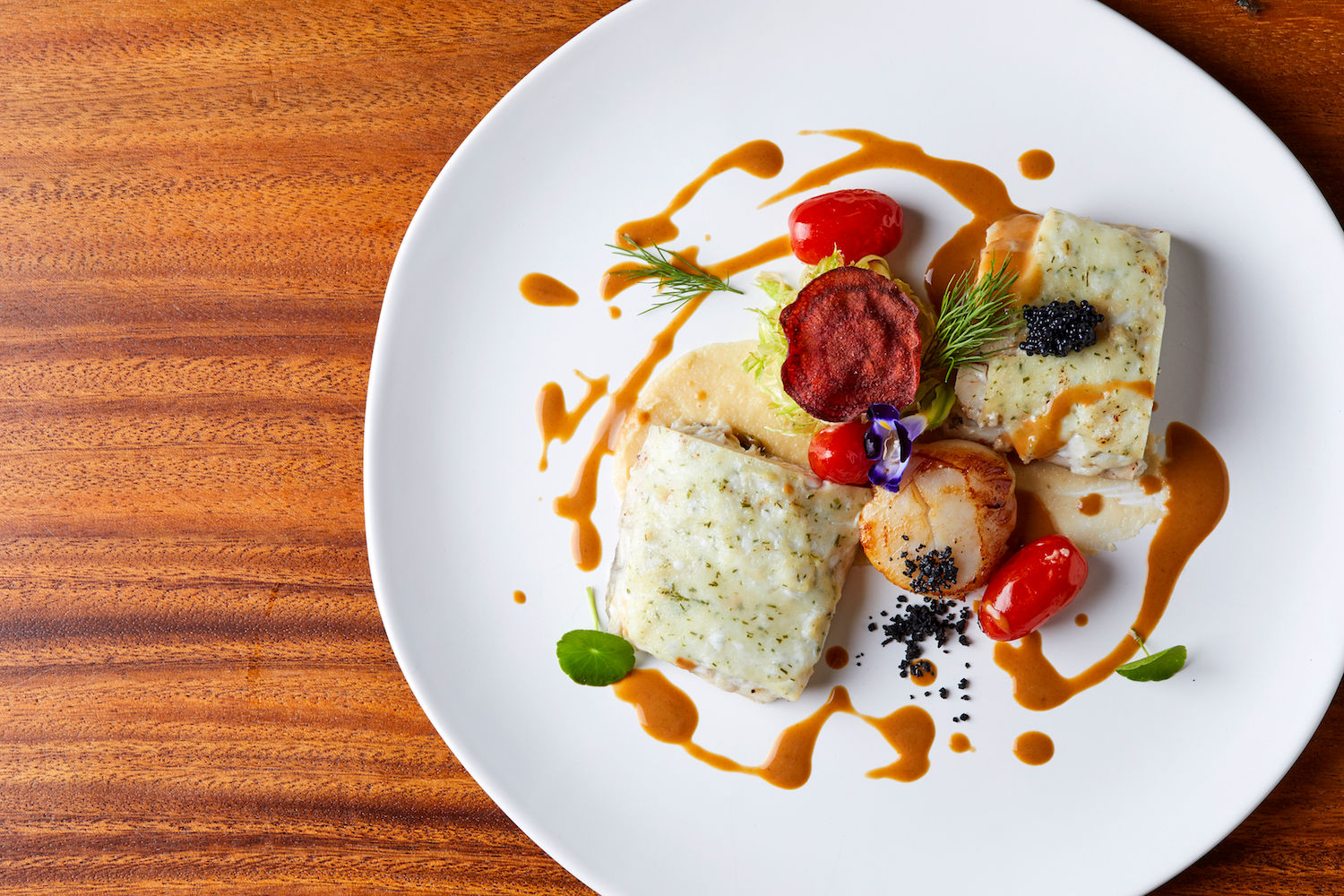 Dinner itself is served downstairs, at KoKo Kitchen. At this lively, all-day dining destination the options are widely diverse, with a very welcome appearance of Spanish dishes alongside beloved local staples. From massive pans of paella, to absolutely divine servings of Iberico ham, the Mediterranean flavours are bountiful and memorable. Add to that the selection of Spanish wines, and you've got an ideal spot for unforgettable gastronomic experiences – from close-knit dinners to merry family feasts.
When it's finally time to check out, we're left both satisfied and mentally rejuvenated. The pandemic has quite visibly changed the way we approach travel, and while we do wistfully miss the days spent traversing freely across borders, if anything, the current travel restrictions have given us the rare opportunity to turn our gaze inward, and look at the modern luxury experiences on offer closer to home – of which, it turns out, we have plenty.
For those interested in a weekend getaway to the island, Bangkok Airways has launched additional flights between Bangkok and Koh Samui, with 10 round-trip flights operating daily on this route. Visit bangkokair.com to find out more.
To book your stay or find out more about Meliá Koh Samui, visit melia.com.