The recently opened Banyan Tree Krabi brings a whole new level of luxury to this picturesque southern province.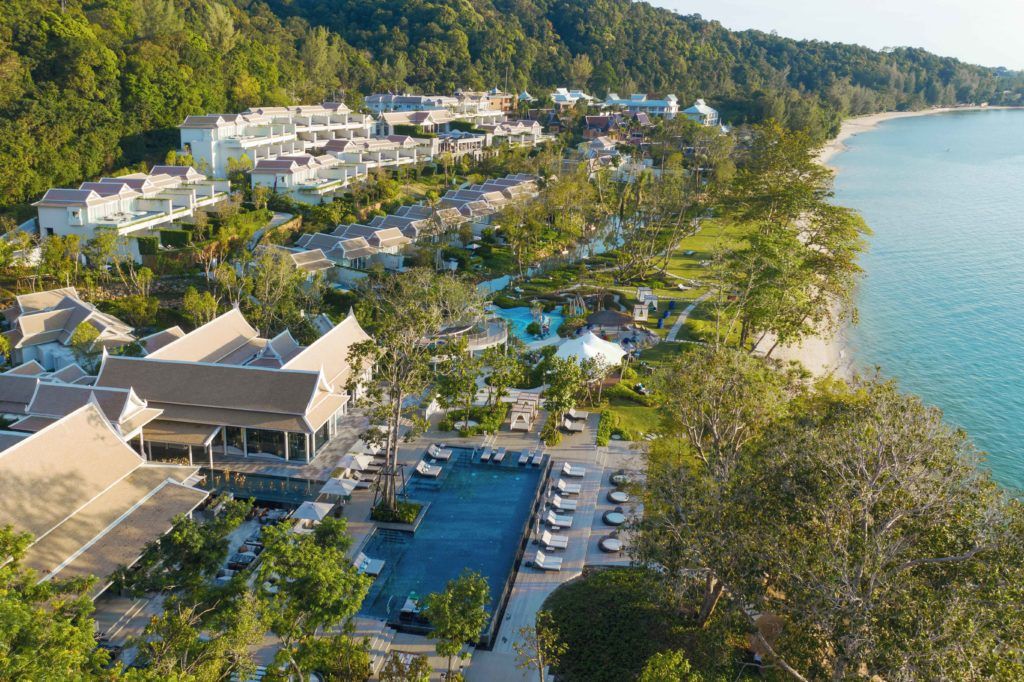 Krabi's spectacular natural landscape – which most famously includes pristine white sand beaches and picturesque limestone karsts rising from turquoise ocean waters – as well as its famed southern Thai culinary culture, are just two of the reasons why travellers keep returning to this region of southern Thailand.
Whether you're seeking an adventurous holiday with a group of friends, or just pure relaxation in a luxurious villa with your loved ones, this tropical paradise offers something for everyone, even the most discerning. And with the recent opening of Banyan Tree Krabi, we've been given yet another reason to visit the 'Emerald of the Andaman'.
This 72-key beachfront property has been welcoming guests since October last year, and is the first five-stars resort to open in the province in over a decade. It's an ultra-luxury oasis fanning across 10 acres, teeming with lush natural reserves – including protected national and marine parks – and the towering mountain-scapes of Hang Naga and Ngon Naga.
Nature and architecture closely intertwine at Banyan Tree Krabi, and these characteristics most beautifully converge in the grand lobby, where an infinity pool cascades as a waterfall into the level below – mimicking the water that flows down from the mountains. The elevated, open-plan layout forms a natural frame for the breathtaking limestone karsts in the distance, resulting in a "wow" moment every time one arrives here.
Banyan Tree Krabi provides a sense of place that conveys an authentic narrative about its location, which is woven into the very fabric and design of the resort. Architectural elements take inspiration from the Naga, the historical legend of the Serpent King who was said to inhibit these areas. The scales and the rectilinear movements of the serpent are interpreted in the floor and wall textures, as well as in the carpet and upholstery patterns.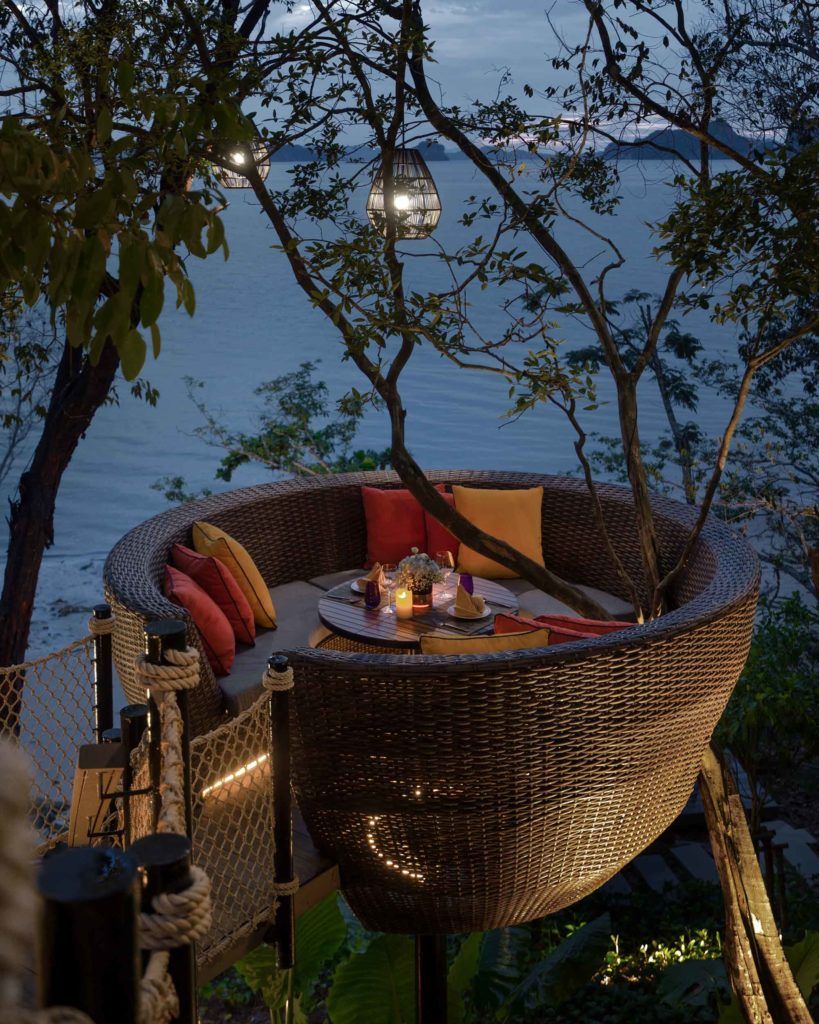 Classic southern Thai touches are also interspersed throughout, appearing in the pitched roofs, batik prints, and weavings. An interesting art feature found throughout the property, in both suites and public areas, are the green, emerald-like rough stones which are used to create stunning chandeliers and light fixtures.
In addition to four dining destinations, events and banquet facilities, a beach club, and a spa and fitness centre, the resort is also home to an array of luxurious suites and villas. Across six categories, the suites range from the 99-square-metre Deluxe Pool and Premium Ocean Pool Suites, to the 205-square-metre, two-bedroom Family Ocean Pool Suites. Meanwhile, the three beachfront villas range from 176 to 387 square metres in two- or three-bedroom configurations, complete with separate dining, living and terrace spaces.
The crown jewel, however, is the Presidential Villa, which is a palatial 1,240-square-metre haven, offering seven bedrooms, saltwater pools, and many more unique amenities.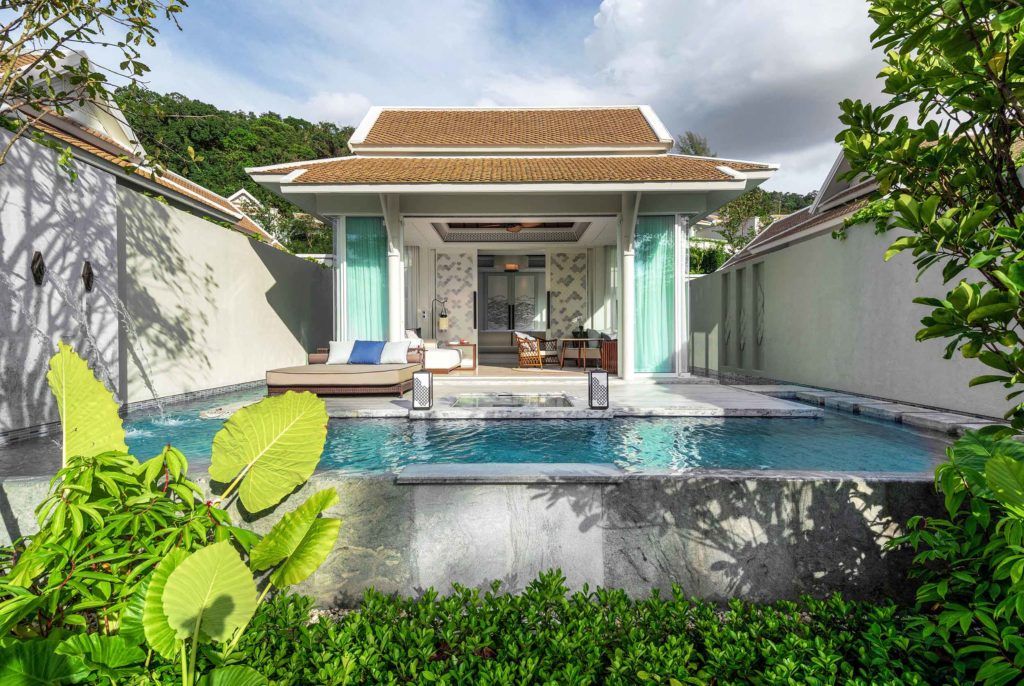 Upon checking in to my Premium Ocean Pool Suite, I find it's a sophisticated space that effortlessly blends the best of nature and luxury. Design details and elements from the Naga theme trickle into my living and bedroom space, including the walk-in closet and the expansive en-suite with double vanities and a terrazzo tub. The bedroom flows out into a private infinity pool, sun deck, and separate jet pool, all of which embrace a majestic panorama of the Andaman Sea.
Also worthy of praise are the resort's dining destinations, namely The Naga Kitchen, Kredkaew Bar, and the signature Saffron Thai restaurant. But for a truly unforgettable meal, the 'Bird's Nests' offer private tables, styled as nests, that are perched among the treetops. And while virtually every corner of the resort offers an impressive view of the ocean, the lookout from the Sunset Wedding Deck is completely unrivalled.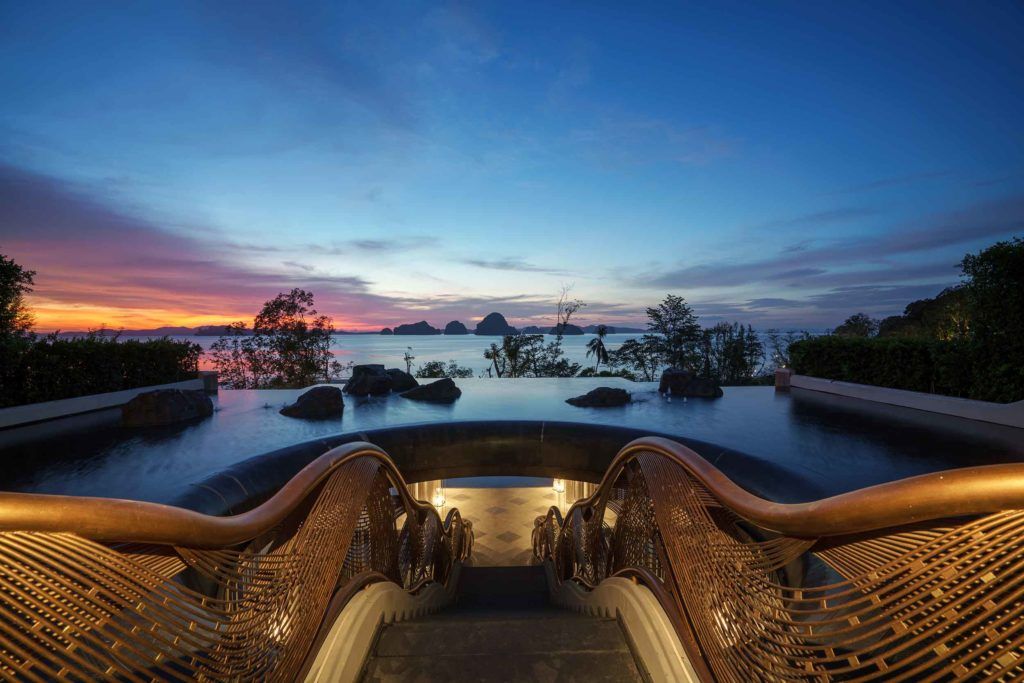 Banyan Tree Krabi also positions itself as a wellness destination, and therefore puts emphasis on the health and wellbeing of guests. A great way to experience this is via a visit to the spa, where a bevy of holistic beauty and massage treatments, as well as the resort's signature Rainforest hydrothermal therapy, await.
An experience in its own right, the 60-minute Rainforest treatment allows guests to indulge in a range of state-of-the-art hydrothermal facilities that include an aroma steam room, Finnish sauna, ice fountain, Rainforest walking trail, and four temperature-controlled vitality pools. For maximum wellness benefits it's recommended to alternate between hot and cold facilities, each designed to soothe and revitalise different parts of the body.
Banyan Tree Krabi offers an extraordinary sense of tranquility, immersed in unspoilt natural surroundings and complemented by all the hallmarks of the brand's signature hospitality and warmth.
Getting There
For those planning a trip to Krabi, we recommend flying VietJet Air, which operates four scheduled daily flights from Bangkok's Suvarnabhumi International Airport.