One of the most eagerly anticipated restaurant openings of 2021 in Bangkok was the Le Normandie by Alain Roux, which began welcoming guests in the first week of December. Prestige stopped by for a magnificent midday meal, and an interview with the award-winning restaurateur himself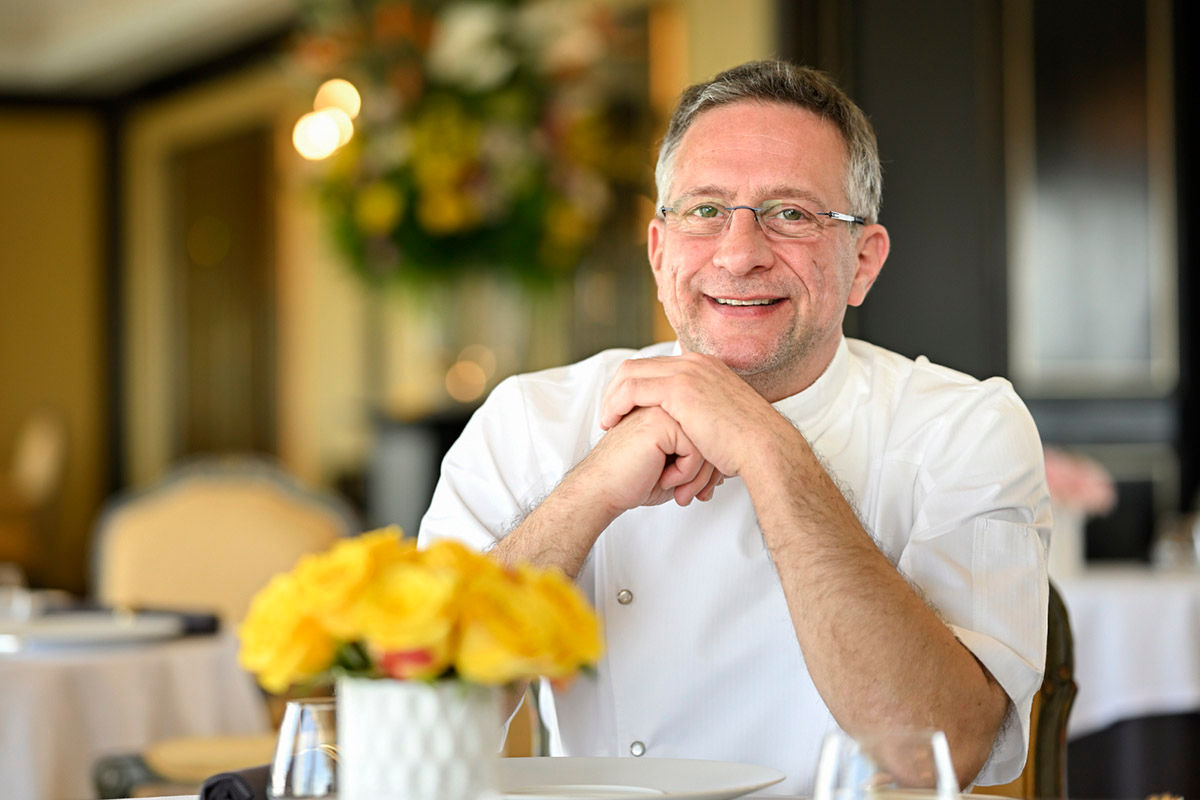 When it was announced in late 2021 that Le Normandie, the Mandarin Oriental Bangkok hotel's two-Michelin-starred French restaurant, was set to relaunch as Le Normandie by Alain Roux, the city's culinary community began booking tables immediately. As such it was quite a treat to secure a lunchtime reservation on a sunny Wednesday afternoon in early December, and it was even more of a treat to have the opportunity to converse with Chef Alain Roux about his association with Le Normandie – both past and present – while he was in town to oversee the launch of this eagerly anticipated collaboration.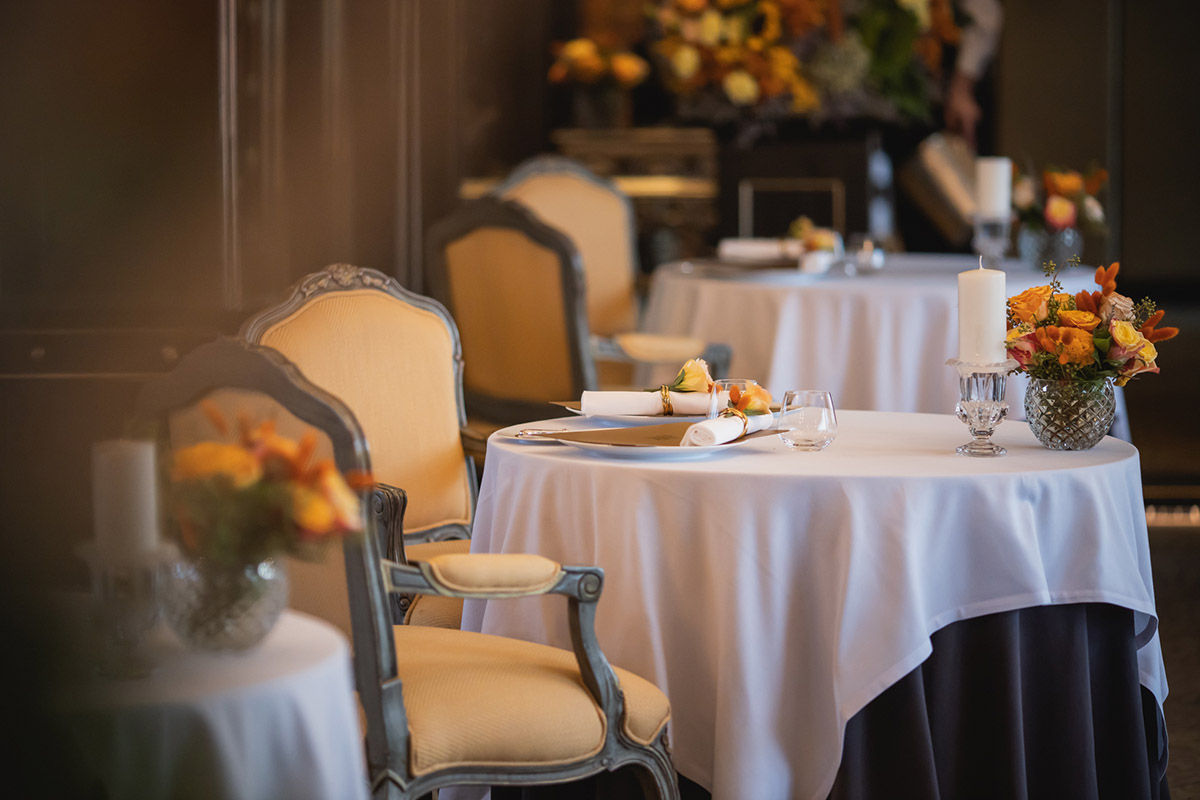 For anyone unfamiliar with the Roux family, Alain's father, Michel Roux (OBE), was the legendary French chef and restaurateur who, together with his brother Albert, opened Le Gavroche – which went on to become the first three-Michelin-starred restaurant in Britain. In 1972 the brothers then opened The Waterside Inn, which also boasts three Michelin stars and in 2010 made history as the first restaurant outside France to retain all three stars for 25 years. For the past decade or so Alain has held the title of chef patron here, and he now brings this considerable legacy to Thailand's capital, as the new Le Normandie has been reborn as something of a sister restaurant to The Waterside Inn.
"It's very exciting," Alain says of the new venture, adding that it's something he wishes his father – who passed away in the spring of 2020 – could have been alive to see. "My late father and I have shared a long association with the [Mandarin Oriental] brand and particularly this hotel. This partnership is something he and I would have loved to do together. This was my first thought when I was invited to become involved with Le Normandie; that it was the fulfillment of our special dream."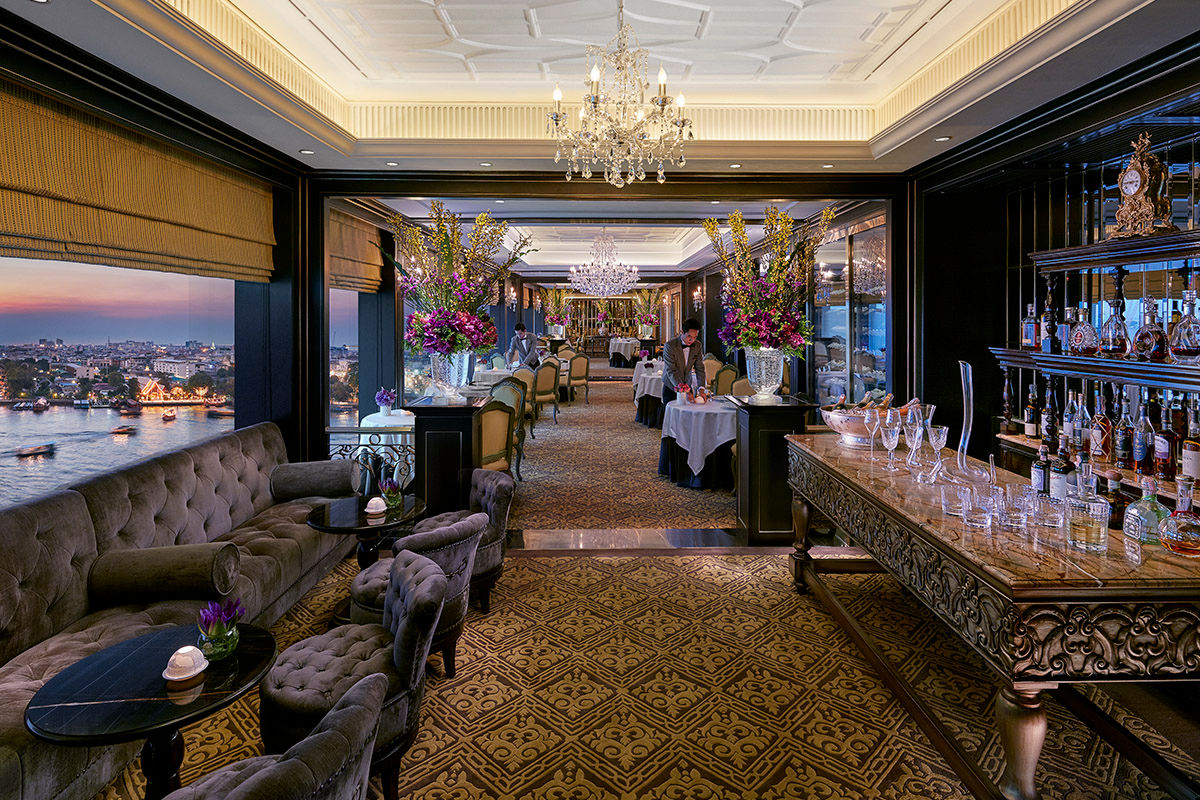 Michel Roux made his first appearance as guest chef at Le Normandie back in 1985, and since these special gourmet events always sold out, he was invited back on numerous occasions. What's more, he enjoyed these overseas visits immensely. "My father shared his great passion for Bangkok and Le Normandie with me," Alain recounts. "He loved this city's markets, the street food… it was heaven for him."
For diners already familiar with Le Normandie, it may appear at first glance that this new iteration is not much different than what came before. The restaurant's stately, elegant interior remains unchanged, and diners are still afforded magnificent views of the Chao Phrya River, as well as top-tier attention to detail when it comes to service and presentation. The menus, however, represent a totally new approach, with a number of signature dishes imported fully intact from The Waterside Inn, and others created – or modified – especially for the new venue.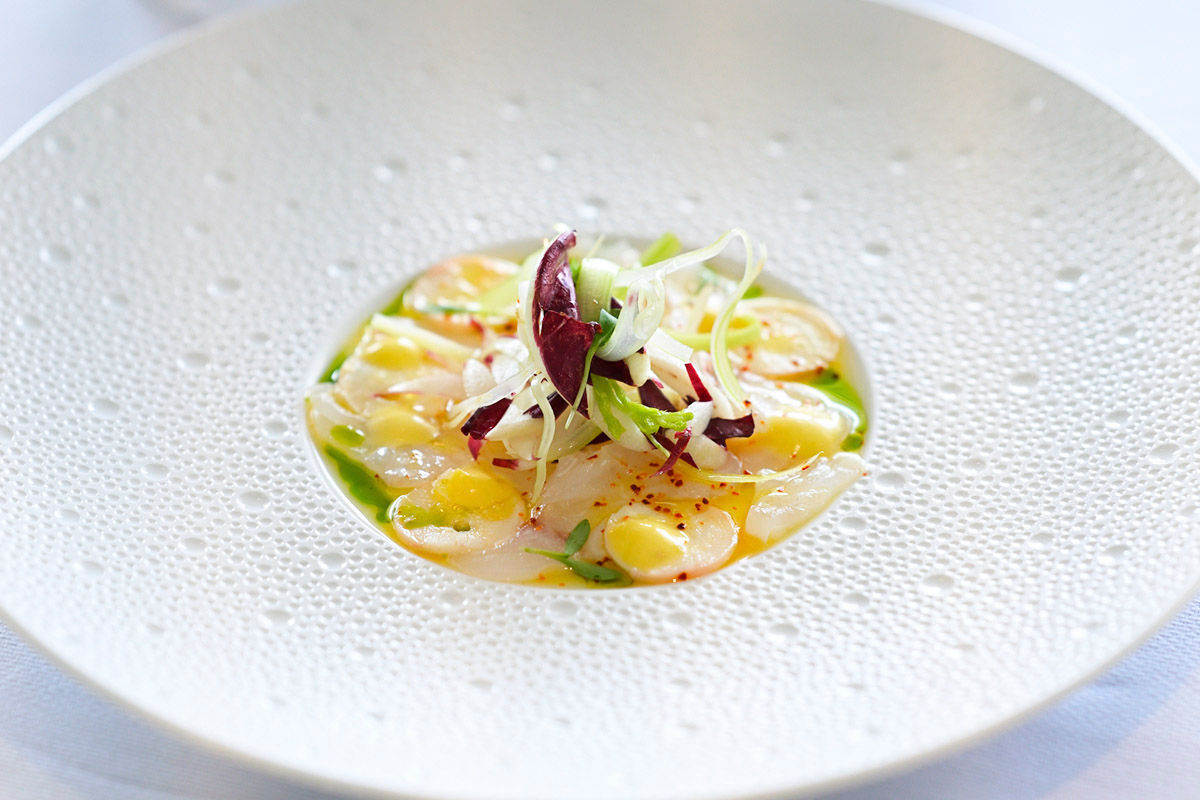 For my meal I have decided on the seven-course (with cheeses) 'Le Menu Exceptionnel' (THB 7,300++), which begins with a pair of bite-size amuse bouche items: a chickpea puff with tarragon mayonnaise, and morsel of duck leg confit with a wonderful raspberry dressing and green peppercorns. Three-, four-, six-, eight- and nine-course versions of this menu are also available – depending on the day of the week and time of visit – and ordering à la carte remains an option as well.
The amuse bouche segment continues with a Brittany oyster (No. 4) on the half shell, paired with cucumber gelatin, salmon roe, and pickled onion. It's another one-bite delight. This is followed by a superb sea bass and octopus ceviche, wherein delicately thin slices of the two sea creatures rest in a tart passionfruit juice, with a shredded vegetable salad topping adding some crunchy texture. Through it all it's the individual flavours that stand out, with no need for dry ice distractions or complicated frothy foams.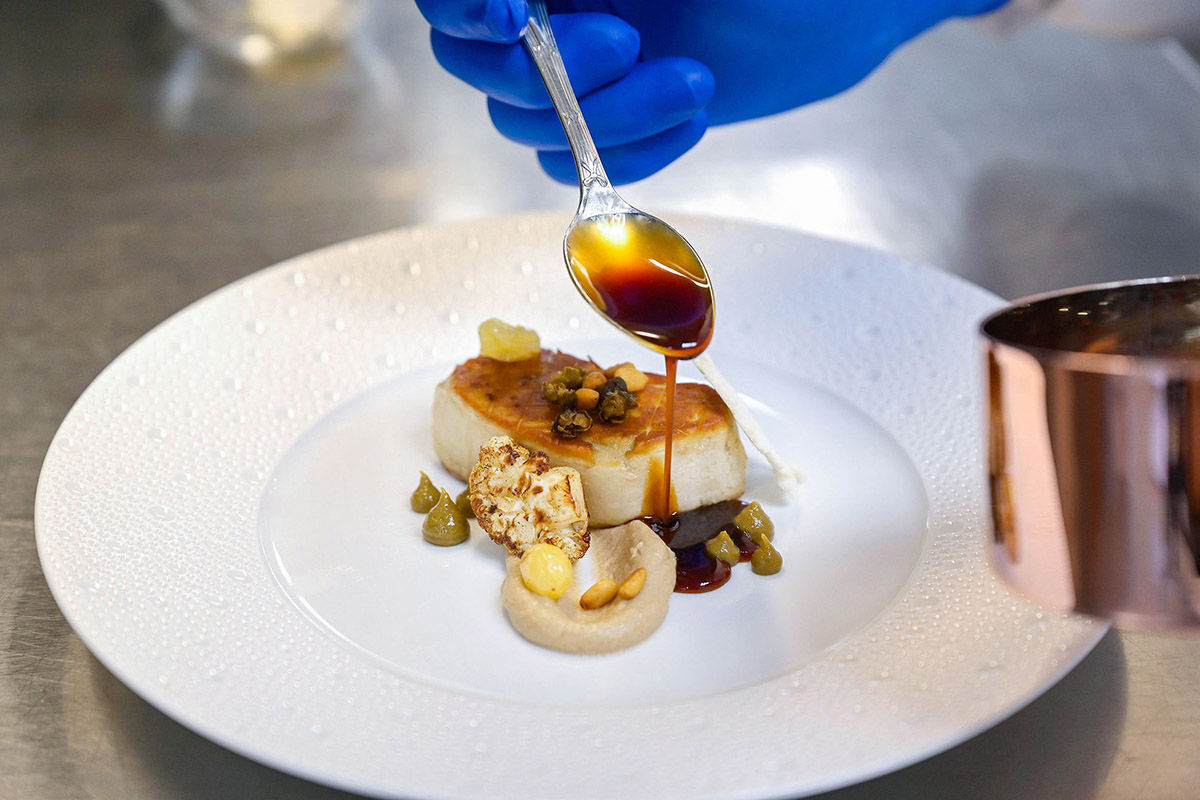 "My philosophy is very simple," explains Alain. "As a cook, I respect the quality of my ingredients before anything else. I let Mother Nature be my guide, and believe that we are only ever as good as our last meal. As a restaurateur, I aim to demonstrate the warmth of service and subtle attention to detail that represents the timeless, quintessential Waterside Inn style."
This talk of the "quintessential" is the perfect precursor to the next course: sumptuous pan-fried foie gras served with pine nuts, capers, raisin, cauliflower slices, potato truffle, and a Gewürztraminer sauce. It's rich without being heavy, sweet without being unctuous, and the range of diverse flavours work to complement one another, with nothing out of place. This particular dish, incidentally, comes directly from The Waterside Inn menu, and exemplifies why that restaurant has been in Michelin's good books for so long. In fact, it's the only restaurant outside of France to have retained three Michelin Stars for 38 consecutive years – an absolutely extraordinary achievement!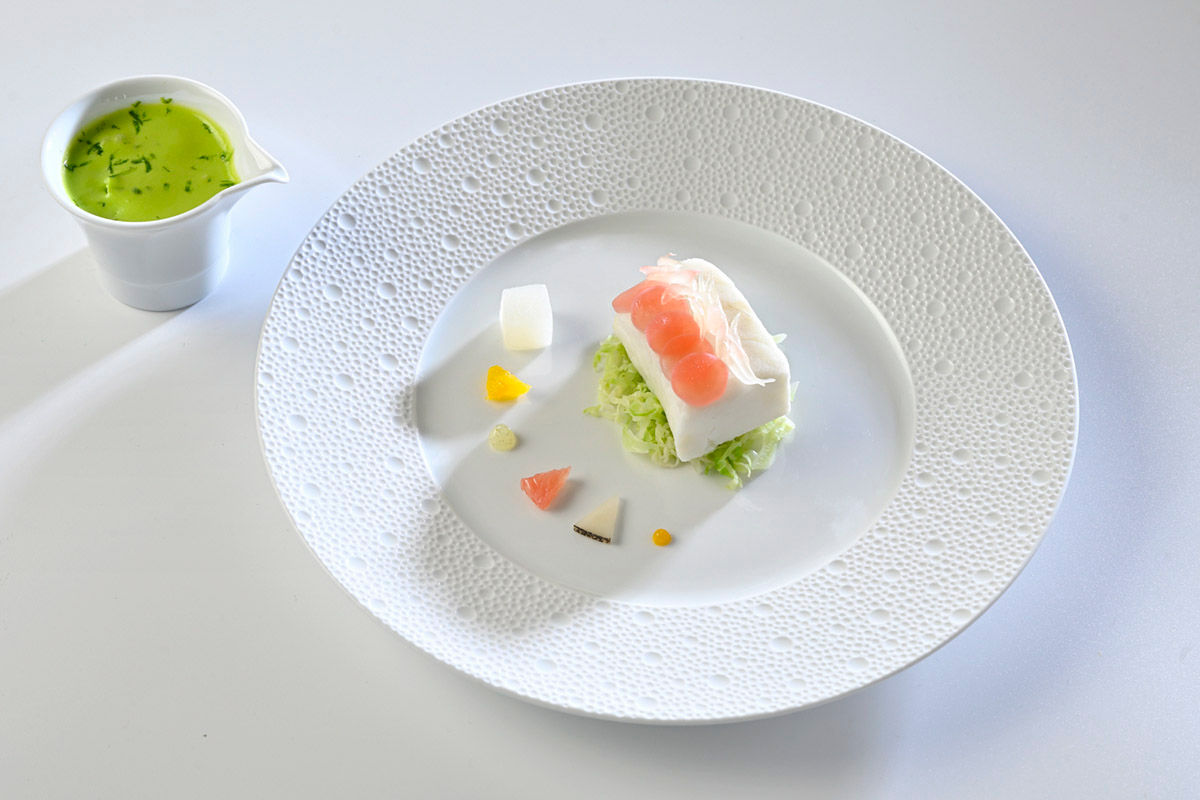 The next course, meanwhile, illustrates how local Asian flavours can be expertly incorporated into classic existing recipes. On a wide white plate sits a tender portion of poached halibut filet, topped with a spoonful of creamy vodka lime sauce and accompanied by pickled radish and Thai pomelo (which replaces the grapefruit used in the UK).
"I am inspired greatly by the fabulous locally sourced bounty of Thai fresh ingredients, including vegetables, fruits, aromatic herbs, and spices," the chef admits. "My menu will feature as much of this lovely produce as possible, for example delicious locally grown rice, pineapples, and coconuts. We have worked hard to present an interpretation of classic French cuisine, but I'll sneak in a few Thai ingredients here and there, from land and sea."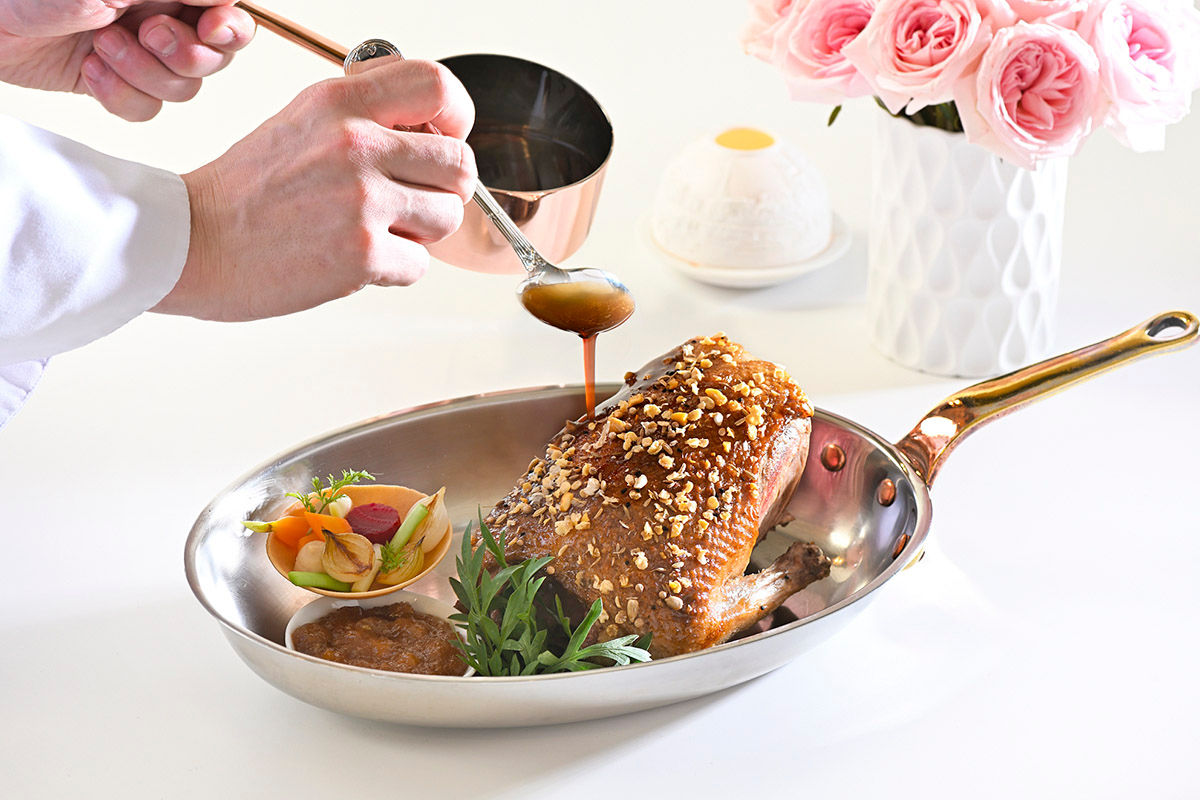 The meal continues with roasted Challandais duck, which is carved tableside with theatrical flourish by restaurant manager Federico De Luca – one of several key people on the new Le Normandie team who worked previously at The Waterside Inn. Topped with plum jus, the slices are artfully arranged on the plate alongside a dollop of plum chutney and a vegetable tartlet featuring beetroot, carrot, and onion.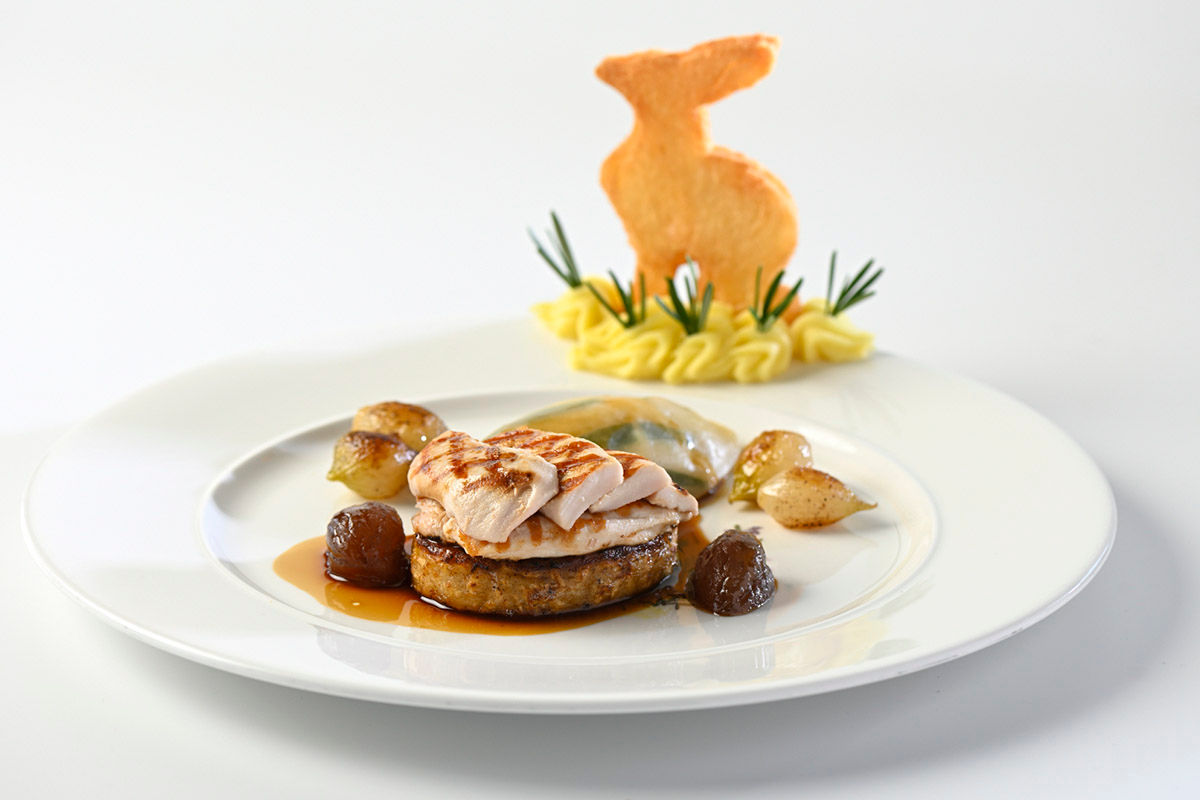 Before the mains give way to afters, I've asked to go off-menu and try one of the à la carte specialties: the famous grilled rabbit fillets (as finding rabbit on a menu in Bangkok is next to impossible). Here, tender slices of leg and loin sit atop a celeriac fondant, with a single ravioli – containing finely chopped leg, shoulder, and liver – off to the side. Rounding out the plate are delectable sweet glazed chestnuts in Armagnac sauce, and a decorative bunny-shaped toasted bread slice held upright in a fluffy squirt of mashed potatoes. It's no surprise to me that this delicacy has been on The Waterside Inn menu since day one.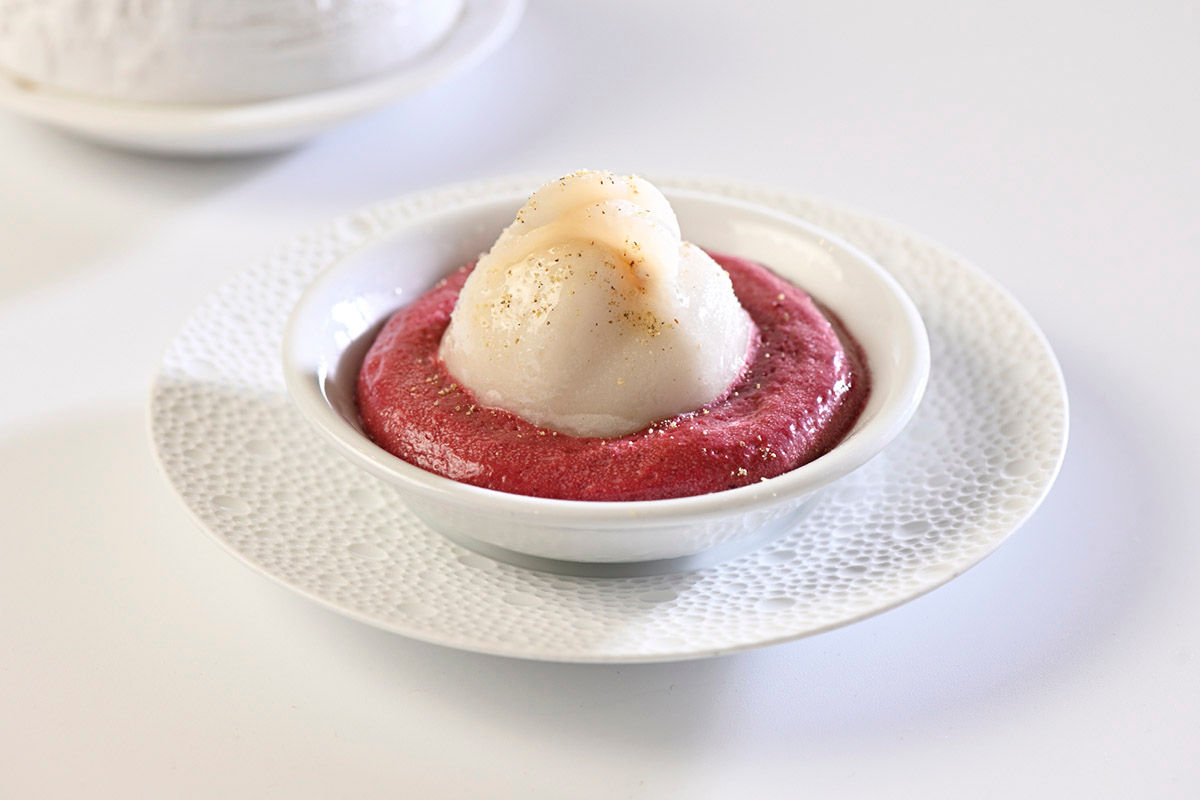 The meal winds down with a sampling of five imported French cheeses, followed by a lovely lychee sorbet and blackberry pre-dessert, and a lighter-than-air golden plum soufflé to finish. Through it all the expert five-glass wine pairing (THB 3,500++) by sommelier Antoine Simonnet has been first-rate, ending happily on a sweet note with a splash of 2018 Kracher Spätlese Rosé from Austria.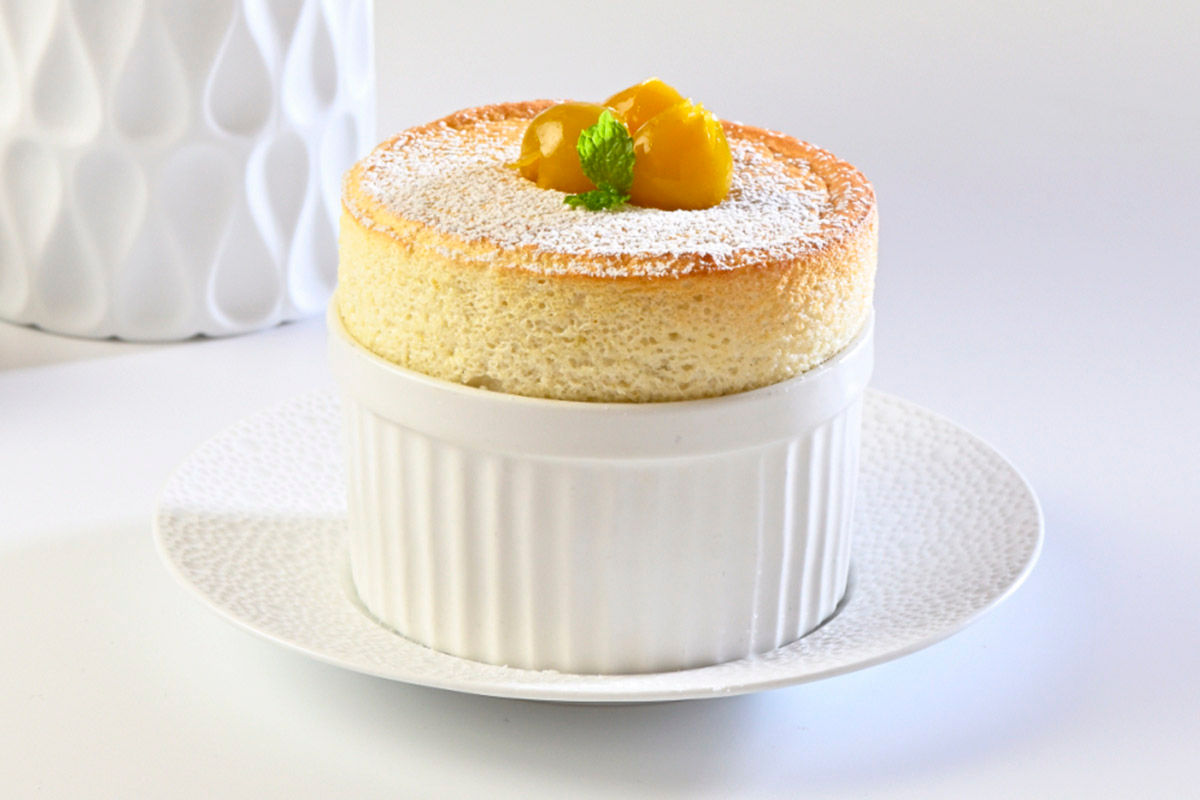 Before the meal concludes, Head Chef Phil Hickman stops by to say hello. This boyish, 33-year-old Welshman has been chosen to lead the kitchen at Le Normandie by Alain Roux, having worked previously at both The Waterside Inn, and the Brasserie Prince by Alain Roux at The Balmoral hotel in Edinburgh (unfortunately now closed due to the pandemic).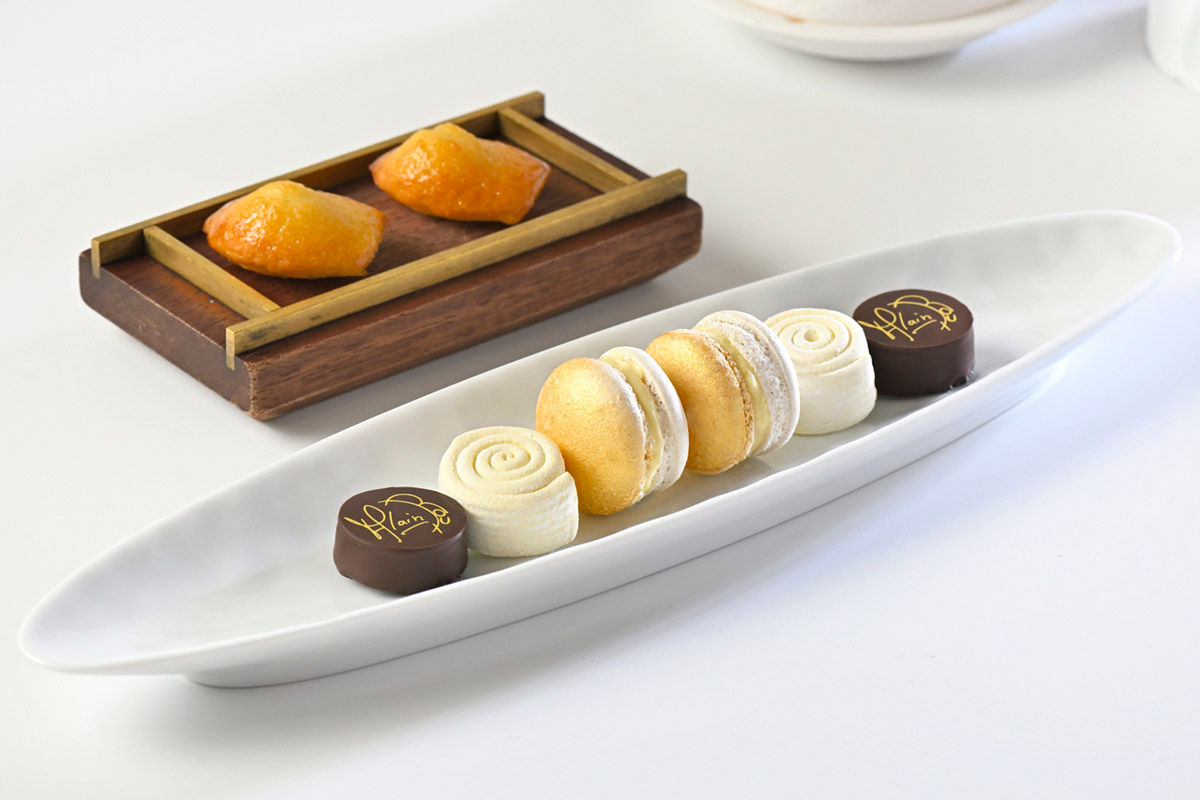 "I have every confidence in him, as well as his fellow talented team members," Alain remarks. "He shares my passion and excitement for this venture, and my dedication to complete quality without compromise. Plus, he loves Thailand and Le Normandie, having worked alongside my father and myself here for some promotions in the past.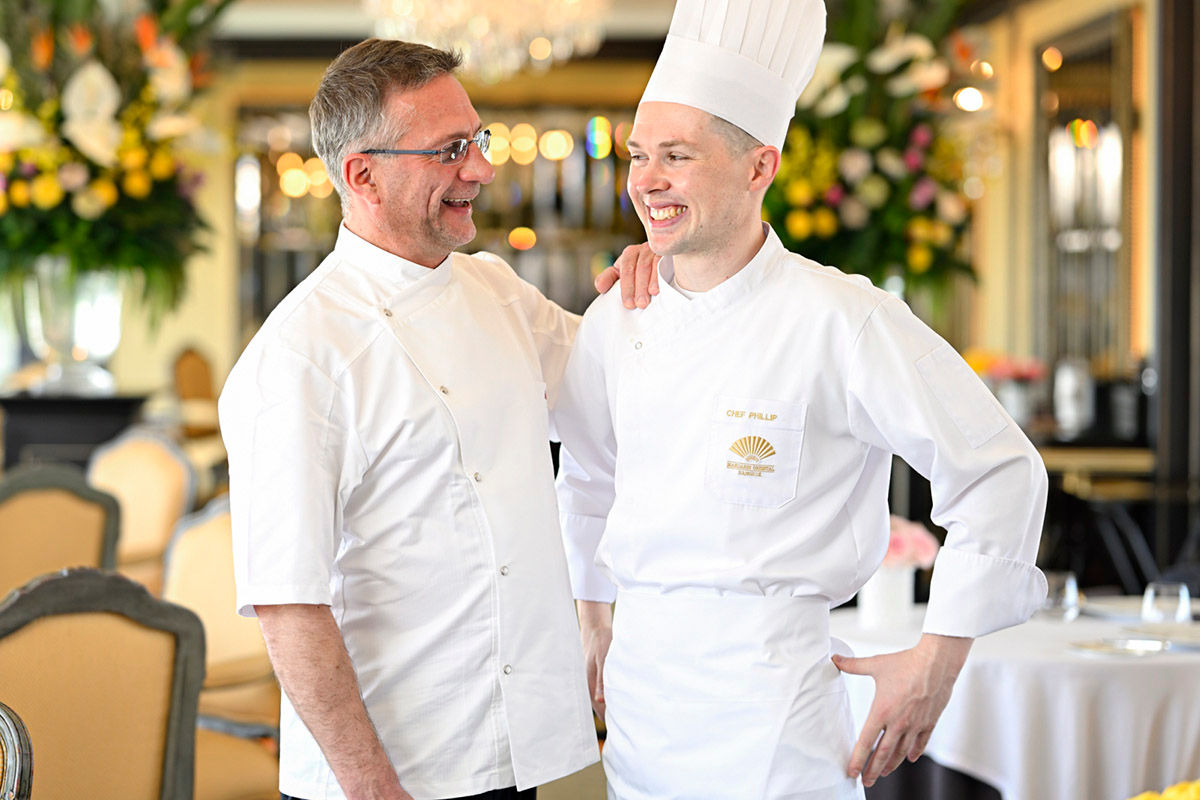 "Le Normandie will be my signature, a distillation of all that we represent at The Waterside Inn and all that I know and love about food, that has been little affected by time or fashion," he goes on to say. "I've never been so excited opening a new restaurant, but opening is the easy part. Consistency is the challenge. My father taught me that the key to creating a successful signature restaurant begins and ends with the guest. This will be our mantra, as true today as the day my father opened The Waterside Inn 50 years ago."
For reservation visit Le Normandie by Alain Roux.