The recently opened Contento Caffé e Cucina brings a taste of Italy to Bangkok's Old Town. Starved for international travel, Bruce Scott stops by for a lunchtime visit.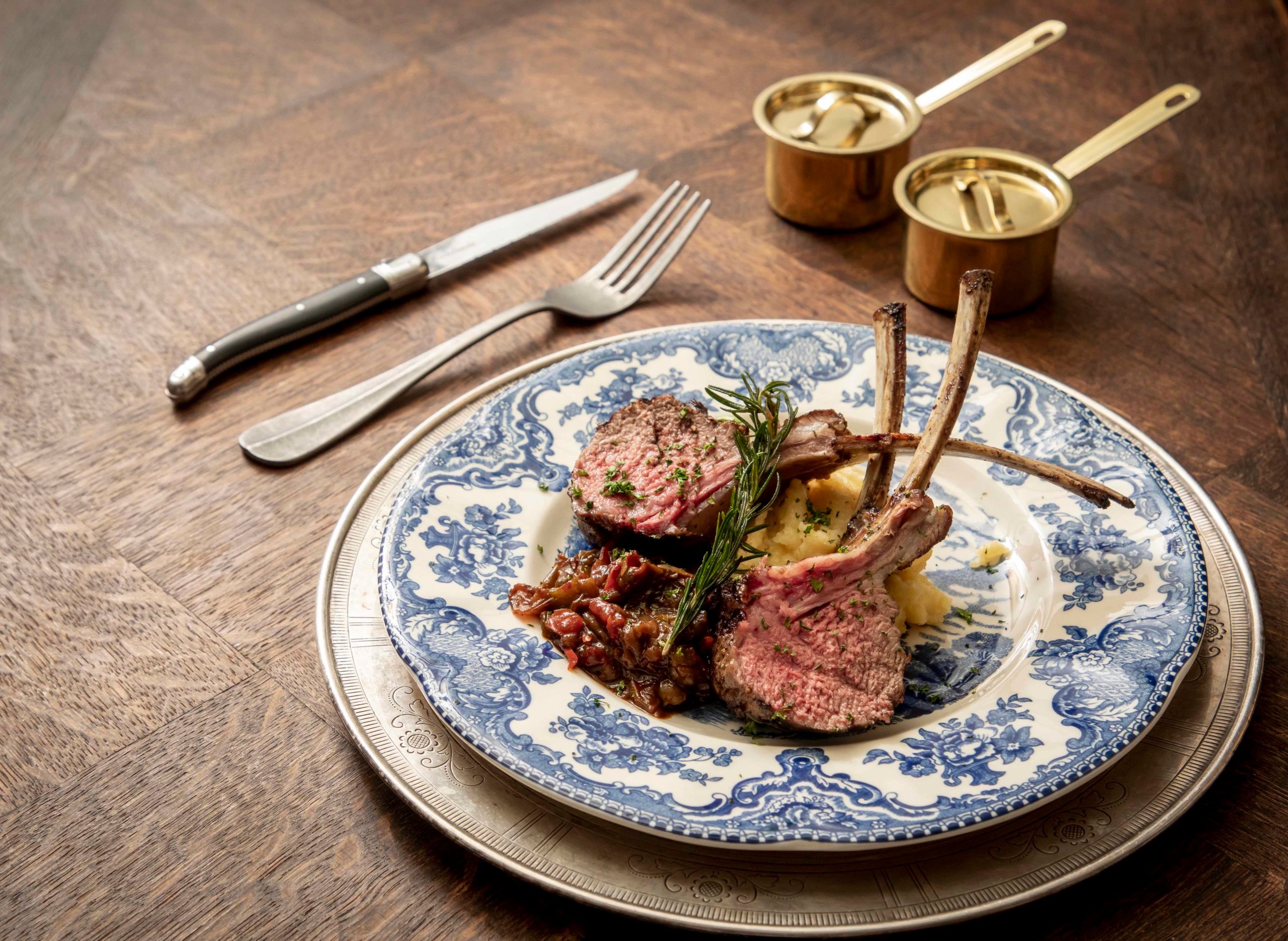 Bangkok
is certainly not short of good Italian restaurants. However, I felt there was room for an Osteria-type of place where not only the food, but the whole vibe and ambiance would be reassuringly and effortlessly European," explains Ou Baholyodhin as he discusses Contento Caffé e Cucina, his latest restaurant venture.
As Chief Creative Officer for
Sansiri
, one of the largest real estate developers in Thailand, Ou is known for his impeccable taste and sense of style. He's also no stranger to the restaurant game, with Rongros and Rong Sabiang already on his list of culinary accomplishments. So, it really comes as no surprise that Contento, which officially debuted last month, has kept many a social media page buzzing since day one.
The restaurant is located on Maitri Chit Road, on the outer edges of Chinatown, and at street level the striking navy blue and white exterior commands attention with its four large arched windows, six sculpted pineapple reliefs, and a front door that brings to mind 10 Downing Street. It's an eye-popping splash of colour in this occasionally rundown quarter, and much like The Mustang Blu – the popular boutique hotel located almost directly across the road – it's a restoration project that has breathed new life into this historic district.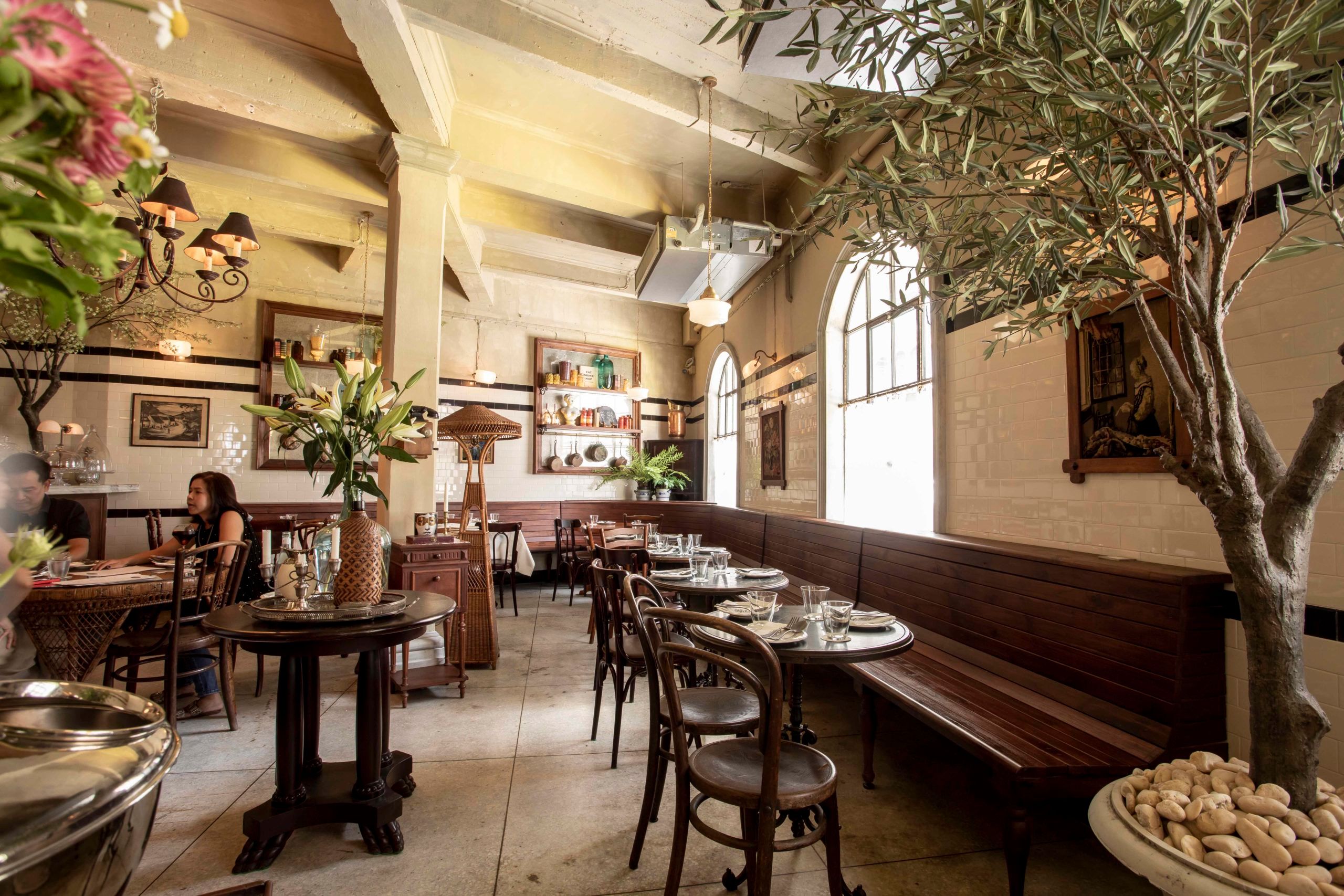 Arriving at lunch hour, I enter to find a high-ceilinged, yet intimate interior that exudes warmth and charm in equal measures. The long wooden bench seating that extends across two walls is dotted with several marble-topped, circular tables for two – trés romantique – while large and small group tables populate the remainder of the floor space. An abundance of polished wood dominates the colour palette, with white-tiled walls, assorted antiques, and shelves hung with copper pots and pans completing the homey, bistro feel.
Described as "contemporary comfort cooking", the menu is a mix of all-day breakfasts, small bite appetisers, salads, pastas, and meaty mains. And although there are brief nods to French, English, and even Japanese cuisines, it's Italy that dominates the game here.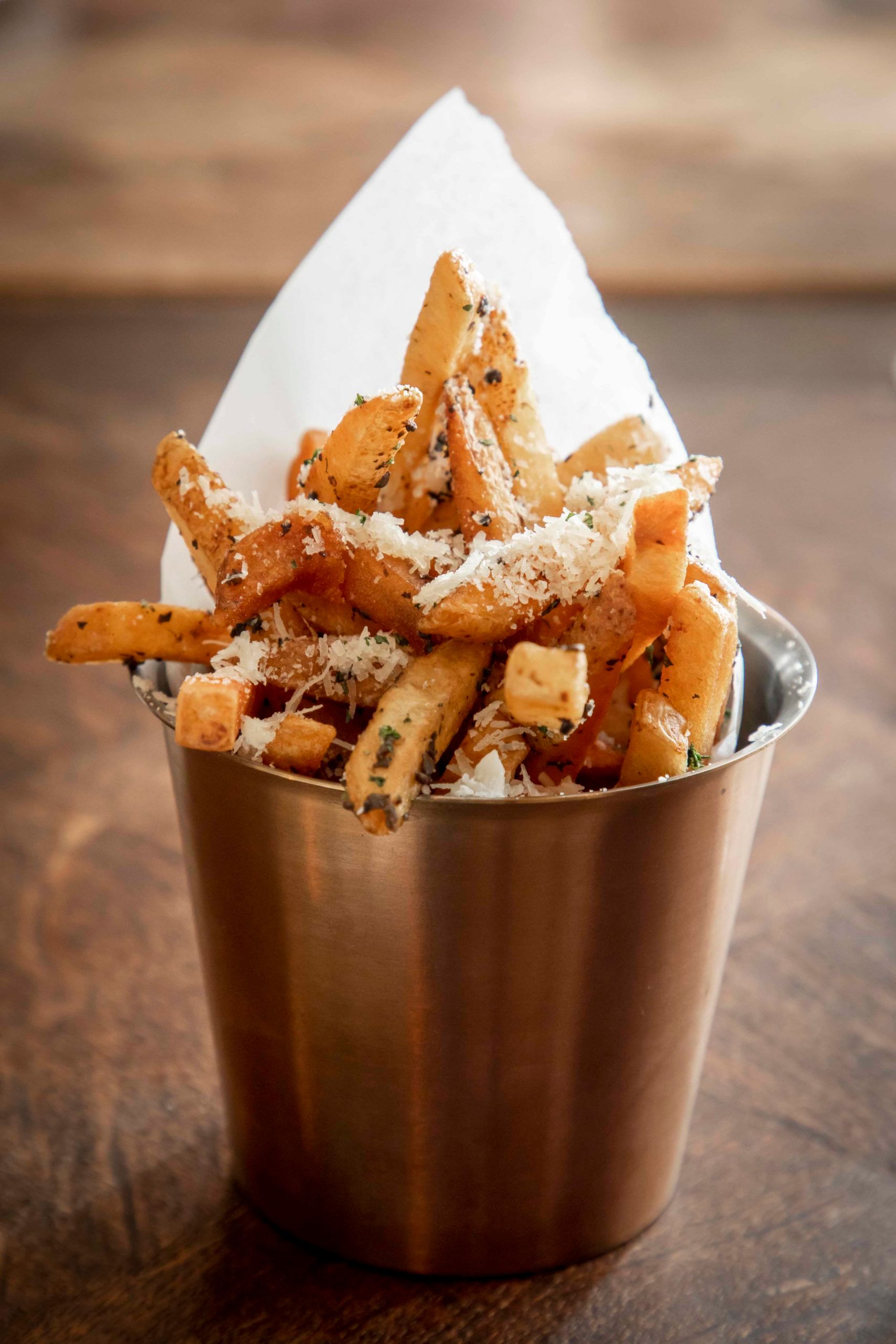 "Every year, from the age of 10, armed with the latest Michelin guides, I would accompany my mother on gastronomical road trips," says Ou, recalling his early epicurean education. "The thousand mile journey invariably ended up somewhere in Italy, where the routing would often follow the choice of awarded eateries in our thick red guide books."
He goes on to tell me that Contento's menu is both collaborative, and something of a work in progress. "Solid, authentic Italian cooking methods and ingredients are dialed up a few notches to satisfy the tastebuds of local Thais and expats who are accustomed to stronger flavours. It's a team effort between myself, my partner Ball Tharapibarn, and the entire kitchen team, which is comprised of both Thai and European chefs."
My noontime nosh begins with the appropriately named 'Umami Baby', a small dish of tiny, carefully peeled plum tomatoes soaked overnight in a secret marinade. That's followed by a healthy bowl of mizuna – Japanese mustard greens – dressed in apple cider vinegar and topped with chopped anchovies and a little garlic. Salty and splendid!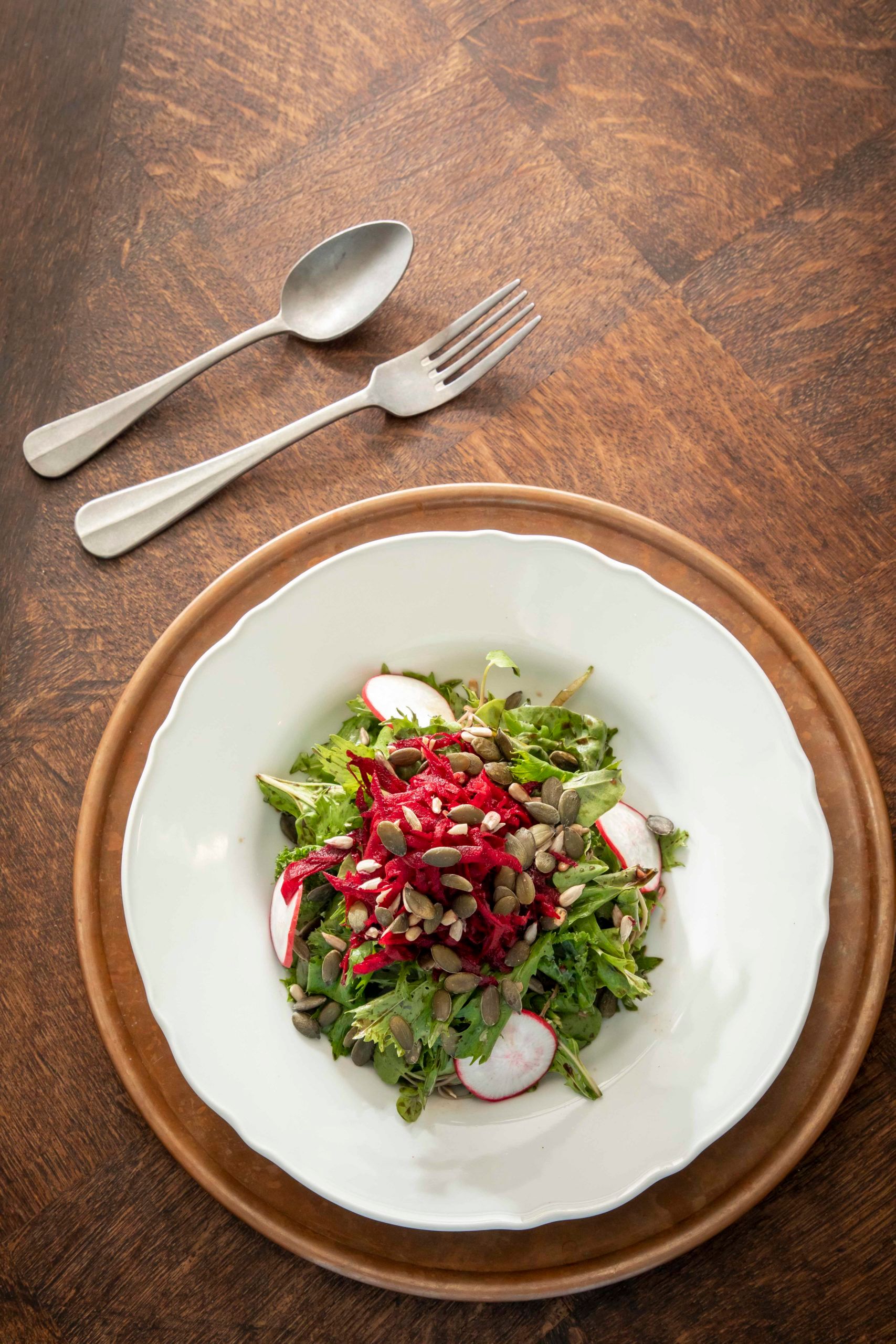 I also tuck into the healthy sounding 'Super Kale' salad, which is a small mountain of mixed greens, baby radish, beetroot, onion, and sunflower seeds, all drizzled with a light balsamic dressing. But then, in a moment of weakness, I switch gears and find myself tempted by the 'Fries De Luxe', wherein thick cut French fries are sprayed with truffle oil and then sprinkled with shaved Parmesan cheese. Well, the menu did promise comfort food, right?
Moving on to the pastas I am intrigued by the crab raviolo, which arrives at the table in the form of one large, homemade pasta shell stuffed with Alaskan blue crab and a smattering of minced Thai shrimp. Served in a bright white soup bowl, this delectable dumpling rests in a pool of deliciously tangy lobster bisque glaze – which I'm told takes two days to prepare – with a fresh tarragon leaf adding some colour.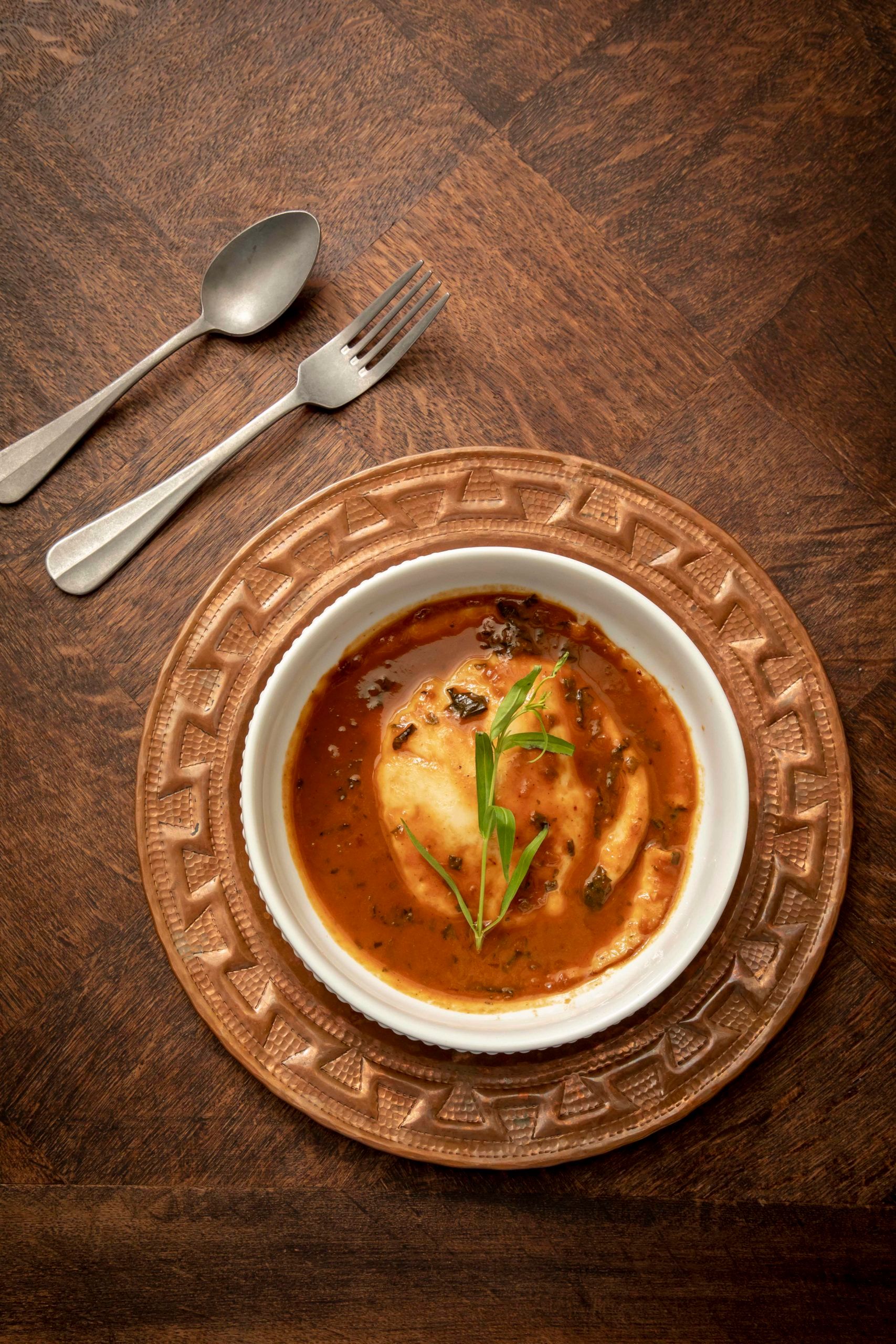 The next dish to arrive is the grilled New Zealand lamb cutlets, attractively garnished with a sprig of deep-fried thyme. The meat comes paired with a serving of creamy mashed potato, but it's the thick dollop of homemade sauce – a sweetish, slow-cooked melange of chicken stock jus, onion, and other herbs – that really elevates this dish.
For dessert my server recommends the classic crêpes Suzette, which are flamboyantly flambéed tableside and accompanied by a scoop of yummy ice cream. It's suitably European ending to a marvelous meal.
Apart from the Grand Marnier in the crêpes I had a booze-free lunch, opting instead for the 'Ramon', a mix of freshly squeezed orange juice and milk shaken with egg whites. Of course, if you're in the mood for an aperetivo there are plenty to choose from, as well as a small but nicely curated list of wines by the glass and bottle.
As Contento is but one of the three venues set to occupy the entirety of this refurbished building, I ask, before leaving, to have a peek upstairs at the still under construction Blue Bar – which, by the time you read this, should be open for regular business (provided pandemic restrictions have been lifted). When asked to define what I see is already a dazzling space, Ou fires my imagination that much further by saying: "Kyoto meets Venice in this glamorous izakaya x cicchetti bolt hole, as you're watched over by blue herons and Fu dogs."
While the third floor venue has yet to be built or named, the project as a whole is referred to as Rong Samran, which translated from Thai means "the inn of happiness" (with the samran part, in turn, translating into Italian as contento). Ultimately though, I'm curious as to what prompted Ou to choose this property in particular. "I set about looking for a historic classical Italianate building that could bring the entire formula I had in mind to life," he says, "and one day I found the perfect home for it.
"The opportunity to acquire a lease on a row of five shophouses rarely comes up," he continues. "It was a combination of the beautiful architecture, both interior and exterior, and the charming neighbourhood that made me snap up this period building. There is something very real and urban about this part of town. Many guests at my restaurant have likened it to a cross between Soho NYC and Naviglio in Milan."
Well, as one of the many who are starved for international travel, it's nice to know that I've just done a little globetrotting via gastronomy. And these days, that's perhaps the best comfort food of all.