Hong Kong is one of the world's most exciting culinary capitals, where good food is more than abundant. In that light, we've put together a few of our tastiest tidbits and most memorable morsels that are worth tracking down to try.
Bibo Taking inspiration from his native Singapore, Chef Nicholas Chew's new menu features the marriage of French technique and Singaporean cuisine. More specifically, it offers dishes influenced by the aromatic and rich flavours of Peranakan food; prepared and presented in a refined fashion that is typical of French fare. Take the Cold poached abalone dish, which is sliced and served atop bouncy udon tossed with classic assam pedas (or literally 'sour spicy' in Malay) seafood sauce and chorizo. It's a blend of flavours that is uplifting, tangy, and full of umami, which really helped to whet our appetite for the degustation experience to come.
Bibo, 163 Hollywood Road, Sheung Wan; +852 2956 3188
TokyoLima The popular Nikkei restaurant has been quite successful in refreshing their menu, and our tastebuds, every season. This autumn, they've introduced the Henko collection which offers some punchy new dishes to sample. For us, the clear winner is the Ceviche mixto. A Peruvian classic and a seafood lover's dream dish, this refreshing ceviche is jam packed with ingredients. Think textural layers of Iberian octopus, fresh prawn, seared scallop and crispy squid marinated beautifully with a vibrant leche de tigre, or tiger's milk. So good, you might just drink up the rest of the sauce by the spoonful.
TokyoLima, G/F, 18-20 Lyndhurst Terrace, Central; +852 2811 1152
Écriture For those of you that are up for some wild game, hunt down the dishes on Écriture's 'Furs, Feathers, Iode" menu. Chef Maxime has once again crafted some creative dishes that not only feature wild game, but also some fantastic autumnal flavours. One such dish is the Partridge, which takes on the bird whole and oven-roasts it until golden. It's then carved by the table for a nice serving of dining theatrics. The light textured meat is then smoked gently with herbs to take on flavour and fragrance, before it's presented alongside porcini en papillote and brightened by sweet muscat grapes.
Écriture, 26/F, H Queen's, 80 Queen's Road Central, Central; +852 2795 5996
Carbone If it ain't broke, don't fix it. A saying that we would happily apply to the Spicy vodka rigatoni at Carbone. As they celebrate their fifth anniversary this year, a special celebratory lunch took us back to the Italian-American restaurant to enjoy the cult classic dishes once more. It's bright, creamy and satisfyingly spicy. At Carbone, the chunky rigatoni is smothered in sauce, which actually has no vodka in it, despite its name. It's a belly-warming pasta dish that we keep going back for and we think you will too.
Carbone, 9/F, LKF Tower, 33 Wyndham Street, Central, Hong Kong; +852 2593 2593
Ying Jee Club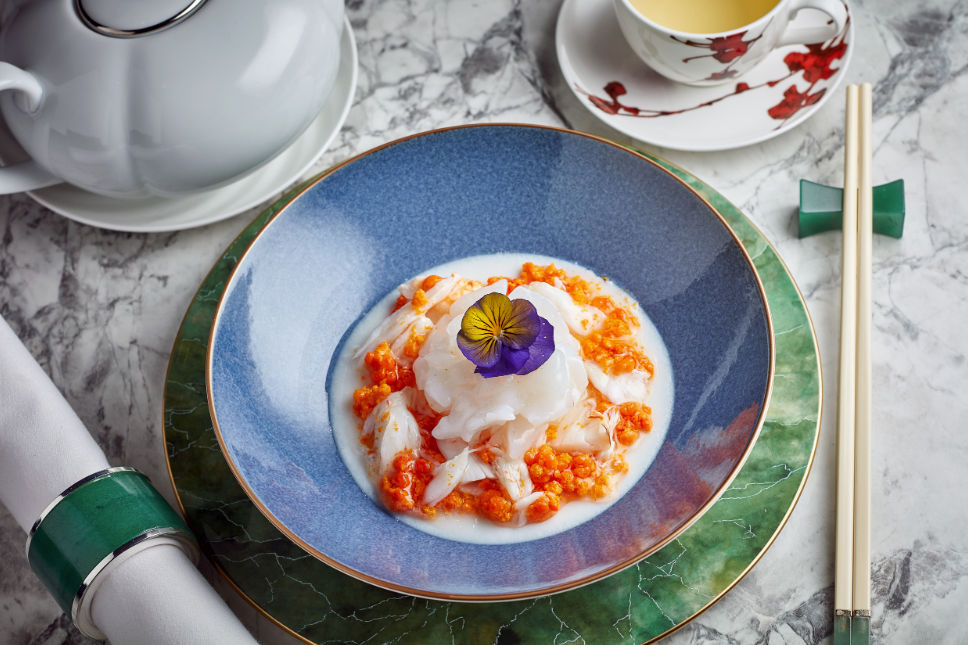 Comforting Cantonese cuisine gets a sophisticated makeover at two Michelin-starred Ying Jee Club, which Executive Chef Siu Hin Chi — formerly of Duddell's — is responsible for. Here, in their elegant and stylish dining room, signature dishes such as Steamed king prawn with egg white and crab coral tastes as exquisite as it looks. The intensely-flavoured, creamy coral and sweet crab meat pairs flawlessly with the lighter tasting fresh prawn and soft steamed egg white. It's no wonder it became a firm favourite and signature on the menu.
Ying Jee Club, Shop G05, 107-108, Nexxus Building, 41 Connaught Road, Central, Hong Kong; +852 2801 6882
Roganic Thanks to the change in season, a revisit to Roganic was due. Not that we needed an excuse to eat British chef Simon Rogan's food again, but the new tasting menu and dishes did not disappoint. Case in point is the Berkswell pudding. This creative interpretation of an English bread and butter pudding is love at first bite. Savoury, with subtle notes of sweetness, the pudding is layered with birch sap syrup before it's topped with plenty of aged Berkswell cheese. It's a rich, buttery snack that we definitely want more of.
Roganic, UG/F 08, Sino Plaza, 255 Gloucester road, Causeway Bay, Hong Kong; +852 2817 8383
Kakure Ginza-style restaurant Kakure has all the Japanese sub-cuisines from sushi to sukiyaki, but the champion dish here is offered at their teppanyaki live grill bar. The prized Hida Wagyu from Japan's Gifu prefecture is a speciality here and as soon as you take your first bite, it's clear as to why. The succulent A5-certified premium beef is not only charred to perfection, but it also strikes a wonderful balance between flavour, juiciness and tender texture. The cubes are presented straight off the grill and guests are open to season their meat with salt, pepper, garlic, shallots or wasabi.
Kakure, Shop M20-24, M/F, Prince's Building, 10 Chater Road, Central; +852 2522 9990