It's hard to resist the pastry that boasts that warm wonderful smell of butter as it comes out of the oven. Here are the best places to find the best croissants in Bangkok at the moment.
Croissants have become a serious hype for Bangkokians. Consequently, heaps of croissant shops have been popping up in about every corner of the city. As time has passed, only the best patisseries and bakeries have truly been able to stand the test of time. Here is our pick of the mix.
[Hero and featured image credit: Conor Brown/Unsplash]
Tiengna Viennoiserie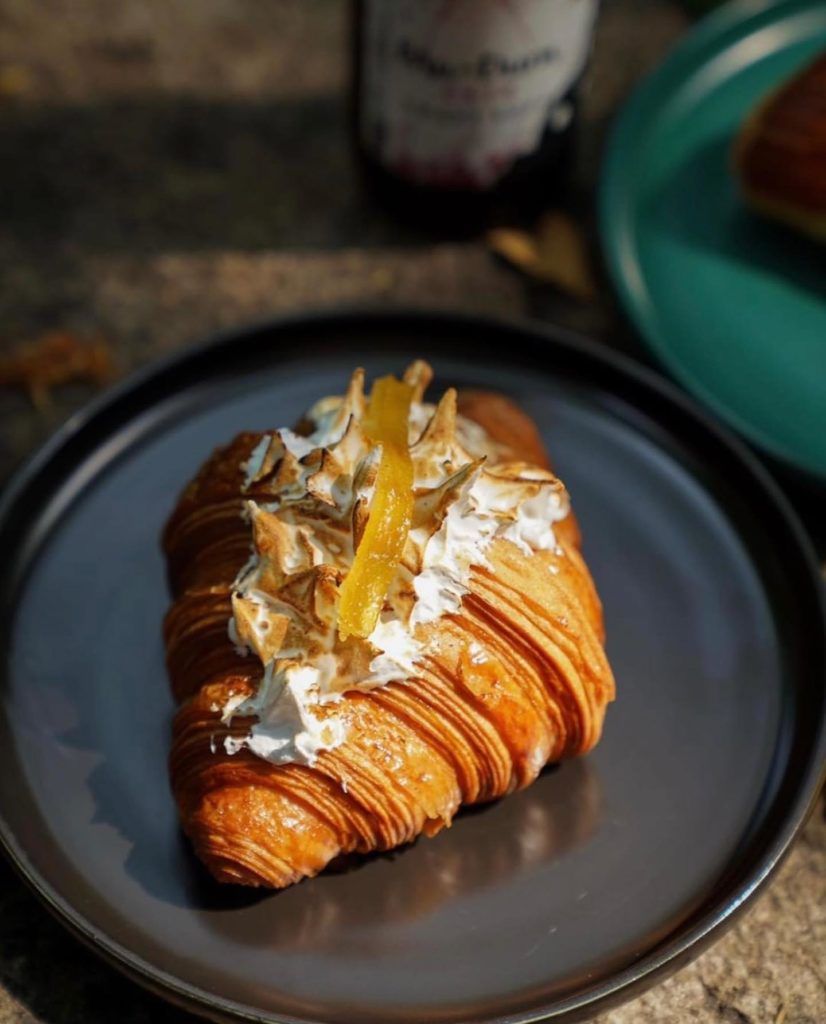 This viennoiserie from Tak province is named after the location of its original branch, which was located in a house in the middle of a rice field. Now, it's opened in Phrom Pong with a French design ethos, and vast and popular croissant selection. This includes Pain au Chocolat, Yuzu Croissant, Nutella Banana, Croissant aux Pecans (pecan croissant), Croissant aux Amandes (almond croissant), Croissant à la Framboise (raspberry croissant), and Jambon à L'emmental (ham and cheese croissant). Though the viennoiserie specialises in croissants, they also offer great canelé, doughnuts and madeleines.
Tiengna Viennoiserie is located at Soi Phrom Si 1. You can also order for delivery via Robinhood, Lineman, and GrabFood.
Mandarin Oriental Shop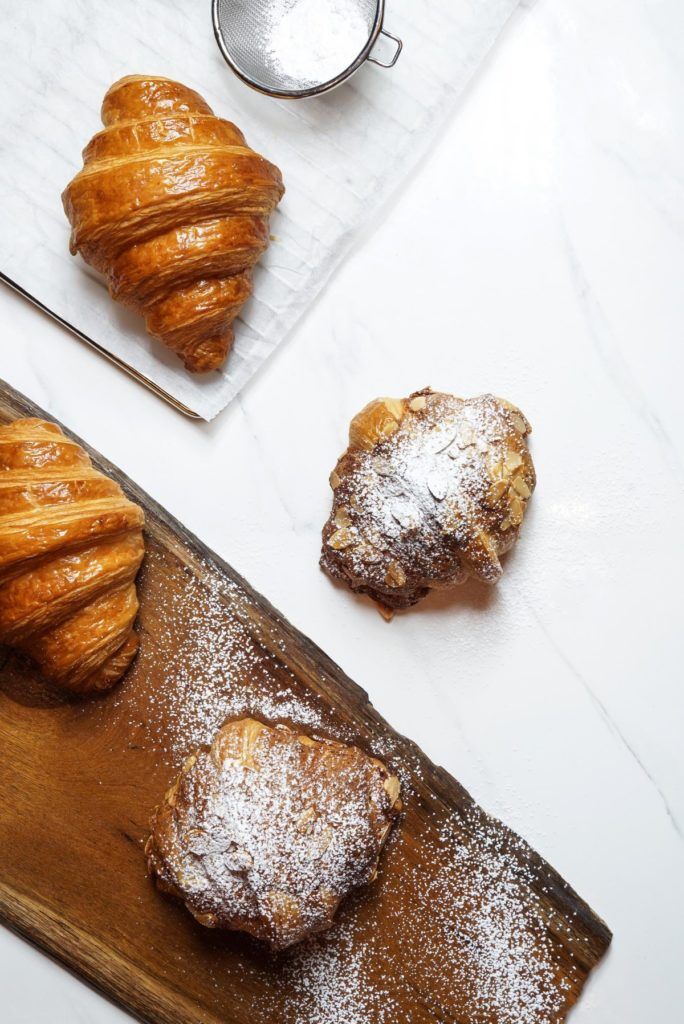 The Mandarin Oriental Shop is one that has really stood the test of time. It offers several gourmet desserts throughout the year, from macarons to seasonal mooncakes. Despite the growing number of new croissant haunts, the Mandarin Oriental Shop proves that classic works best, and simplicity can stand the test of time. Their Butter, Almond, Ham & Cheese and Cheese & Bacon Sausage croissants are still the go-to for many people and for many generations..
The Mandarin Oriental Shop has 4 branches (Central Chidlom, Siam Paragon, Emporium, Gaysorn Village and inside Mandarin Oriental Hotel). Online order is available as well.
Kenn's Coffee & Croissant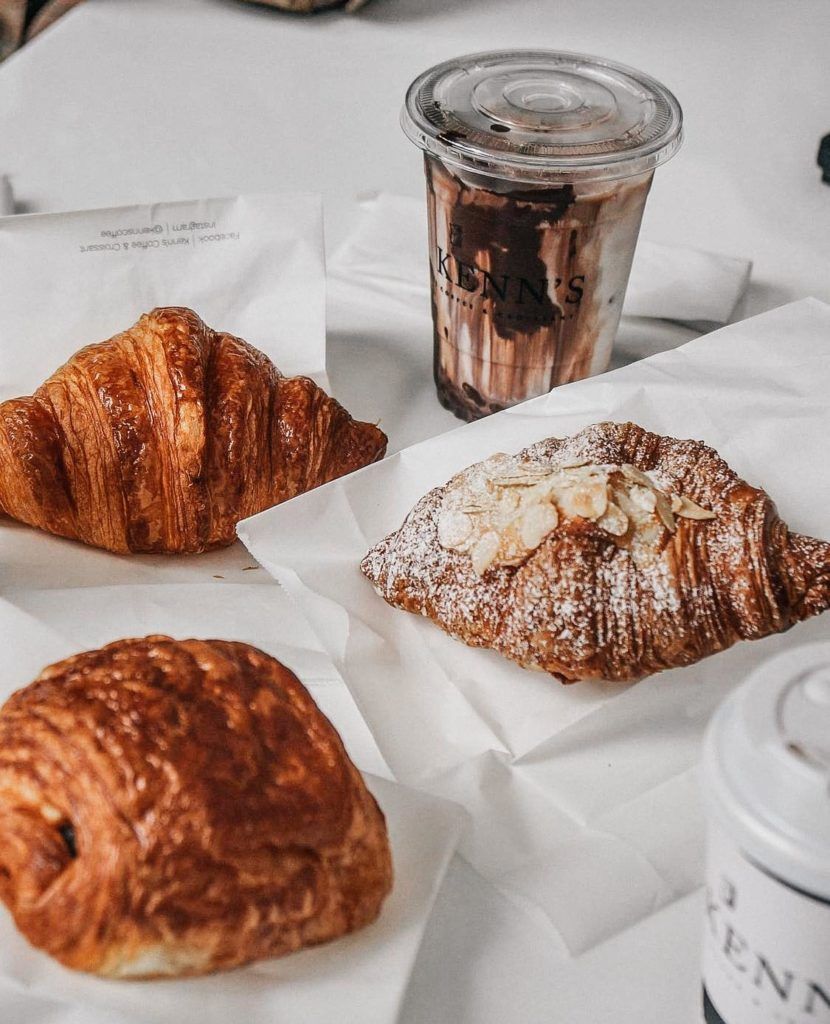 This mini cafe started in the busy Sathorn district has always been inviting by-passers to turn around and stop for a croissant. The cosy space offers many variations of croissants, among them Buttery Plain, Chocolate Marnier (a mix of chocolate, orange and Marnier liqueur), Ham & Bacon Mornay and a flavour-of-the-month special. For January 2022, the Truffle Honey Brie Cheese is a special must-try.
Kenn's Coffee & Croissant has a shop on Sathorn road and in Ari district. You can also order via Lineman, Robinhood and GrabFood.
Sindhorn Kempinski Hotel Bangkok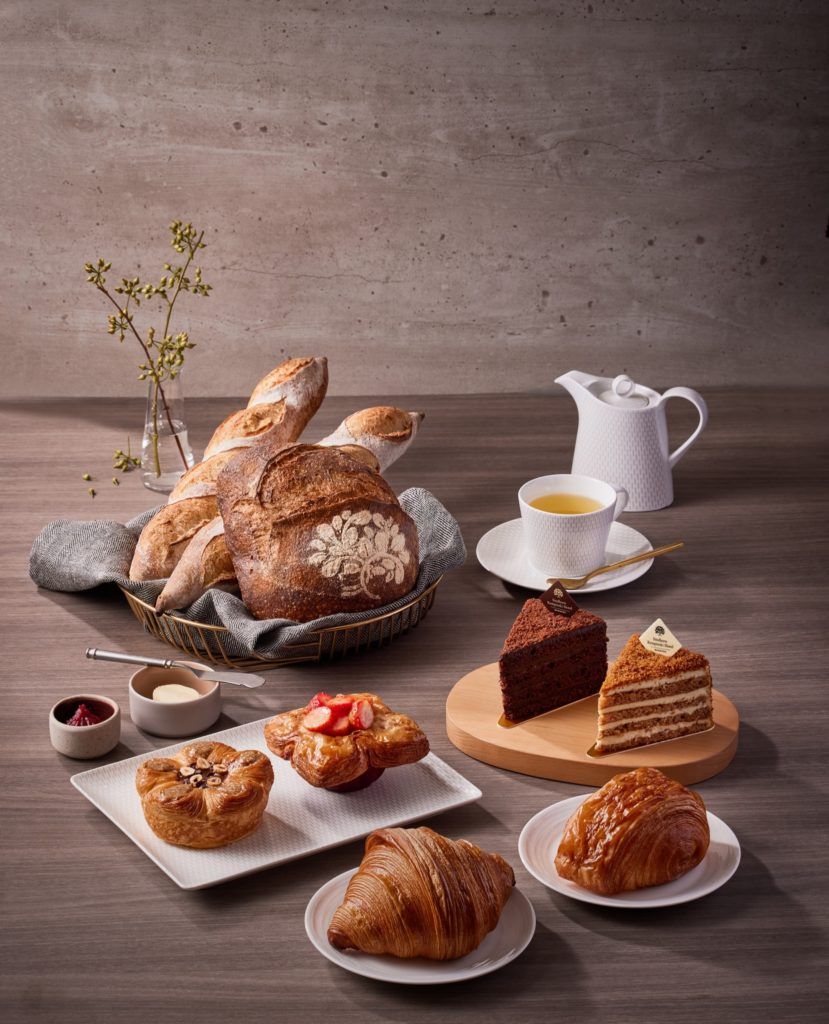 The Sindhorn Kempinski Hotel is for serious about their baked pastries, especially their croissants. The hotel uses only the highest quality of imported AOP French butter in the lamination process resulting in those perfect visible layers. The giant croissants are then baked for a very specific amount of time to gain that crispiness that won't fall apart when you cut into it. The croissant menu here is not wildly diverse, but focuses more on the timeless favourites: Plain Croissant, Pain au Chocolat, Fleur de Noissette and Almond Croissant.
Visit the Sindhorn Kempinski Hotel order online via Lineman, Robinhood and GrabFood.
Amatissimo Caffè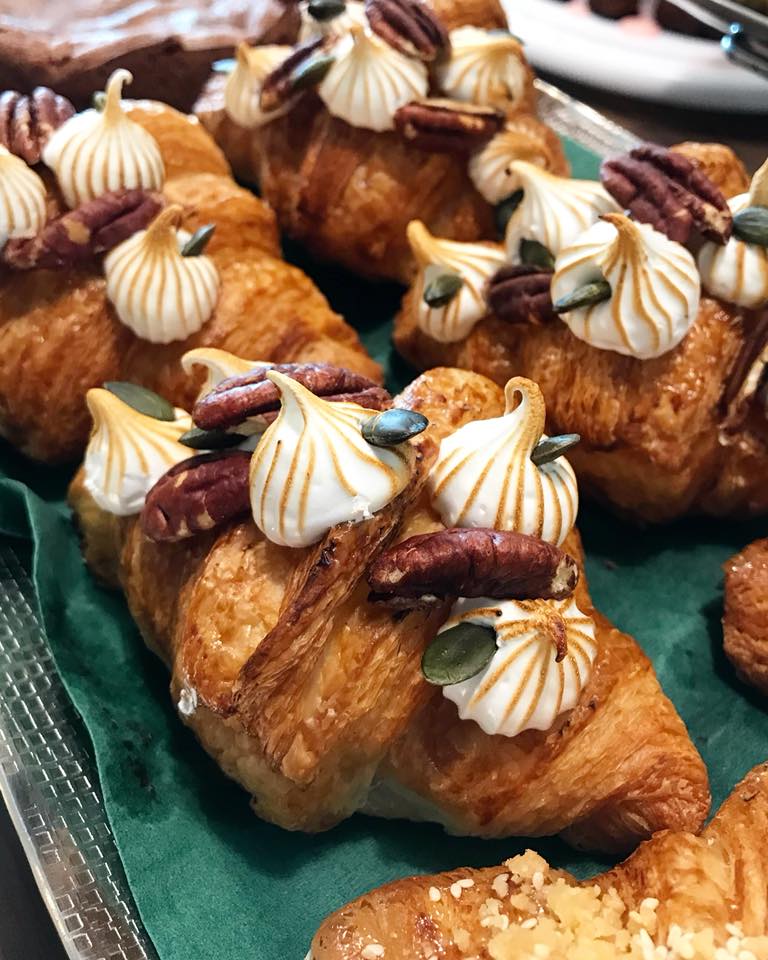 Amatissimo recreates a whole new repertoire for croissants with many of its unconventional creations. Although the plain croissant is already pretty good, check out try their unique creations like the Pain au Lap-Cheong, a Chinese sausage croissant, and Sycee Gold Bar, a pineapple and apple caramel croissant, both of which are part of the Chinese New Year's specials. Another crunch-and-munch must-try are the Croissant Chips which are made by baking a sliced croissant into golden brown crispy chips.
You can get Amatissimo's croissants at any of the 3 branches (Summakorn, Rama III, King Power Rangnam) or order via Lineman, Robinhood and GrabFood.
James Boulangerie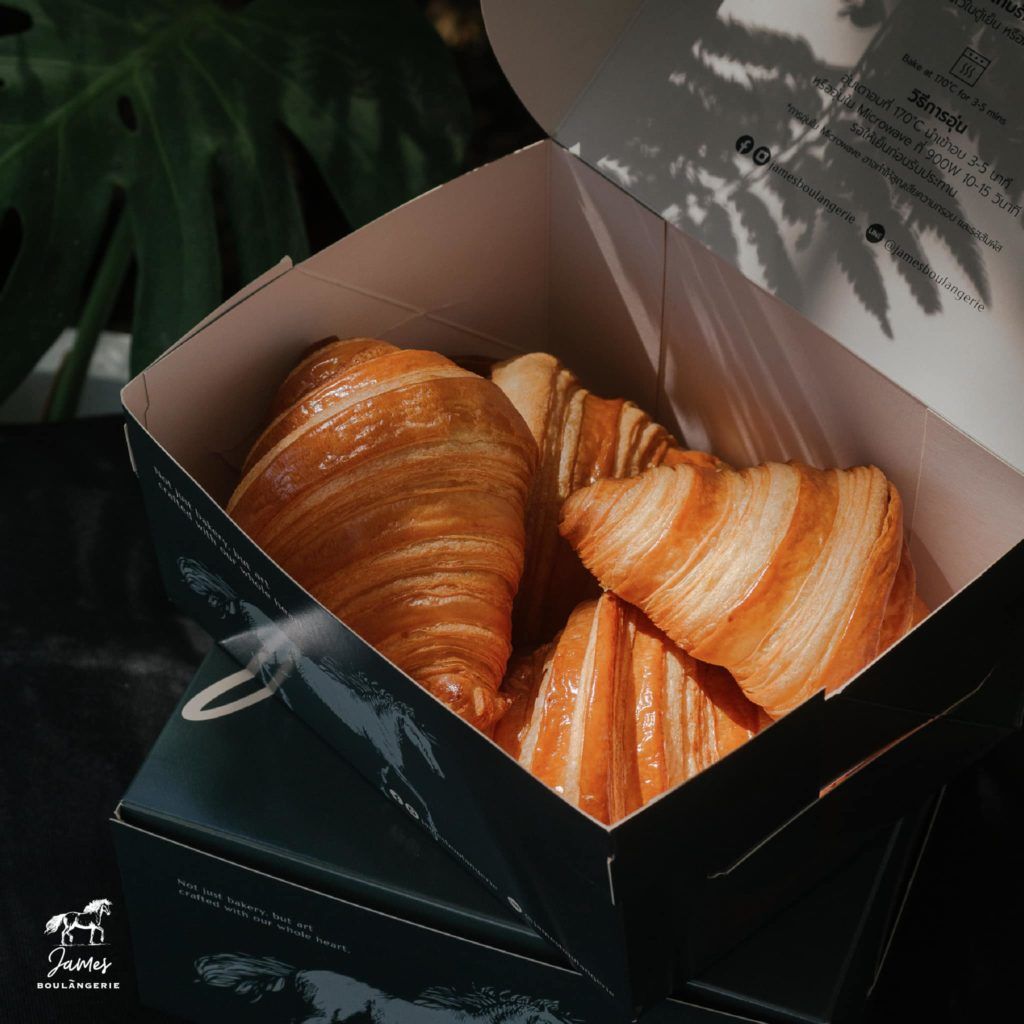 When it first opened, James Boulangerie became famous for its long queues and waiting time. Run by chef James, a Le Cordon Bleu graduate and former winner of Iron Chef Thailand, croissant-lovers will be enticed by the Plain Croissant, Nutella Croissant, Train Croissant, Dark Chocolate Croissant, Almond Croissant and the signature Macadamia Vanilla Caramel Croissant.
James Boulangerie is on Phran Nok-Phuttamonthon Sai 4 Road, and is also available via Robinhood.
qraft.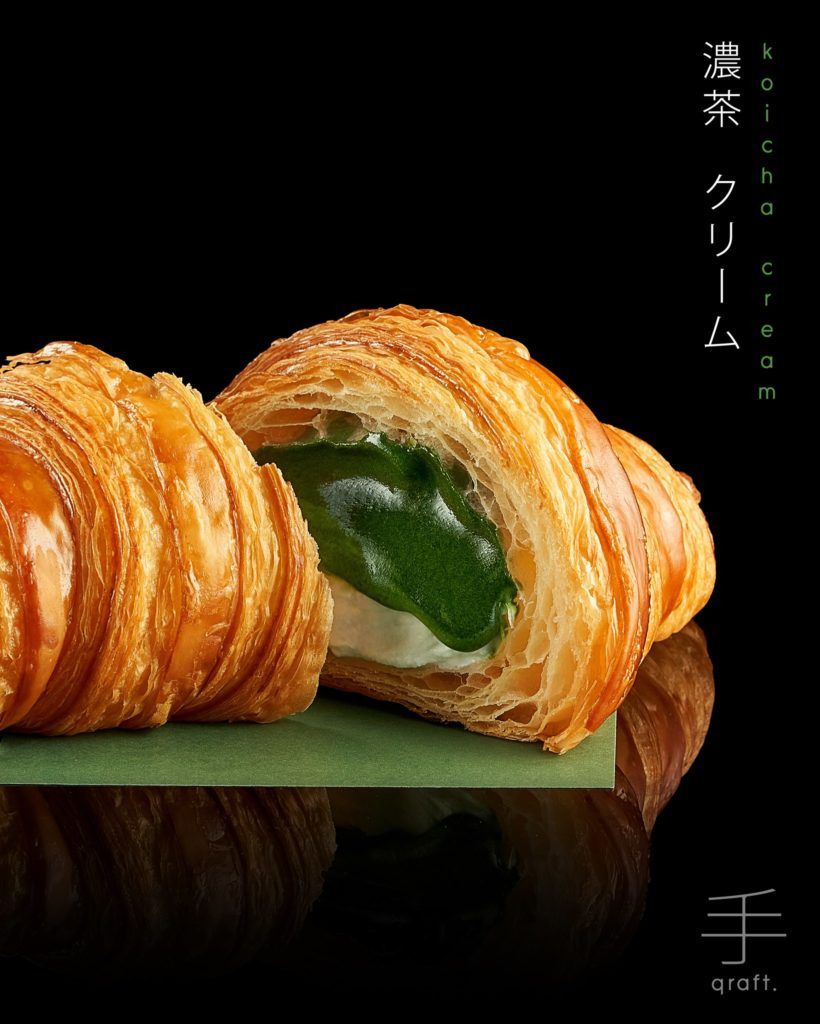 Qraft is the extended kitchen of Peace Oriental Teahouse, and is the place where the French pastry gets an Asian twist. Among the Canelé, Mocheezu and Keki, the croissants are also a best-seller here. You'll see qraft. croissants in Plain, Honey Butter, Yuzu, Miso Caramel, Koicha Cream, Dark Choco and Jujube. Qraft also offers some innovative versions of the croissant such as the Wafuru, a waffle-croissant hybrid drizzled with matcha sauce.
Stop by at qraft. Ari Soi 1 or order for delivery via Robinhood, Lineman and GrabFood.
Maison Eric Kayser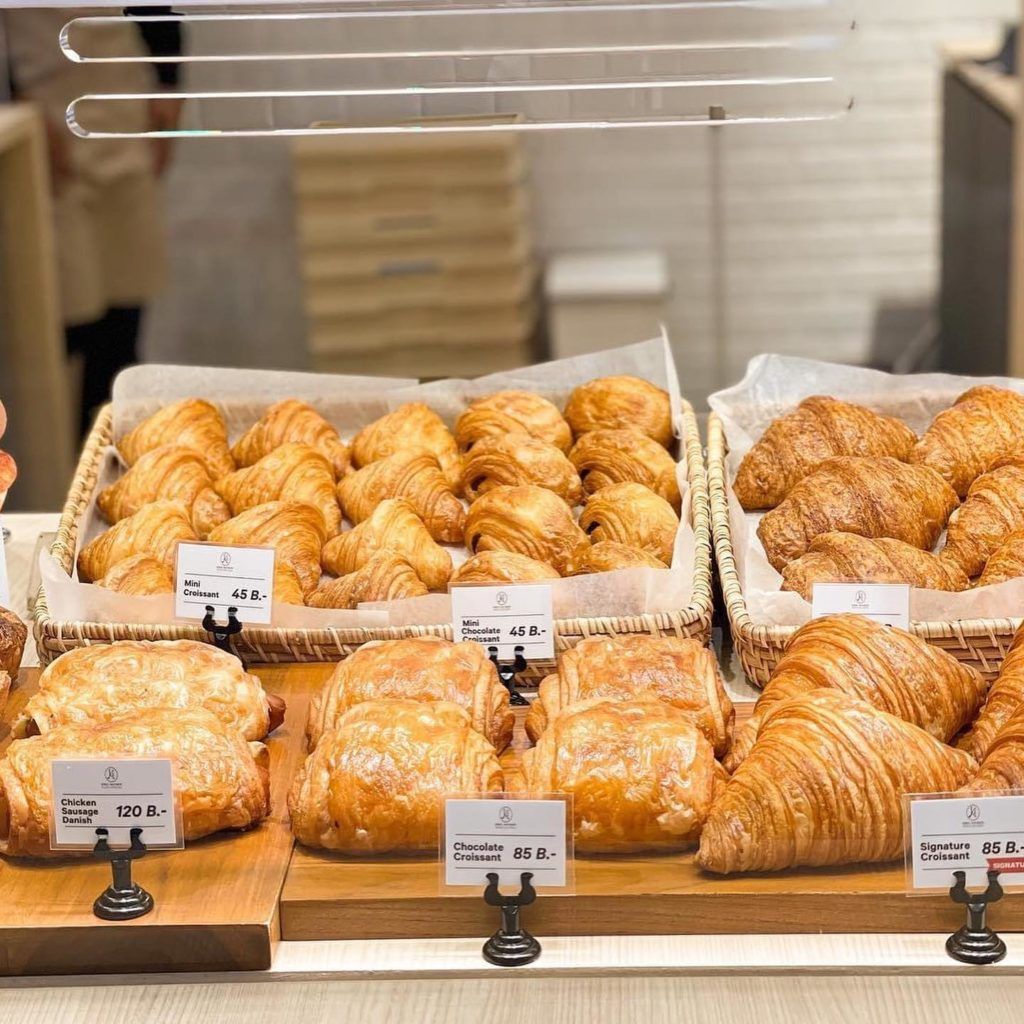 This renowned artisanal bread shop from France inherits the traditional method of croissant-making from Eric Kayser's very own ancestors. Eric Kayser only uses natural ingredients in breads and croissants, meaning that it can take as long as 24 hours to ferment the yeast, depending on the type of bread. Experts in the field, the maison even came up with the Fermentolevain machine, an exclusive innovation by Eric Kayser that helps preserve the dough's temperature to achieve perfectly consistent quality. Rest assured that you will only find the best quality of croissants in all of their branches, from the Signature Croissant and Raspberry Croissant to the Chocolate Praline Croissant and Crispy Croffle and more.
Eric Kayser has over 10 branches around Bangkok. For more information and delivery, contact via Line Official @erickayserth.