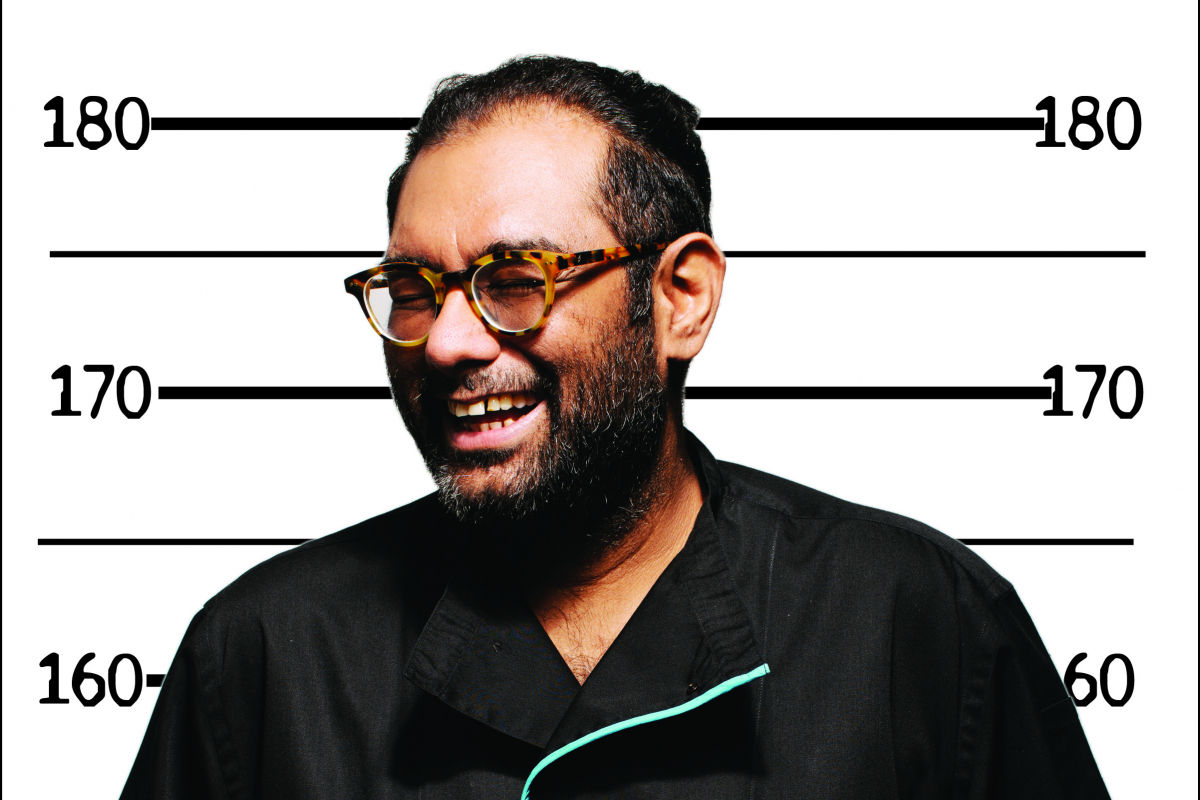 Asia's 50 Best Restaurants announced its results on March 27, but Gaggan Anand of Gaggan would have been more than happy to give up his crown after three years at the top [spoiler: results are in, and he topped the charts again]. Fame, it turns out, comes at a heavy price.
"The first year I won number one, everybody thought it was a fluke," the chef tells Prestige. "Or we paid someone or some shit. I got these controversies, indirectly. The second year, we kept them quiet. The third year, we said, 'shut the fuck up'. The fourth year, I'm ready to lose. I've had enough. Whoever wants to can enjoy the shit. Vladmir, our head sommelier, banned me from going out in Thailand. Every time, some chef will come up and give me shit. The cost of fame. What do I do?"
That said, Anand doesn't deny the impact that the accolade has had on his restaurant, and on his level of execution. "It definitely changed me. It made me more confident, though confidence might be mistaken as arrogance. I was always this, but now people call me arrogant. Now I have more confidence in doing more crazy stuff, and that helps my cuisine to grow," he says. Any anyone who has visited his restaurant more than once in the last few years would likely concur.
Anand launched his emoji menu a couple of years ago, and while the concept may seem like a gimmick, the 25-course smorgasbord more than stands up for itself –inventive, sophisticated and well-paced, it's a testament to how far the chef has come and how a little (or big) pat on the back can spur innovation. Diners delight at dishes such as a plate served with smears of curry and no utensils, to be lifted directly in front of the mouth and consumed by tongue, accompanied to a soundtrack by Kiss; or a dessert that looks like the rose from Beauty & the Beast, but made from beetroot and which takes two chefs six hours daily to prepare for the entire restaurant.
"My seats have not changed. My tables has not changed. But a lot has changed. We have 80 people in the restaurant to prepare food for 50 people. What has changed majorly is the food," he says.
"The second thing that has changed is I've become a more straightforward person, and that is scary. Sometimes you say things that you don't generally say, you only think. But I have become straightforward to say it. Four years ago I would not have the guts to do it. We have nothing to lose now.
"Lastly, most importantly, is that people's attitudes towards me have changed. Now, they come for fame. Fifty people here are coming for the status: I check in, I did that, it was a great meal. Gaggan is two Michelin stars, Asia's number-one restaurant for three years, number seven [in the world]. These are numbers that I understand, but it is the curse of being famous. Because they don't even talk [to me]. They don't come for the food. The moment they see me they say, 'Oh, I want a photo'. But I'm not from there, Because five years ago, I was behind the scenes. Suddenly I became the guy who's running the scene. Sometimes I'm standing there, eating with my hands and behaving like an idiot, and they'll say 'Chef, can I see what are you eating, can I take a photo of what you're eating? That's amazing! Can I eat that?' I understand people's curiosity. But there are good, bad and evil things together." Anand pulls out his phone, logging on to Twitter, and scrolling to the latest tweet in which he's been tagged. "This guy has 2,000 followers." He reads: "'Came all the way from America to eat in the world-famous restaurant to celebrate a friend's birthday. Haven't eaten all day, I'm starving. Looking forward to check out the emoji menu and hopefully meet the chef. #eatordie #gaggan'.
"I know he's coming with this big, nuclear-bomb expectation. What can I do? The only thing I can do is wait for three hours, and let him decide if the food is good or not. That's my way of it. And that's changed. But what has not changed is our commitment, and how we think we should put things on the plate."
Being invited back for the awards every year has other perks, too – it's arguably this annual gathering that launched the flurry of collaborations and pop-ups that have become so trendy (not to mention ubiquitous) in recent years. But networking opps aside, real friendships have blossomed. "I call it the 50 Best Family," Anand says. "There's so many emails already, hey, what are you eating, what flight, where will we go to gamble. This is what we talk about. We don't talk about rankings. That was like four years back. In Macau, I'm looking forward to eating in the streets, maybe gambling with my friends." But he says what they do on the streets of Macau takes nothing away from the gravity of the competition.
"In a race, there has to be a winner, and then that's how the race is interesting. But that is life. Always there will be some that will make more impressions than [others], and there will always be a new winner. The winner doesn't have to be the best restaurant in Asia. It could be the one who entered the list at 40. Or someone who came in at 50 and … for him, that is already a big dream."
"It's like a judgment day of what you have done for one year. It's like an examination report card. 50 Best is great not because of where I am right now, it's great because you wouldn't have known about — forget me, forget Bombana — you would have never known about restaurants like Mume [in Taipei]. Like Mingu [Kang of Mingles in Seoul], Zaiyu [Hasegawa of Den]. Nobody had heard about Zaiyu and today [Den] might be the best restaurant in the world, Asia.
"My prediction is Zaiyu should be the number one." As for Anand? What's next when you've been number one again … and again … and again? "Close down," he says, serious as a heart attack. "I was saying this for the last five years. I wanted to close this. And I want to close it when it's at the top. [And then] I'm going to Japan for sure. But let's see how things happen. I love Japan, it's my zen. But we have not peaked yet. We still have two more years to peak. We have not yet given our best."