It's been over a year since the Waldorf Astoria Bangkok's Front Room restaurant decided to swap Thai-fusion for Thai-focus, and the culinary consensus seems to be that it was the right move. Prestige stops by for a leisurely lunch and a chat with the Chef Sarocha "Bua" Rajatanawin.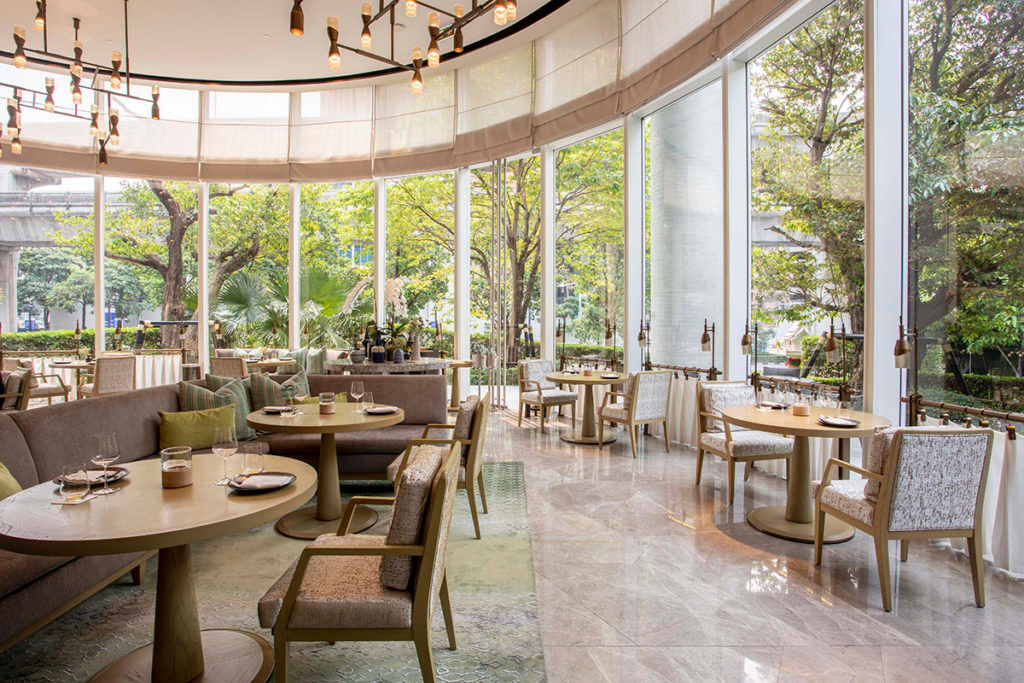 When the Waldorf Astoria Bangkok made its glamourous debut in August 2018, it also lifted the curtain on the sumptuous Front Room restaurant, located on the hotel's lower lobby level. It was here that Chef Rungthiwa "Fae" Chummongkhon was then making a splash with her intriguing 'Nordic-Thai' fusion menu. However, when the Covid crisis of 2020 disrupted Bangkok's dining scene, Chef Fae moved on to other things while the restaurant wisely used the lockdown period to reinvent itself.
By November of 2020, when Front Room finally reopened, the focus had switched to authentic Thai cuisine, showcasing comforting fare that would remind diners of ros mue Mae, or "Mother's home-cooking". The task of taking over the kitchen reigns, meanwhile, fell to Chef Sarocha "Bua" Rajatanawin, who was already part of the restaurant team (having worked with Chef Fae since the pre-opening). Upon graduating from her role as patient understudy to full-fledged star of the stage, Chef Bua began steadily wowing local diners with her impressive takes on traditional Thai dishes.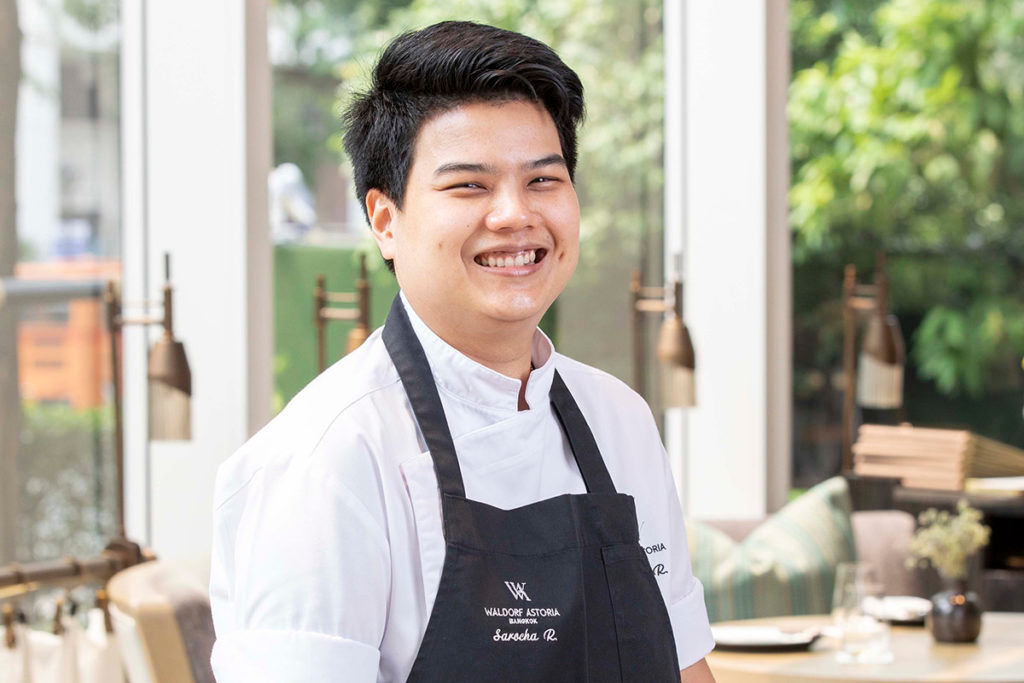 Interestingly, when I finally meet Chef Bua – during a recent mid-week lunch visit – she explains to me how Western cooking methods are actually more her expertise, with much of that knowledge gleaned from her time spent working in the kitchen of Bangkok's famed Le Normandie restaurant, under the guidance of Chef Arnaud Dunand Sauthier. She even confesses how she was quite scared, at first, to take on Thai cuisine at such an advanced level at Front Room, but that learning new techniques from Chef Supanat "Ann" Khanarak, Front Room's prestigious menu consultant, helped her immensely.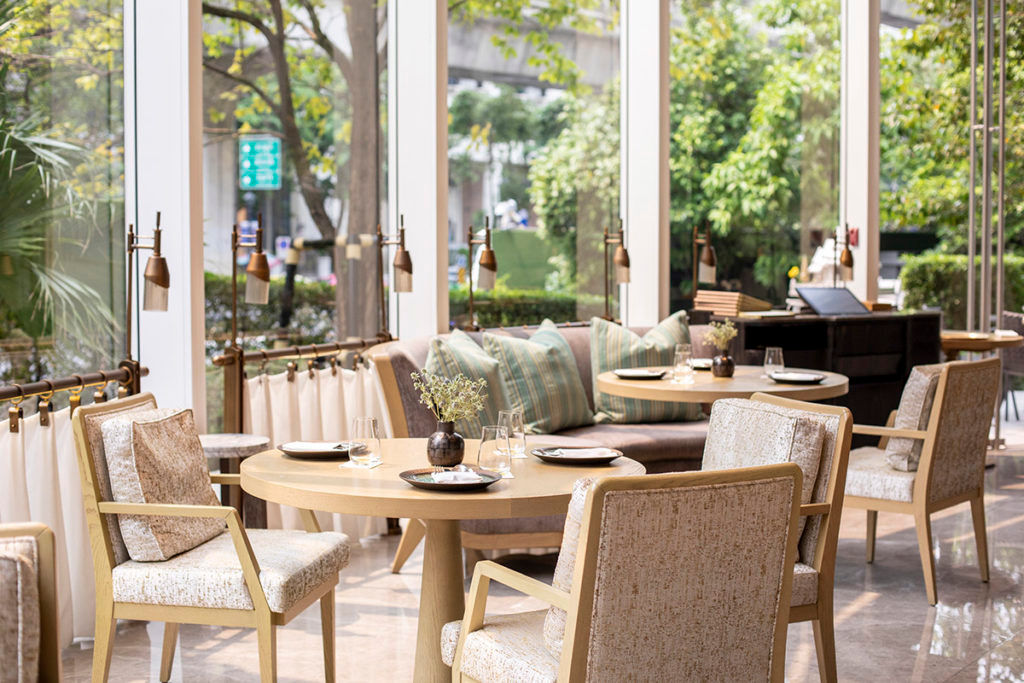 While the menu at Front Room has changed significantly since the restaurant's inception, the venue itself – designed by award-winning Hong Kong interior architect André Fu – has remained gorgeously unaltered. It's still an airy, high-ceilinged space, with muted greys and beiges fleshing out the contemporary chic colour scheme, accented by hints of green and plenty of Scandinavian-style blonde wood. During the day, the floor-to-ceiling, garden-facing windows flood the interior with natural light, while the striking centrepiece chandeliers overhead, inspired by traditional Lanna khom floating lanterns, await the arrival of nightfall and the dinnertime crowd.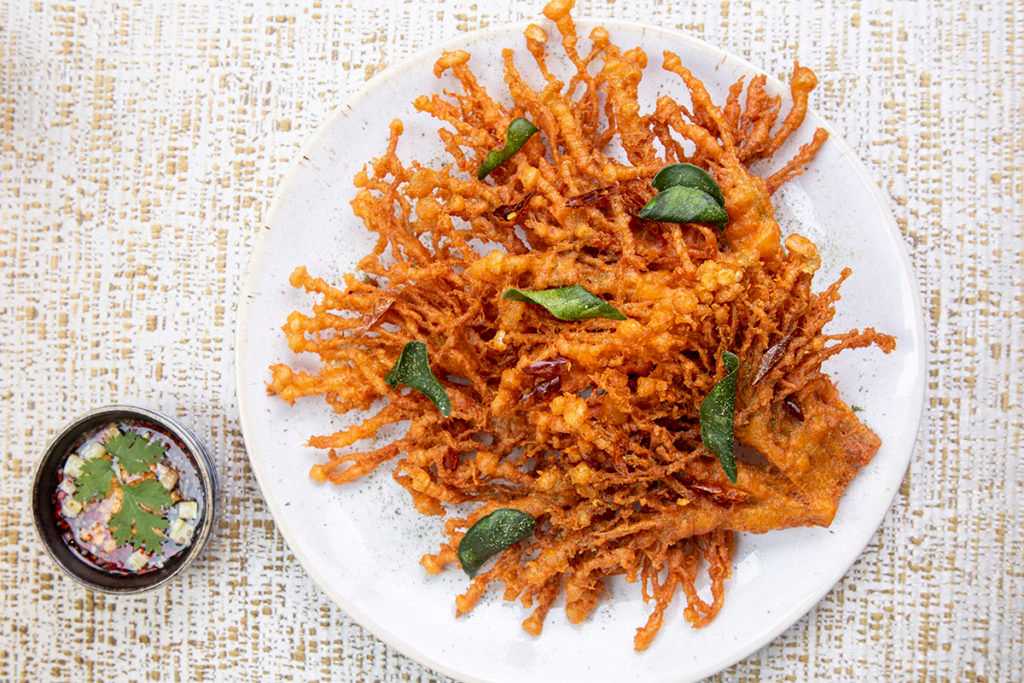 The wide ranging à la carte menu here is nicely varied, and includes 10 or so items that qualify as "plant-based". From this list I sample two of Chef Bua's creations, starting with Hed Kem Thong Phae, curried enoki mushrooms accompanied by a sweet and sour cucumber sauce (like the one served with satay skewers). The mushrooms – deep-fried in a tempura-like manner – appear spread out on the plate like golden sea fan coral, garnished with green flecks of fried Kaffir lime leaf.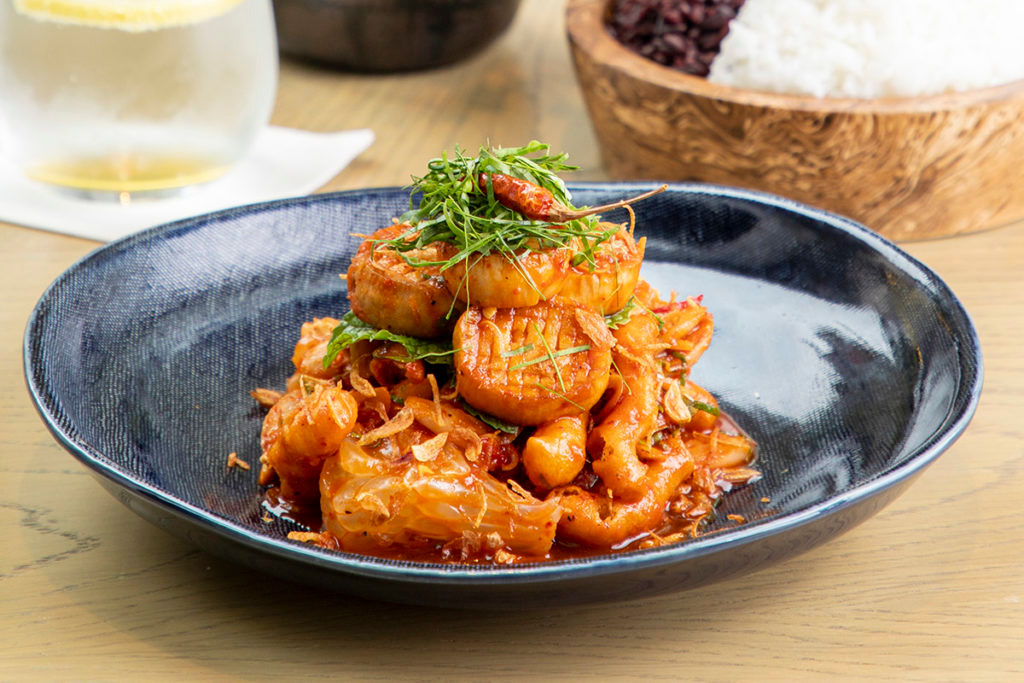 By contrast the Phla Lai Bua is more of a reddish-orange vertical tower, comprised of lotus stem, lengths of fried dough, pomelo, and thick slices of plump, pan-seared king oyster mushrooms – a texturally-accurate substitute for scallops – all generously bathed in homemade chili paste. I'm quick to compliment the chef on her tasty plant-based offerings, especially this zesty faux-scallop surprise. She accepts the praise graciously, adding that she looks forward to expanding this veg-friendly section of the menu. "I have so many new things to try!" she grins.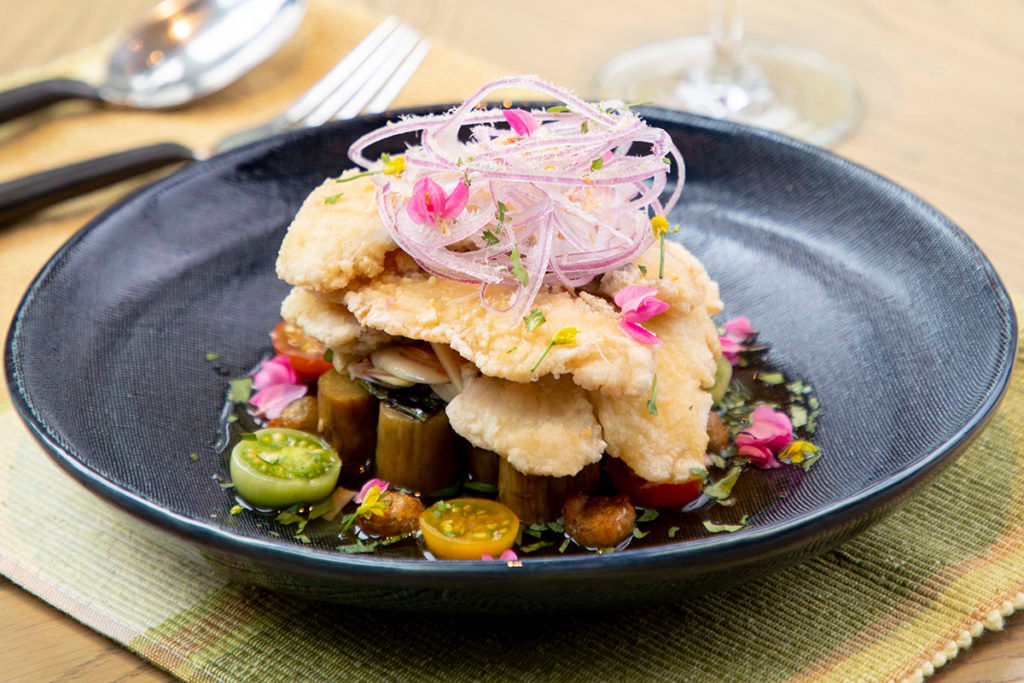 It's always a pleasure to encounter a chef with genuine passion, and that passion remains evident in the dishes that follow. My next two courses both feature fish, starting with the fabulous Yum Ma Kuea Yao Pla Kraphong Thod, a new addition to the menu. It's also a tower-like construction, with a mid-section consisting of several lightly battered fillets of deep-fried sea bass. Above the fish sits a jaunty swirl of red onion, while below lies a sturdy foundation made up of different types of eggplant, shallots, some bright red Chiang Mai cherry tomatoes, and a few edible pink flowers.
"Thai-style spicy eggplant salad is a dish my mother frequently serves at home, so I asked to borrow her recipe for my own preparation of the dish," Chef Bua tells me. "The ingredients are straightforward and simple, although our version uses sea bass which has been deep-fried twice to make it crispy, not oily. We also pickle the eggplant berries to reduce any bitter taste."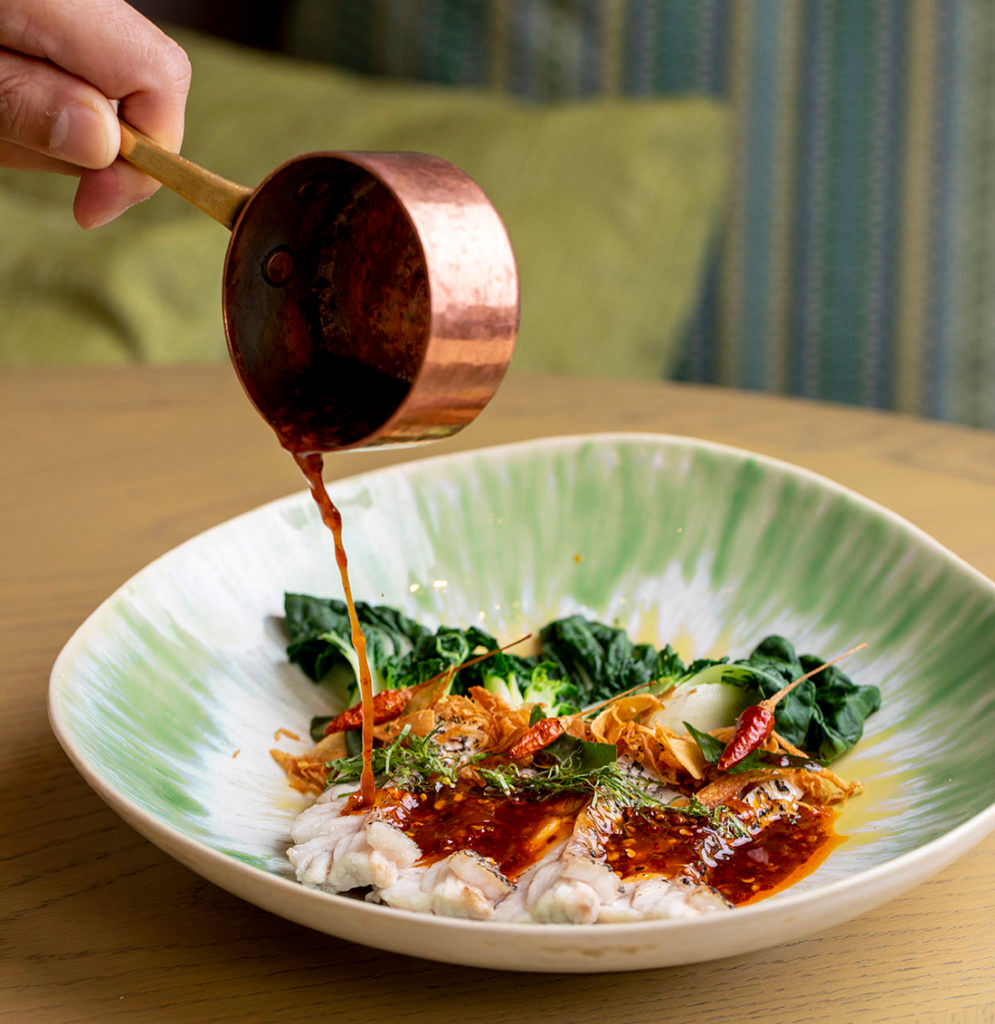 The second fish dish is Pla Gao Nueng Phrik Larb Kua, in which grouper – one of my personal favourites – has the starring role. The tender strips of steamed fish are served sprinkled with crunchy fried garlic and shallots, topped with a spicy sauce made using Northern chilies, and served alongside lightly steamed bok choy.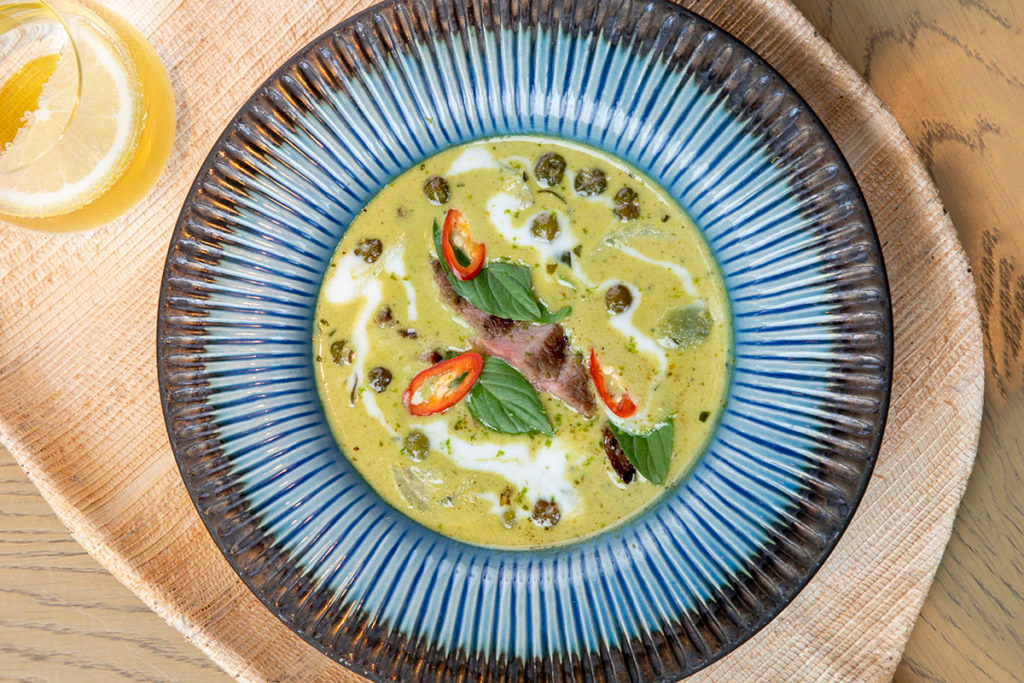 Moving on to meats, I find myself face-to-face with a hearty bowl of Gaeng Khiao Whan Si-Khrong Gae Yang, wherein a nice chunk of Australian lamb rack takes the place of chicken in this otherwise relatively traditional green curry. The chef points out how the lamb is sous vide with curry paste for 6 hours before being finished on the grill. It's obviously a lot of extra prep work in the kitchen, but the results speak for themselves.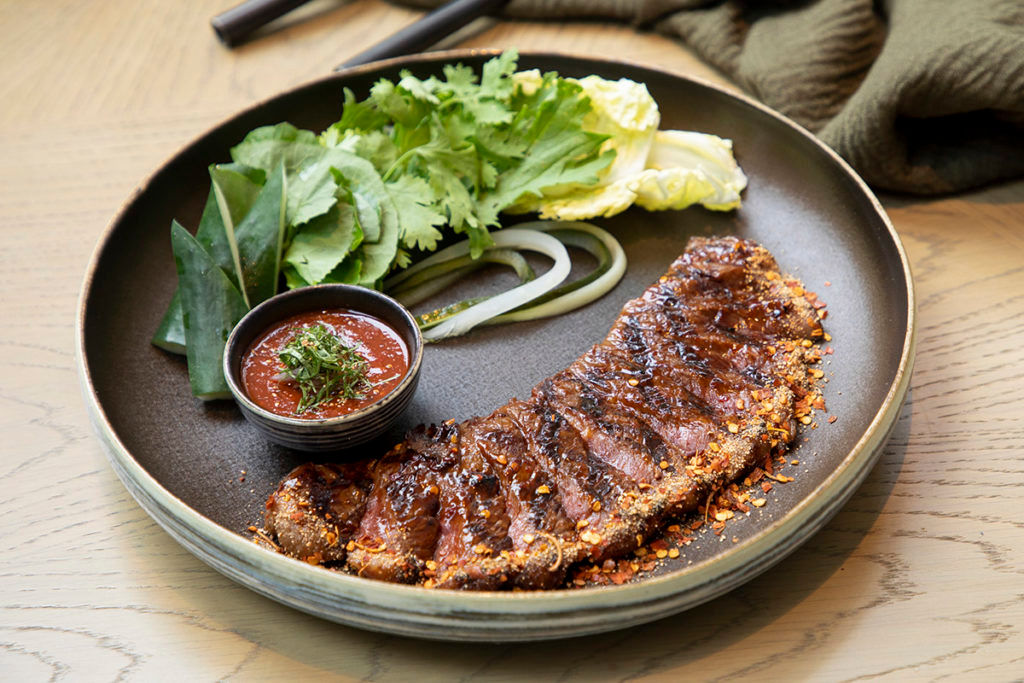 The final main to arrive is the signature Suea Rong Hai, in which your choice of Australian Wagyu beef or Kurobuta pork – I chose the beef – comes prepared in a very traditional Isaan manner. Cooked at high heat on the grill, this tender strip of top-grade meat is then expertly sliced into multiple pieces and topped with roasted rice, chili powder, and a salty-spicy marinade sauce. A bowl of nam jim jaew spicy dipping sauce and some fresh cut herbs and vegetables on the plate completes the Northeastern Thai aesthetic.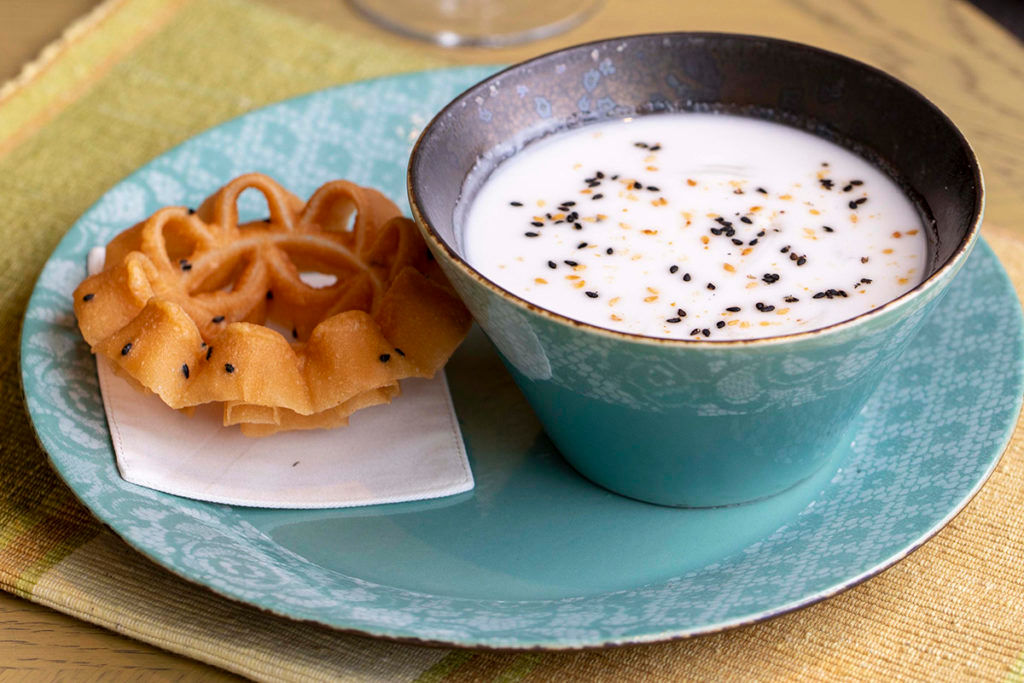 The concluding sweet courses begin with Krong Krang Naam Kati, a tapioca flour dumpling and sweet coconut milk dessert served here with a crunchy, ring-like side cracker. It's another newcomer to the menu, and is also adapted from a recipe Chef Bua "borrowed" from her mother. Then, for the finale, the chef's smile gets that much wider as she describes her Mille-Feuille Tako Look Chid, another debut dessert.
"This one combines Western and Thai dessert styles," she says, pointing out how the sago pudding, palm seed, and coconut jelly combines with the delicately layered mille-feuille. "I really like puff pastry," she adds, and I have to admit, so do I… especially when it comes with a generous, hand-poured pool of white chocolate sauce on the side.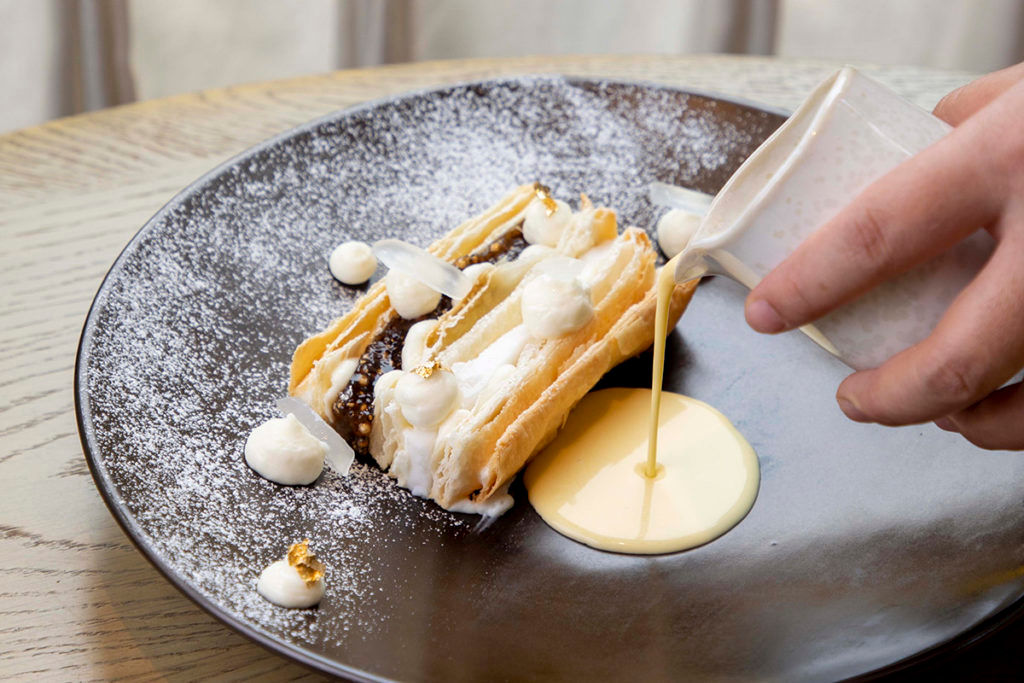 In addition to a well curated food menu, Front Room also offers a nice wine list – including selections from several prominent Thai wineries – as well as cocktails and other adult beverages. Sometimes, though, a lunch outing means returning to the office later, and so a refreshing mocktail is in order. In such a scenario the Yen-Jai (a mix of lychee juice, honey syrup, cranberry juice, lime juice, and pandan soda), and the Hunsa (a combination of passion fruit, guava juice, lime juice, lotus syrup, and ginger ale) are both perfect fits.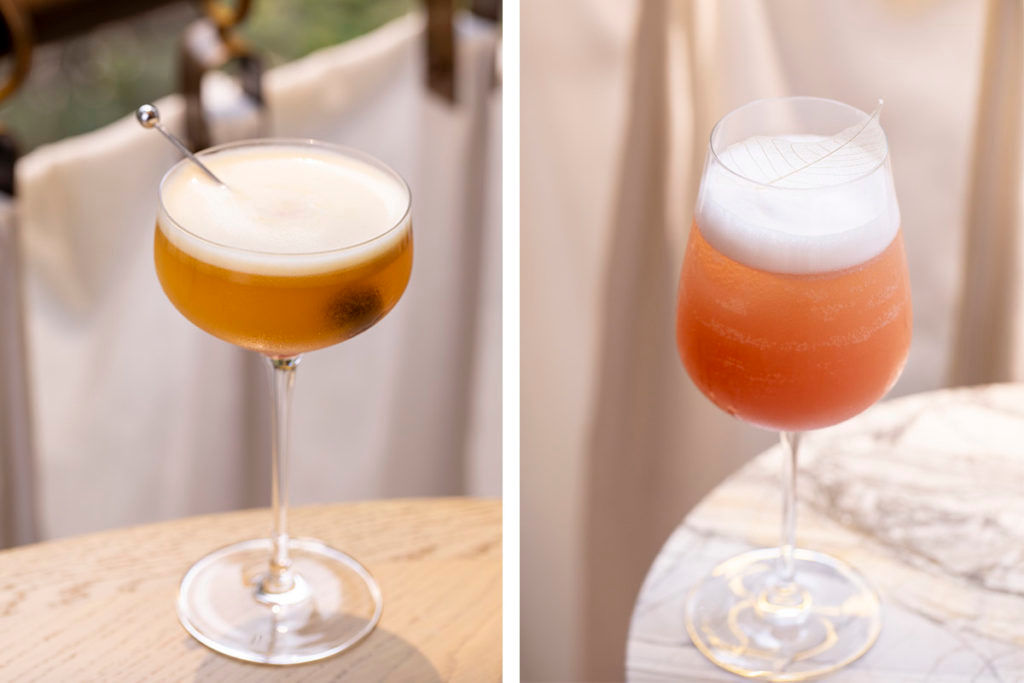 There's an old saying that "too many cooks spoil the broth", but in Front Room's case the opposite seems to be true. Chef Bua, influenced by her many mentors – including, of course, her mother – is part of a multi-talented in-house team, and her fellow Thai staff all hail from far-flung parts of the Kingdom; north, south, east and west.
"Everyone can bring their ideas and special family recipes to share," she explains. And from what I've tasted so far, it's a strategy that definitely seems to be working.
To reserve your seats or find out more, visit Front Room.