Return to Women of Power
Previous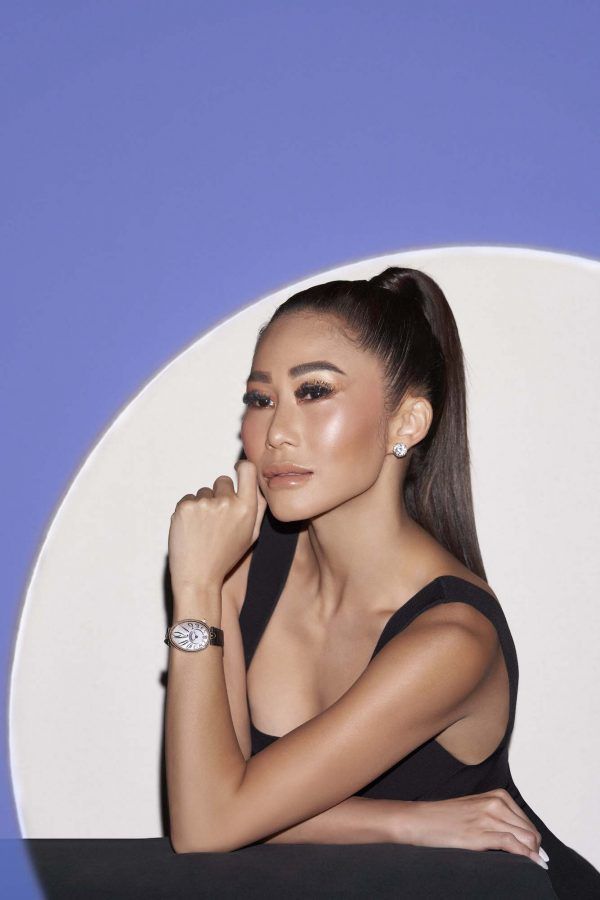 Naphaporn "Lek" Bodiratnangkura
CEO of Nai Lert Group
In the presence of Naphaporn "Lek" Bodiratnangkura, one recognises power. From the meeting room of Bhakdi (meaning "loyalty" in Thai), the building named after Nai Lert (royally bestoed Phraya Bhakdinoraseth) we notice Lek — the leader of Nai Lert Group — standing by the desks of her employees and immersed in deep discussion. Not the kind of CEO giving commands from an isolated room, Lek is very much a part of theteam.
She and her staff could be discussing the December 2023 opening of Aman Nai Lert Bangkok, of which 50 percent of residential units have already been sold, or the upcoming November opening of Ecole Ducasse Nai Lert Bangkok Studio, a culinary school founded upon the personal brand of Michelin-star chef Alain Ducasse. Or perhaps it's Nai Lert Park Heritage Home, Nai Lert Butler, or any one of the many other ventures spearheaded by Nai Lert Group they're discussing. Whichever the topic, it's abundantly clear that the company's success is ongoing and ever-evolving – and for this woman of power it's a multigenerational journey.
On the topic of success, Lek's words resonate: "There's no such thing as an overnight success. Don't cut corners. Focus on excellence first, not money," she cautions. "We've been doing this for 140 years and guess what?… all this is definitely not going to end with me."
When asked about power, she admits it's a double-edged sword. "Some who have it may misuse it. For me, if you have power and aren't a good human being, this will hurt you. Having power comes with great responsibility, and you must always be accountable. As CEO, I now look after 300 employees and spend time ensuring that Nai Lert Group is not only excellence-focused, but that our people are happy as well."
For Lek, wielding power is also about sharing it, and her personal motto reflects this. "I always try to live a happy life, but never at the expense of others. I don't want to be rich while my team can't put food on the table. I was brought up to share our blessings. My family never made anyone suffer. We are not the biggest company, nor the richest, but we are very happy."
So happy is she, in fact, that she looks perplexed when asked about her work-life balance. "I don't get this idea at all. For me, my work is my life. I love it! I was always taught by my grandmother to do what you love, and love what you do. When you do, every moment is exciting and you never grow tired. I'm 40 now, and full of energy. I have enough energy to do this for another 40 years. My work is so ingrained in my life that sometimes, on a Sunday, I'll plan to go shopping, but as if on autopilot I end up driving to the office," she laughs, sharing a comical anecdote.
"It's so important to love what you're doing because you're always going to run into problems. Don't be one of those CEOs who's always focused on fixing problems and not looking ahead," she adds. "Don't get stuck in a box. Be willing to adapt and approach things with a fluid and fresh perspective. Old-school mentalities would be challenging to survive Covid."
It's pretty clear that this great-granddaughter of Nai Lert didn't begrudgingly accept her CEO title just because of familial ties. She was never forced to, but – like the powerful woman that she is – she chose to. "We [our family] are stubborn. And you can't force me to do anything," she affirms. Indeed, much like the way she chose to quit her Paris Hilton party lifestyle a decade ago, she also chose to continue the family's multigenerational legacy, and she point-blank worked – and continues to work – for it. "No one can say I have no brains. I work. The women in my family always worked. Because it's an absolute waste of a lifetime to be blessed with all this and not continue it."
With partying completely out of her system, she dedicates each day to purposefully living the life she's now chosen. She does so in a similar vein to her mother, aunt, and grandmother; the long and unusual lineage of strong women who were successful in maintaining the legacy of Nai Lert during those times when Thai businesses were completely dominated by men.
"I applaud how we are seeing more women in business now. My grandmother, at the age of 26, took over the empire when Nai Lert passed away, and then it was my aunt and mother who took over from her. The women of my life were ahead of their times."
Changing the subject ever so slightly, we ask Lek if it's important to dress for success. "So important," she says without hesitation. "How I dress puts me in the mindset for success. I find it amusing how some people can do Zoom meetings in their bathrobes. I'm the type of woman who will get completely dressed, and even wear six-inch heels to a Zoom call. My outfit and makeup are my armour."
She also remarks that, in her opinion, watches are the most important accessory for any look. "I might forget to put on my earrings, but I'll never be seen without my watch. I like bold and masculine watches. They complete my look," she goes on to say, adding that she particularly likes the Breguet brand because, very much like Nai Lert, it's multigenerational and timeless.
Next