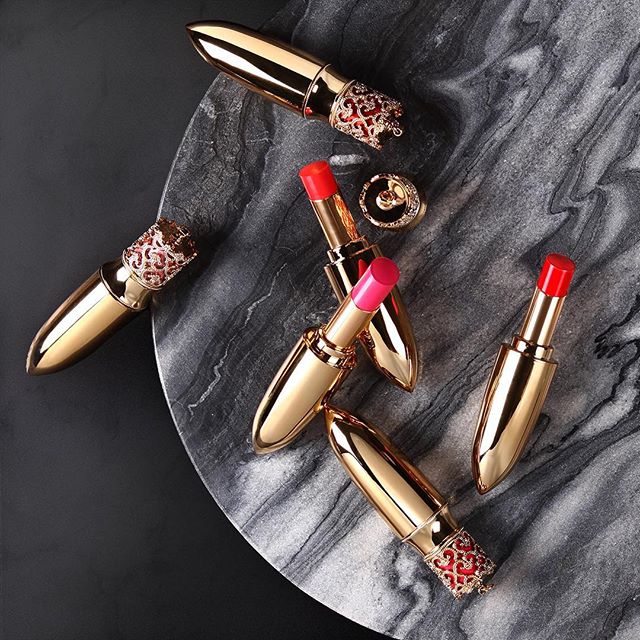 When it comes to all things beauty — whether make-up or skincare — The History of Whoo prides itself on delivering products fit for royalty, from trusted ancient beauty formulas from the royal courts to select premium ingredients to Korean history and culture-inspired packaging.
Expanding its range of lip products, the Korean brand has introduced the new Gongjinhyang: Mi Luxury Lip Rouge as part of its 2017 Holiday Makeup Collection, and just in time to prep your lips for the advent season.
And why do we say prep? Not only does the Lip Rouge come in six elegant shades — Royal Red, Red Orange, Coral Pink, Ruby Pink, Rosy Coral and Rose Brown — to complement your skin tone or dress you up for a day out, it is also formulated with ingredients to make sure your lips are well taken care of.
The brand, after all, is known for its expertise in employing Eastern medicinal formulas, packing its wholly contemporary products with herbal goodness. One such ingredient is Asiaticoside (extracted from Centella Asiatica), a wrinkle improving ingredient that activates collagen synthesis to reduce fine lines on the lips. To nourish lips, the rouge is formulated with the signature Gongjinbidan herbal complex that promotes blood circulation, and Hwarosoo, an herbal complex curating the benefits of flowers (peony, lotus, safflower, chrysanthemum and honeysuckle) to deliver anti-inflammatory and anti-aging effects. Finally, inspired by the beauty secrets of the royal court, the six-herb Chunghwasungidan complex, comprising herbs such as ginseng and liquorice, brightens lips while camellia oil helps moisturise for a healthy shine.
As if not already worthy of a queen, the new Lip Rouge comes adorned with a crown modelled after the Korean Shilla Empress' Crown. Perfect for yourself or as a gift this holiday season, it can also be customised with personalised engraving (available at The History of Whoo beauty counter in Takashimaya Department Store Level 1, on November 25).
And just in case you need makeup inspirations for the season, The History of Whoo has also curated four different looks that you could pull off using their Gongjinhyang: Mi makeup collection. Click on the gallery for more.
The History of Whoo is located at TANGS at Tang Plaza (Level 1), TANGS at VivoCity (Level 1) and Takashimaya Department Store Level 1 (from November 17).
Facebook.com/TheHistoryofWhooSingapore
Instagram.com/thehistoryofwhoo_sg
This article is brought to you by The History of Whoo.