 "Fragrance is the key to unlocking your memories," says Chris Wyatt, global education executive director and global spokesperson for perfumer and lifestyle brand Jo Malone London.
On meeting Wyatt I get a whiff of a floral scent, one that's less familiar to me than it would be to my friends who have grown up in the British countryside, surrounded by fields of greenery. They, unlike me, probably know a bit more about honeysuckle.
Still, the new Jo Malone London Honeysuckle & Davana Cologne is mesmerising, if only because I haven't before encountered a fragrance that evolves throughout the day. The scent is fresh and flowery in the daytime and releases a sensual feeling at night.
Does the scent come from honeysuckle flowers? Wyatt assures me that the fragrance is created by a headspace technology that captures the floral scent and allows it to be recreated with synthetic ingredients. It's a relief to know that the label isn't harvesting wild honeysuckle, which is an important food plant for hummingbirds. Wyatt continues to engross me with the latest innovations in the fragrance market and growing concerns about sustainability.
What does one of the world's leading fragrance experts have to say about the scent of the season and the launch of Honeysuckle & Davana Cologne?
What do you want people to feel when they smell Honeysuckle and Davana?
I think of my childhood and the British countryside. We created this scent to capture its beauty and elegance and give those who smell it joy and happiness. Our goal is to let others feel carefree, happy and bohemian. I think it's a very cool and quirky interpretation of a classic chic fragrance.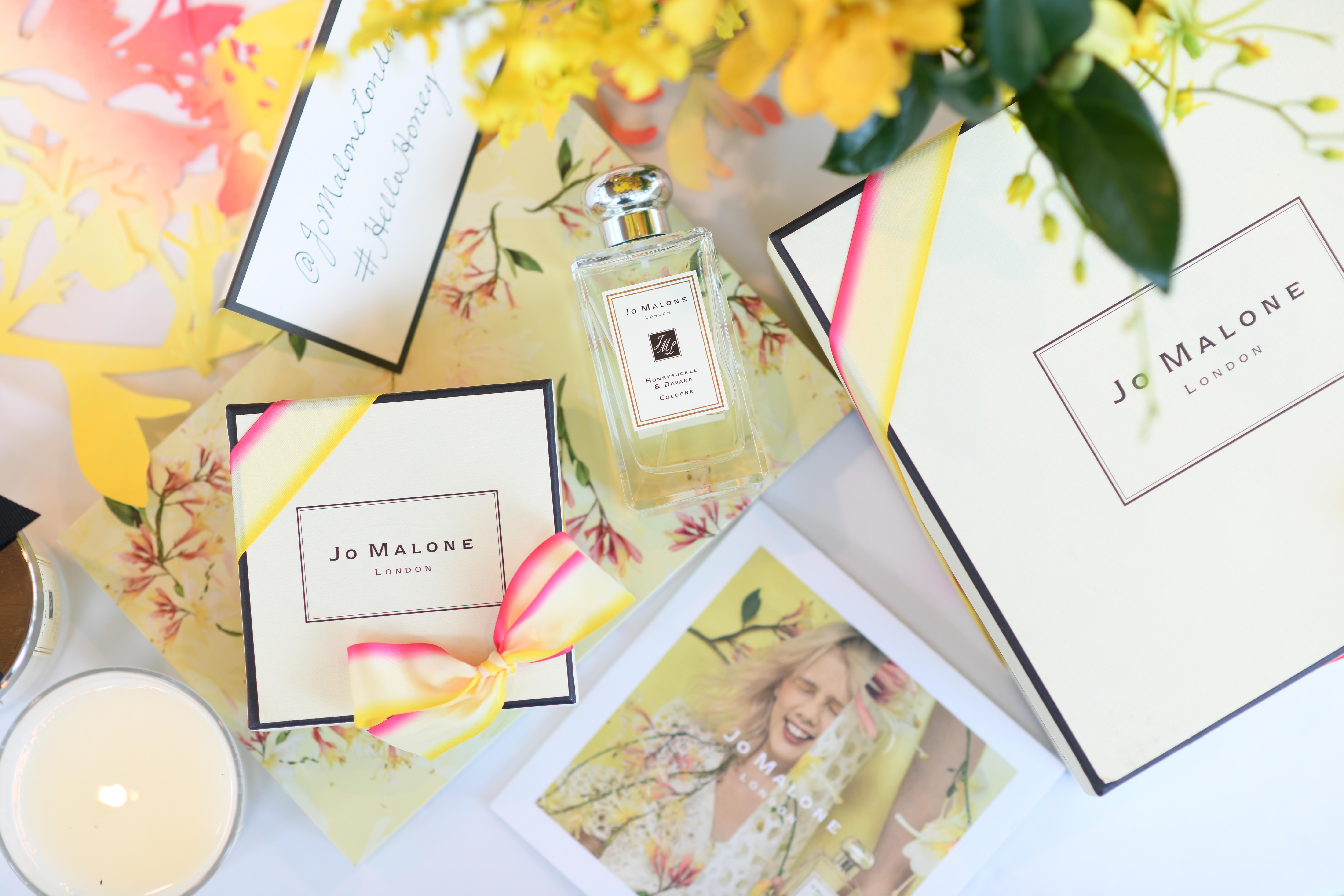 Would you say it's a scent for the season?
I think fragrance definitely has seasonality and this – Honeysuckle and Davana – is a perfect fragrance for summer and fall. But, that's the beauty of Jo Malone fragrances, you can change it for every season. Our concept of combination allows you to do that. You become a perfumer on your own, picking out the right ingredients to get what works for you.
A scent can unlock memories. What is your favourite?
Vanilla, I absolutely love it because it takes me back to my childhood. It reminds me of baking cakes with my grandmother. I adore anything with gourmand and creaminess in it.
What fragrances do you think men love on women?
Preferences are dramatically changing, so I think your scent must underline your personality. It would be wrong of me to say that a man wouldn't prefer a certain fragrance on a woman because scents change depending on who wears it, and who is smelling it. Anything that shows off a natural beauty is great, I believe that's what most men really want. What's a common misconception about perfume?
I disagree with the long-standing myth that men should only wear woody scents and women should only wear flowers – that's really down to clever marketing over the years. This whole misconception is dated. If you think of fragrance, and its origins – everyone wore flowers and everyone wore woods!
Share with us a few tips when wearing or picking out a fragrance.
Always try it on your skin. It's okay to start off with a blot or ceramic, but the scent changes depending on the person wearing it.
Never spray it on your wrist – warm it by applying it on your hand.
Moisturise before applying your perfume – if you think about it, would you put your foundation on without moisturising your face?
How would you best pair Honeysuckle & Davana Cologne for different occasions?
For a first date, I'd pair this with English Pear & Freesia – it's cool, it's pretty, it's golden and, most importantly, it's fun!
For a coffee interview, I'd probably prefer this scent on its own, maybe with a body cream underneath it.
For meeting the parents, I'd add Nectarine Blossom & Honey, an innocent fragrance with a sophisticated twist.
For a brunch with girlfriends, to stand out a little pair it with Wild Bluebell as it adds a dewy aquatic mood and it'll get all the girls commenting on how great you smell.
Lastly, for an office party, pick Oud and Bergamot – when it's party time this is a sexy scent to pair with Honeysuckle & Davana.