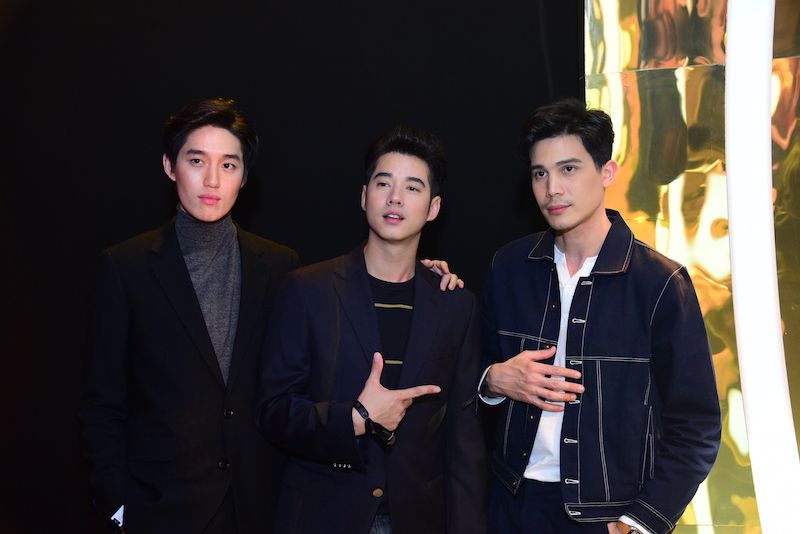 Cartier is not known to be the type of brands that randomly throws parties every other month. Like its legendary jewellery, Cartier only does parties that are meant to be an unforgettable talk of the town. This time, the maison is celebrating its iconic Juste un Clou and Écrou de Cartier jewellery inspired by simple tools like nails, nuts and bolts. Prestige takes you inside the giant warehouse where Cartier is showing us how to create an extraordinary night out of something ordinary.
It's set inside a massive warehouse.
What can be a better way to highlight Cartier's ambitious theme "When the Ordinary Becomes Precious" than to transform a simple warehouse into a glittering party venue? The immersive journey started with a long red carpet leading into a giant warehouse where the worlds of form and mechanics collude in a novel art installation concept realised as Cartier Precious Garage. The gold shipping container stood greeting guests at the entrance, suggesting the arrival of Cartier Precious Garage in Thailand.
The venue is packed with installations by a world-class artist.
The brand's avant-garde art installation concept was designed by New York-based Puerto Rican visual artist Desi Santiago to showcase the creative twist on everyday objects that makes the ordinary exquisite, with a unique gold Corvette as centrepiece, flanked by two large walls, one in gold adorned with Corvette parts and components, and the other in white displaying mechanic's tools. Altogether Cartier brings the artist's event concept to life to make the ordinary extraordinaire in industrial luxury style.
SEE MORE: Inside the Launch of Grand Seiko The Flow of Time Exhibition
Juste un Clou and Écrou de Cartier take centre stage.
Cartier Precious Garage party was inspired by two of Cartier's iconic collections. The first is the famous Juste un Clou collection created for Cartier in the 1970s by Italian designer Aldo Cipullo. It is an expression of rebellious nature famed for its radical appropriation of a nail as a jewellery. Cipullo's hardware concept is reinterpreted into Écrou de Cartier, a jewellery inspired by nuts and bolts. With nuts freely movable, the new Écrou de Cartier collection makes forceful statement of the wearer's daring and limitless style.
Showbiz stars and celebrities are life of the party.
Who cares if you cannot see any stars in the smoke-covered Bangkok sky when all the showbiz stellar magnets are right here at Cartier party? From Prin Suparat to Mario Maurer, Natapohn Tameeruks, Thanapob Leeratanakajorn, Sunny Suwanmethanont, : Jarinporn Joonkiat and Gunn Svasti and Sonya Singha. On the society side, the bash enjoyed the grand presence from Jay and Jareyadee Spencer, Tirawan Taechaubol, Kanachai Bencharongkul, Patsarakorn Chirathivat, Gulapat Kanokwatanawan, Karoon Sosothikul, Orawan Ingkhasit and Tachamapan Chanchamrassang.
Discover more about Juste un Clou and Écrou de Cartier at www.en.cartier.com.