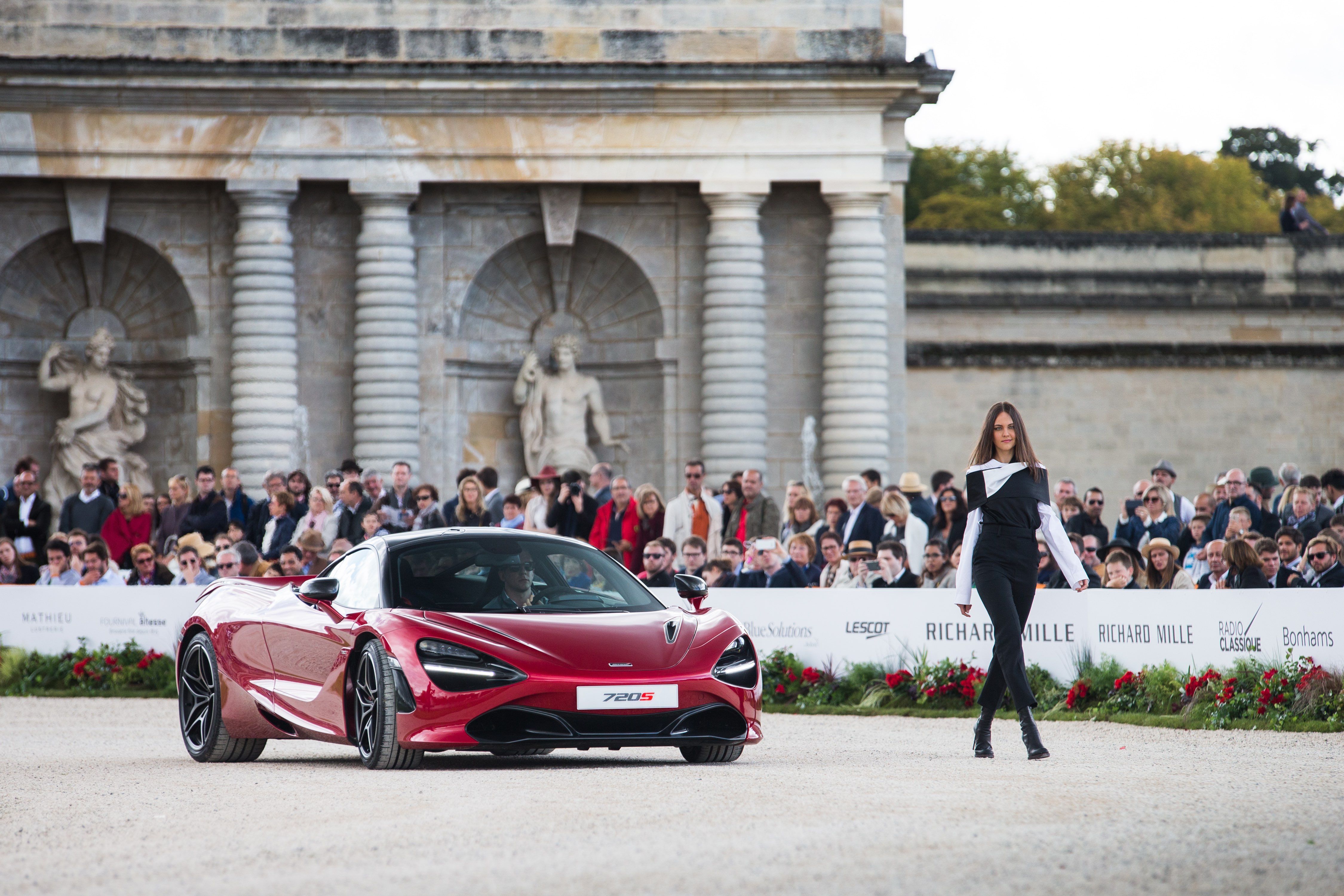 It's the evening before I'm due to fly to Paris chez Richard Mille to take part in one of the brand's most exclusive events, Chantilly Arts & Elegance, and – as many a lady I'm sure has declared while staring at a closet filled to the brim with colourful threads – I have nothing to wear.
The concours d'elegance that takes place just outside of Paris is an annual affair that's held each September, bringing together some of man's most beloved and beautiful forms of transport – vintage vehicles that delight with nostalgic appeal, contemporary concept cars that wow with bells and whistles, and majestic horses who know a few more tricks than just a simple trot (Chantilly is, of course, best known as home to the largest racehorse-training community in the country).
And as I eventually discover, these aren't just your average stallions – these are literal clotheshorses, dressed to the nines for the occasion in ostentatious saddles, their braided tails swishing as they saunter. They probably don't have my dress-code dilemma; I'm pretty sure someone chooses their outfits for them.
But packing your bags is the only difficult aspect of attending the event. Hats are de rigueur, though anyone who's had to stuff a fascinator into her check-in luggage knows it's easier said than done. Then, of course, there's the outfit to go with the hat, and the shoes to go with the outfit – footwear that needs to be chic, but also comfortable and practical in order to conquer miles of grassy knolls.
And then consider this fair warning, should you attend the gala dinner that punctuates the first evening of the concours: stiletto heels are not recommended, unless you are adept at manoeuvring across stone cobbled paths in them.
Day one of the two-day event kicks off with two rallies: one for collector cars, the other for the state-of-the-art supercars. The skies are cloudy, and will suddenly open wide for a quick torrential rain, but that doesn't deter camera-toting bystanders who dot the roads of Chantilly hoping to catch an up-close photograph of an unusual automobile. Having dealt with more than enough rain in Hong Kong this year, I hit the lunch line – and under a big tent at the rally participants' lunch we discover spoils fit for a king, set to a soundtrack of excited multilingual chatter and the echoes of raindrops on the canopy, where we indulge ourselves with champagne and homey French fare. In the evening, we head to Chantilly's Great Stables for the official dinner party, at which I discover the best way to ward off jetlag – by hiding from the merry Richard Mille hosts, who seem determined to raise their goblets in toast at every opportune moment. (In fact, the only moment during which my glass is allowed to be safely set on the table is when the special guest arrives – a beautiful stallion in full regalia who gives the supermodels at Paris Fashion Week a run for their money when it comes to stomping down the runway.)
Although I escape at the relatively reasonable hour at which Cinderella's coach becomes a pumpkin, I hear the next morning that many of the watch brand's invitees partied till the morning light with Richard Mille the man himself, going so far that they elicited complaints from slumbering guests when they took the soirée back to the hotel. Elegance may be the name of the game in the bright hours, but come nightfall, these guys know how to get a party started. (Hint: it's with wine. Lots of it.)
Chantilly Arts & Elegance opens at 9am on Sunday to the public, but given the past night's shenanigans, we decide to start a little later. Rays of sun peek through as we arrive, and it's like a carnival that caters to both grown-ups and kids. Our first stop is the Bonhams Auction lot, where quite a few classic cars go on the block for palpably excited bidders to raise their paddles. A short amble from there is a picnic area from which wafts the scent of fresh-baked pizza, and then there's a line-up of the sweetest little ponies for the children to ride. Although the hundreds of cars on the grass are the main event, the activities are plentiful, many holding a bygone allure: hat and scarf workshops; flower-arrangement demonstrations; cooking classes; boat, horse-drawn-carriage or hot-air-balloon rides. There's even something on the programme that simply reads: Garden Party.
But while I'm curious what that is, it's close to time for the official Concours d'Elegance and the Equestrian Show, so after a lovely lunch at the Richard Mille lounge, we take our seats around the parade area and get our cameras ready for the extravaganza.
And what a show it is. Supercar prototypes grunt as they glide around the ring, all metal and curves and sexual energy. Instead of import models in outfits to make Daisy Duke blush, couture-clad maidens in Ann Demeulemeester, Haider Ackermann, Yang Li and Balmain pose alongside the mechanical beasts, fishtail hems of their floor-length gowns grazing the sandy earth. After deliberation by a jury that includes former Ferrari F1 boss Jean Todt, a Renault Trezor Concept and Citroën CXperience Concept take top honours.
Then we see the horse we met the evening before, this time accompanied by a gang of his four-legged friends. They dance and trot and generally have a grand old time rockin' to the music, led by riders in period costumes. But even more amazing are the equines that follow their act, ridden by modern-day Zorros who perform acrobatics as the animals gallop – one man hangs upside down under the horse's belly, another manages to writhe until he's riding facing backwards, and soon the tricks are so awesome they aren't even worth describing, they need to be seen to be believed. These are bizarre talents you won't find on any typical curriculum vitae that crosses my desk, which makes it all the more amazing. There's time afterwards for a visit to the Chateau de Chantilly, a city landmark that sits smack in the middle of the event and houses so many treasures and curiosities, I almost forget I'm at the Chantilly Arts & Elegance. We see gilded furniture fit for Napoleon, stained-glass pictures more vivid than a Tarantino film, and canvas after canvas of art through the centuries – one particular neoclassical piece commissioned by Louis XV in the early 1700s looks almost inspired by the debauchery of the evening before, though as its title translates to "Oyster Lunch" it seems the revellers of yore started their parties even earlier in the day than the Richard Mille gang.
Alas, before the sun has set it's time for the carnival to close, but not before a few honours are doled out — a 1958 Ferrari 250 Testa Rossa owned by Hong Kong's Sir Michael Kadoorie takes Best in Show in the post-war-cars category, while the best of pre-war category is awarded to a '36 Bugatti Type 57SC Atlantic owned by Americans Robson Walton and Peter Mullin, the latter's '37 Delahaye 135M cabriolet having taken first place in 2014.
But while the cars are indeed worth a gasp or two, whether you're a knowledgeable petrolhead or simply a hat-toting tourist from Hong Kong, the event is well worth attending regardless of the vehicular draw.