One of the newest models by Princess Yachts, the Princess 62, recently debuted in Asia. The British-based shipyard's turned out another winner with this one.
The new flybridge motoryacht, created for an Asian client, lay berthed at ONE°15 Marina in Sentosa Cove and the first thing we notice is its dynamically bold shell and silhouette. Sweeping, sculpted windows on the hull sides add a distinctive touch, while a bridge toward the stern emanates that sporty vibe.
SEE ALSO: The new Kundalini Massage at Capella Singapore's Auriga spa Protected by a tall hardtop, the vessel is equipped with a generous dining area, and a distinct circular forward seating area that converts into a sunpad. At the bow is a multi-seat social space, where you can kick back on a sunbed.
Princess 62 can reach speeds of up to 32 knots. But we're completely floored by its interior. Astounding expanse of space aside, it features clever interior styling to enhance the company's hallmark scrupulous design ethos.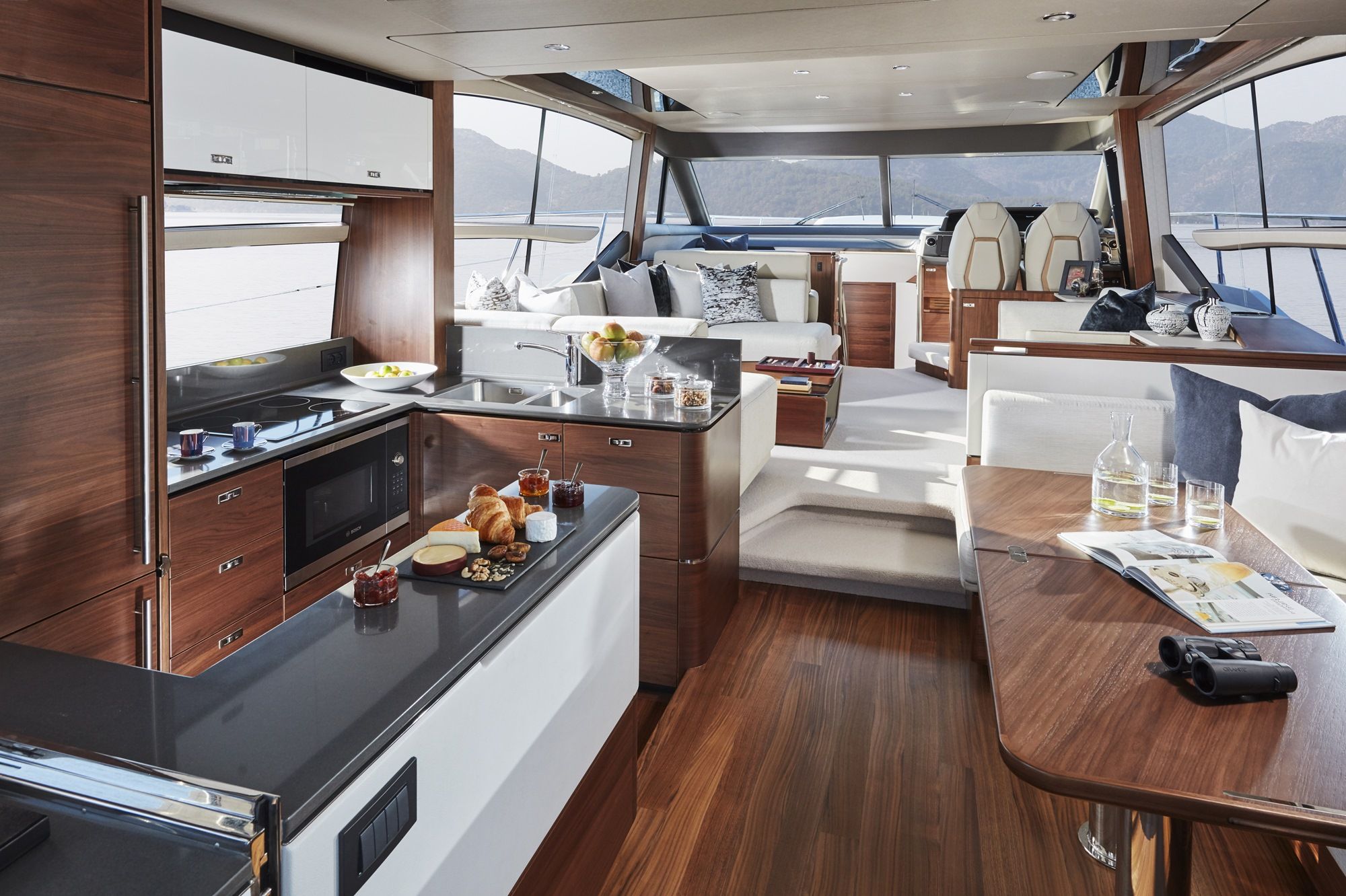 The Princess 62's main deck saloon features full-length windows for natural light and ocean views. There's also plenty of plush seating. You'll find a fitted U-shaped sofa, a two-seater and a cosy dining corner. Other bespoke furnishings abound, including a handcrafted coffee table, which beautifully blends the colour and textures of timber, glass and leather, surely a statement piece. The galley comes turnkey ready with a microwave or conventional oven with stove; built-in fridge; stainless steel sink; and more. The entire space is rather cavernous and would inspire the cook in you.
Below deck, up to six guests can enjoy three scrumptiously appointed en suite cabins all bathed in natural light from that long hull glazing. The Princess 62's master bedroom even has a nice longue area with, you guessed it, more plush chairs. All three staterooms are connected to the spacious bathrooms.
Alister Brunskill, country head of Princess Yachts, akins Princess 62 to a "penthouse that floats". And well, we couldn't agree more.