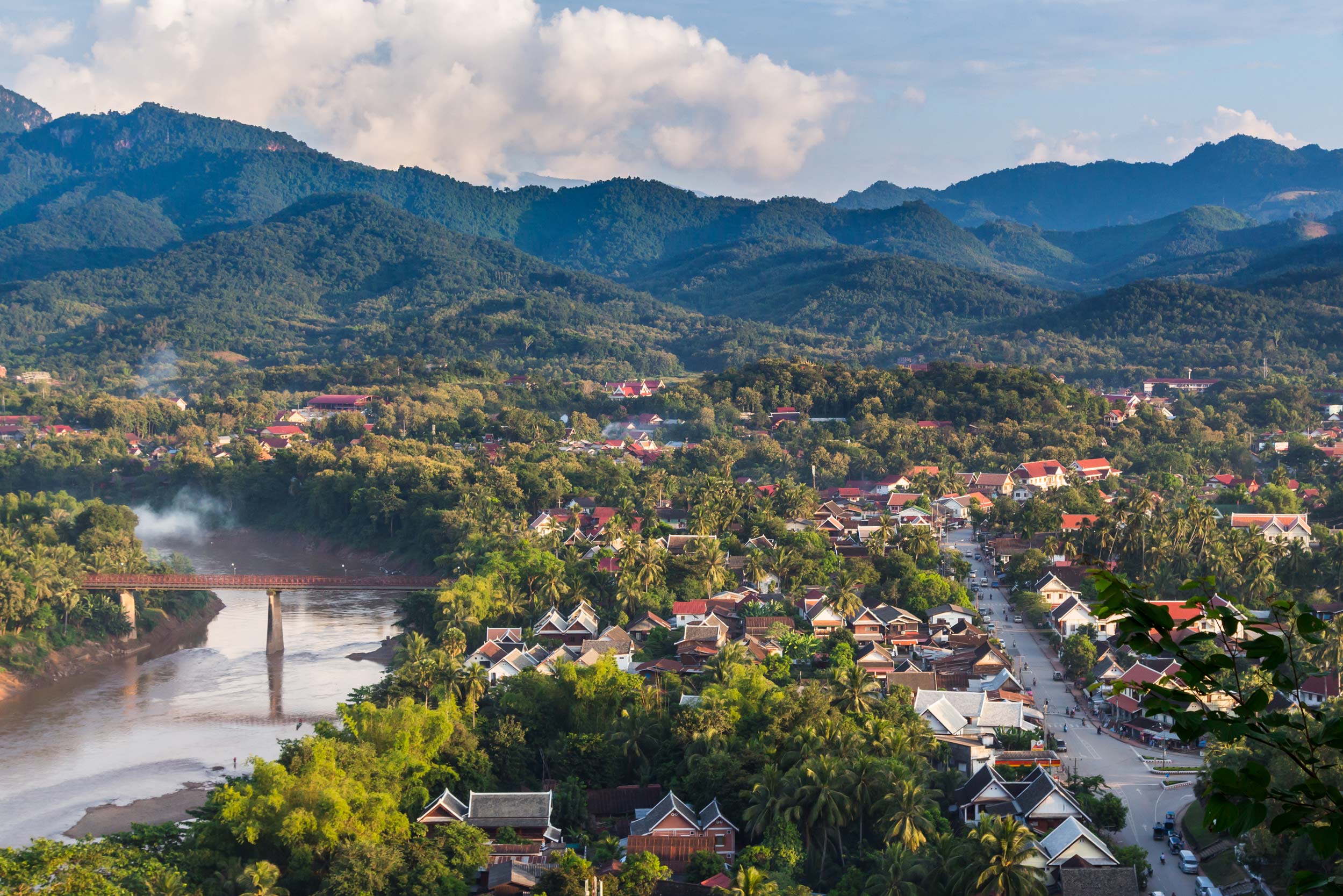 The restaurant is elegant without being fussy, decked out in dark teak and white tablecloths, with cool jazz striking the right ambient vibe. The diners include groups of young professionals and some amorous couples in cosy conversation at the corner tables. I'm enjoying my first upscale entomophagy meal – homemade pasta mixed with crunchy roasted grasshoppers, covered with a tangy lemongrass sauce, a touch of dill, and accompanied with a Chapoutier Belleruche Côtes du Rhône 2014.
"Cooking with insects is a passion of mine," says Blue Lagoon's chef and owner, Somsack Sengta. "Insects have better nutritional value than any regular meat or tofu. Since I added insect dishes to the menu, the feedback has been great. Insects are our future food and I'm happy to be leading the way." For those who prefer not to bug out, the majority of dishes are classic Lao, Swiss and Italian.
Sengta is one of many entrepreneurs turning the ancient Lao royal capital of Luang Prabang into the Laotian capital of cool. Blending with – and even drawing upon – the city's French colonial legacy and traditional Laotian influences is a hip and innovative scene of top restaurants, resorts, shopping and spas.
In a region where cultural heritage is often sacrificed to breakneck tourism development, Luang Prabang, nestled between the Mekong and Nam Khan rivers, maintains a beguiling old-Indochina charm. Calling it "the best-preserved city in Southeast Asia," Unesco declared the town centre a World Heritage Site in 1995, noting its beautiful temples,well-maintained French colonial mansions and traditional homes.
It's an easy small town to experience on foot or bicycle. Wander lanes with the scent of frangipani from gardens of traditional-style wood houses; wake at dawn to see lines of barefoot monks with their brass bowls for alms; sit at sunset at one of the riverside outdoor cafes with coloured lanterns and watch traditional fishing boats heading home; and then browse the bulb-lit aisles of the night market filled with handmade local crafts. While the city still attracts backpackers because many things are incredibly cheap – you can have a Lao meal with local beer for under US$10 – it's clear that tourism officials and developers are looking to attract more affluent visitors with classier choices.
Blue Lagoon is just one of several excellent restaurants. Manda de Laos, with its local-tropical ambience of dining tables and sofas around a vast, fish-filled Unesco-classified lotus pond, features traditional family-recipe Lao specialities.
L'Éléphant Restaurant, housed in an elegant restored colonial villa, offers sophisticated French Lao dining, and is one of the city's earliest-established high-end dining spots. Its second branch, L'Éléphant Vert, has an innovative menu that includes vegan choices even meat lovers will enjoy.
A classic Citroën car stands on permanent display in front of 3 Nagas restaurant – set across the road from the hotel of the same name – serving French-inspired cuisine in a heritage building with a garden and candlelit tables.
For an after-dinner drink, one of the best bar scenes is Icon Klub, an arty little place run by a Hungarian poet that not only serves quality cocktails, but also – with its clientele of writers, poets and musicians – quality conversation and music too.
Expanding the luxury hotel scene, Aman Resorts founder Adrian Zecha – who left the hotel brand after bitter court battles in 2014-2016 – opened his first Azerai hotel earlier this year. With its name inspired by his initials AZ and the Persian word caravanserai (a resting place with a central courtyard for travellers), the 53-room Azerai Luang Prabang is set in a former 1914 colonial building built by the French. While lacking the opulence of the nearby Amantaka, a former colonial hospital at the foot of Mount Phousi, this elegant property in the heart of the city provides modern luxury with Aman-like service for good value. And later this year, Rosewood Hotels and Resorts is opening the first luxury tent-and-villa hotel a short drive outside Luang Prabang. There will be eight deluxe villas, three garden villas, six private pool villas and five luxury tents, each designed with locally sourced materials and art works. Other top-end accommodation in the city includes Belmond La Résidence Phou Vao, set on a hill overlooking the town below, and Villa Santi, the 120-year-old former residence of Princess Manilai.
Luang Prabang is also a place for blissing out at the spa, such as Angsana Spa, set in a tranquil garden of the historic Maison Souvannaphoum hotel. Among the street-side operations is L'Hibiscus Spa and Massage, which provides an elegant and tranquil setting for healing and aromatherapy massages; Spa Burasari, set in a lush garden overlooking the Nam Khan River, offering ancient healing techniques coupled with modern body remedies; and the tranquil spa in Satri House, set among lush gardens and small pools.
For those whose idea of therapy veers towards the retail, Caruso Lao has beautiful textiles and furniture; Anakha has local handmade fabrics, clothes, linen and accessories; Le Pavillon de Jade, set in a colonial house, has a large selection of natural-dyed silks, antique bronzes, ceramics and silverware; and at Ock Pop Tok visitors can watch Lao weavers produce some of the items on sale.
With or without a purchase,the most lasting souvenirs will be the memories of this small ancient capital with its numerous pleasures.