Henry Hsieh畢業自紐約大學,以及畢業自美國紐約International Culinary Center及義大利帕瑪ALMA餐飲學校,是米其林一星餐酒館Longtail與原木柴燒餐廳Wildwood Live Fire Cuisine的營運總監。不過他總是說「叫我Your friend at Longtail就好」,Henry熱愛美食更愛分享美食,對餐飲業有獨到的觀察,他現在要以幽默風趣與富文化視角的專欄文字來分享他對美食與餐飲的所見經歷。
TEXT HENRY HSIEH IMAGE HENRY HSIEH TRANSLATION MICK WU IMAGE HENRY HSIEH SAN DOMENICO.IT BIGODINO.IT
我不是一個星艦粉,但劇中這句台詞─抵抗是無用的─很打到我, 尤其是當我在菜單上看到有義大利麵餃時更是特別有感覺。我腦中會有個聲音催促著我說「別再看菜單了,趕快點我,你最哈我了,菜單 上是沒有任何東西能比我更能滿足你,不點我你事後絕對會後悔。」 管它是方餃(ravioli)、 小肚臍(tortellini)、長方餃(agnolotti)還是帽餃(cappelletti),全部都得進到我肚裡。
I'm not a Trekkie, but this line from the series resonates with me. These words ring true every time I see any sort of stuffed pasta on a menu. A voice in my head says to me, "Stop reading, and order me. You know you crave me, you know nothing else on this menu could be more satisfying, and you'll just regret not ordering me later." Be it ravioli, tortellini, agnolotti, or cappelletti, they all must get in my belly.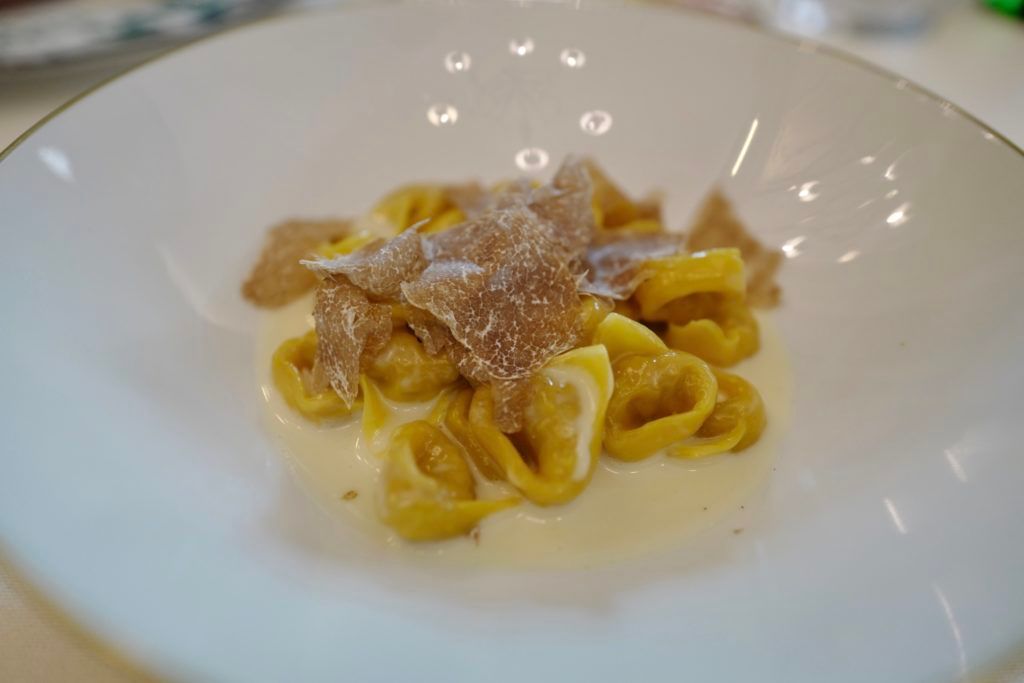 在世界各地的飲食文化中都可以找到食用如此美味的包餡麵食傳 統。華人有餃子跟餛飩,日本人有煎餃,韓國人有「饅頭」(mandu 也就是餃子的意思)。我全都很愛,而它們的共同特徵是從製作麵皮到包餡幾乎完全以手工製作。光是親手包這件事就有一股很讓人大感 欣慰的魔力在裡頭。這些個一口咬小麵食一次只能包一顆,而且往往會是家族成員聚在一張大桌子,充滿愛意一顆一顆仔細用心包。我曾經一餐吃完 50 顆我奶奶包的豬肉水餃,我很可以說我就是在那個時刻給正式引領進入包餡麵食的名人堂裡。
This kind of wrapped goodness is evident in just about every culture. The Chinese have dumplings and wontons, the Japanese have their gyoza, and the Koreans have mandu. I love them all. They are almost always hand made, from the pasta itself to the filling. I think there is something intrinsically satisfying and comforting about that. Each of these little morsels are prepared one at a time. Carefully wrapped and usually at a large table with the labor of love shared amongst family. Once upon a time I had 50 pork dumplings made by my grandma, in one sitting. I think it's safe to say I was formally inducted to the stuffed pasta secret society at that point.
包餡麵食在義大利叫麵餃(pasta ripiena),麵餃在義大利餐的上菜順序上屬第一道(primi)而且自己本身就是一個類別。麵餃有各種無盡的種類,每個城鎮不論大或小都有各自城鎮裡的奶奶們流傳下來具上百年歷史的麵餃版本。這邊多捏一點點,那邊多摺一點,就會是完全不同的麵餃食譜,也會有完全不同的名稱。
In Italy, stuffed pasta, pasta ripiena, is a family of its own as a first course, primi. There are endless kinds of stuffed pasta. In each town no matter how big or how small, there is a variation of it passed down through centuries by pasta making grannies. A pinch here, and a fold there, results in completely different recipes and names.
我很久以前第一次吃的義大利麵餃是tortellini,那是從超市冷藏食品區買來已經做好用密封包裝封裝好的現成食品。標籤上寫著「三種起司」或是什麼模糊不清的敘述,我也從沒質疑過上頭的敘述。現在事後回想,我還真的不知道裡頭到底包的是什麼、用的是哪種起司?我現在只記得有點像是加了有食物染色劑的粉筆灰漿糊,咬起來就像在嚼橡皮擦屑。這種超市現成的tortellini一定得用滾水煮過,然後丟進鮮奶油白醬(alfredo)裡頭。我自己也曾吃過這種現成的tortellini搭鮮奶油白醬,但我會說在義大利根本沒有鮮奶油白醬這種東西,更絕對不會有這種搭配吃法。後來我漸漸地開始在世界各地的義式餐酒館吃ravioli,但卻都不是在義大利。我吃的ravioli內餡大多是瑞可塔起司跟番茄醬,方形的樣子,現點現煮,然後再淋上一杓番茄醬以及灑點起司。這是我在去美國讀餐飲學校前最常吃的ravioli類型。
In my early years, I met the tortellini first. It comes from the refrigerated section of the supermarket pre-made in a sealed pack. It's labelled 'three cheeses', or something ambiguous like that. I never questioned it. Thinking back, I didn't really know what was in them, what kind of cheese was it exactly ? It feels like some sort of chalky paste with food colouring resembling little eraser bits. In any case, they were cooked in boiling water, dropped in a puddle of heavy cream and I had myself some tortellini alfredo, which by the way is neither eaten in Italy nor has cream it it. Gradually I started having ravioli in trattorias here and there, but never in Italy. The filling tends to be ricotta cheese and a tomato sauce, al sugo. These are square, boiled upon order with tomato sauce ladled over them and a some cheese on top. I've had this kind of of ravioli probably the most often, that is until I went to cooking school in the US.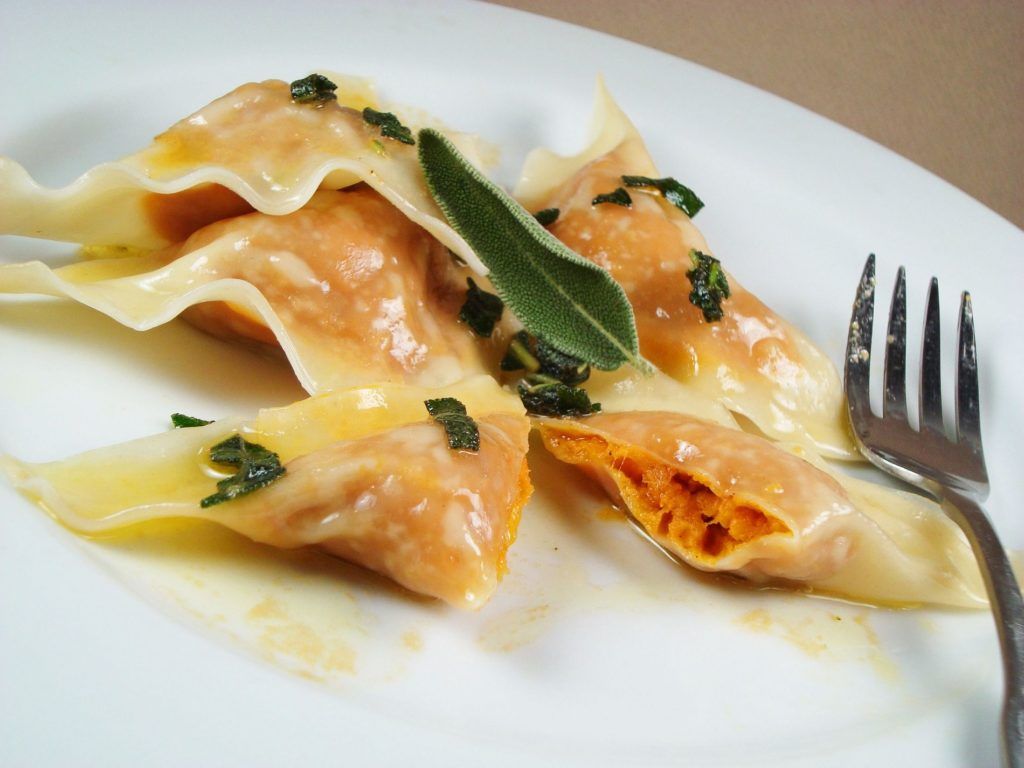 再來認識的就是奶油鼠尾草方餃(ravioli al burro e salvia),這是道必定要練會的菜,所以只要有時間我們做的就是這道菜。而且當我們把所有東西都清到不能再清乾淨時,以及隔天要用的備料都備好時,告訴你,我們就是在做奶油鼠尾草醬。如果比較早下課的話,老師還會說:「班上各位同學,你們知道接下來要幹嘛吧。」醬的作法很簡單,就是把奶油融化後把鼠尾草放進去炒。我對奶油鼠尾草醬ravioli不太感興趣,而且我實在搞不清楚為何內餡裡還有肉荳蔻,對提昇食物風味一點幫助都沒有。我還記得我們做這道麵餃做到實在有夠煩,我一個同學還說下次如果再讓他看到奶油鼠尾草醬ravioli,他一定會整盤塞進老師的嘴巴裡。又做了幾輪之後,好在他塞進的是自己的嘴巴裡。
Enter the ravioli al burro e salvia, or ravioli with butter and sage sauce. This was the go to dish to practice, and so every bit of free time we had, this is what we made. When everything has already been cleaned thrice over and all the prep for the following day complete, guess what, we are making burro e salvia. If the class ended early, the teacher would say, 'all right class, you know what time it is'. Simply melt the butter and fry some sage. It really didn't seem all that interesting to me, and always with a touch of nutmeg in the filling which I honestly wasn't sure why, and how it elevated the dish. I remember we made so many of these and we got so sick of them that one of my classmates said if he sees another butter and sage ravioli he'll shove it down the teacher's throat. Luckily, the only raviolis he shoved were down his own throat after making a few more batches of it.
我對麵餃有更完整的認識是在有義大利料理糧倉之稱的艾米利亞─羅曼尼亞大區(Emilia Romagna)。那時是在冬天,陰冷刺骨的天氣讓我真正體認到麵餃的飲食文化。麵餃在寒冷的冬天吃怎麼 說就是特別美味。包有內餡會讓你感覺超有口福,搭配著熱騰騰的 雞湯或醬汁,以及裡頭鎖住的蒸氣,可以立馬溫暖你的身子。在義 大利的飲食傳統,麵餃最常包的是起司,好比瑞可塔起司,以及包絞肉或是包波菜混瑞可塔起司內餡。
Emilia Romagna, the bread basket of Italian cuisine is where my experience with stuffed pasta formalized. It was during the winter months when the weather was bleak that I became familiar with the culture of pasta ripiena. Somehow eating this stuff during the cold weather just tastes better. It's filling so you feel satisfied, and it comes piping hot in a broth or in a sauce and the steam trapped inside them warms you right up. In Italian cuisine, they are most commonly filled with cheese, like ricotta, and sometimes with ground meats or a mixture like spinach and ricotta.
我對麵餃最深刻的記憶是在艾米利亞─羅曼尼亞大區的帕馬旁的科洛爾諾(Colorno)裡的小鎮。那是所有學生課程報到的第一個夜晚,學校替我們所有學生在對街的一間義式餐酒館訂了晚餐。校方已經把所有的餐點幫我們點好了,不過我卻有點開始不安了。通常來說,我會拿過菜單大點最能撩撥我幻想的菜,但這次我卻沒這麼做。因為那時身邊都是剛認識的新朋友,我不想把我的同學跟老師嚇壞以為是個餓死鬼。晚餐以美味家常的油炸麵包(gnocco fritto)、麵包棒、佛卡夏開始,也有搭配超級好吃的帕馬森起司的義式臘腸拼盤。我就在想隨便像這樣一個 8,000 人的小鎮食物就這麼好吃,如果規模更大更繁忙的地區,那食物豈不就更無敵美味。不過呢在義大利卻不是,有些最好吃的食物就是要一定要在這裡才 吃得到。實在很難形容帕馬森起司在原產地吃起來到底是怎樣滋味,簡單形容就是至高的美味。順帶一提,帕馬火腿(prosciutto)也是。我是說如果你認為你自己吃過很棒的火腿,來到艾米利亞─羅曼尼亞大區試試這裡的帕馬火腿,美味程度完全好吃到破表,那種濕度、那種香氣、那種脂肪感,簡直是聖品。
My deepest memory of the stuffed pasta was in the little town of Colorno near Parma in Emilia Romagna. It was the first night all the students reported in for our program and the school had reserved a dinner for us at a tiny trattoria across the street. The food was preordered for us and already I was a bit nervous. Normally I'd take the menu and order everything that tickles my fancy but this time I was reserved. Being that I'm around new people and all, I figured I wouldn't scare off my classmates and the staff by ordering like a starving maniac. The dinner proceeded with lovely home made fried bread, gnocco fritto, breadsticks, and focaccia. An assortment of salumi with some amazing amazing parmesan. I was thinking if food tasted this good in a random hole in the wall in a town of 8000 people, it must be ridiculously good at bigger and busier places. In Italy though, it's precisely these places that serve some of the best food. It's difficult to describe exactly how parmesan cheese tastes directly from the source, it was simply sublime, you just couldn't believe how good it tasted. Mind you so was the prosciutto, I mean if you think you had decent ham before, you will be knocked right off your feet once you've had it in Emilia Romagna. The moisture, the flavor, the fat, it's almost holy.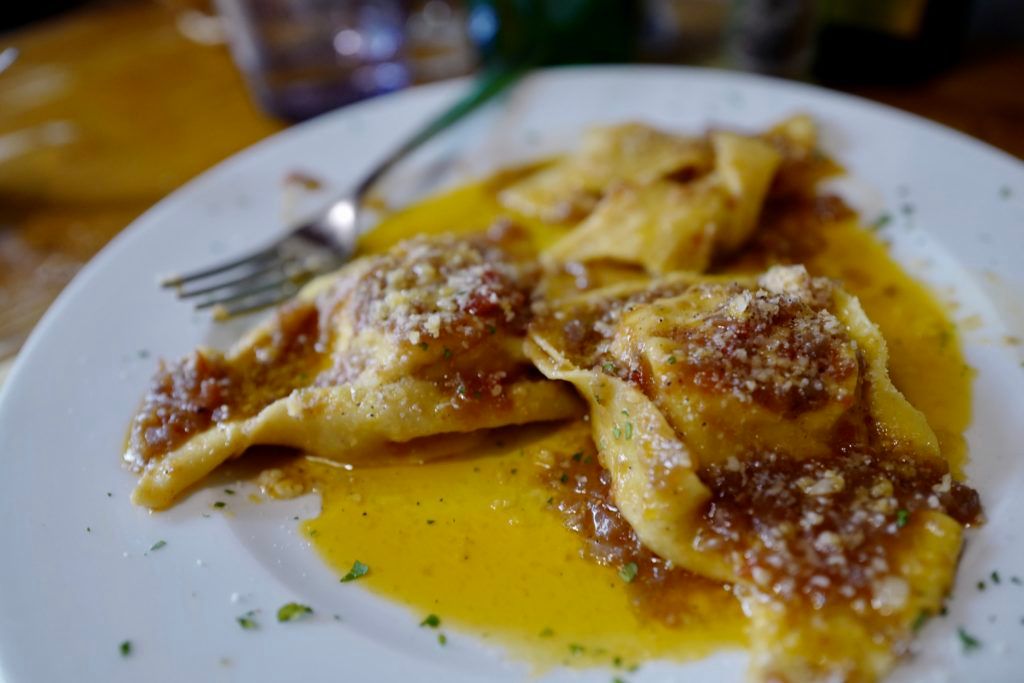 好,我離題了。目前為止晚餐的餐點表現還可以,我期待下一道菜。開胃菜(antipasti)上完後接下來就是麵食也就是「第一道」(primi)要上桌了。來了來了!服務生把盤子放在我面前,我一看結果大失所望,令人感到洩氣掃興極了,竟然又是奶油他媽的鼠尾草麵餃。我以為我大老遠來到義大利,來到麵餃的原鄉,可以吃到一些不一樣且有趣的食物。我早該點些配菜以避免這種情況。我就很不情願的吞下一口這道我再熟悉不過的麵餃。等等,為什麼這道麵餃吃起來跟我曾吃過的與做過的那麼像?這道有著半月形狀的麵餃其實叫mezzelune,內餡因包有南瓜餡料的關係呈現鮮嫩欲滴的橘色,那時南瓜正好當令,又甜又濃又肥美。麵皮本身有彈性有韌度,厚度剛好夠有嚼勁。南瓜混合了一點瑞可塔起司以及就算再淡我都認得出來的肉荳蔻。內餡的味道與香氣實在美味,我當下馬上就了解為何北義大利人會那麼常用這樣的南瓜內餡。奶油鼠尾草醬跟我以前所熟悉的完全不一樣,義大利的品質就是高。鼠尾草夠香香氣又鮮明但又不失溫和淡雅。奶油是顏色偏黑的榛果奶油,賦予醬汁濃郁口感與堅果風味,而鼠尾草又能適時平衡整體醬汁。不是只有這樣,最後還是灑有超級慷慨多的帕馬森起司,讓整道醬汁達到該有的正字標記風味。當然也大概只有在義大利,才能夠讓就算是在學校活動中喝上幾杯葡萄酒也不為過。我搭著一些義大利人稱為義大利可口可樂的蘭布魯思科氣泡紅酒掃光整盤 mezzelune。 真的是超棒的享受,享用那道菜時我根本忘了我同學,在那刻我純然沉浸在我的世界裡。
But I digress. So far, so good. I was so looking forward to the next dish, and after the appetizers (antipasti), the pasta or first course (primi) followed. Out they came. The server placed the plate in front of me and behold, pure disappointment, an enormous buzz kill, deflating: ravioli with butter and fucking sage. I thought I had gone all the way to Italy, to the source, for something new and a little more exciting. I knew I should've ordered something on the side to avoid this exact situation. So reluctantly I took a bite of this all too familiar dish but, wait a minute, why does it not taste like what I had or made before? This particular stuffed pasta was called mezzelune because of its half moon shape. The filling however was a deep luscious orange from the pumpkin filling, in season at the time. So sweet and unctuous and as plump as could be. The pasta itself was bouncy and firm, just firm enough that there was good chew. The pumpkin was mixed with a little ricotta and that faint but unmistakable taste of nutmeg. It was such beautiful flavour and aroma, at once I knew why the Northern Italians used it so much. The sauce of only butter and sage was also very much unlike what I was used to. The quality was just so much higher in Italy. The sage was fragrant and distinct but still gentle and mild. The butter was blackened (burro nocciola), to give it that intense richness and nuttiness that the sage skillfully balanced. The dish didn't end there, an extremely generous sprinkling of again more parmesan sealed the deal. It must be only in Italy where a glass or three of wine was appropriate and normal at a school event. I washed the mezzelune down with some lambrusco, or Italian coca cola as they call it, a sparkling red wine. Absolutely delightful. I ignored all my new classmates during that dish because I was in a world of my very own at that point.
麵餃從原本只是一般家庭在簡陋廚房利用剩餘起司跟蔬菜做成的料理,如今正式進化到精緻餐飲殿堂。麵餃其中的一個一個包 一個一個煮的質樸個性給保留了,不過所選用的食材與製作技巧卻演化了。以前我還是個年輕廚師時,我們總是討論與幻想著哪天可 以做得出與吃得到這些個傳奇料理,其中一道便是蛋餃(Uovo in Ravioli),而且還要是 San Domenico 餐廳做的正宗蛋餃(Uovo in Raviolo "San Domenico")。San Domenico 位在伊莫拉(Imola),是一間由兩位名廚 Valentino Marcattilii 與偉大的 Nino Bergese 職掌的米其林兩星餐廳。做蛋餃要花的時間與要用的功以及加上製作難度,才會有如此受眾人推崇的地位。最難的部份還不只是用麵皮包裹雞蛋時不要把雞蛋弄破,還有在煮的時候更要小火細心烹調才不會讓雞蛋熟透。一道註定具有奢華至極地位的料理,味道也永遠不會妥協。
Stuffed pasta worked its way from the humble family kitchen that used scraps of leftover cheeses and vegetables, to fine dine restaurants. The rustic character of handmade pasta ripiena, individually filled and cooked remains, but the ingredients and the technique has evolved. As a young cook back in the day, we often talked about legendary dishes which we only dreamed about cooking and having some day. One of these hailed from San Domenico in Imola, a two star restaurant helmed by Valentino Marcattilii and the great Nino Bergese. Uovo in Raviolo "San Domenico" (trademarked), Egg in Raviolo. The time and effort it takes, paired with its degree of difficulty makes this dish so revered. The most difficult part of the process of course is to not only wrap the raviolo without popping the egg, but then heating it so gently that the egg doesn't cook in the water. A dish that isn't afraid to be decadent and is uncompromising in its flavour.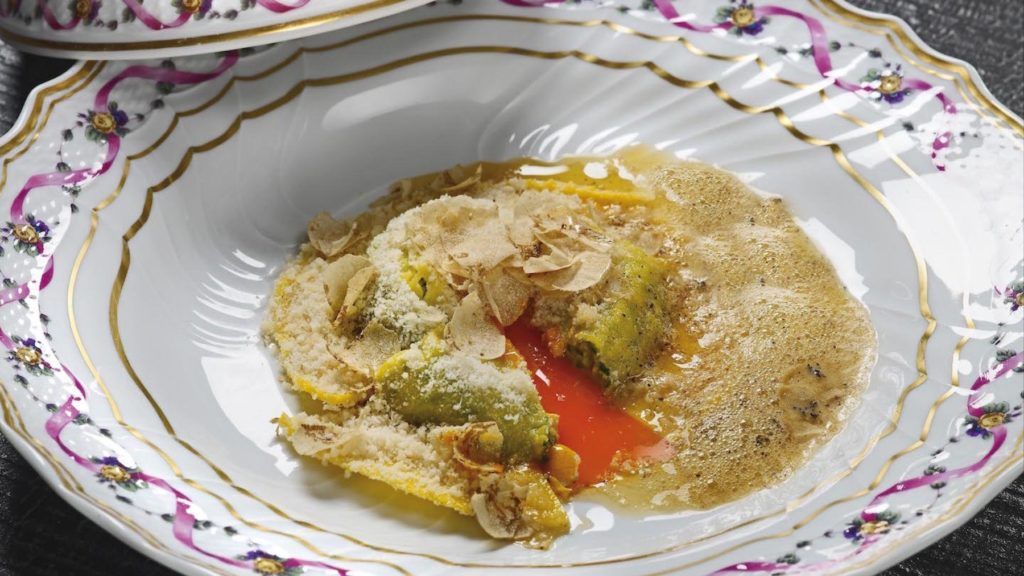 蛋餃一直是我們討論的話題,不過這道菜也因為名氣太大,很少有餐廳敢把它放在菜單上,大多是怕做壞以及怕被認為是抄襲者。很不幸地,我在義大利時並沒有機會去 San Domenico,所有一切寄望在離開義大利後全部破滅。但卻在一次偶然的機緣下我品嚐 到了這道夢幻神菜,那是在拉斯維加斯參加單身派對時,謝謝你 Clifford!我跟一大群男生們打算在拉斯維加斯大道挑一間最炫的餐廳吃飯,經過一陣討論後我們決定挑一間義大利餐廳, 而不是去擠滿是兄弟會成員、專門供應像是和牛漢堡與松露油薯條的牛排館。我們選擇的是永利飯店的 Bartolotta 義大利餐廳。 我在翻菜單時馬上就注意到「蛋餃」(Ravioli with Egg),我心想這絕對不可能,我繞了地球一大半從義大利到美國,蛋餃怎麼可能出現在這裡?還是只是麵皮有用雞蛋做就叫蛋餃。我 一如往常只要菜單上看到麵餃就毫不猶豫點下去。我們並沒有在蛋餃上追加白松露,因為我們一行十個人到目前為止累積的餐費已經相當驚人。正當我們邊吃邊喝時,十名服務生每個人手上都端著罩有鐘罩的餐盤圍著我們,接著服務生整齊劃一地把餐盤端上我們的面前然後打開鐘罩─蛋餃降臨。
We talked about this dish over the years, but it is so famous that hardly anyone tried to put it on the menu for the fear of both failing and being thought of as merely a copycat. And while I was in Italy, I didn't have the opportunity unfortunately to visit San Domenico. All hopes of trying this dish after I left Italy were dashed. This was the true until a fortuitous moment in Vegas, where I attended a bachelor party. Thank you Clifford! The boys and I decided to go for a fancy dinner on the strip, and through some convincing, we decided on an Italian restaurant instead of the thousands of frat heavy steakhouses that served wagyu sliders with truffle oil fries. The Wynn was the casino, and Bartolotta was the restaurant. As I browsed the menu I immediately noticed, 'Raviolo with Egg'. I thought to myself, this is impossible. I am half way around the world from Italy why would such a dish be served here, it must be a ravioli made with eggs mixed in the dough. As per usual, I ordered the stuffed pasta without thinking too much of it. We politely declined the supplement of fresh white truffles as there were 10 of us, and we knew the bill would be enormous already. As we ate and drank 10 waiters surrounded our table each with a plate and its cloche. Simultaneously they placed the plate in front of us and raised the cover. And there it was the Raviolo with Egg.
我一眼就認得這是蛋餃沒錯,我一直以來費心研究的菜就真實擺在眼前。一則驚喜一則以憂的是怎麼我們每個人的蛋餃全都佐上了白松露,我馬上告訴 服務生是不是送錯了。是我大驚小怪了,服務生親切地告訴我就請享用松露吧,這是 Bartolotta 主廚與永利先生招待的。這就是最上乘的義式款待之道啊。想像一下每個方餃都如同手掌般大,上頭鋪有來自阿爾巴新鮮的白松露薄片,醬汁相當簡單就只有奶油。擺盤也很簡單,簡單到會讓你覺得是不是就只有松露跟奶油而已?你把蛋餃劃開,立刻湧出深橘紅色的蛋黃,波菜與瑞可塔起司也不斷流出沐浴在松露與金黃色的蛋黃海,傾刻間原本樣態優雅的方餃就成了一道誘人的佳餚。大概也只有帝王享受四個字可以形容。當然啦,我們是有點了幾瓶巴羅洛紅酒,小費也給的很大方,但我唯一記得的只有那巨大的方餃以及免費的松露。我就在想 Bartolotta 主廚怎麼會有勇氣把蛋餃放在菜單上?我與侍酒師聊過後才知道 Bartolotta 主廚 24 歲時是 San Domenico 的行政主廚,因此他的蛋餃可說是對他偉大老師和老師偉大的創作致敬。更讓我對這道蛋餃愛不釋手的是,要知道我可是在內華達沙漠正中央享用這道菜,而且用到的松露在 48 小時前還長在阿爾巴的土裡。真的是一場難忘的美食體驗。
I recognized it straight away as I had studied this dish furiously in the past. To my surprise and horror every single one of our dishes was covered in the most aromatic white truffles. I immediately told our server that there has been a mistake and without panic, and without so much as a pause he graciously told us it to enjoy the truffles courtesy of Chef Bartolotta and Mr. Wynn himself. Now that, is Italian hospitality at its finest! Imagine a single large ravioli the size of your palm, covered by shavings of fresh white truffles from Alba, the sauce is simply butter. Simple in its presentation you're left thinking is that all there is butter and truffles? Then you proceed to cut into the ravioli and immediately an intense river of orange yolk gushes out. Suddenly an elegant dish becomes a delicious mess with spinach and ricotta falling out and swimming in a gold bath of the truffles and yolks. It's something people only whisper it was so regal. Of course ordered several bottles of Barolo and left a generous tip, but I only remember the free truffles and the epic raviolo. I questioned the audacity of Chef Bartolotta to put this dish on the menu, but after having a chat with the sommelier I learned that he was in fact the former Chef de Cuisine at San Domenico when he was just 24. It was an homage to one of his greatest teachers and his greatest creation. This dish felt even more indulgent considering I had it in the middle of the Nevada desert and the truffles were in the ground in Alba just 48 hours prior. Truly and unforgettable experience.
其他種類的麵餃我也很喜歡:捏邊方餃(agnolotti al plin)、 清湯帽餃(cappelletti in brodo)、薩丁尼亞島特有外型像貝殼有綿羊起司和馬鈴薯與薄荷的薩尼亞餃(culurgiones)、佛羅倫斯的牛肚方餃(ravioli di lampredotto),我的喜好清單還可以一直列下去。我深深地熱愛麵餃,我對麵餃有股浪漫情懷。不管是家人做的還是精緻餐廳做的,麵餃總是能瞬間讓我聯想到那個艾米利 亞─羅曼尼亞大區又濕又冷的天氣,外頭的霧厚重,但裡頭孕育的一切都是既美好又溫暖。我聆聽我心裡的聲音,它告訴我就別再掙扎了,投入麵餃的懷抱吧。
Buon Appetito!
There are plenty of others types of stuffed pasta that I enjoy: agnolotti al plin, cappelletti in brodo, culurgiones from Sardinia with pecorino potatoes and mint, ravioli di lampredotto (cow stomach) from Florence, the list goes on. My fondness for pasta ripena is a deep one. There is something romantic about it for me. Whether its prepared by family or prepared in a fine institution, it transports me to a place where the weather is cold and damp. There is heavy fog outside, but all is warm and well inside. I listen to the voices in my head a give in to the seduction of the pasta ripiena.
Buon Appetito!